WEST DUNDEE – After Hampshire's Eric Brown punched out of a greenside bunker on No. 18 at Randall Oaks Golf Club, leaving him six feet short of the pin, the Whip-Purs senior felt shaky but didn't rattle.
"Thankfully, the other day, I was practicing that exact shot, and I knew I just had to get underneath the club, hit the sand and just pop it out," Brown said. "I knew exactly where I was standing. I could feel myself shaking over that putt, but it was nice.
"Probably the best up and down of my life."
[ Photos: Class 3A Hampshire Regional ]
Brown pumped his left fist after nailing the 6-foot putt as his teammates watched nearby and let out a big roar.
Brown secured the Class 3A Hampshire Regional individual title with a 3-over-par 74 on Wednesday, holding off Huntley's Nathan Elm and teammate Tegan Van Wiel by a shot, and the Whip-Purs won their first regional championship since 2014 with a team score of 304.
Jacobs finished runner-up with a 312 and Huntley took third with a 319. All three teams advance to Monday's Prospect Sectional at Mt. Prospect Golf Club.
Crystal Lake Central (322) was fourth, Cary-Grove (323) was fifth and Dundee-Crown (326) was sixth.
Hampshire, which won its first Fox Valley Conference title last week, had never won a 3A regional title before Wednesday.
"I knew exactly where I was standing. I could feel myself shaking over that putt, but it was nice. Probably the best up and down of my life."

—  Eric Brown, Hampshire senior
The Whips had three of the top five scores and placed four in the top 10. Van Wiel (75) tied for second, Seth Gillie (76) was fourth and Nolan Adamczyk (79) tied for ninth.
"It's good motivation and a good boost for sectionals," said Brown, who had 15 pars and one birdie in his round. "Our team's been consistent this year. I think if you asked any of them, they easily could have gone much lower. It feels good that we won, but there's also a lot more potential that we have."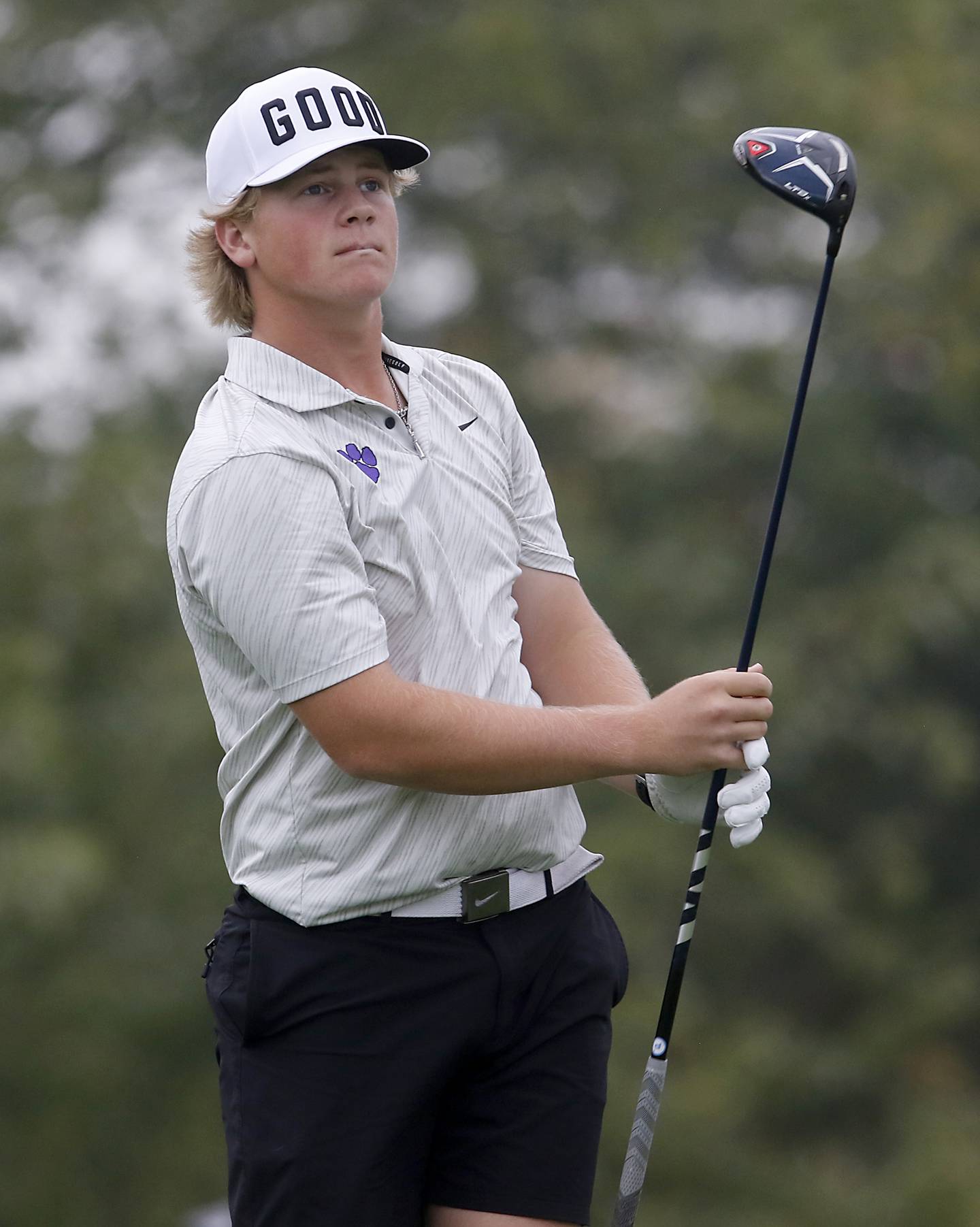 Gillie, who made two birdies on the back nine, said the Whips are looking forward to Monday's sectional round.
"We definitely can send a couple of our guys, or if we all career that day, we can make it," Gillie said. "We definitely have the skill to do it, it's all about putting it together and everyone playing great on one day.
"It's been a special season. My freshman year, we didn't win much of anything, and last year, my sophomore year, we came really close."
Although Huntley came up short of winning the regional, the Red Raiders are headed back to sectionals for the sixth time in seven years.
Elm (75), a senior, was disappointed to take runner-up individually, but is looking forward to a big day at sectionals. Rounding out the scoring for Huntley were Nooa Hakala (79) and Taig Bhathal (79), who tied for ninth, and Sam Locascio (86).
"Right now, it [stinks] missing by a shot," said Elm, who had two birdies. "It's hard to think about anything else. I had a lot of opportunities and missed a few short putts that I wish I had back, but that's golf.
"We made it as a team, so that's something to look forward to. Making it to sectionals is a big deal."
Jacobs was led by Braden Behrens (77) and Chase Garden (77), who tied for fifth. Barrett Rennell (78) tied for eighth and Zack Allen added an 80.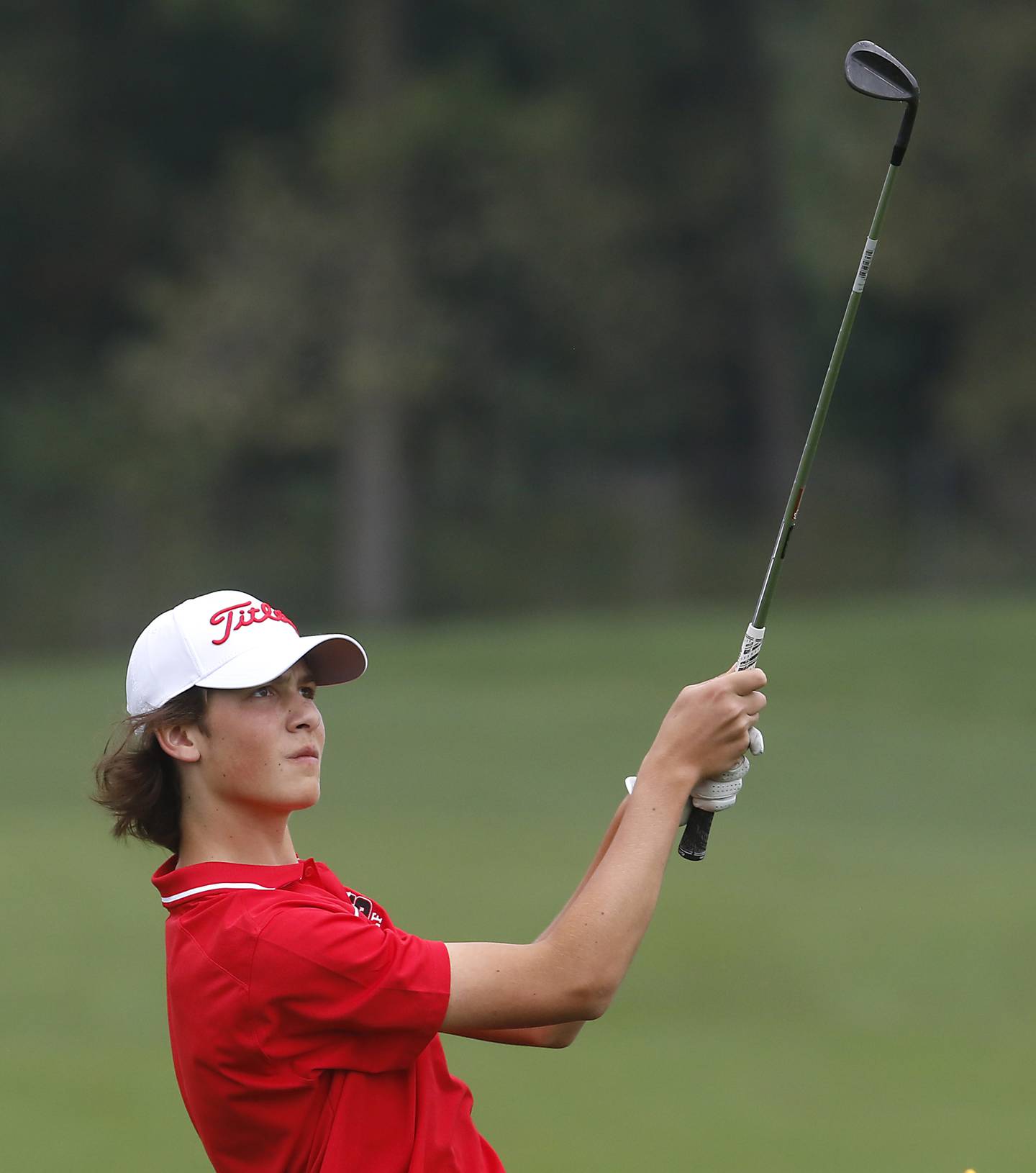 Behrens, a junior, started playing golf two years ago. He shot his personal-best score in a tournament setting.
"I used to always get mad at myself," Behrens said. "But if I make a bad shot, 'Who cares?' Just move onto the next shot. I'm over the moon right now. I'm proud of all my guys. I feel like I couldn't have done it without all my coaches and them."
Crystal Lake Central's Jack Bice (77) tied for fifth and was one of four Tigers to advance. Joining Bice at sectionals are Asher Johnson (80), Conor Naughton (82) and Charlie Polash (83), who grabbed the last qualifying spot in a playoff against C-G's Kyle Kotlarczyk (83).
Bice had a quadruple bogey on his second hole but shot 2-over par the rest of the way, knocking in two birdies.
"I had a bad start, but I've played this course before, so I just told myself to stay calm, the putts will start to fall and things will start to go my way," Bice said. "I just kind of stuck with it, made a nice birdie on [the 10th hole], and that kind of got my round going."
"It's nice going with [my teammates] and getting to play another practice round with them."
Also advancing to the Prospect Sectional are Dundee-Crown's Jared Russell (79), Jack Sundstedt (81) and Camden Schmeiser (82) and C-G's Joey Boldt (79), Conner Lentz (80) and Erik Pietrzyk (81).
Class 3A Hampshire Regional
at Randall Oaks in West Dundee, par 71
Medalist: Eric Brown (Hamp) 74
Team scores (top three advance): 1. Hampshire 304, 2. Jacobs 312, 3. Huntley 319, 4. Crystal Lake Central 322, 5. Cary-Grove 323, 6. Dundee-Crown 326, 7. Larkin 393, 8. Elgin 453, 9. Streamwood 547
Top-10 individuals: 1. Eric Brown (Hamp) 74, T2. Nathan Elm (Hunt) 75, Tegan Van Wiel (Hamp) 75, 4. Seth Gillie (Hamp) 75, T5. Braden Behrens (Jac) 77, Chase Garden (Jac) 77, Jack Bice (CLC) 77, 8. Barrett Rennell (Jac) 78, T9. Jared Russell (DC) 79, Joey Boldt (CG) 79, Nolan Adamczyk (Hamp) 79, Nooa Hakala (Hunt) 79, Taig Bhathal (Hunt) 79
Top-10 advancing individuals (not on advancing teams): 1. Jack Bice (CLC) 77, 2. Jared Russell (DC) 79, 3. Joey Boldt (CG) 79, 4. Asher Johnson (CLC) 80, 5. Conner Lentz (CG) 80, 6. Erik Pietrrzyk (CG) 81, 7. Jack Sundstedt (DC) 81, 8. Camden Schmeiser (DC) 82, 9. Conor Naughton (CLC) 82, 10. Charlie Polash (CLC) 83
Local scores
Hampshire (304): Eric Brown 74, Tegan Van Wiel 75, Seth Gillie 76, Nolan Adamcyzk 79
Jacobs (312): Braden Behrens 77, Chase Garden 77, Barrett Rennell 78, Zack Allen 80
Huntley (319): Nathan Elm 75, Nooa Hakala 79, Taig Bhathal 79, Sam Locascio 86
Crystal Lake Central (322): Jack Bice 77, Asher Johnson 80, Conor Naughton 82, Charlie Polash 83
Cary-Grove (323): Joey Boldt 79, Conner Lentz 80, Erik Pietrzyk 81, Kyle Kotlarczyk 83
Dundee-Crown (326): Jared Russell 79, Jack Sundstedt 81, Camden Schmeiser 82, Kai Klancnik 84