Johnsburg followed up perhaps its best half of basketball this season with one of its most dreadful in the second against Marengo on Friday.
However, everything was good for the Skyhawks in the end. Just after Marengo tied the score, Johnsburg inbounded the ball, rushed down the court, and Luke Conroy nailed a 3-pointer from the left corner at the buzzer for a 52-49 victory.
The win made things interesting in the Kishwaukee River Conference, where Johnsburg, Marengo and Richmond-Burton are tied at 2-1, while Woodstock North is 1-0.
Johnsburg (8-11, 2-1) led Marengo (7-10, 2-1) by 18 points at halftime.
"It was a good win," Skyhawks coach Mike Toussaint said. "I thought we played about as good a half of basketball as we had played all year in the first half. At halftime, one of my assistants, Josh Hauser, said, 'It will take a lot of 2-pointers to make up an 18-point deficit in a half.' So we talked about defending the 3 and needed to get great shots on our end."
Johnsburg made only five field goals in the second half, two of which were back-to-back 3s from Dylan Schmidt.
"We missed layups and in-rhythm 3s, it was tough to watch," Toussaint said. "All in all, it was great to get the win, and seeing Luke Conroy hit the game-winner was awesome. That's what high school sports is all about. A moment he and his teammates will never forget."
Upset for Wolves: Prairie Ridge was another team that affected the top of the conference standings as it knocked off Huntley, 42-34, on Friday. Huntley (19-4, 8-2) was trailing Burlington Central (19-3, 10-0) by one game at that point.
The win was the fourth straight for Prairie Ridge (11-8, 5-5), which has lost only twice in January.
Wolves coach Ryan Smith said keeping the turnovers to four for the game was a difference maker.
"Huntley is one of the most dangerous teams in the area," Smith said. "We really wanted to control the tempo of the game. We worked for great shots, we were 2 of 16 from 3s, but 15 of 21 on 2s. We ran the clock and got shots around the rim. Our decision-making was much improved."
By playing a slower pace and taking care of the ball Prairie Ridge held Huntley to 38 field-goal attempts.
"Huntley is physical, and I think we matched their ability to play physical and rebound," Smith said. "We still have a few things I'd like to see us improve on, but I think our guys realize we can compete with anybody.
"This should build our confidence for the rest of a tough conference schedule. I've harped on our guys about getting better every day we step in the gym, and put the best team on the floor when the regional comes. I think they have bought into that challenge and are talking big strides in the right direction."
White-out: Woodstock North senior guard Rex White scored his career-high 40 points, and the Thunder needed every one for a 54-49 win over Byron on Wednesday.
The North school record of 46 was set by Vic Ortiz. White hit seven 3s in the game, the highest point total in the area this season.
"He was locked in all night hitting contested shot after shot," Thunder coach Dale Jandron said. "He hit seven 3s and got to the rim aggressively as well. I think it was that he went back to his purple shoes."
Jandron said White asked him for sort of a self-scouting assessment.
"It's a funny thing, he asked me how I would guard him," Jandron said. "I said, 'Make you shoot from the outside and try to get you off your sweet spots.' I guess I would have been in trouble that night."
New man: The shooting improvement of senior guard Javier Garay-Vasquez is not lost on Woodstock coach Al Baker.
Garay-Vasquez hit four 3s and scored 15 points in the Blue Streaks' 46-45 loss at Richmond-Burton on Friday. His 3 with 12.5 seconds remaining looked like it might be the game-winner, but the Rockets scored with 3.2 to go for the winning basket.
R-B led 15-2 to start the game, but it was Garay-Vasquez hitting a 3 to end the first and another to start the second quarter that sparked the Streaks' comeback.
"He makes a huge difference for us with everything he does," Baker said. "He defends really, really well. Handles the basketball. When he played as a sophomore he was always good handling the basketball and defending, but he was not a good shooter. He put in the time and got better and now he's shooting almost 40% on 3-point line and making a big difference."
Garay-Vasquez shot 25% on 3s as a sophomore and is hitting 40% this season (32 of 80). He actually did not play in the 2021 shortened season, but played AAU with Man Up Basketball out of Crystal Lake in the offseason.
Garay-Vasquez also trained with Amani Corley, a former women's player at Central Michigan who is his sister Alexandra's partner.
"I've been working a lot in the offseason," Garay-Vasquez said. "The AAU season got me prepared for this season. I've been training with my sister's girlfriend. She's a trainer. She's been putting me through great workouts."
North Appreciation Night: Woodstock North will recognize first responders and former and current military personnel at Appreciation Night on Tuesday, Feb. 1 when it hosts Marengo in boys basketball.
Prior to the 7 p.m. tipoff, all military, law enforcement and fire department staff will be honored. The Thunder players will wear camouflage jerseys provided by SSG Serafin Flores of the Illinois National Guard. The flag and colors will be presented by Woodstock VFW Post 5040.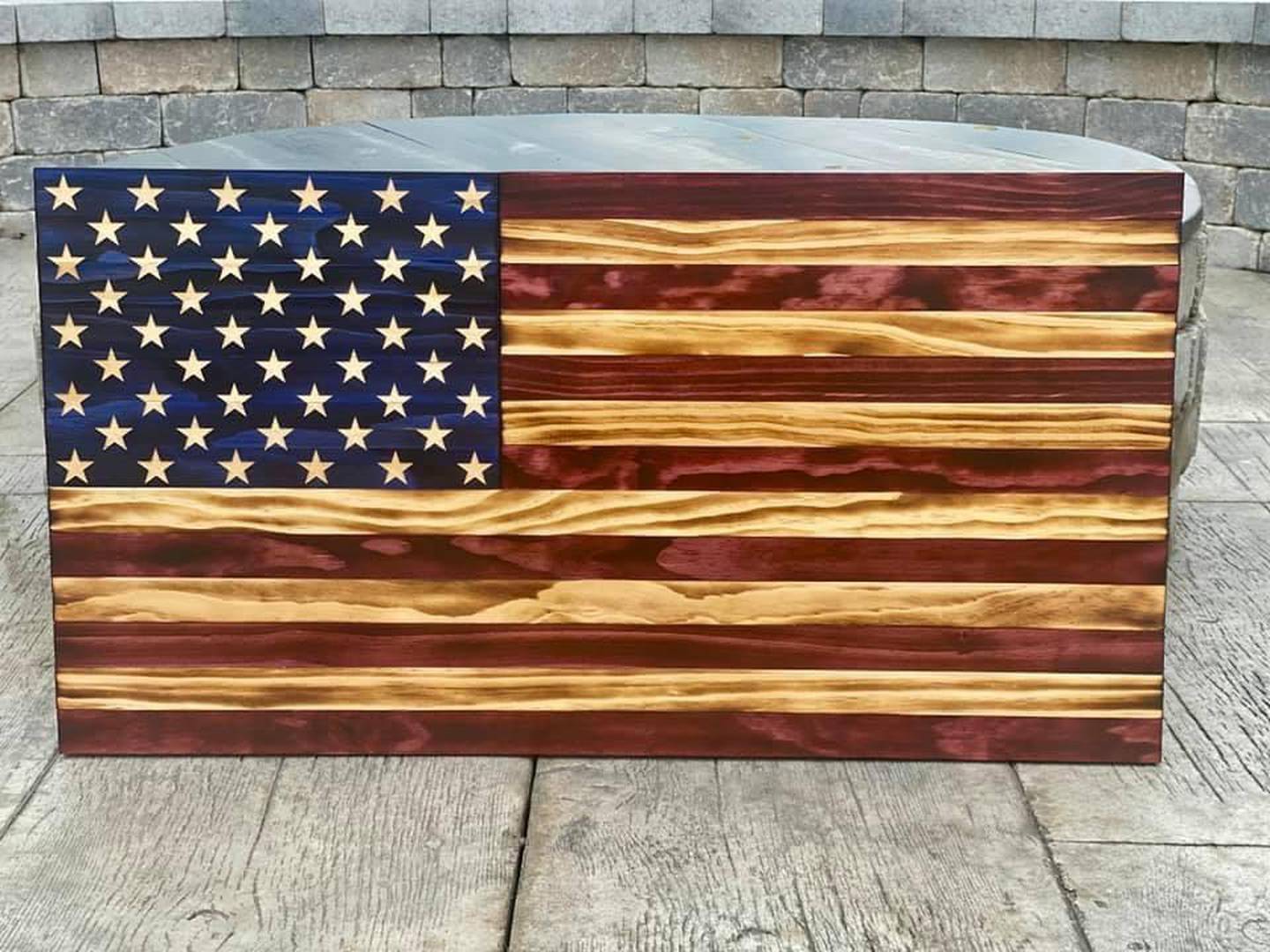 The school also will raffle off a burned/stained wooden American flag (19 1/2 by 37 inches). Tickets for the raffle are $5 and can be purchased at the concession stand at any event before Tuesday.
The flag was made by North parent Jeff Blaksley, a Carol Stream paramedic-firefighter.