Marengo needed one win against Woodstock North in the season's final week to wrap up back-to-back Kishwaukee River Conference titles.
The Thunder did not go quietly, however, coming from behind to win, 56-55, at North on March 9. That set up a showdown at Marengo's Homer "Bill" Barry Gymnasium for the outright KRC championship.
Junior Matthew Volkening assured the Indians that Friday's game would not produce the same result. Volkening poured in 26 points and Marengo won, 57-51, to take the title.
It was the kind of performance almost expected from the 6-foot-5 guard, who is getting NCAA Division I looks and who surpassed 1,000 career points even in the COVID-shortened season.
Volkening led the area in scoring (19.8) and rebounding (8.9), made 29 3-pointers and shot 85.4% at the free-throw line to lead the Indians to a 9-2 record and another league title.
For his efforts, Volkening is the Northwest Herald Boys Basketball Player of the Year, selected by the sports staff with input from area coaches.
Volkening will start his senior season this November with 1,127 career points.
Northwest Herald sports writer Joe Stevenson had some questions for the three-year varsity player and the youngest of four brothers to come through Marengo's program.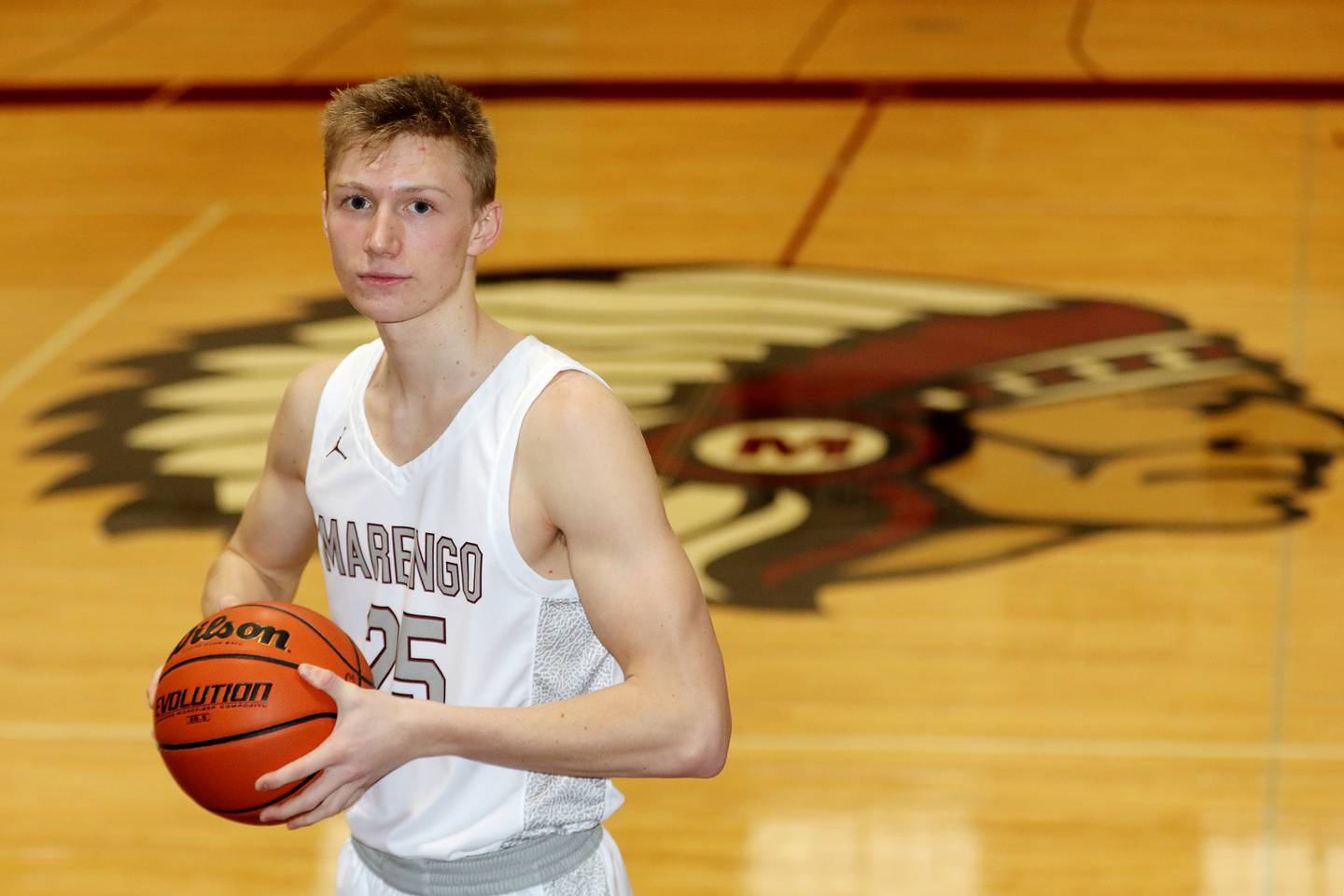 Is there a significance to wearing No. 25?
Volkening: I don't have a solid reason for my number other than I liked it and I wanted to be different from my brothers. Andrew and Ben wore No. 40 and Mike wore No. 11, so I picked No. 25.
Who did you have in your NCAA Final Four?
Volkening: Iowa, Gonzaga, Illinois and Baylor.
Who is the most famous person you have taken a picture with?
Volkening: When I was in middle school, we went on a field trip to Chicago and I took a picture with Magic Johnson.
If you scored a touchdown in the NFL, how would you celebrate with your teammates?
Volkening: We would sit in a circle and we would eat.
What professional sports team has the best uniform?
Volkening: I think the Miami Heat definitely have the coolest jerseys.
What scares you?
Volkening: I am decently scared of heights.
What are three of your favorite sports movies?
Volkening: "The Blind Side," "Miracle" and "More Than a Game."
What music is on your playlists that would surprise people?
Volkening: "I'm Gonna Be (500 Miles)" by the Proclaimers, because in middle school my team used to listen to it before every game.
Which one of your teammates really makes you laugh?
Volkening: Preston Bailey, who is one of my best friends. He cracks me up because he is always saying the most corny jokes, but at the perfect time.
You have next at the park and can pick any guys in NBA history, what four are running with you?
Volkening: LeBron James, Steph Curry, Kevin Durant and Dirk Nowitzki.
What celebrity would you most like to hang with for a day?
Volkening: I would like to hang out with Will Ferrell because he is hilarious.
What rule would you change about high school basketball?
Volkening: I would change the rule that you can't dunk in warmups because it helps you get ready for the game.
When was the first time you dunked in a game?
Volkening: It was my sophomore year and I had a breakaway off of a free throw miss.