Both McHenry and Mundelein needed late-game heroics to advance to the Class 4A State semifinals.
Ricky Powell drove in two runs on a walk-off double in the bottom of the 11th inning to help the Warriors beat York, 2-1, on Tuesday in a supersectional, while Christian Seminaro hit a walk-off single in the bottom of the seventh to help the Mustangs defeat Glenbrook South, 2-1, on Tuesday in another supersectional.
Mundelein's win Tuesday was the Mustangs' fourth straight to come in their final at-bat, creating a matchup between two teams who know to never give up.
"They stick together, they pick each other up," Mundelein coach Randy Lerner said. "There's no quit in them."
McHenry (30-8) and Mundelein (28-5) will play in the Class 4A State Tournament semifinals at 5 p.m. Friday at Joliet's Duly Health & Care Field, with the winner advancing to Saturday's title game. Brother Rice (35-5) and Edwardsville (32-4) will play in the other semifinal at 3 p.m. Friday.
The Warriors advanced to their first state finals in program history with the win over York. McHenry had comfortable wins over Larkin, Streamwood and Hononegah, respectively, before holding on to beat Huntley, 4-3, to win a sectional championship.
Mundelein's return to its first state finals since 2016 wasn't a walk in the park. The Mustangs defeated Buffalo Grove, 6-5, to win a regional title by scoring two runs in the bottom of the seventh inning and followed that by winning a sectional semifinal by scoring their lone run in the bottom of the sixth, to beat Barrington, 1-0.
The team's most dramatic win of the postseason came in the sectional finals when Mundelein scored two runs in the bottom of the eighth against Fremd on a dropped third strike to win, 2-1.
McHenry coach Brian Rockweiler is well aware of Mundelein's late-game heroics.
"To get that last out is a hard thing to do," Rockweiler said. "We just need to play them all like they could be our last."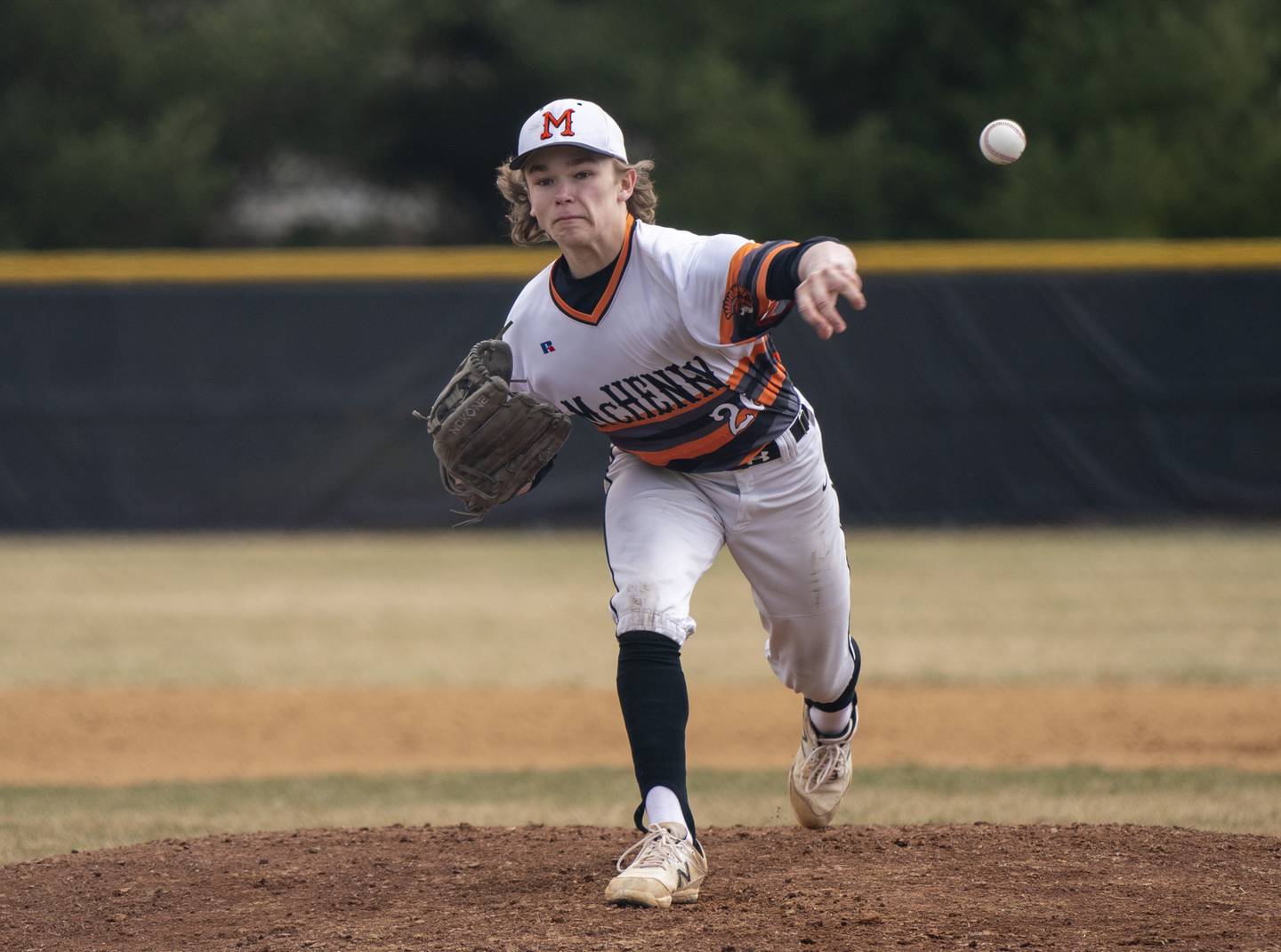 Mundelein won the regular-season matchup against McHenry, 4-0, on April 1. The Warriors managed only one hit off pitching duo Ryan Geraghty and Caden Morton, and the Mustangs scored three runs on three hits off Lleyton Grubich (6-2, 1.98 ERA), who will start Friday's game for McHenry.
Despite the win for Mundelein, the coaches aren't taking too much from their only meeting this season.
"We just have to get the ball in play, get some big hits and [put] pressure on them," Lerner said. "See what two highly competitive, highly talented high school teams can do."
Rockweiler knows his offense will need to strike quickly against Mundelein's tough pitching. Lerner didn't announce a starter for Friday's game but said one of his right-handed regulars would be on the mound.
The Mundelein offense is led by Illinois State signee Daniel Pacella, who leads the team with 14 doubles, 33 RBIs and eighth home runs and has a .354 batting average, scoring 27 runs and finishing with 34 hits. Tommy Stricklin also is a potent bat with his .340 batting average and 30 RBIs, while Drew Wellington has 27 RBIs and five home runs.
McHenry's offense features four players who have more than 30 RBIs – Eddie Synek (40), Ricky Powell (37), Connor Rodgers (37) and Cooper Cohn (31) – while Cohn and Grubich each have hit five home runs this season. McHenry has hit 20 home runs this season as a team.
No matter what the circumstances are heading into the seventh inning Friday, both coaches know the game is not over until they get that final out.
"We're just looking for an opportunity to keep playing together," Rockweiler said. "A chance to keep trying to win a state championship."