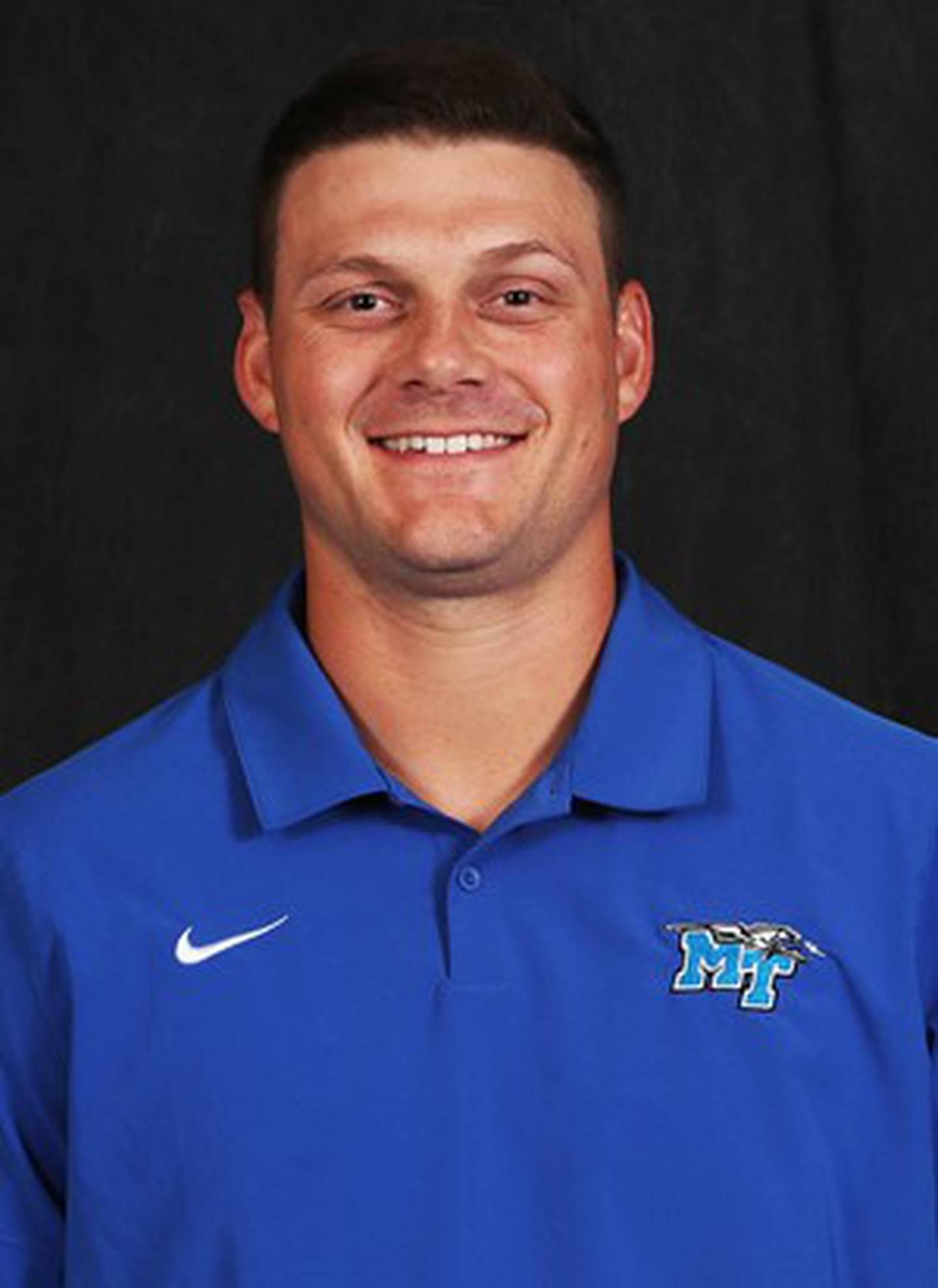 Jordan Getzelman already has earned quite a reputation among baseball coaches for someone who is only 26 years old.
The 2013 Prairie Ridge graduate finished his college career only four years ago and coached in college for three seasons. Still, when Middle Tennessee State baseball coach Jim Toman was looking for a new hitting coach this summer, it was Getzelman's name he kept hearing.
First, from Vanderbilt coach Tim Corbin, a good friend of Toman's. Then, from Dallas Baptist coach Dan Heefner, for whom Getzelman worked for two seasons.
"We talked to a lot of people around the country, and his name came up a couple of times," said Toman, who had more than 100 applicants for the job. "He had a good track record of being a good hitter in college, and it helped that Dan Heefner and Tim Corbin said good things about him. Then, the Brewers' people said good things about him, and he was close by. A good, young guy ready to get after it."
Getzelman, who was working as an assistant hitting coach in the Milwaukee Brewers' organization and living in Nashville, Tennessee, 35 miles northwest of MTSU, was hired Aug. 2 as the Blue Raiders' hitting coach and recruiting coordinator.
"Coach Toman has a great reputation; MTSU baseball has a lot of history to it," Getzelman said. "The prospect of the job was appealing. I had a really positive experience in college baseball. For me, it's a unique area that I'm called to, to impact young men's lives with my experience. I know how impactful it was for me."
Also, Getzelman no longer will have to be away from his wife, Casey, so much. He and Casey Stangel began dating as freshmen at Missouri in 2013-14. They maintained a long-distance relationship when they transferred schools after that year and eventually were married in November.
Getzelman was in Arizona for spring training, spent time in the Dominican Republic this year and also was in Zebulon, North Carolina, with the Brewers' low Class-A Carolina Mudcats. Now he can drive 40 minutes down I-24 to Murfreesboro in the morning and drive it back home at night.
"The appeal of being in college baseball was being home with my wife and living in the same space," Getzelman said. "Finally we get to live our lives on a day-to-day basis and be together after a long day's work, instead of a phone call. I was really excited about that opportunity."
Casey worked as director of operations for Corbin's Vanderbilt baseball program for three years and moved to that same position with new Commodores football coach Clark Lea this year.
Casey's connection with Corbin helped Getzelman land his new job.
"Tim knew Jordan through camps and mentioned his name," Toman said. "The fact that his wife is in Nashville, it was a little bit easier to get a guy to come to Murfreesboro when you're that close. I felt like it was a perfect storm for our situation here."
Getzelman was a Northwest Herald All-Area first-team outfielder in 2013 and played one year at Mizzou before transferring to Iowa Western (a two-year school). He then transferred to NCAA Division I Kennesaw (Georgia) State for one season and finished at NAIA Menlo College in California.
Menlo coach Jake McKinley developed a strong relationship with Getzelman during their year together and invited him to NAIA William Jessup College in California. From there, Getzelman joined Heefner's staff at Dallas Baptist, then reunited this year when the Brewers hired McKinley as director of player development initiatives.
"Things were great with the Brewers, it's a fantastic organization," Getzelman said. "The development in the minor leagues has been going really well, and it was exciting to be a part of. I was kind of all over the place, one of the hard parts with professional baseball. Their spring training complex was great. It was very cool, but it was very far away from home."
Getzelman has been a fast study, someone who soaked in coaching and learned how to break down mechanics of a good baseball swing, as well as developing a knack for strong communications.
"First and foremost, I want to bring an impact on the human beings that occupy the locker room," Getzelman said. "Every good coach I've ever had and learned from develops human beings and relationships with players. That's important to me. I want to bring a positive energy and be a coach who develops relationships with these guys and pushes them to [not only] be great players, but great people, as well.
"Second, offensively, I want to bring a potent offense to this program – an offense that can score in a lot of different ways, that scares you every time you see them on your schedule."
Getzelman didn't know a lot about Toman but quickly appreciated his charisma and reputation after they became acquainted. Likewise, Toman found out why other coaches regarded Getzelman so highly.
"He's smart, he works hard, and he has a really good relationship with his hitters," Toman said. "The players seem to like him. He has a good way about him in getting his points across. It always helps when the hitters buy into what he's saying.
"It's sort of like when you're a doctor, you need a good bedside manner. It seems like he has that good way of communicating with the players. Sometimes when you get a younger guy, the players buy into that a little more. The head coach, me, is pretty old."
Getzelman doesn't mind the commute. He sometimes passes his time on the road to and from Murfreesboro by talking to recruits. Then, when he gets home, he takes their black Lab, Bug, to the park and hits her fungos.
"Coach Toman has a tremendous recruiting reputation in this game," Getzelman said. "MTSU's a place with rich tradition, with good people involved, and it's in a baseball hotbed. It feels like there's a ton of upside, and I wanted to be a part of it and have an impact going forward."