Woodstock lost all three matches to Woodstock North last season, including a Class 3A regional final, so Monday's Kishwaukee River Conference Showdown against their crosstown rivals had a little more meaning.
Woodstock, low on players with club experience, leaned on senior outside hitter Hallie Steponaitis, an NCAA Division I Jacksonville University commit, junior libero Julia Laidig and senior libero Ella White to top the Thunder in two sets.
With the win, the Blue Steaks (16-7, 7-1 KRC) remained a win back of KRC leader Richmond-Burton (12-3, 8-0), which has yet to drop a conference match. Those teams will meet Oct. 2 in a match that could determine the conference champion.
Richmond-Burton beat Woodstock 25-18, 27-25 in their first KRC match Aug. 30.
"For us being as young as we are, and I say that with a bunch of seniors on the team, it's different because we don't have a lot of experience," Streaks coach Jimmy Neill said. "Our club players really stood out; Hallie, Julia and Ella played great. The three captains we needed to have a big match for us had a big match.
"We were coming off of a weekend where we didn't play very well. We were 1-4, and the energy was kind of low. So for us to come out and bring it the way we did, it speaks volumes for the captains and the way they pushed the other kids on the court."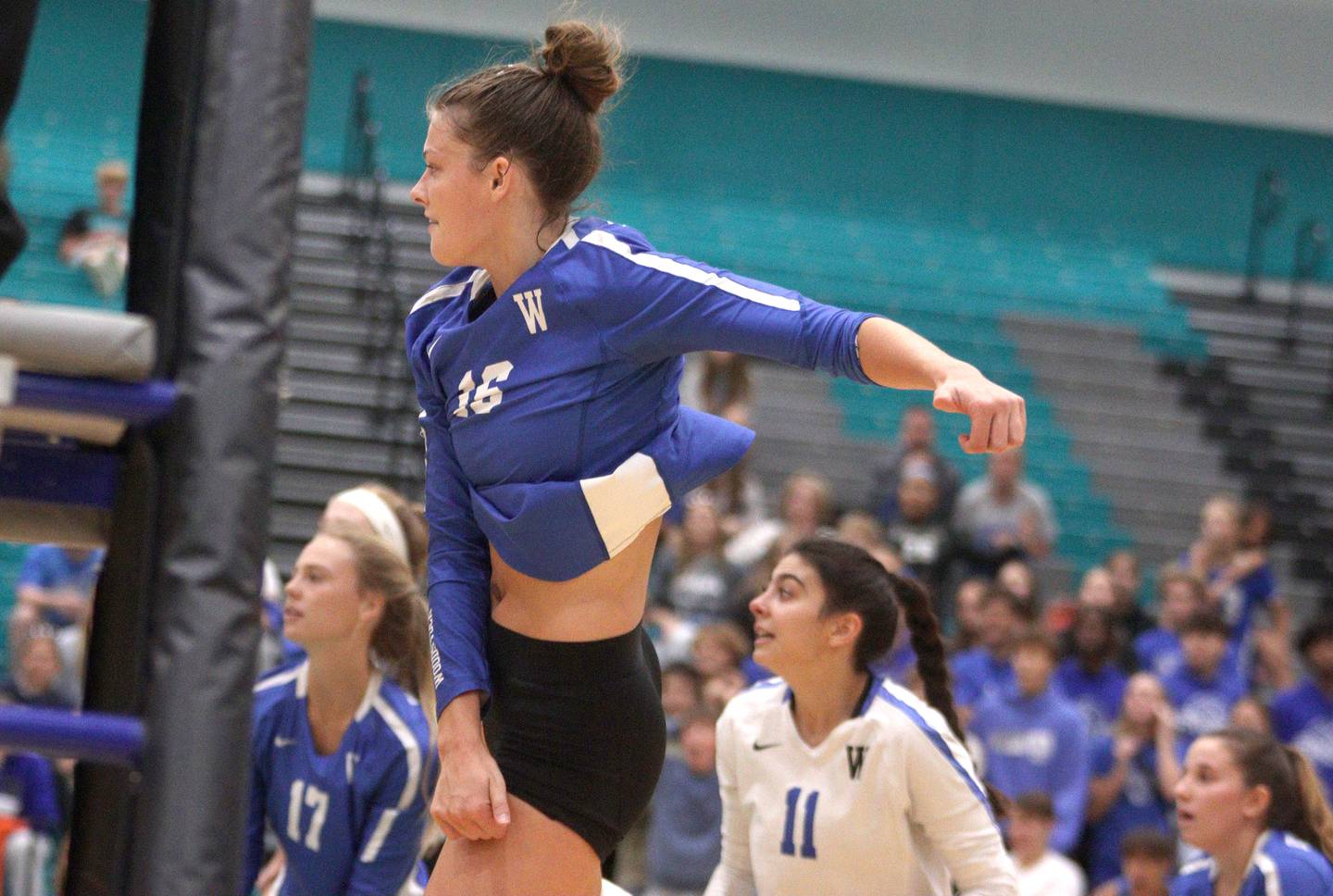 Laidig plays libero in club but has taken over the role of setter for Woodstock. She had three big blocks in the second set Monday to help secure the win.
"Those three big blocks were unbelievable," Neill said. "She sets because she's an unselfish player. She does what we need, she steps up and she just does it. She doesn't feel bad because she doesn't get to play libero."
Steponaitis, who had 20 of her team's 21 kills in the match, is hoping to end her high school career with a KRC title. The Streaks last won conference in 2019. Woodstock North has won the past three KRC titles. R-B's last was in 2016.
"I haven't done it in any of my years yet, and I think it would be so much fun to say I'm going out a conference champion," Steponaitis said. "I think this win will give us motivation to beat R-B, because R-B took [North] to three sets and the fact that we beat them in two gives us so much confidence and motivation to say, 'We are the best team in this conference.' We can show it now."
Crosstown vibes: Monday's match between Woodstock and Woodstock North had a playoff-like feel to it, with both student sections out in full force.
Woodstock junior setter Julia Laidi certainly felt the love.
"Our student section, I've never heard it that loud before," Laidig said. "It was so fun with everyone here. All the energy for our team, our bench, everyone cheering for us was so much fun."
North coach Eric Schulze acknowledged the louder crowds, but said it didn't have an effect on his team's performance.
"There's always going to be something more to a crosstown rivalry," Schulze said. "It's going to be a little more amped up. There's a lot more familiarity, so the cheers can get a little more personal and direct. But at the end of the day, I don't think the players believe the environment is what did us in tonight.
"I didn't do a good enough job of getting them ready. I clearly didn't have them ready. And that's something that will be corrected."
Figuring it out: Crystal Lake Central has had an up-and-down start to the season with the Tigers among the top six teams with a winning conference record halfway through the FVC schedule.
Central (10-5, 5-4) took runner-up to Huntley last season with a 13-5 FVC record, but already has four losses.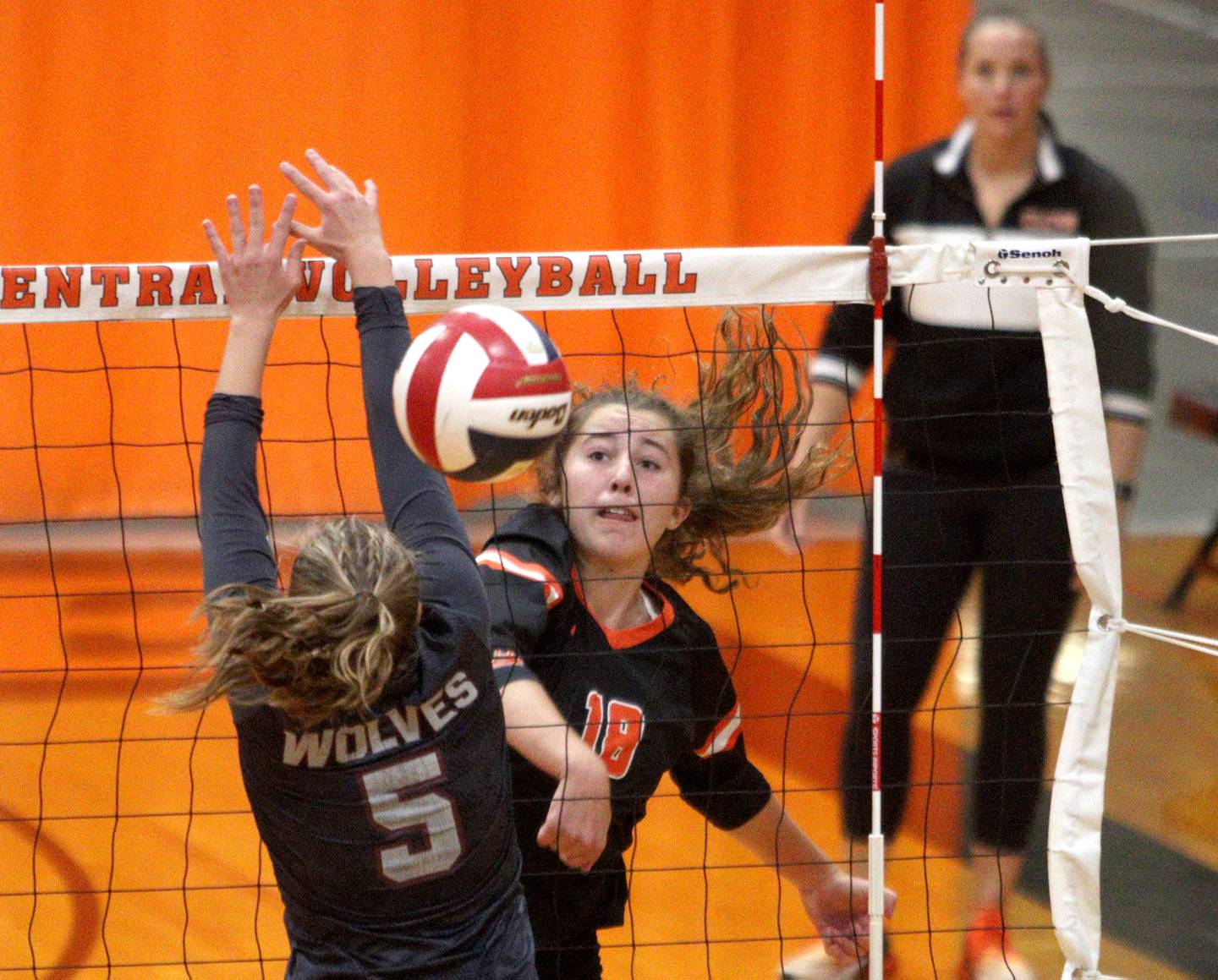 The Tigers graduated only one starter, but they are still trying to find a consistent lineup.
Coach Amy Johnson said that's just a part of the long-term plan for the Tigers, who have big postseason goals.
"We're just kind of waiting for that click to happen," Johnson said. "I don't think we've run the same starting lineup twice. It's going to be a good thing down the road when we have more people with more experience. We're getting close."