WOODSTOCK – There was no big secret to Woodstock's game plan against crosstown rival Woodstock North.
The Blue Streaks kept looking to their standout outside hitter Hallie Steponaitis, and the 6-foot-1 senior kept delivering.
Steponaitis recorded 20 of her team's 21 kills and put away the final point for Woodstock in a 25-21, 25-20 sweep against North in their Kishwaukee River Conference match Monday night.
"Hallie Steponaitis had one of the best individual performances you're ever going to see," North coach Eric Schulze said. "We couldn't get ourselves adjusted, and they were being incredibly deliberate. They weren't event attempting to hide it anymore.
"It was simply going to go to Hallie every time, and we just didn't respond."
Woodstock (15-7, 6-1 KRC) was coming off of a difficult weekend at the Hampshire Invitational in which it went 1-4.
Steponaitis was eager to get back on the court and prove it was a fluke.
"I knew I had to play well, especially coming off of the weekend," said Steponaitis, who will play next year at NCAA Division I Jacksonville University. "I wanted to prove to myself that I can do better, and I wanted to prove to everyone here in the town of Woodstock that I'm here to play, and this is why I'm going to college for it.
"I'm passionate about the game, and I wanted to tell everyone."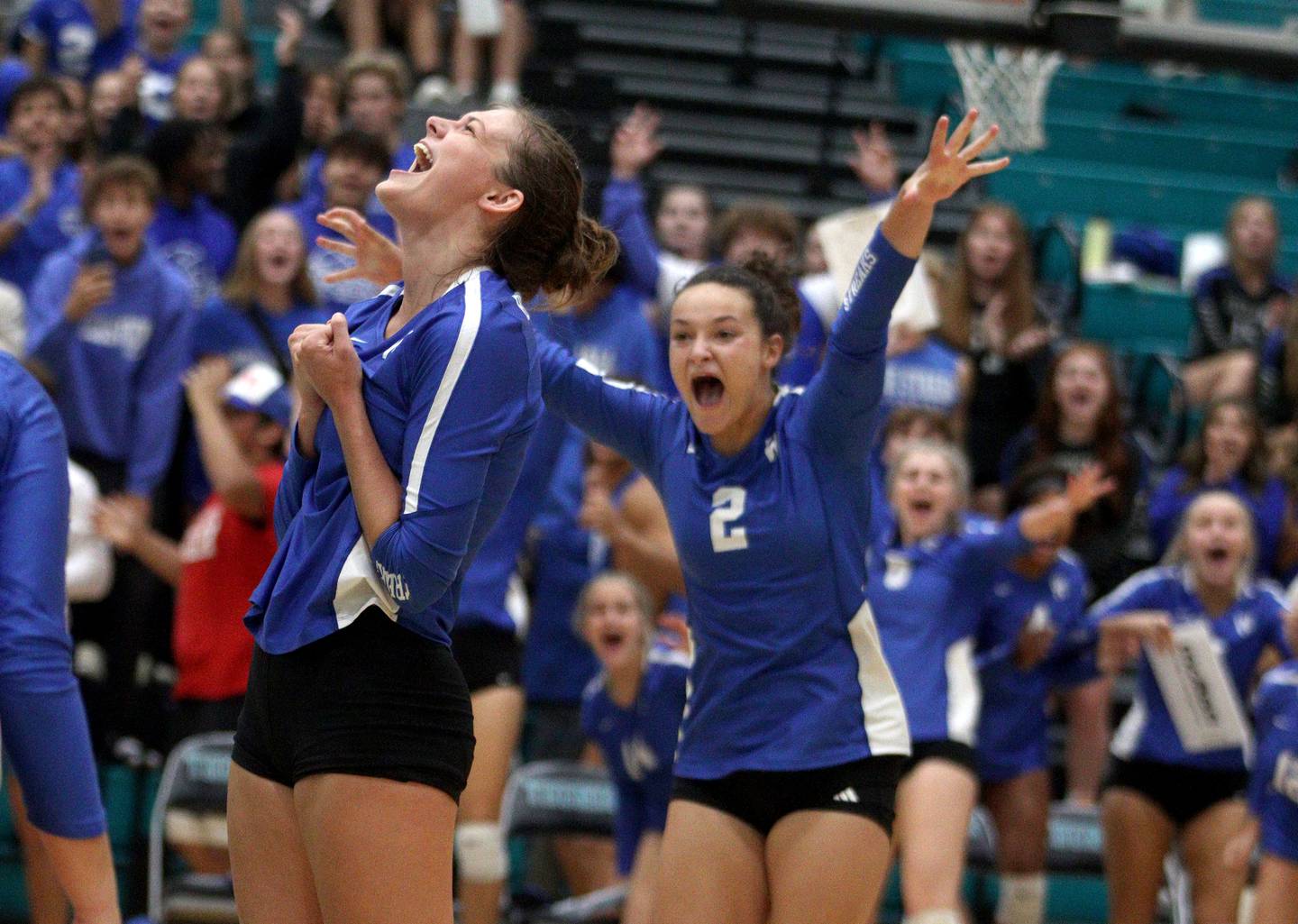 Steponaitis was among the area leaders last year with 325 kills, and she's on pace to shatter that number as a senior.
With 20 kills Monday, Steponaitis already has 310 kills in her team's first 22 matches. The Streaks have 491 kills as a team.
"She doesn't let any moment get too big for her," Woodstock coach Jimmy Neill said. "She's our workhorse. She gets a ton of attempts, and how she doesn't get tired every night is beyond me. She's been unbelievable."
Steponaitis connected from just about everywhere on the court, with her final kill coming from the back row. She tucked in her arms and stood still as her teammates surrounded her and celebrated the win. Moments later, Woodstock's student section ran onto the court.
I wanted to prove to myself that I can do better, and I wanted to prove to everyone here in the town of Woodstock that I'm here to play and this is why I'm going to college for it. I'm passionate about the game and I wanted to tell everyone."

—  Hallie Steponaitis, Woodstock senior
Woodstock went 0-3 against North last season, including a three-set loss in a Class 3A regional final in which the Streaks led late.
"We wanted it so bad," Steponaitis said. "Coming here and beating them in two [sets] is something none of us really thought would happen. We thought we could do it, but we never thought it would actually happen. I had so much fun doing it."
Although Steponaitis got most of the points for the Streaks, it was junior setter Julia Laidig who stepped up and helped her team turn around a 10-4 deficit in the second set with some very timely jumping in the front row.
Laidig, who plays libero for her club team, had three key blocks in the second set that resulted in some of the loudest cheers from Woodstock players and fans. She collected all three blocks in a span of six points, which extended Woodstock's lead to 15-11.
"It felt awesome that I can do that for my team in that moment," Laidig said. "It felt really good and helped power me through the rest of the set."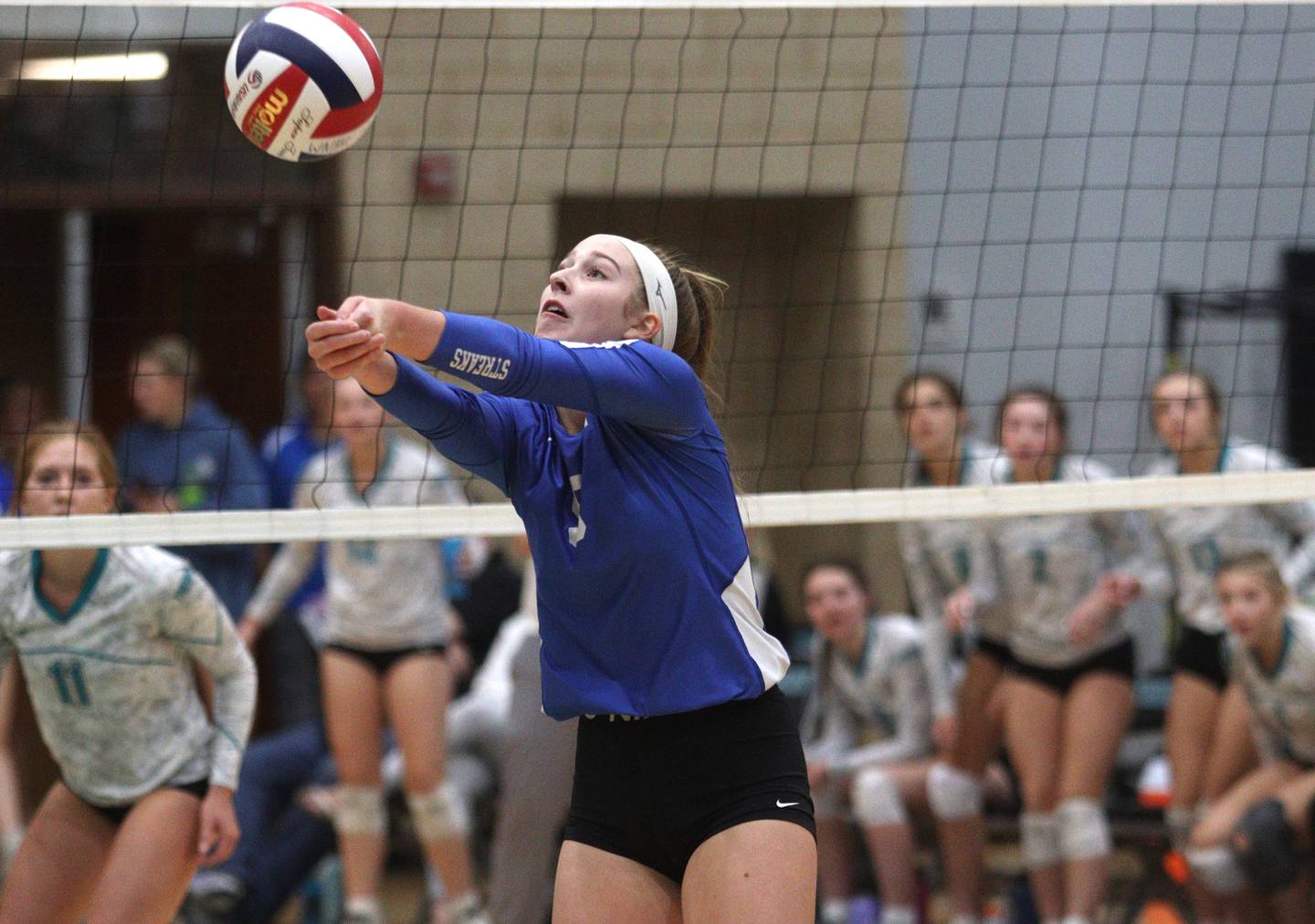 Neill also pointed to the solid defensive play of senior libero Ella White and the serving of senior Ava Sieck (two aces) in the victory.
For the Thunder (9-3, 5-2), Lexi Hansen had seven kills, Devynn Schulze had 10 digs, and Gabby Schefke had 16 assists and an ace. Dani Hansen had five kills and Caylin Stevens added three.
North, which has lost two of its past three KRC matches, had nine service errors, including three to start the match.
"We never executed from jump street," Eric Schulze said. "I don't know if we just got panicked a little bit. It was an incredible individual performance [from Steponaitis]. The reality is we have to play a lot better. We're not going to be able to win a match making as many errors as we did."