HUNTLEY – Huntley showed no signs of slowing down Tuesday against Burlington Central after suffering its first three losses of the season Saturday against top competition at Mother McAuley's ASICS Challenge.
"One of the things I complimented them on was their intensity and energy," Huntley coach Karen Naymola said. "I think we've done a really good job of staying confident but not overconfident. You can't underestimate any team in the [FVC].
"We knew [Burlington Central] was a scrappy team, so I thought out offense did a good job of finding different ways to score."
The Raiders jumped ahead of Burlington Central early and kept their perfect conference record intact with a 25-15, 25-15 sweep against the Rockets.
With five matches remaining, the Raiders (16-3, 13-0 FVC) can clinch a share of the FVC title with their next win, as the next closest teams (Crystal Lake Central, Crystal Lake South) have four losses. Huntley will try and push its FVC record to 14-0 when it plays Thursday at Jacobs.
Huntley last won the conference in 2019, but the Raiders aren't looking too far ahead.
"We are definitely looking to keep up this undefeated record, but it's one match at a time," said senior outside hitter and Brown University commit Ally Panzloff, who had a team-high eight kills. "Each game we have to take something out of it and learn something new so we are prepared for the postseason.
"That's always our biggest thought. How is this going to prepare us for October? Each game we're trying to do something new. We're trying to swing some new shots and get comfortable with a lot of things and stay ready."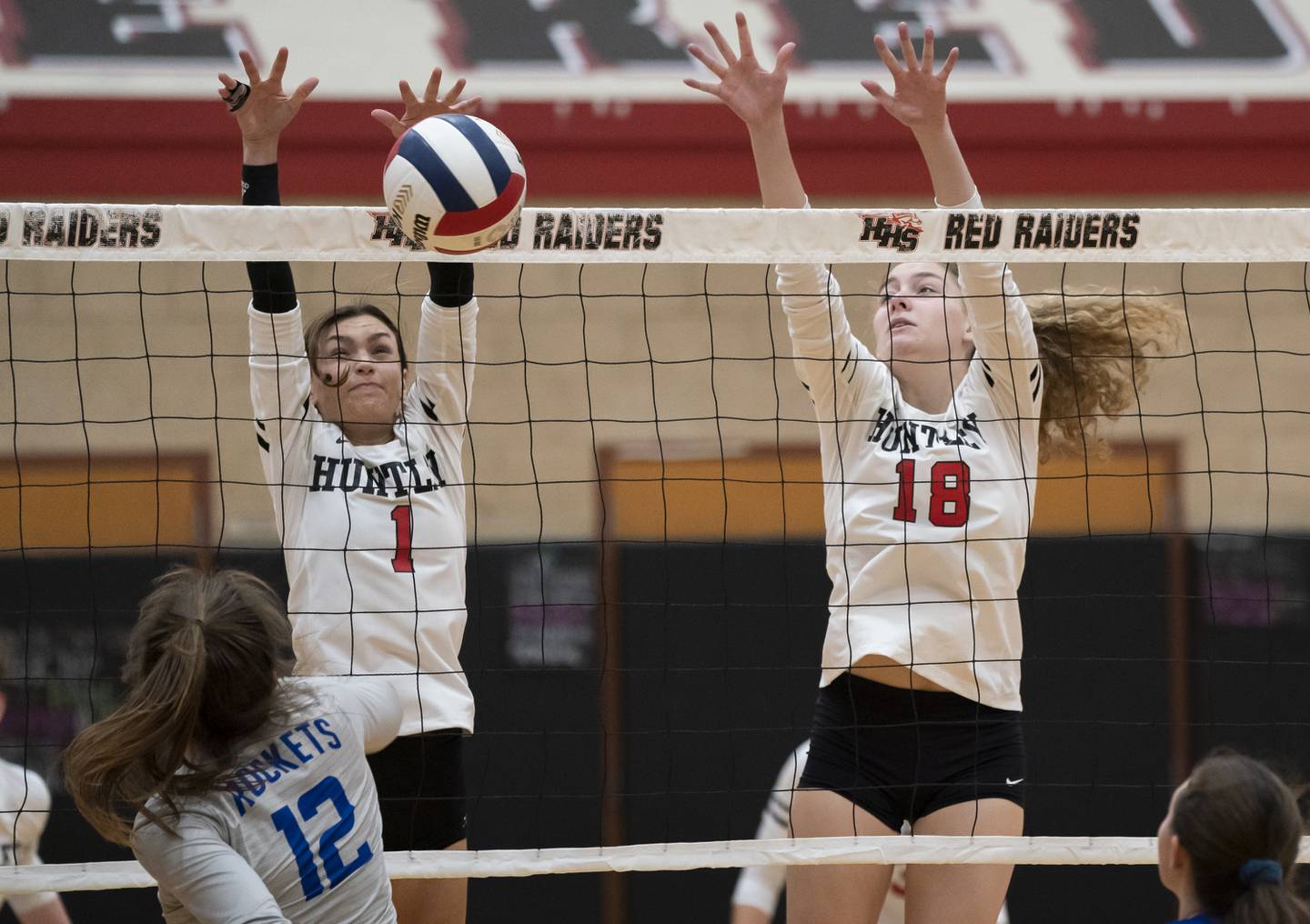 Huntley trailed at only one point during Tuesday's match when the Rockets (14-10, 6-7) took a 1-0 lead in the second set on a Brooke Hoffman kill, but the Raiders were able to control the pace with strong defense and blocking up front.
Naymola felt Indiana commit Morgan Jones (four kills, six digs) had a strong match defensively, and Miami commit Avary DeBlieck (five kills), a 6-foot-3 senior middle blocker, had clutch points when the Raiders needed them the most.
"There's been a couple of times when that off-the-net shot, [Jones] hasn't picked it up, and I thought she did a really nice job of that tonight," Naymola said. "... Avary DeBlieck is always a go-to player. Anytime we needed a side out, we forced her the ball."
Sophomore Georgia Watson led Huntley on defense with 10 digs and four kills, Austin Peay commit Maggie Duyos had 18 assists, and sophomore libero Mari Rodriguez added six digs.
The Rockets were led by Hoffman with five kills and seven digs, Leah Freesemann with four kills and seven digs, and Ashley Arceo with 12 assists and six digs. Brianna Gritzman picked up 11 digs.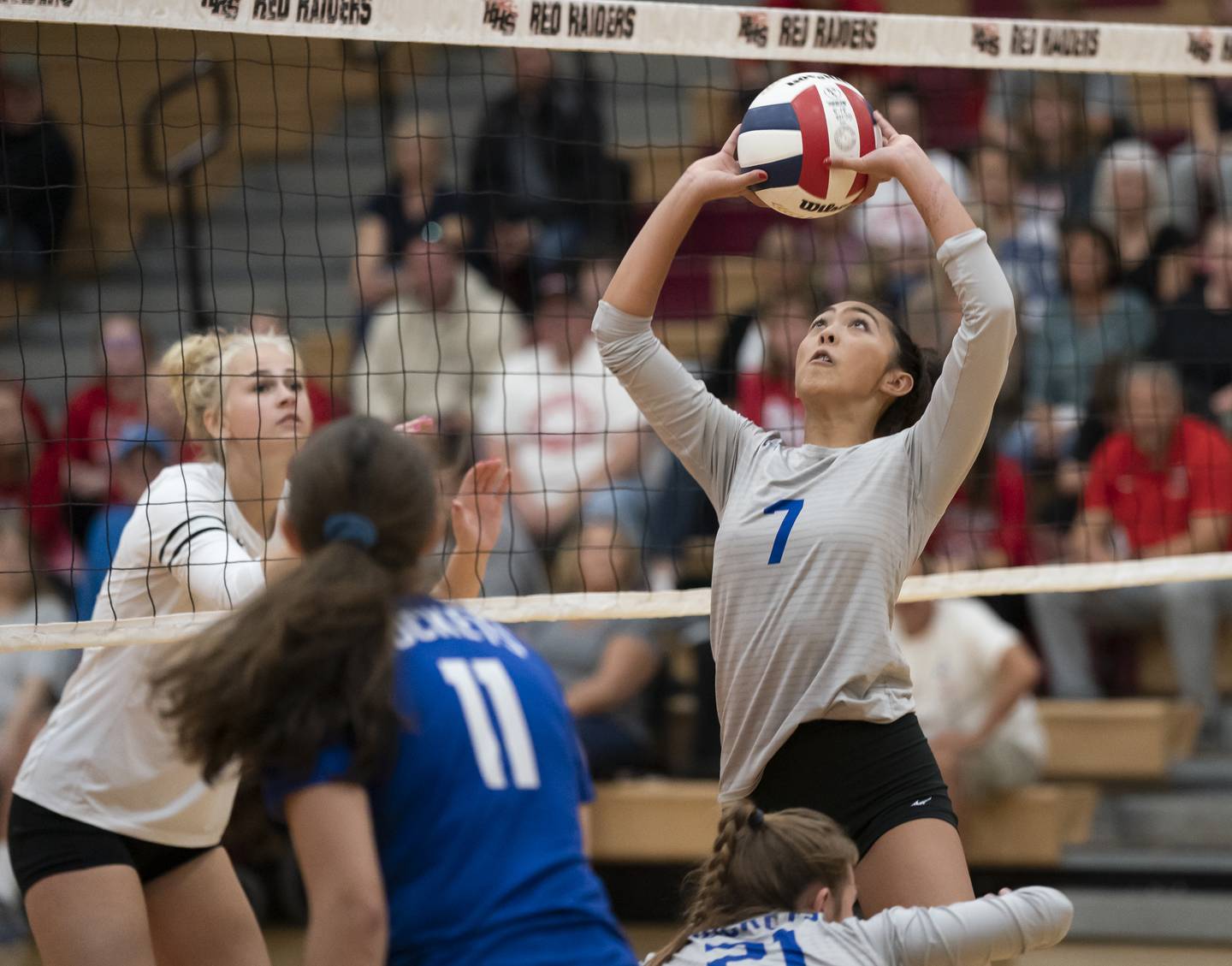 Rockets coach Julia Smagacz thought her team did a nice job of never backing down. Burlington Central went on a 6-0 run in the middle of the first set and at one point trailed 14-12 in the second.
"I think the big takeaways were that we were able to stick with big [Class] 4A, top teams like that," Smagacz said. "We had a game plan. When we were with them, we stuck with them. We were able to get our kills. We were able to get our blocks.
"It's just being able to speed up our offense, speed up our game to [Huntley's] level is something we need to work on."
Watson said the Raiders are continually pushing to get better.
"It's been crazy," Watson said. "It's so fun to play on a team where everyone wants to win and everyone is such a phenomenal athlete. We push each other so much. We have so much fun. It's amazing."