MARENGO – Woodstock North's Katie Wickersheim was asked to move from libero to outside hitter at the start of the season with the Thunder lacking traditional height and power.
After some bumps and bruises, the 5-foot-8 senior has taken a liking to her new role and is one of the many reasons why North has dropped only one match all season.
Wickersheim again came up with key swings and points Thursday as the Thunder defeated Marengo 25-20, 25-17 in their Kishwaukee River Conference match. The win keeps Woodstock North (18-1, 5-1 KRC) in a tie for first place in the KRC with Richmond-Burton (12-5, 5-1), which beat Woodstock in three sets.
Wickersheim is taking over the team's No. 1 outside hitter spot from her older sister, Alyssa, who led the Thunder in kills last season and graduated.
"I was a little nervous, because I hadn't done it in a few years," Katie Wickersheim said. "But I knew I had to step up in this role and have confidence so I'd be able to help my team. I've had my moments adjusting, but I think I've done a pretty good mixing up my shots and everything.
"All of the jumping, all the transitioning kind of tires you a little bit more. All of the jumping takes a toll on your body."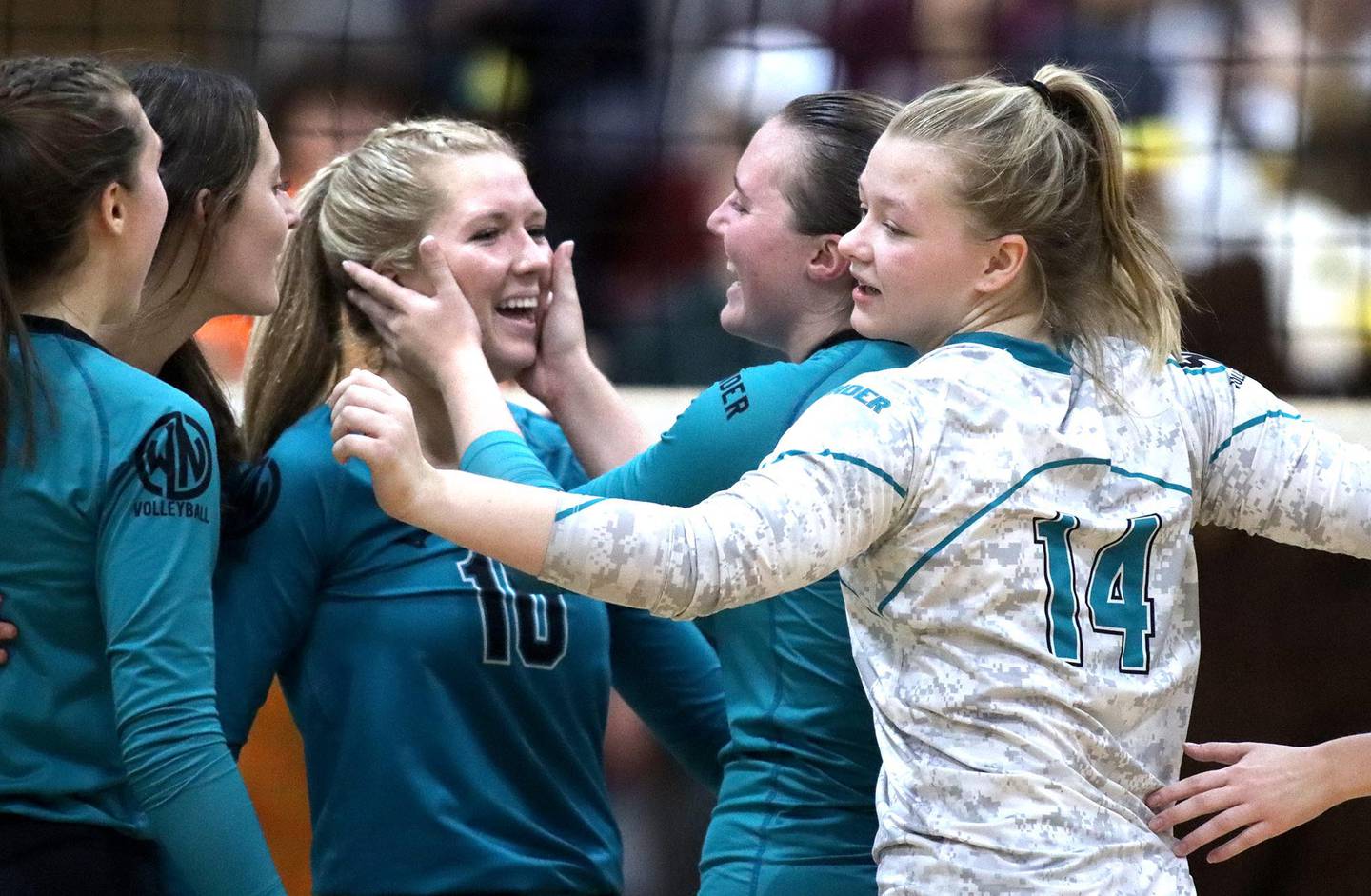 North coach Eric Schulze has been thrilled with the play of Wickersheim (eight kills, four digs) and 5-foot-6 juniors Dani Hansen (eight kills) and Lexi Hansen (four kills), who also are playing out of their usual positions.
"Katie right now is playing as well as any outside hitter out there," Schulze said. "The big key for us is to keep her legs underneath her and keep her healthy. As a smaller hitter, she can get tired a little quicker. She doesn't have the ability of a 6-foot kid to keep making those plays. She hasn't made an excuse all year."
"Her, Lexi [Hansen] and Dani [Hansen] are all playing out of position and are doing things that they don't train to do year round. They're finding ways to get the job done."
Wickersheim had five kills and a block in the first set, but it was the strong serving of senior Makenzie Buss who helped the Thunder get separation from the Indians (15-9-2, 3-3), who entered the match with a 10-1-1 record in their previous 12 matches.
With Marengo up 16-15, Buss had a service run of seven straight points, including three aces, which pushed North's lead to 21-17. Senior setter Kylie Schulze later put away a freeball for a 22-18 lead, and the Thunder held on to take the first set.
In the second set, North rattled off six straight points, going from an 11-all tie to a 17-11 lead. Dani Hansen scored most of her points in the second set with six kills.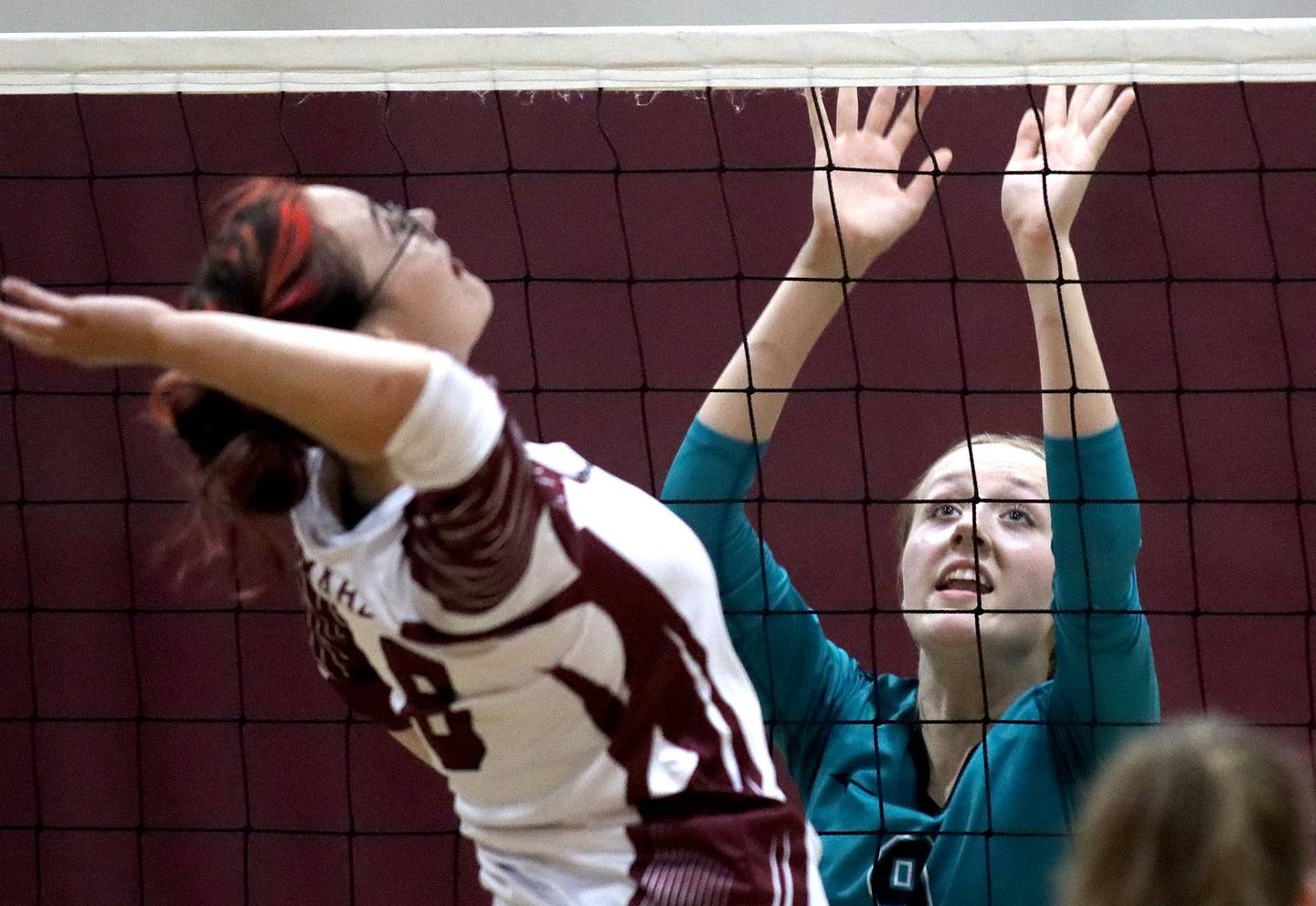 Thunder setter Kylie Schulze had 19 assists, six digs, five kills and three aces, and Devynn Schulze had four digs and one ace. North finished the match with eight aces.
Kylie Schulze, who is committed to Loyola, said the Thunder have done a good job of making adjustments and playing to their strengths. The tallest player on North is listed at 5-foot-10.
"You have to give yourself some of that confidence," Schulze said. "You've got to think that you're a little bigger than you are, especially when you look across the net, and you've got girls, and you've got to look up to them a little bit."
Marengo was led by Mia Lulinski with four kills and five blocks. Madalyn Mardock had four kills and three aces, Gianna Almeida had three kills, and Michaela Almeida had six digs and two kills. Addie Johnson added 14 assists.
Indians coach Jason LeBlanc was proud of his team for sticking close with the KRC-leading Thunder.
"We held our own for a little while, but they had one good server [Buss] who took us to seven straight points, and that was hard to bounce back from," LeBlanc said. "They're a solid team, and they can hit. I like how our team was coming together right away tonight.
"They were focused and had that confidence that they can beat this team. They were right in it."