Johnsburg entered Tuesday's Kishwaukee River Conference showdown against Richmond-Burton needing a win to keep its KRC hopes alive, and the Skyhawks delivered in their biggest moment of the season with a come-from-behind 14-25, 25-17, 25-16 victory.
"I was a little nervous because they were undefeated [in the KRC] and beat teams we lost to, but that clearly didn't matter," junior Kaylee Fouke said. "We definitely stirred some things in the conference, and I'm excited to see them again."
The Skyhawks' three-set win certainly shook things up in the KRC, which was looking like a two-team race before Tuesday. R-B and Woodstock North, the two-time defending conference champions, are tied for first at 4-1, while Johnsburg and Marengo are only a loss back at 3-2.
[ Read more: Johnsburg beats Richmond-Burton in 3 sets, shakes up KRC race ]
Johnsburg senior Emmy Wizceb, who had a team-high eight kills and a pair of blocks against R-B, said this year's team has become super close on and off the court. After every victory, the team huddles and sings the Skyhawks' fight song.
"All of my teammates are amazing," Wizceb said. "I feel like I'm a family with them, and it's the best energy I've ever felt at this high school."
Johnsburg moved a couple of players around after losing the first set against R-B, with the Skyhawks' blocking playing a key role in the come-from-behind win. Fouke tallied a team-high four blocks and five kills, with two blocks coming late in the second set.
"She really took control of that set," Wizceb said of Fouke stepping up. "She is a great right-side hitter and great setter. In able to win, we needed to have big blocks this game, and that's what we did."
Johnsburg coach Abby Bruns said the team hasn't talked about winning conference, with the main focus on playing its best volleyball once the playoffs start.
Fouke thinks the Skyhawks (14-4) are in a great position.
"I think this is a great win, but we still have things to work on," Fouke said. "During practice, we work hard, we play hard, and we're like one big friend group. We've just got to play together, work together, be friends and just have some fun."
Indians turn it on: Marengo had what first-year coach Jason LeBlanc called a rollercoaster start to the season, but the Indians (15-8-2) have since turned things around.
Over its past 12 matches, Marengo is 10-1-1, with its only loss Sept. 12 to Winnebago 26-28, 26-24, 25-16. LeBlanc said back-to-back losses to Woodstock North and R-B gave the Indians extra motivation to get things right.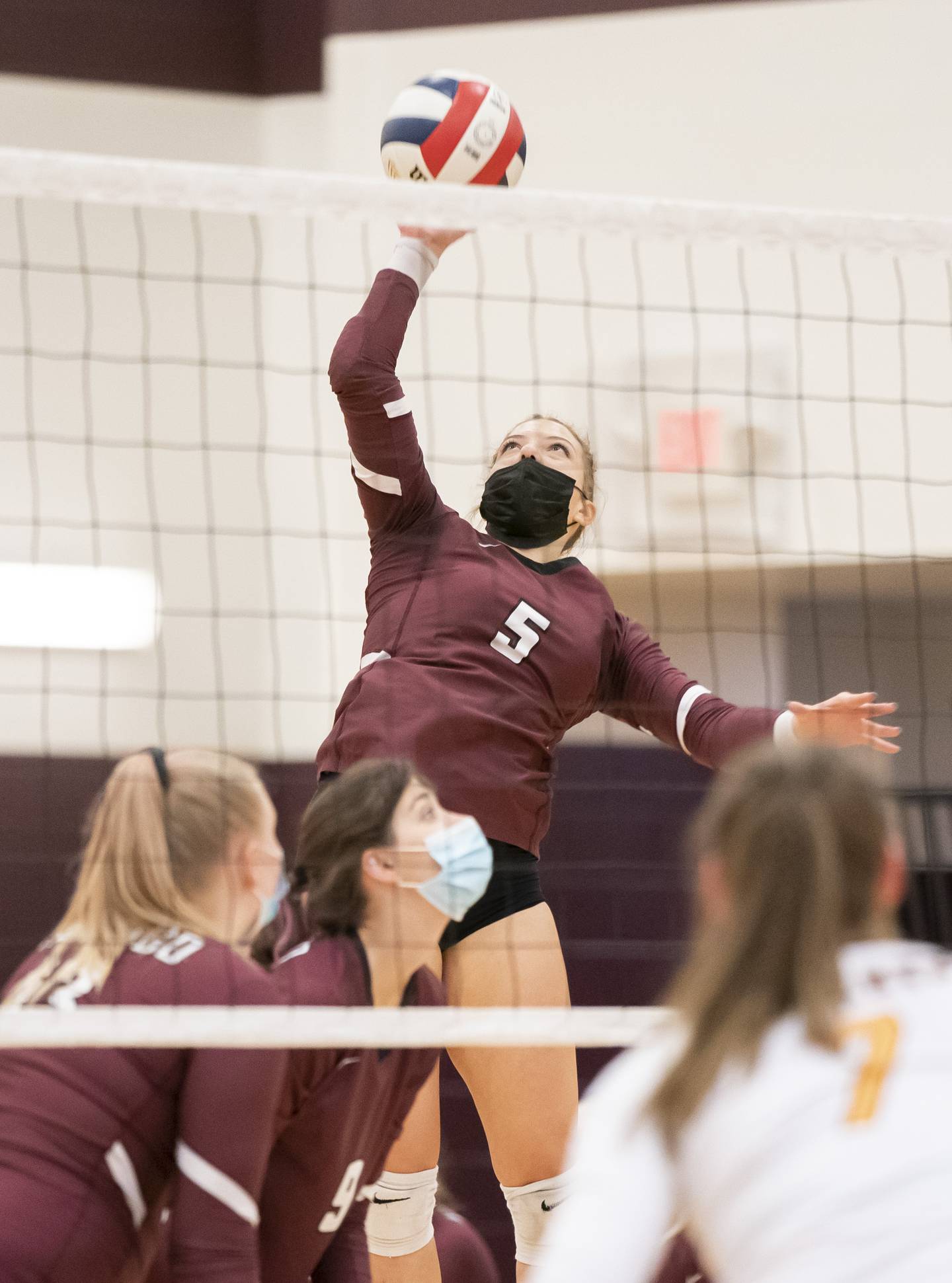 "That kind of started a fire under them," LeBlanc said. "My girls started working harder in practice, and they found out, 'Hey, we can play with some of these better teams and we can compete.' And that's what's I've been trying to tell them. Right now, we're in control of our own destiny."
Marengo is led by its seven seniors: Mia Lulinski, Gianna Almeida, Michaela Almeida, Addie Johnson, Amanda Trotz, Alexandra Brackmann and Kayla Klaassens.
The Indians recently switched to a triangle offense, which has allowed the team's strong group of middle blockers – including Lulinski, Michaela and Gianna Almeida and junior Sydney Andrews – to receive more chances on offense.
Marengo's hot stretch included winning the Pearl City Invite with a 4-0-1 record.
"They're used to playing a traditional 5-1 or 6-2 offense, and I wanted do something different, LeBlanc said. "I think it makes our players more versatile. They really can do anything. Once they started realizing that and realizing they had more opportunities as hitters from different positions, things started to go our way."
Rockets look to regroup: R-B (11-5) looked on its way to another KRC win over Johnsburg with a relatively easy first-set victory, but the Skyhawks came back to snatch the key conference match, handing the Rockets their first KRC loss of the season.
After the loss, R-B coach Mike Kamholz said his team wasn't exactly at 100%, with a few key players under the weather.
"When you look at the way [the first set] went, we had all the energy on our side," Kamholz said. "But every team goes through this. I think if we were fresh, I think it's a different game. But Kudos to [Johnsburg]. They wanted it and they got it. Now we've got to come back and redeem ourselves."
Duyos reaches 1,000 career assists: Huntley senior setter Maggie Duyos reached 1,000 career assists Tuesday in a 25-20, 25-11 sweep against McHenry, which kept the Red Raiders undefeated on the year at 12-0 and 11-0 in the FVC.
Duyos, who had 20 assists in the victory, reached the milestone in less than two and a half seasons. Duyos has been the team's starting setter since her sophomore season, which was cut short because of the COVID-19 pandemic.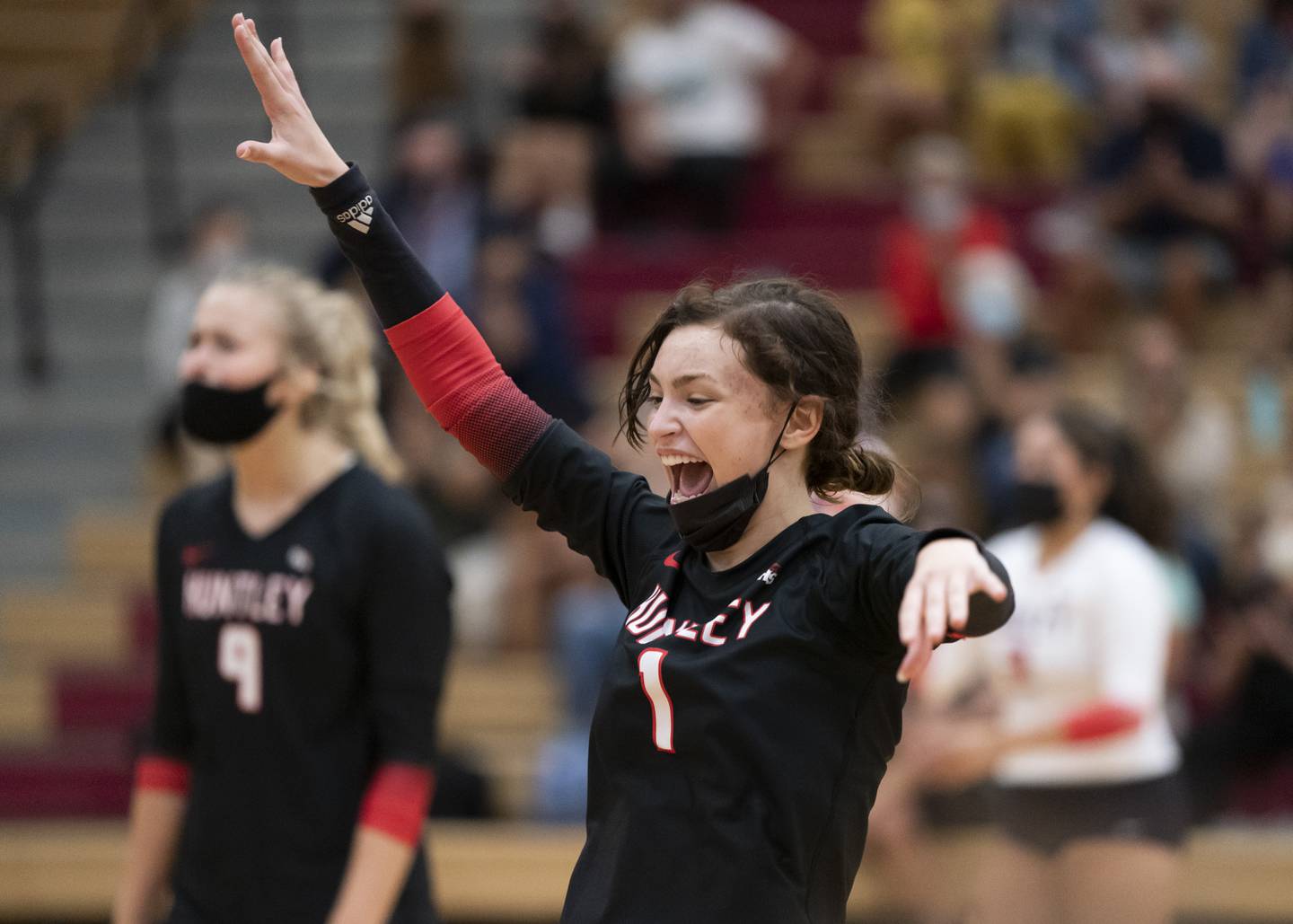 As of Thursday morning, the Raiders were No. 4 on MaxPreps.com's list of top teams in the state, regardless of class. Mother McAuley, Benet and Lyons own the top three spots.
Huntley will compete at the 24-team Mother McAuley ASICS Challenge starting Friday. The Raiders' three-team pool consists of Crystal Lake Central and Henry Clay (Kentucky). Cary-Grove is in a pool with Marist and St. Charles East.
Winning is fun: Dundee-Crown reached eight wins in the FVC with a 25-18, 25-14 win against Burlington Central on Wednesday, its most conference wins since 2007.
Dundee-Crown, which went 1-17 in the FVC last year, is 13-6 overall and second in the FVC at 8-4. Crystal Lake Central, Crystal Lake South and Prairie Ridge are each one win back of the Chargers at 7-4.
"The girls continue to impress me with their passion and drive," D-C coach Tiffany Dumas said. "Hopefully we continue to push forward."