When a musical wins multiple Tony awards, as "Kimberly Akimbo" did Sunday night, the creators are justifiably proud of everyone involved. Jonathan Larson – who wrote the book, music and lyrics for "Rent," a rock musical loosely based on a Puccini opera ("La Bohème") – never got to see his creation win the Best Musical Tony (and three other Tonys); Larson died three months before the show's 1996 Broadway debut. Theatre 121′s production of "Rent," now at the Woodstock Opera House through June 25, may not be eligible for Tony awards, but the theater company has ample reason to be proud of bringing this dramatic show to life in a way that gets its audience members' hearts pumping, laughs erupting and tears flowing.
As stated on the front cover of the program, this show is R-rated, because it "contains subject matter or language that is not suitable for children or may not be appropriate for all ages." With characters struggling with drug addiction, AIDS, homelessness, crime, poverty, grief and more, "Rent" is about as far from a light-hearted romp as it gets.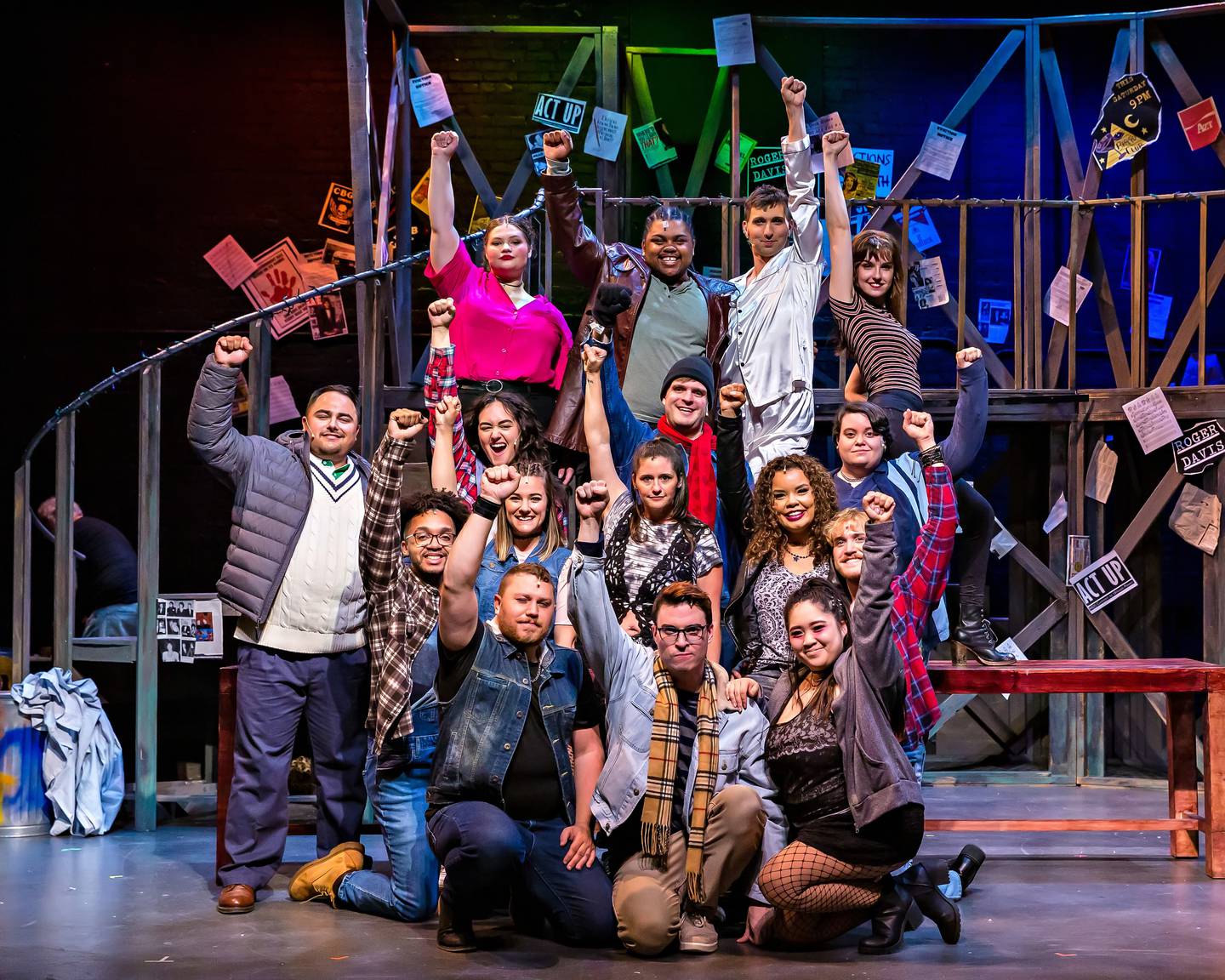 While "Rent" had over 5,100 performances on Broadway, and was turned into a film, there are still some who may only be familiar with its musical number "Seasons of Love" ("525,600 minutes … ") and not the characters/plot. Let's quickly rectify that. Set in New York City at the time of the AIDS crisis, we meet eight key characters:
Mark (Rudy Trotter) – an aspiring filmmaker who tells the audience at the start that it's Christmas Eve, his industrial loft apartment is currently without heat, and he lives with a rock musician.
Roger (Joshua Loper) – the aforementioned rock musician who's hoping to write one great song. He's HIV-positive, and he's understandably depressed; his former girlfriend killed herself after she received the same diagnosis.
Collins (Robbie Strader) – an HIV-positive friend of Mark and Roger's who's mugged outside when he comes to visit.
Angel (Andrew Mahan) – a cross-dressing street drummer who tends to Collins' wounds and eventually his heart; Angel is also HIV-positive.
Benny (Ken Saunders) – a former roommate of Mark and Roger's, now a demanding landlord who goes back on his word that Mark and Roger don't have to pay rent, now ordering them to make back payments.
Maureen (Amy Jackson) – a bisexual performance artist who used to be Mark's girlfriend; she dumped Mark for Joanne. Maureen's protest against Benny's plans to evict the homeless provides needed comic relief late in the first act ("Over the Moon," even encouraging the audience to respond en masse with a certain animal sound).
Joanne (Olivia Litton) – a lesbian attorney who worries about Maureen's commitment to her.
Mimi (Courtney San Pedro) – an erotic dancer who lives in the same building as Mark and Roger. She has both HIV and drug problems. She connects with Roger ("Light My Candle" sung during a power outage), but the path to a relationship isn't a smooth one.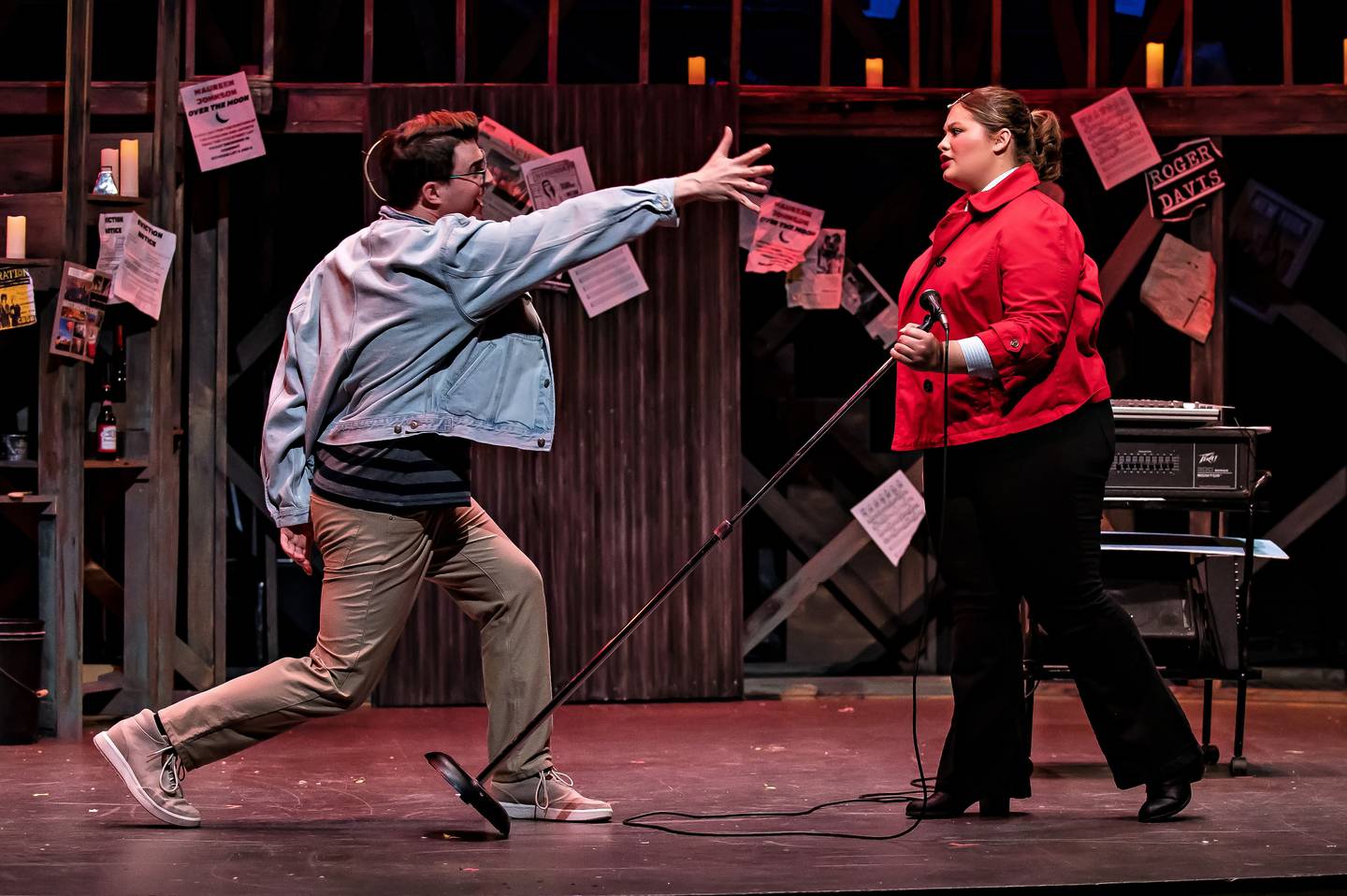 The interactions of Trotter, Loper and the others – all strong singers and actors – drive the intricate plot. Under the direction of Clarissa Dahlhauser, they all make you truly care about their present circumstances and any future happiness. Dahlhauser augments this octet with eight ensemble members (Desmon Brock, Becca Dinkheller, Jeff DuBois, Emily Kunash, Chase Nelson, Ellory Outly, Myriah Saunders and Gabrielle Urbina) who play everything from police officers to junkies to parents to homeless people and more. Vocal director Sarah Inendino and choreographer Billy Seger have done praiseworthy work with this cast on every musical number, eliciting meaningful emotions and movement.
There's a lot more to commend here, including the multi-level set (kudos to set construction foreman Jason Clark and his team), the varied eviction notices/posters adorning the set (nicely done, Isabella Aguilar, with the props and set dressing), and the energy throughout the show (opening song "Rent" being a perfect example).
My only concerns with the opening-night performance: a much-delayed answering machine sound effect that stopped the action momentarily, and – a problem I've seen previously – lyrics that couldn't easily be heard at times because of a lack of balance with the band. With a show like this in which key details are shared in dialogue or lyrics, better balance is crucial.
One of the lyrics makes it clear there's "no day but today," so get your tickets now. It's an excellent production; don't let anyone tell you any "differ-rent."
• Paul Lockwood is a singer, local theater actor, Grace Lutheran Church (Woodstock) and Toastmasters member, theater reviewer, podcaster, columnist and past president of TownSquare Players. He's lived in Woodstock for over 22 years.
IF YOU GO
WHAT: "Rent" by Theatre 121
WHERE: Woodstock Opera House, 121 Van Buren St., Woodstock
WHEN: Weekends through June 25
INFORMATION: 815-338-5300, woodstockoperahouse.com