Admittedly, A.R. Gurney's play "Sylvia" is not one of my favorites, preferring his other works "Love Letters" and "The Dining Room." Elgin Theatre Company's President and Producer Richard Grieger stated "Sylvia" was selected for the 2023 season because it is "very heartwarming and, by and large, a combination of humor and real-time situations in showing relationships between humans, as well as animals."
Directed by Frank Del Giudice, this ETC production has changed my mind. Written in 1995, the dialogue's cultural references range from Nixon to Brooke Shields. Gurney admitted "Sylvia" was rejected by many producers because "it equated a dog with a woman, and to ask a woman to play a dog was not just misogynist but blatantly sexist." But he stressed the timely message of the need to "connect in an increasingly alien and impersonal world," and it went on to be nominated for a Drama Desk Award.
ETC's production does hone in on the themes of making connections, marriage and mid-life crisis, and does so quite admirably, perhaps due to the many talents of Elizabeth Dawson, John Frankenthal, Gabrielle Cross, Richard Sherman and Mindy Kaplan.
Del Giudice has cast well, and has kept the play silly, sophisticated and very well paced. As the plot unfolds, we learn that middle-aged, restless Greg has met Sylvia, a clever, street-smart stray (possibly a mix of Lab and poodle), in Central Park. And it's love at first sight! But here's the resulting and constantly emerging problem: Sylvia is taking Greg's attention away from his wife, Kate, and their 22-year marriage. Kate is none too pleased with the effect Sylvia is having on the couple's relationship – from canceled dinners to denying trips overseas. For Greg, Sylvia is an escape and answer, for Kate, Sylvia is a rival.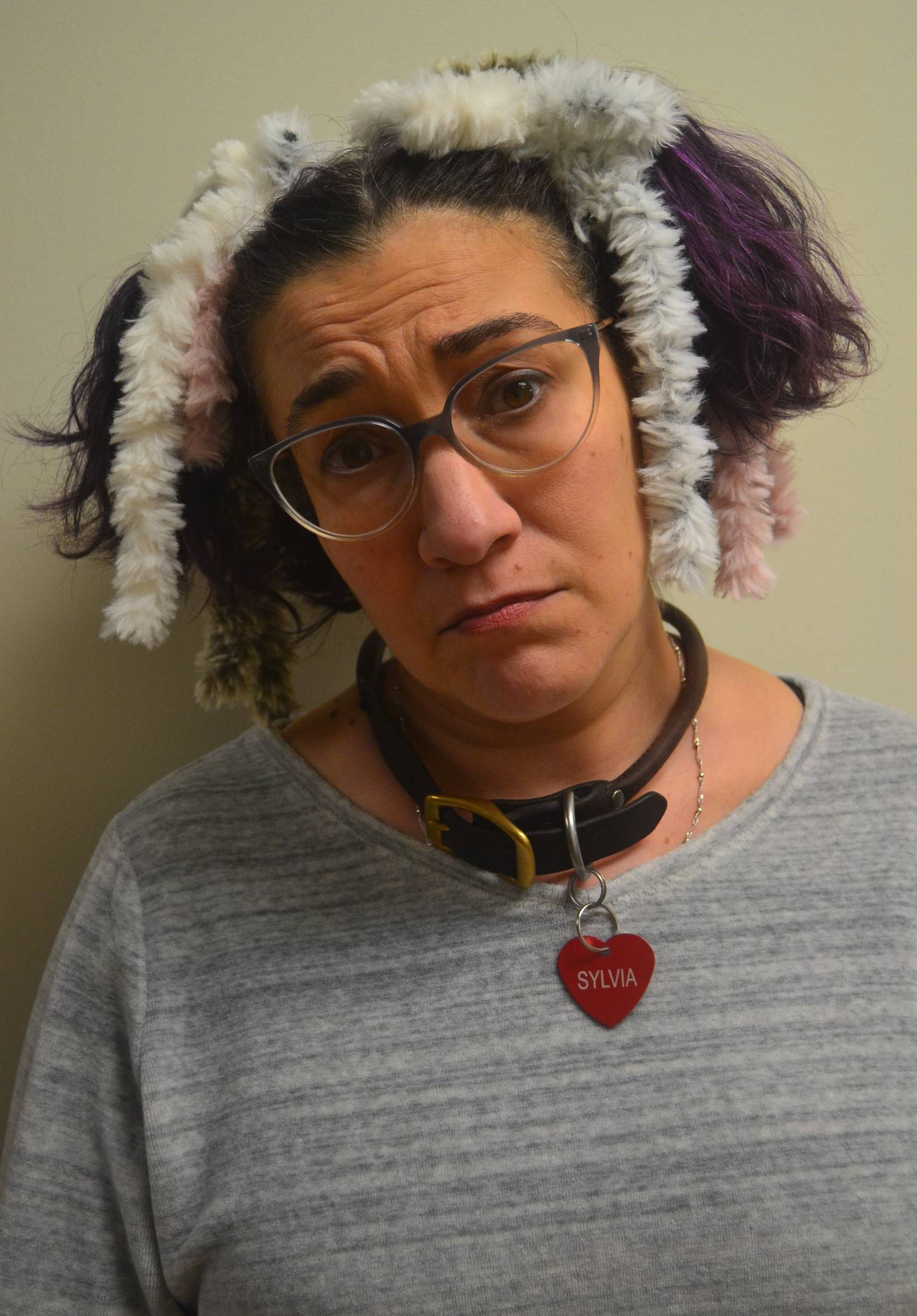 Elizabeth Dawson is an exuberant, pert and frisky Sylvia. She delivers innocence, fear, adoration, and, at all times, is the "lead on all fours." Best of all, Dawson is believable and adorable. She will captivate you with her sensitivity, expressiveness and wonderful delivery in scenes with John Frankenthal's Greg. Their chemistry is dazzling.
Dawson exhibits a subtle humor, while bounding all over the furniture and platforms, causing all sorts of trouble, none so delicious as her "I have to check my messages" (dog owners will get it), her cat in the park recognition, and her prelude to her eager relationship with Bowser. Dawson's visual identity as a dog does not have a tail or phony ears, but a dog collar complete with heart tag and suggestive Labradoodle curls. Physically, she rolls, itches, twitches, fetches, but she also can talk – words express her emotions – no barking or growling. Dawson is, in a word, superb.
The very tall and exquisitely postured John Frankenthal is Greg, a perfect embodiment of the anxiety of middle age and the disillusionment of a job in the money market. He's restless, he's looking for the meaning of life, and, as an actor, Frankenthal has a quiet radiance of charm and calm. He is a quixotic and engrossing actor.
Gabrielle Cross is a lovable and frustrated Kate. She is wonderfully expressive vocally and physically, and showcases exasperation, despair and logic well. She spouts Shakespearean lines relevant to the situation she finds herself in, and quite honestly expresses she likes dogs "when they belong to other people," and clearly the dog phase in her life is definitely over. You will believe all her reasons why there is no need for a dog in Manhattan; Cross is that convincing. She and Greg are empty-nesters; she is quite a rising star in public education, and there's no room or need for Sylvia.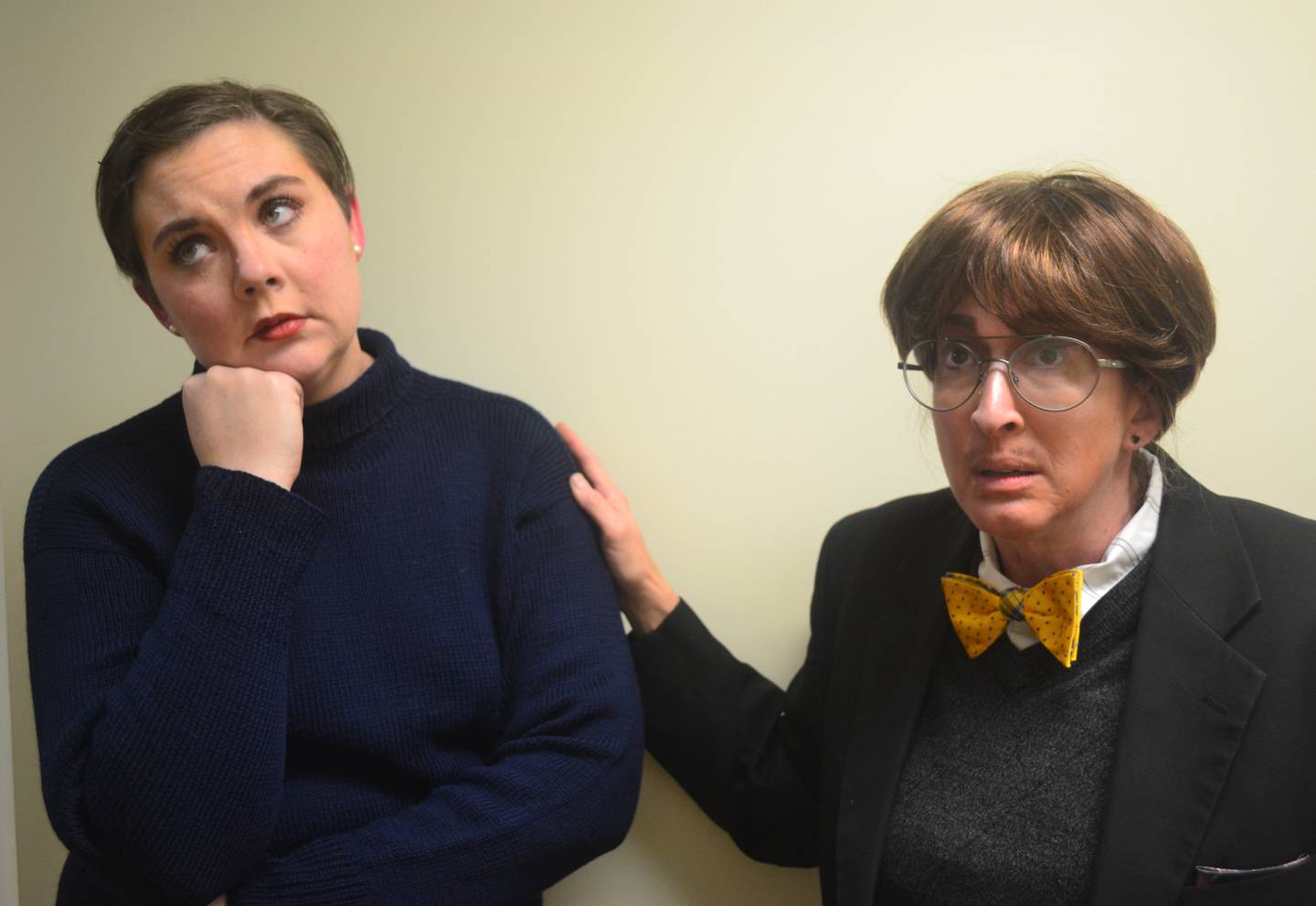 Mindy Kaplan portrays two flamboyant characters who provide much of the comic relief. Her Phyllis is a pill-popping New York socialite with a husband fascinated with goldfish, and her nonspecific-gender therapist (named Lesley and the possible villain momentarily in the play) has an interesting diagnosis and over-the-top solutions for Kate and Greg.
Richard Sherman's Tom is the voice of reason, first meeting Greg in the park with his dog, Bowser. His character reminds Greg of the value of naming a problem so "you can deal with it" (good advice), and the danger of treating dogs like they are humans (also good advice). Sherman is a fresh, solid and sincere actor.
If you attend a Sunday matinee, you also will experience brilliant sign actor Andrew Ross, who quite fluently and expressively interprets for people with hearing impairment.
Act Two takes a slightly unexpected, if not dramatic turn, which introduces some not so subtle parallel social commentary, as well as preparation for a heartfelt conclusion. You could label "Sylvia" an oddly enduring love story; it's quirky, goofy and, eventually, very moving. This is A.R. Gurney, after all, and you have to wonder this time what intricacies about the human heart he's trying to reach through man's best friend.
• Regina Belt-Daniels has shared a life with dogs since childhood, however, none quite as expressive as Sylvia. She also has shared that life onstage and backstage as an actor and director for RCLPC, Elgin Theatre Company, Independent Players, TSP, WMTC, Black Box Theatre and the Raue Center For The Performing Arts.
IF YOU GO
WHAT: "Sylvia"
WHERE: Elgin Art Showcase, eighth floor, 164 Division St., downtown Elgin
WHEN: 8 p.m. Fridays and Saturdays, 2 p.m. Sundays through Feb. 19
COST: $20, $18 for students and seniors
INFORMATION: 847-741-0532, elgin-theatre.org