I have the perfect solution to jump-start that holiday spirit: Theatre 121′s production of "Elf The Musical," currently entertaining audiences of all ages at the Woodstock Opera House.
The show is based on the popular 2003 Will Ferrell film, with book by Bob Martin and Thomas Meehan, and music by Matthew Sklar, and you couldn't ask for a more energetic and joyous production.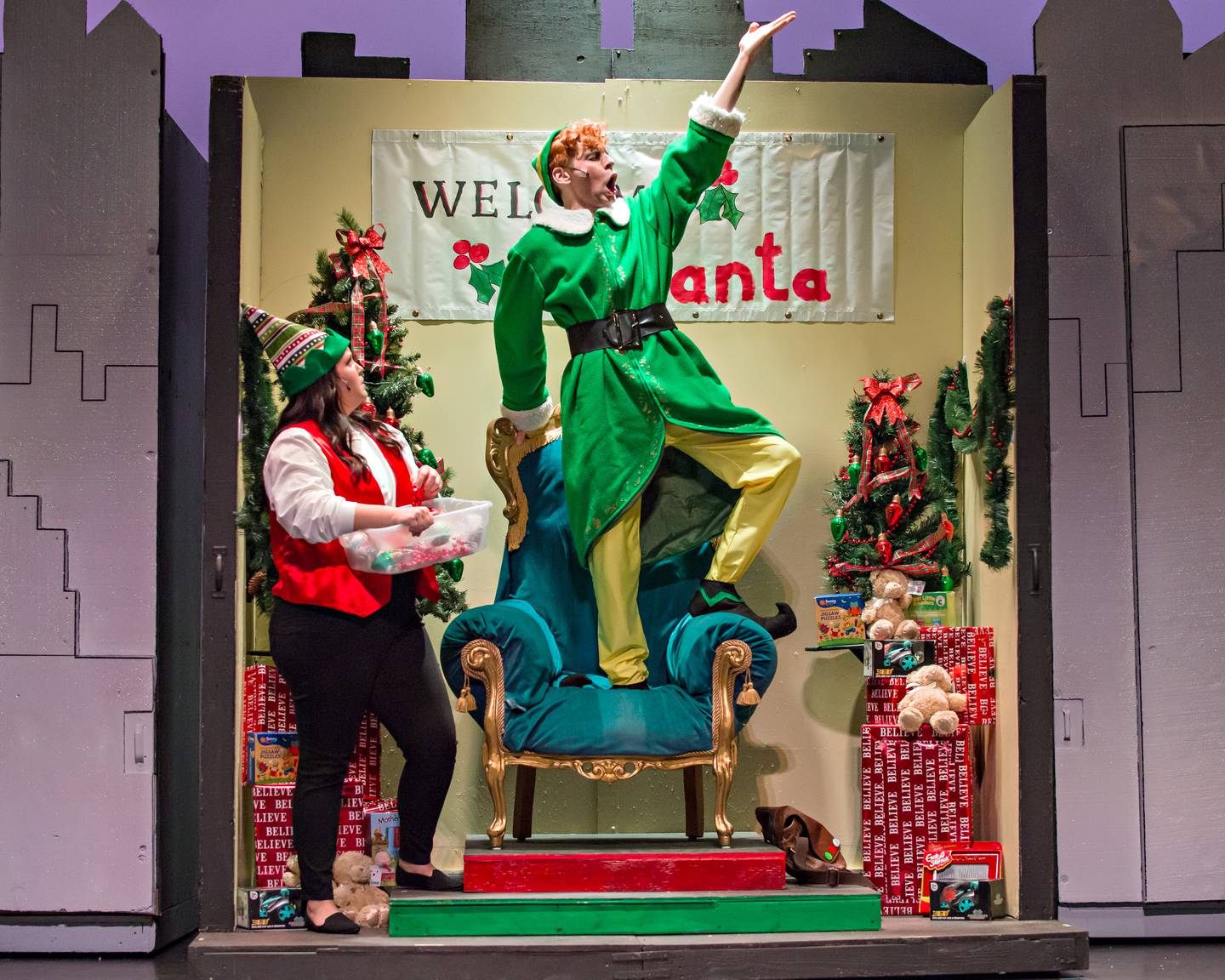 With artistic direction by Roger Zawacki, vibrant musical direction by Alayna DeVar, and exuberant choreography by Bridget Kuehnert, the cast of 20 vivaciously relays the tale of Buddy, the orphan baby who accidentally crawled into Santa's toy sack and was taken to the North Pole, where he was raised by Santa, Mrs. Claus and the elves. However, it eventually dawns on Buddy to notice his rather large size and inability to make toys efficiently, forcing him to face facts when he overhears two elves discussing: He's human, not an elf!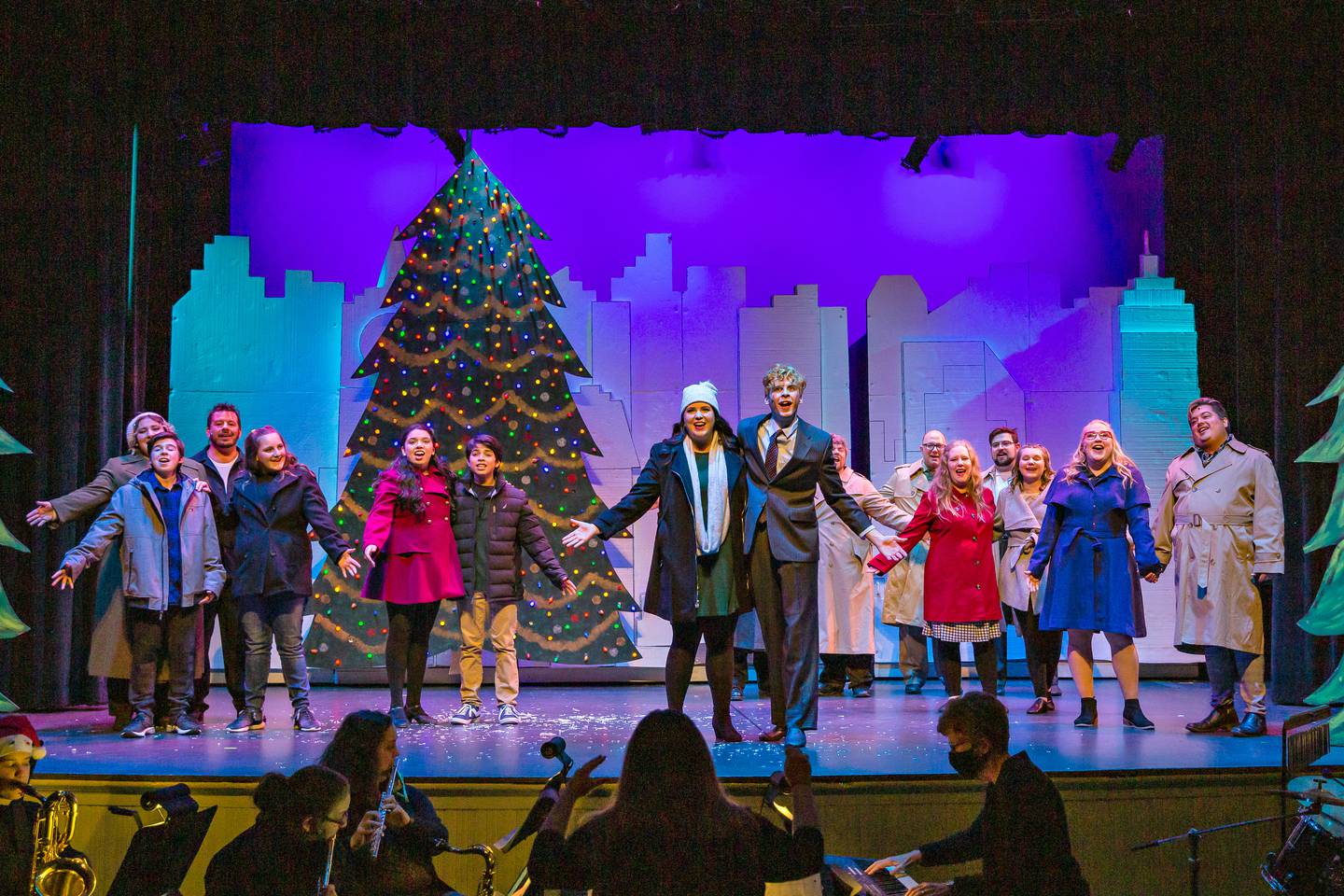 Santa tells Buddy he must leave the nest and go south to the Empire State Building in New York City, where his birth father (who doesn't know he has a son and is sadly on Santa's naughty list) works. Buddy finds Walter Hobbs at Greenway Publishing, but as you can imagine, the reunion doesn't go well. Security is called, and because he's dressed like an elf and claims he's from the North Pole, Walter's security guards assume he's a Macy's holiday store employee and deposit him there – and the story takes root. Soon Buddy's on a quest to win over his newly found family and to help New York City remember the true meaning of Christmas.
In his 13th production at the Woodstock Opera House, Zawacki has cast well. Dylan Thomas is a superb Buddy. He looks and acts the part of the innocent, goofy and totally endearing character. He illustrates his acting versatility from the instant he hits the stage. Thomas can sing, moonwalk, tap dance in curled-toe elf shoes, leap higher than an Olympian, and make you believe in Santa. He has a continuously engaging chemistry with the entire cast.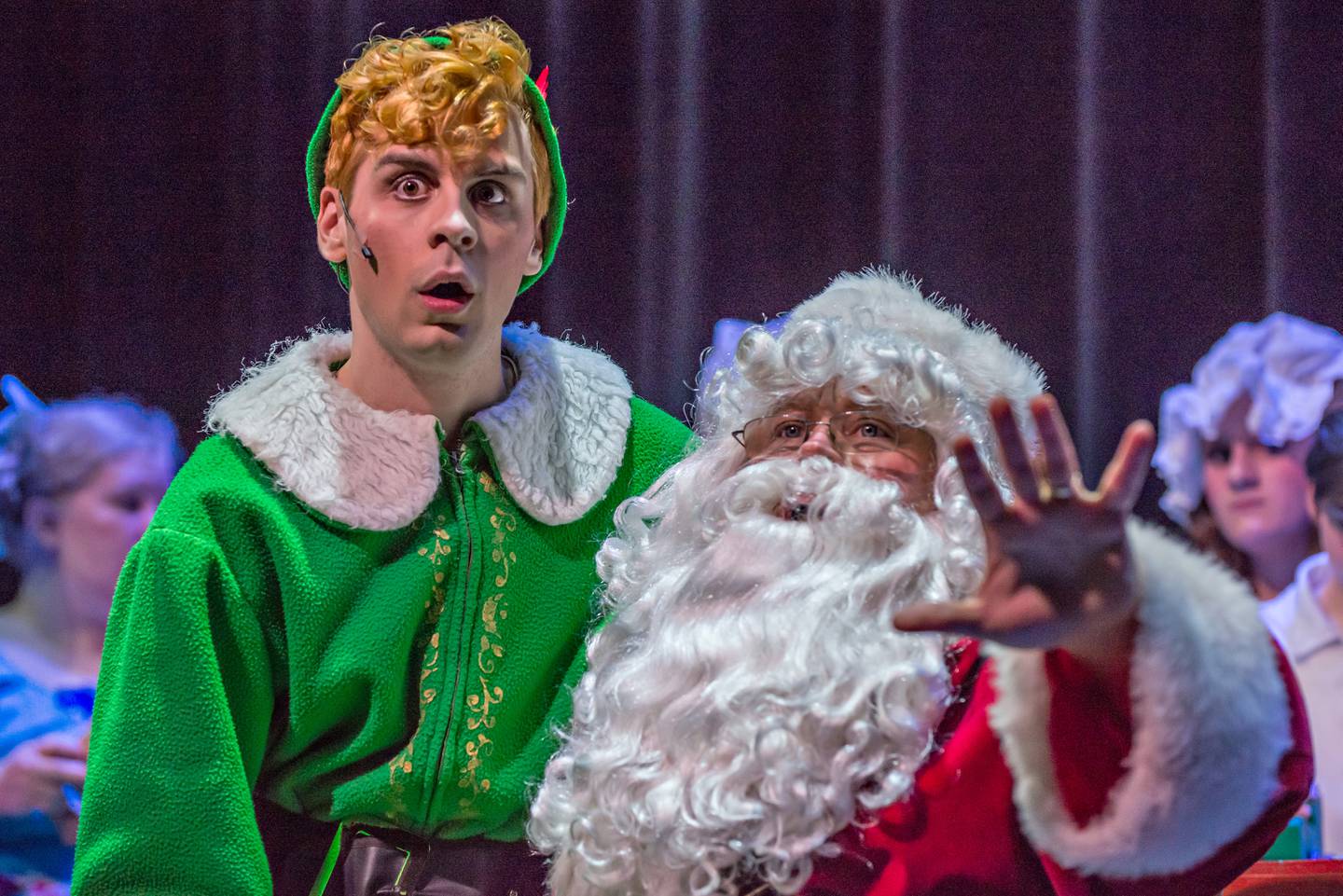 Thomas is as charismatic as David Gasior, whose rich voice and expressive face portray the perfect Santa. He's a charmer, and narrates Buddy's timeless quest. This Santa has been brought into the 21st century; he uses an iPad to store letters and lists, has a cellphone, knows about Chipotle, can't program a VCR via remote, and drives a sleigh powered by Christmas spirit. (It seems a letter from PETA has grounded those flying reindeer.)
Travis Greuel does a credible job as Walter Hobbs, the gruff, rigid, workaholic book publisher who is "not prepared to be a dad to a son I never knew I had." He masters his song with the lyrics "Christmas always gets in the way."
Jordan Rakittke is a wondrous Emily, Walter's ignored wife, who with Brody Tyner as son Michael, ignites the stage with their duets "I'll Believe in You" (with some heart-tugging requests for Santa) and "There Is a Santa Claus." Tyner especially has quite the set of pipes for a young man.
Kelsey Bennett plays Jovie, the cynical nonbeliever from Los Angeles who is Buddy's love interest ("a glittering angel"). She transitions very nicely from cheerless to cheerful; you feel for her. Savannah Thomas is Deb, Walter's bubbly assistant, and is a spot-on intuitive girl Friday. She also possesses a well-timed comedic sense. Both Bennett and Thomas are strong vocalists.
Many of the ensemble play multiple roles: Corey Atkinson, Gus Calhoun, Jessica Falco, Brendan Gaughan, Aaron Gomez, Chris Griffin, JD Harshbarger, Amanda Haugk, Geoffrey Lindow, Kenzie Parry, Tony Rakittke, Addyson Rebman and Kelsey Waughon. They are all to be applauded for their quick changes in both character and costume demands.
Costumes are by Carol Foreman and Trudie Dreyer. And it must've been quite the operation backstage. The scene changes were many and flawless due to the strength of stage manager Janelle Graf, technical director Tom Hermanson and their stage crew.
All the songs and dances are entertaining, but thanks to the choreography and singing of the ensemble, particularly delightful are the songs "Nobody Cares About Santa," "Happy All the Time" and "The Story of Buddy." The show runs two hours and 40 minutes, with one intermission.
The holidays are upon us, and this "Sparklejollytwinklejingley" production reminds us of generosity, love and the importance of family. "Elf" is a modern-day holiday classic, and Theatre 121′s show is surprisingly tender and encompassing. Jovie may have sung "Never Fall in Love (With an Elf)" – but this is one you definitely should fall for.
• Regina Belt-Daniels has never stopped believing in Santa and has always tried to be on that nice list. When not acting, directing, teaching or writing theater reviews, she can be found traveling with her husband.
IF YOU GO
WHAT: "Elf The Musical" by Theatre 121
WHERE: Woodstock Opera House, 121 Van Buren St., Woodstock
WHEN: Through Dec. 5, with evening and matinee shows from Friday through Sunday; proof of vaccination must be shown and a mask worn
COST: $20 to $26 for adults, $18 to $24 for students and seniors
INFORMATION: www.theatre121.org, www.etix.com/ticket/v/15767/woodstock-opera-house