The theater critic in Terrence McNally's streaming play "It's Only a Play" is right. I don't know what I'm going to say until I sit down and write it. But not this time. I'm saying right from the start, I don't think I've ever laughed more or identified as strongly with such a brilliant play for a long time. It's that good, and it's a wonderful homage to show business – perhaps stereotypical and over-the-top at times, but the ring of truth is there.
McNally is the famed playwright and winner of four Tony Awards (two for best book – "Master Class" and "Love! Valour! Compassion!" – and two for best book of a musical – "Kiss of the Spider Woman" and "Ragtime"). He's been described as the bard of American theater, and in 2019, received the Tony Award for Lifetime Achievement. For McNally, the most important function of theater was to "create community and bridge rifts opened by people by differences in religion, race, gender, and sexual orientation." And as Jesse Green said in the New York Times 2020 obituary for McNally, "he believed that tragedy and comedy not only co-exist, but, also like all of us on Earth, cohabit."
In "It's Only a Play," McNally gives us a familiar situation with understandable and lovable comic personalities and the exceptional put-down. It's filmed onstage with a luxurious set designed by David Arsenault, with entrances and exits all from a spacious bedroom, but we do see and hear an ongoing party downstairs with glimpses of stairs every time the door opens and closes. Glorious costumes by Alejo Vietti fit this cast's characters to a resplendent T.
Director Kevin Cahoon has guided his talented cast in a delicious, delightful and heartfelt production. It's the party of the year for the play of the season, or at least that's what the producer, director, cast and friends want to believe. There's a raging blizzard outside (the cast of "Matilda" is throwing snowballs), and a cab strike. At the producer's Manhattan apartment, the group is anxiously awaiting the reviews of their Broadway opening night of "The Golden Egg." There's celebrity name dropping (from Chita Rivera to Lady Gaga, not to mention the cast of "Hamilton"), wisecracks on current and past Broadway shows, and reverence for the power of theater critics, one of whom happens to be present at the party.
The play begins with the soft piano music of "There's No Business Like Show Business," and a starstruck coat boy ("Al Pacino handed me his coat! Denzel Washington just high-fived me!") is celebrating his first night and first job in New York City. Of course, he wants to be an actor. Gus is played eagerly and enthusiastically by Doug Harris; he is the continued innocent comic relief with a great knowledge of Broadway theater and shorthand.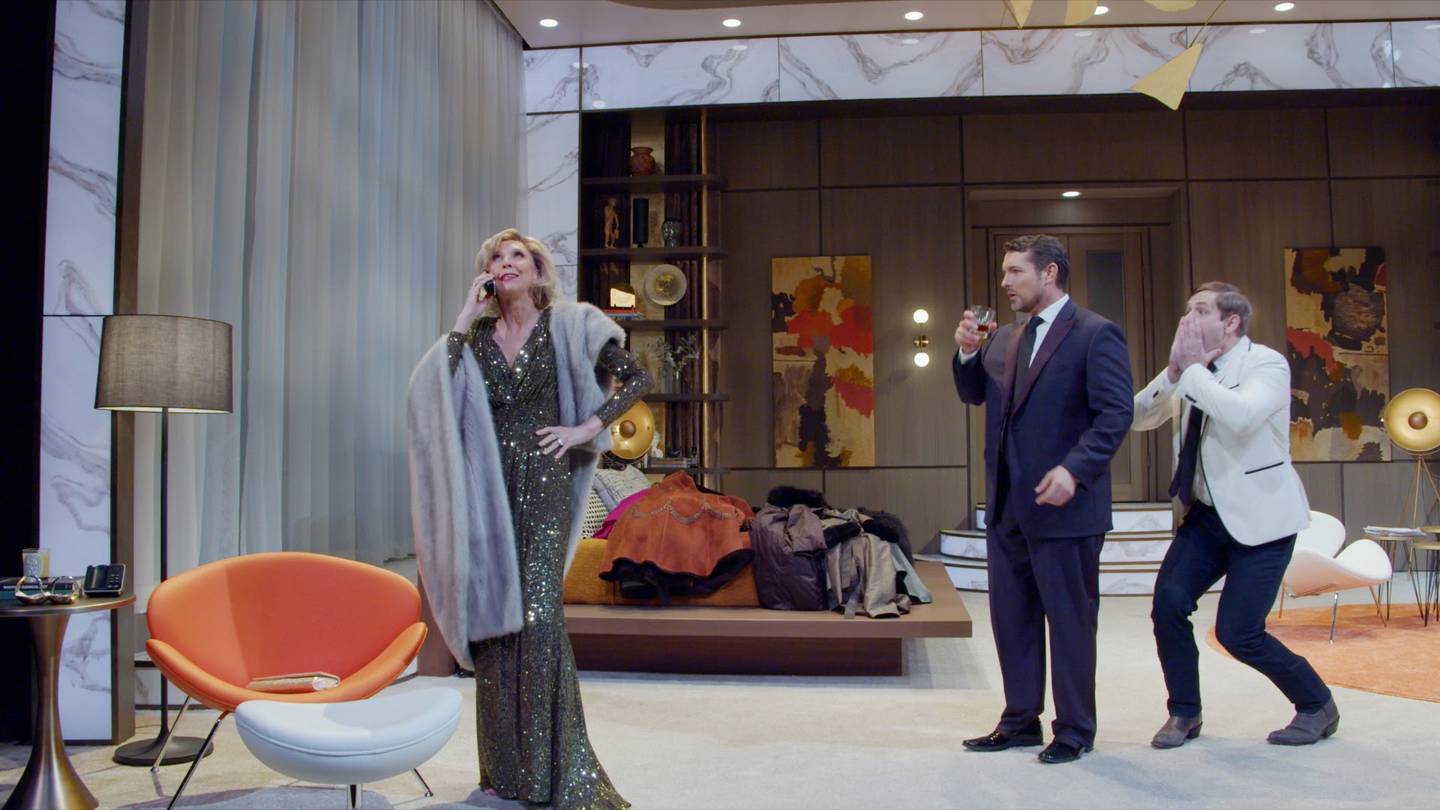 He soon is joined by the refuge-seeking James Wicker, friend to the playwright, and magnificently played by Zach Shaffer; he is every inch the stage actor who left it all behind to star in a successful TV series. His character is a comfort to producer Julia Budder, and a sounding board/commentator for Gus. And Shaffer does what every actor/friend does: The play is a "300-pound butterball," but he proclaims how wonderful the show is to the leading lady and the playwright. Shaffer is also a master of emotions.
Christine Toy Johnson is the wealthy producer Budder. Her recurrent joke involves her dog Torch (he apparently attacked Kelly Ripa), and misquoting lines from Broadway shows. Johnson is a fresh and strong actress, and thoroughly delightful.
Julie Halston is a knockout Virginia Noyes, the leading lady. Halston is an exquisite diva, from her histrionic entrance to her unloading of her purse's contents. She's a shimmering, aging star who used to be in the movies. Her entrance is only outdone by door-flinging director Sir Frank Finger; Greg Cuellar plays the egomaniacal young genius Brit with dramatic flair. ("I was born charismatic.") Making a later entrance is actor Andy Grotelueschen as playwright Peter Austin in cape, top hat and cane, bemoaning "how Shakespeare stood it."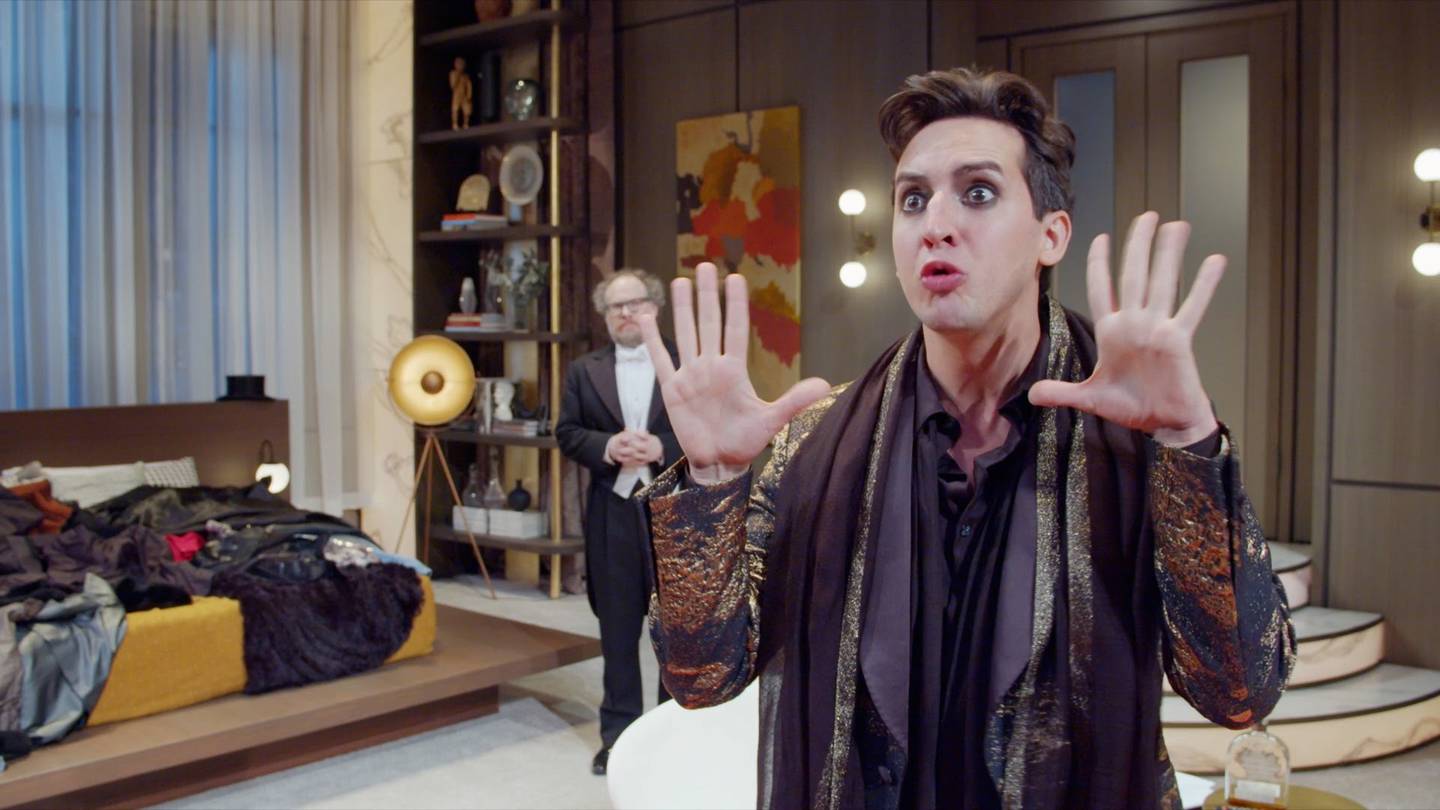 He is a bearded and tall actor who easily conveys the playwright's religion, delight and subsequent hurt.
Also making a later entrance is Triney Sandoval (whom I recognized from Spring Green's American Players) as theater critic Ira Drew, the "most vicious theater critic in New York" – he was even banned from a revival of a revival of "Les Miz"! Patti LuPone has zinged Drew with a plate of lasagna, and the way Sandoval portrays him, he deserves it.
I cannot envision a more perfectly cast ensemble.
Act one ends with a brief start to reading Ben Brantley's New York Times review; act two begins with playwright Austin reading the review aloud, and, you guessed it, "The Golden Egg" is not a hit. As a matter of fact, Brantley says it's the worst American play ever written, that it tarnishes everyone's reputation, and that producer Budder should have used her money "to open a mental hospital to have her head examined." OUCH! No longer is Austin "the oldest-living promising young playwright." This is the act that showcases the end of buoyancy, and the collapsing into self-doubt and pessimism. But don't worry, there is a happy ending!
The two-hour show with intermission contains adult language.
"It's Only A Play" originally opened off-off Broadway in 1982. It was revived in 2014 with luminaries Nathan Lane, Matthew Broderick and Stockard Channing. That limited engagement was extended more than a year; Variety called it a "megaseller."
Ironically, "It's Only a Play" was originally an unsuccessful 1978 play titled "Broadway, Broadway." Its Broadway opening was canceled after Philadelphia tryouts reviews were negative. Like his playwright character Peter Austin, McNally was no longer confident, but realized a show closing was not the worst thing that could happen. So he rewrote and retitled the play, and I'm so very glad McNally didn't give in and give up.
• Regina Belt-Daniels has been in over 35 plays and productions in the area, and knows first-hand all the situations and characters presented in "It's Only a Play." And she wouldn't have changed any of those experiences for a New York minute.
IF YOU VIEW
WHAT: "It's Only a Play" from George Street Playhouse
WHEN: Through July 4
COST: $33
INFORMATION: Streaming at georgestreetplayhouse.org