CRYSTAL LAKE – Crystal Lake South guard AJ Demirov poked the ball away from a Buffalo Grove guard near midcourt, then ran around him to grab the loose ball and raced for the basket.
The 5-foot-11 junior went hard to the basket, drew a foul, then calmly swished a free throw for a 59-58 overtime victory Friday at South's Gary Collins Shootout.
For the event, overtimes are won on the first points scored. South, which let a 58-52 lead slip away in the final 30 seconds of regulation, lost the tip to start overtime, but Demirov's lightning-quick hands were there for the critical steal.
The Gators and Rockford East were the only 3-0 teams in the 12-team, one-day event. Other local teams competing were Cary-Grove (1-2), Johnburg (1-2), McHenry (2-1), Woodstock (1-2) and Woodstock North (2-1).
[ Photos: Crystal Lake South Gary Collins Shootout 2023 ]
Demirov, McHenry guard Marko Visnjevac and Woodstock forward Spencer Cullum, all Northwest Herald All-Area second-team selections, led their teams in the shootout.
Demirov had a standout sophomore season with a group of mostly seniors, including guard Cooper LePage, a two-time, All-Area first-team selection.
(The coaches) taught me a lot how to lead. It wasn't so much like skills, just how to lead a team, they know I'm going to be a leader."

—  AJ Demirov, Crystal Lake South guard
Now, it will be Demirov's show to run. He averaged 15.4 points a game, hit 46 3-pointers and shot 75.8% on free throws while helping the Gators to a 25-8 record and a Class 3A regional championship, their first title since 2002.
Demirov played in the spring with Fundamental U's 17U team, on which Cullum also plays. June is a month for players to compete with their high school teams before returning to their travel teams.
"[The spring] went pretty well. It made me a lot better as a leader," Demirov said. "I communicated with my teammates better. [The coaches] taught me a lot how to lead. It wasn't so much like skills, just how to lead a team, they know I'm going to be a leader."
Demirov's shooting ability and quickness make him difficult to guard. He will be playing and leading a much younger group next season.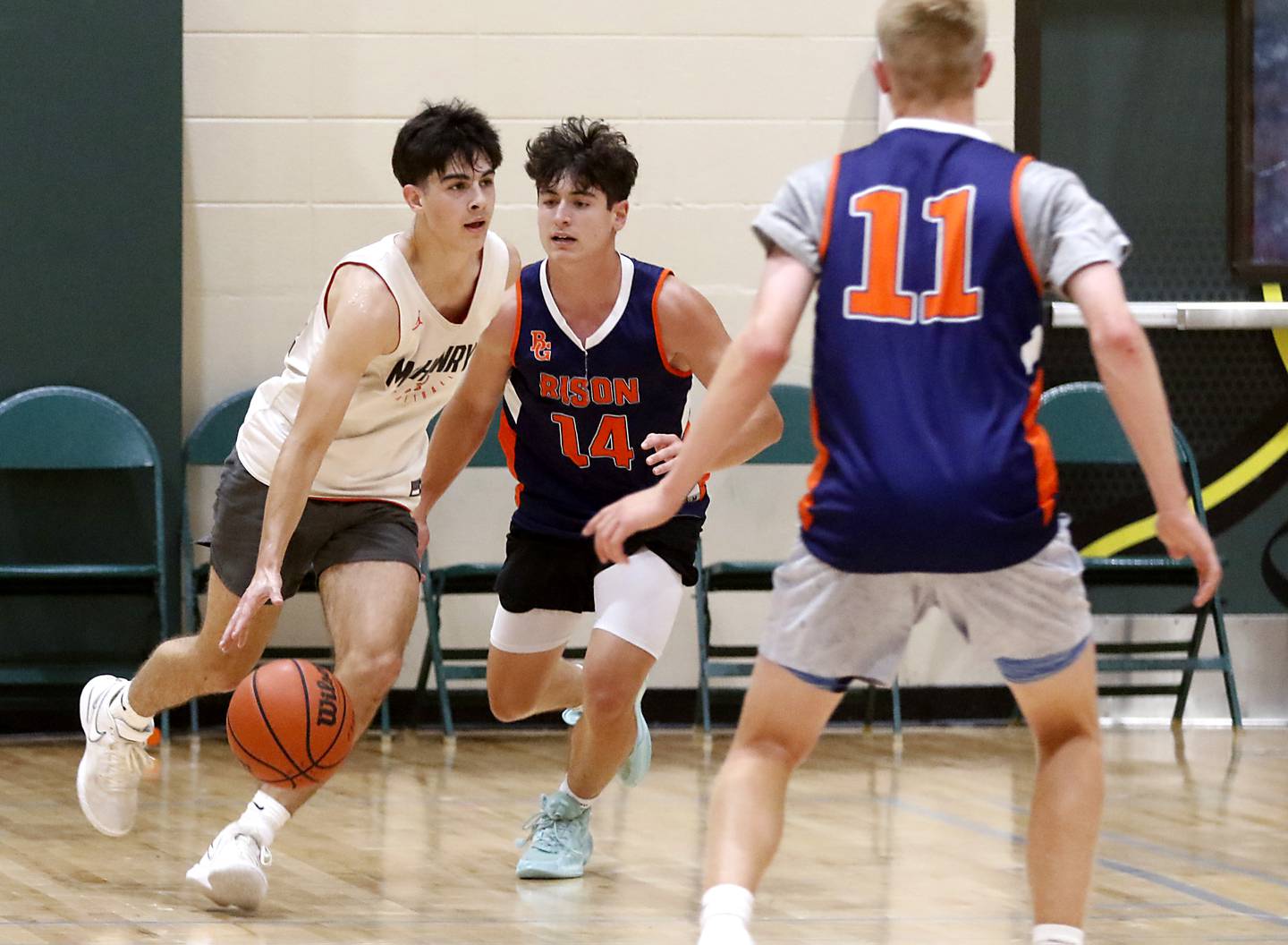 On the Marko: Visnjevac averaged 16.7 points a game, shot 84.8% at the line and made 79 3s, third among area players. He will lead a Warriors team that was 13-19 and has most of its players returning.
Against Buffalo Grove, 6-6 sophomore Adam Anwar hit a 3 from the key to send the game into overtime. McHenry won the tip and Visnjevac drove to the left baseline and sank a 10-footer for the game-winner.
"I know I'm a good shooter, so finishing is a big thing for me," Visnjevac said. "I'm working on getting downhill, getting stronger. I've been hitting the weight room a lot."
Visnjevac recently heard from NCAA Division II Quincy and has been in contact with D-III schools such as North Central, St. Norbert and Wisconsin Lutheran.
Visnjevac, Hayden Stone, Caleb Jett and Connor McLean all return as starters, and Anwar saw a lot of time off the bench for the Warriors.
"We're pretty much returning everybody, so this year's the year to go all in," Visnjevac said. "With who we have returning, I think we can make a really big run, maybe win a regional."
Moving up in the KRC: Woodstock looks like it can contend for the Kishwaukee River Conference title with Cullum, a third-year starter, leading the way. Trent Butler, Keaton Perkins and Sam Chapman also return as rotation players.
Another key player for the Blue Streaks will be incoming 6-2 freshman Max Beard, who plays travel with Flight Illinois, and who Woodstock coach Ryan Starnes considers their best outside shooter.
Cullum looks forward to leading the team and achieving big things.
"Playing with Fundamental U is making me play at a higher level," Cullum said. "It's better competition. It gets me prepared for games here and in the season. Lifting and getting stronger.
"Last year, I settled too much and shot 3s too much. I've been trying to attack more. Dribbling and breaking the press and stuff like that."
Starnes likes what he has seen from Cullum.
"He's playing at a really high level. The thing I'm most proud of him is the intangible stuff," Starnes said. "He's turned into a leader, he's reaching out to guys, he's driving kids to practices.
"He's become the face of Woodstock basketball. He has to lead in a way that represents us and he's doing that. He gets others involved, he's making the extra pass. Last year in 2-on-1 situations he might keep it himself and he's dropping off and making the right plays."
Cullum just heard from Austin Peay, his first D-I school, on Friday. He also has had interest from D-II's St. Leo, University of Tampa, Maryville (Missouri) and Wisconsin-Parkside.
Cullum thinks the Streaks can do special things.
"We've been working really hard in practices," he said. "I expect that to continue. A conference championship. I see us working hard and getting a regional [title]. That's the goal."
The Streaks lost to Rockford East in overtime Friday.
The legacy: Max Beard's father Steve is a former Streaks quarterback and a three-sport star. Steve Beard was the 1992 Northwest Herald Male Athlete of the Year. Lisa Beard, Max's mother, was a standout softball pitcher for the Streaks.
"He's a really skilled offensive basketball player," Starnes said. "He can handle the ball really well. He moves without the ball really well. He can shoot it really well. He can attack off the dribble, his mid-range is good. His offensive skill set is really, really high. He's a great complement to a bunch of our kids."
Beard is enjoying working in with his older teammates.
"It's really fun. I like being with the guys," he said. "They're more mature than me, but it's fun. It's like having a bunch of older brothers, it's real fun.
"The speed in travel ball is really fast, maybe even faster than this. Everybody can shoot in travel. Everybody's big, so it's prepared me physically and mentally."
Beard says he sometimes worries about shooting too much as the new guy, although his coach does not.
"The message is 'Let it fly,' especially for a shooter like him," Starnes said. "If you're open, you have to let it go. He's earned the trust and confidence of all of us on the staff that if he's open he's got to let it go.
"It takes a lot of pressure off some of the other guys, Spencer in particular. They can't all collapse on [Cullum]. He doesn't have to bring the ball up as much because Max can do it. He's just a really nice complement to the other players we have."