Fox Valley Conference
Burlington Central
Coach: Dominic Pearson (first season)
Last year's record: None
Top players: Zoe Westra, so.; Victoria Zielinski, jr.; Sophia Arnold, so.; Emme Share, fr.; McCoy Janecek, sr.
Worth noting: The Rockets will play a limited schedule during their first year as a program and all of their matches will count as JV. However, they still will compete against some varsity teams, including Hampshire co-op. ... Burlington Central has been practicing for two weeks and has an impressive 34 players on its roster. The Rockets do have some experienced club players and a big number of multi-sport athletes, including from basketball, track and wrestling. The first few weeks of practice have focused mainly on fundamentals. ... "We want to get to the point where all of our girls get better and we are able to compete next year," Pearson said. "It's great to see the willingness the athletes have to learn something new and to better themselves. ... All of our girls are getting along with one another and building that communication a team needs to compete."
Crystal Lake Central co-op
(with Cary-Grove, Crystal Lake South and Prairie Ridge)
Coach: Joe Capalbo (fifth season)
Last year's record: 19-5, 6-0 FVC (first place)
Top returners: Maddi Lieflander (CLS), sr., A; Colleen Dunlea (CLC), jr., A; Fiona Lemke (CLC), so., M; Addison Bechler (CLC), so., M; Addison Dale (C-G), jr., D
Key newcomers: Anna Starr (CLC), fr., M
Worth noting: Crystal Lake Central co-op won the FVC championship for the second year in a row and earned a trip to supersectionals by claiming its first sectional title with a 7-5 win over Hoffman Estates. Last year's 19 wins were a program record, topping its 16-4 mark from 2021. … The Tigers return four of their top five goal scorers in Bechler (42), Lieflander (38), Dunlea (38) and Lemke (31). All four earned All-FVC honors, along with Dale … Piper LeFevre, the two-time Northwest Herald Girls Lacrosse Player of the Year, led the team with 64 goals and had an FVC-best 84 points. The 2022 Prairie Ridge graduate is now playing at Carthage College in Kenosha, Wisconsin. … The Tigers biggest losses came on defense after holding teams to 5.6 goals a game. Those losses included Bella LaRocco, who played every minute of every game at goalie. … Capalbo expects Starr to make a significant impact on offense. … "Last year we won our sectional and are hoping to compete for another sectional championship," Capalbo said. "We have a lot of new players and young talent this season. I'm excited to watch this team come together and see what they can accomplish."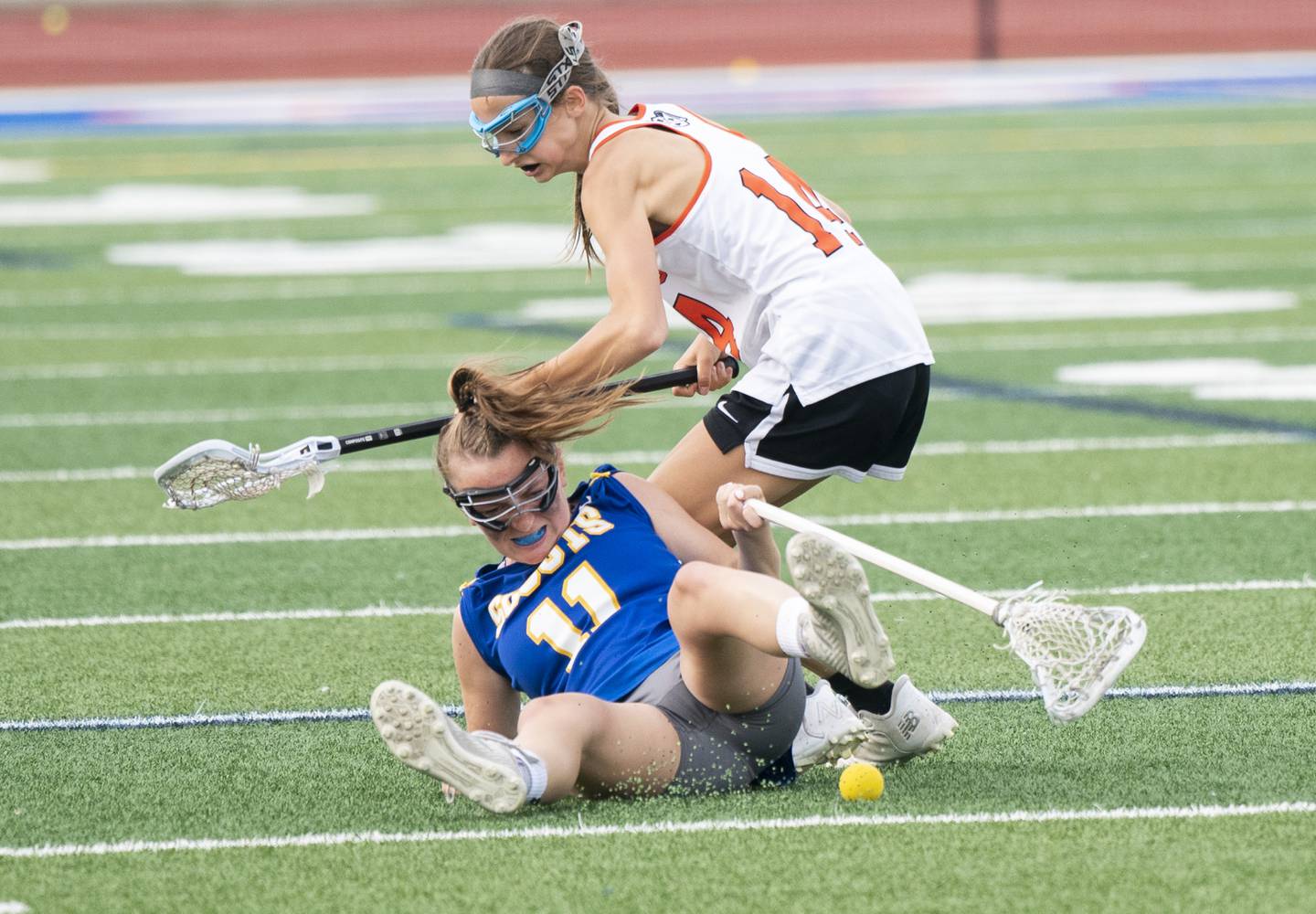 Hampshire co-op
(with Dundee-Crown and Jacobs)
Coach: Nicole Mergens (fifth season)
Last year's record: 2-17, 1-5 FVC (tied for third)
Top returners: Holland Rutter (Hamp), sr.; Sam Devens (Hamp), jr.; Sabrina Barrett (D-C), jr.; Ali Fitzgerald (D-C), sr.; Mia Garofalo (Jac), so.
Key newcomers: Rebecca Rossingnol (Hamp), fr.
Worth noting: Mergens hopes the experience of her team will translate into more wins after a 2-17 campaign. The Whip-Purs lost to Schaumburg 16-4 in their playoff opener last year. Hampshire co-op brings back most of its team, which should give players a better understanding of each other's strengths and weaknesses, Mergens said. "With almost our entire returning roster, we are starting our season in the best place possible," Mergens said. "I am most excited for our team to play with more unity and to support for each other." … Devens will be an anchor on defense, and Garofalo is someone to look out for as an attacker and midfielder. Rutter was an All-FVC pick. … "We are making a ton of progress in basic skills and can focus on game strategy at this point," Mergens said. "Our team has a strong bond and trust. Our challenge will be to build up stamina and endurance and stop our opponents in the midfield so that we don't have to run up the field so frequently."
Huntley
Coach: Joe Domka (third season)
Last year's record: 13-7, 4-2 FVC (second)
Top returners: Allie Ambrogio, sr., M; Ashley Zolen, sr., M; Kilee Galgay, sr., D; Katie Ferrara, so., A; Ally Schneider, so., M
Key newcomers: Leah Holmberg, fr., M; Delaney Stock, so., D; Savannah Stone, so., G
Worth noting: The Red Raiders won nine of their first 11 games last year and averaged more than 12 goals a game over the course of the season, finishing with a program-best 13 victories. … Both of Huntley's FVC losses were to Crystal Lake Central co-op (9-6 and 11-2). Huntley defeated Barrington 10-8 in its playoff opener but was knocked out by Crystal Lake Central co-op 14-4 in the sectional semifinals. … Ferrara led Huntley last season with 77 points and 59 goals. Ambrogio scored 40 goals and Zolen had 22. … Zolen and Ambrogio were All-FVC selections. ... The Raiders want to play an up-tempo style and Domka believes his team is capable of winning the FVC championship for the first time. … "Our team will be a very fast-paced team, and I'm excited to see what they can do with our quickness and skills on the field," Domka said. "The biggest strength we have is our ability to communicate and work together. I don't really see a weakness. I think we are very well rounded."
McHenry
Coach: Brad Robertson (third season)
Last year's record: 2-14, 1-5 FVC (tied for third)
Top returners: Kennedy O'Brien, sr., M; Reese Kominoski, sr., M
Key newcomers: Madalynn Sima, fr., A
Worth noting: The Warriors open the season Saturday at St. Francis and will play all of their home games on the turf at McCracken Field. … McHenry's two wins last year were the most in program history after going 1-29 combined in its first two seasons. The Warriors split their FVC games with Hampshire last year and also defeated Streamwood. … McHenry played close with Mundelein in its playoff opener but took an 11-5 loss. … O'Brien and Kominoski earned All-FVC honors. ... "We are excited for the season," Robertson said. "We are looking to improve on a daily basis and see what levels we can reach. We have a great group of girls this year, but we are still a very inexperienced team."