KANSAS CITY, Mo. – The Bears have a tough task ahead. Still in search of their first victory of the 2023 season, the Bears will have to visit Kansas City to face Patrick Mahomes and the Chiefs on Sunday.
It was an eventful week at Bears headquarters in Lake Forest. Defensive coordinator Alan Williams mysteriously resigned Wednesday and quarterback Justin Fields said some things that could be viewed as critical of his coaches (before walking back on his comments).
Bears head coach Matt Eberflus will have to rally the troops as he attempts to guide this train back on the rails. Mahomes and the Chiefs are off to a 1-1 start, with a close Week 1 loss to the Detroit Lions and a win over the Jacksonville Jaguars last week.
Shaw Local's Bears beat writer Sean Hammond is in Kansas City, Missouri, for Sunday afternoon's matchup. Follow him on X, formerly known as Twitter, at @sean_hammond, on Instagram at @bears_reporter and on Threads at @bears_reporter. For all the latest news from Shaw Local, follow @bears_insider on X. Shaw Local football analyst Marc Silverman is on X at @WaddleandSilvy.
Below is everything bears fans need to know to prepare for the game. Stay here all game long for live updates, too.
Chiefs close out a victory
Blaine Gabbert threw two interceptions in relief of Patrick Mahomes, but the Chiefs cruised to a victory, 41-10, on Sunday at Arrowhead Stadium.
The Bears dropped to 0-3. Only six NFL teams have ever made the playoffs after an 0-3 start to the season. The Bears take on the winless Denver Broncos next week.
Moore catches TD pass from Fields
DJ Moore caught a 9-yard touchdown reception from quarterback Justin Fields late in the fourth quarter. It was the first touchdown of the game for the Bears. Kansas City leads, 41-10. It marked Moore's first touchdown of the season.
Moore briefly went in the injury tent but did return to the team's sideline.
Justin Fields takes hard hit, Bears score points
Early in the fourth quarter, quarterback Justin Fields took a hard hit as he ran toward the end zone. Chiefs linebacker Willie Gay might have hit Fields in the head with his fist during the tackle. The quarterback wanted to stay in the game, but receiver DJ Moore basically pulled him off the field.
Fields briefly went into the injury tent.
The Bears then scored their first points of the game on a 21-yard field goal from kicker Cairo Santos. The Chiefs still lead big, 41-3.
Travis Kelce finds end zone, Taylor Swift cheers
Travis Kelce finally found the end zone Sunday, and Taylor Swift was spotted on the broadcast pounding on the glass window to the Kelce suite.
The Chiefs extended their lead, 41-0, with 7:40 remaining in the third quarter.
Chiefs add field goal before halftime
Chiefs kicker Harrison Butker made a 38-yard field goal as time expired in the first half. The Chiefs lead, 34-0, at halftime.
On the possession, Chiefs quarterback Patrick Mahomes had his ankle rolled up on by Bears defensive end Yannick Ngakoue. Mahomes remained in the game, but was noticeably hobbling. It's certainly something to keep an eye on.
Fields interception leads to Chiefs touchdown
Justin Fields had a pass tipped by a defender before it landed in the hands of Chiefs safety Mike Edwards. The turnover happened deep in the Bears' own territory. It led to yet another scoring opportunity for the Chiefs' offense.
The Chiefs scored for the fifth consecutive possession after running back Isiah Pacheco punched in a 1-yard score. The Chiefs extended the lead to 31-0 in the second quarter.
Khalil Herbert loses fumbles, Chiefs add field goal
Bears running back Khalil Herbert fumbled with the Bears deep in their own territory. Late in the second quarter, Justin Fields completed a six-yard pass to Herbert, but the ball popped out toward the end of the play.
Chiefs cornerback Trent McDuffie jumped on the loose ball to give the Chiefs another chance to score before halftime.
The fumble led to a field goal for Chiefs kicker Harrison Butker, who knocked in a 41-yard score. The Chiefs made it 24-0 with 1:51 to go until halftime.
Chiefs score on another easy drive
The Chiefs extended their lead, 21-0, with another touchdown-scoring drive. Quarterback Patrick Mahomes found running back Jerick McKinnon for his second touchdown of the game.
The Chiefs have already totaled 245 yards of offense. The Bears defense has not had any luck stopping the defending Super Bowl champions.
Bears punt for third time
The Bears' first three possessions have all resulted in punts. On the Bears' third offensive possession, the Chiefs brought a blitz on third down and flushed Justin Fields out of the pocket. The short-handed Bears offensive line struggled to pick up the blitz.
The Bears were forced to punt for the third time Sunday.
Chiefs score again, make it 14-0
The Chiefs thought they had a touchdown when Rashee Rice appeared to cross the goal line, but a review ruled that he was down at the 1-yard line.
Instead, the Chiefs scored on the following play when running back Clyde Edwards-Helaire punched in a 1-yard run. The Chiefs took a two-possession lead, 14-0, early in the fourth quarter.
Chiefs score first, Tyrique Stevenson briefly exits game
The Chiefs scored first on Sunday. Running back Jerick McKinnon scored on a shovel pass from quarterback Patrick Mahomes to put Kansas City ahead, 7-0.
Earlier in the possession, Bears rookie cornerback Tyrique Stevenson led a tackle with his helmet and hit a Chiefs ball carrier hard. Stevenson drew a penalty for leading with his head. To make matters worse, he remained down on the field for several minutes following the hard hit and exited the game.
Stevenson did later return to the game.
Taylor Swift arrives
Music superstar Taylor Swift is indeed at Sunday's game. The Fox broadcast showed a clip of Swift sitting beside Travis Kelce's mother, Donna Kelce.
Kelce told ESPN's Pat McAfee earlier this week that he had invited Swift to the game.
Nate Davis does not appear to be starting
Bears right guard Nate Davis did not warm up with the starting offensive linemen. Instead, second-year pro Ja'Tyre Carter warmed up at right guard.
Per a report from ESPN's Adam Schefter, Davis is dressed and available if necessary, but will not start the game. Davis has been in and out of practice over the last several weeks due to a personal issue. He has reportedly been dealing with a death in the family after a prolonged illness.
Davis missed practice Thursday and was a limited participant Friday.
Bears, Chiefs announce inactive players
The Bears announced that safety Eddie Jackson, receiver Equanimeous St. Brown, safety A.J. Thomas, quarterback Tyson Bagent, running back D'Onta Foreman and defensive lineman Daniel Hardy are inactive Sunday. They will not play in the game. Bagent will be the Bears' emergency third quarterback if Justin Fields and Nathan Peterman both suffer injuries.
That means that receiver Velus Jones Jr. and lineman Nate Davis are active and could play Sunday.
For the Chiefs, receiver Kadarius Toney (toe) and running back Isiah Pacheco (hamstring) are both active and expected to play.
Latest injury updates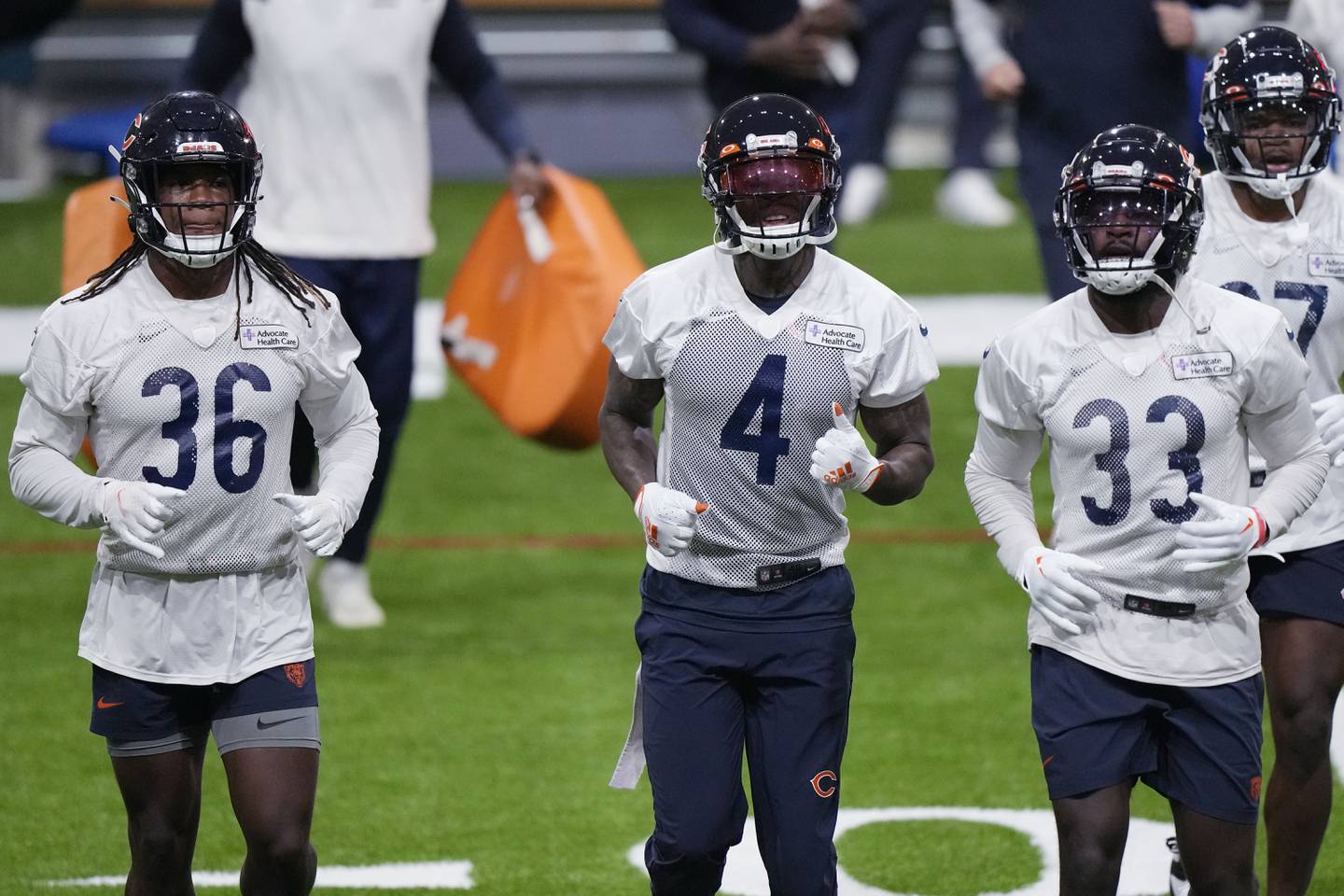 Bears safety Eddie Jackson did not make the trip with the team to Kansas City. Jackson injured his left foot last week against Tampa Bay. It's a promising sign that the Bears have not placed Jackson on injured reserve. He will not, however, play Sunday.
They did place defensive end Khalid Kareem on injured reserve with a hip injury. Kareem, who has yet to appear in a game this season, must now miss at least four games.
The Bears elevated safety A.J. Thomas and defensive lineman Daniel Hardy to the active roster from the practice squad. With Jackson sidelined, expect to see backup safety Elijah Hicks in the starting lineup beside Jaquan Brisker.
Additionally, Bears starting right guard Nate Davis is listed as questionable heading into Sunday's game. Davis missed one day of practice this week due to a personal reason. He did return to practice Friday in a limited capacity.
Receiver Darnell Mooney (knee) and cornerback Josh Blackwell (hamstring) dealt with minor injuries this week but are expected to play.
What to expect from the Chiefs
Andy Reid's club is off to a 1-1 start, but certainly nobody is panicking in Kansas City. The Chiefs missed All-Pro tight end Travis Kelce in the season opener, but Mahomes found him for a touchdown last week against a tough Jaguars team.
The Bears are going to need everything to go right if they're going to beat the Chiefs in their stadium. Here are five storylines to watch heading into the game.
Chiefs receiver Kadarius Toney (toe), running back Isiah Pacheco (hamstring) and linebacker Willie Gay Jr. (quad) are all questionable for Sunday's game. Receiver Richie James (knee) and linebacker Nick Bolton (ankle) have already been ruled out.
Can the Bears get over a rough week?
Weeks like this test a head coach. In the NFL, off-the-field drama is never far away.
Shaw Local Bears analyst Marc Silverman saw the same old disaster unfolding this week that previous Bears regimes couldn't get away from.
Williams' departure was unexpected and somewhat of a stunner. The 53-year-old defensive coordinator had been absent for about a week before he resigned Wednesday. In a statement released by Williams, he cited his health as the reason for his exit. Few Bears players or coaches, however, wished him well on his way out. Eberflus said he was going to give Williams, who he coached with for five years, space during this time.
As for the starting quarterback, Fields criticized his own play, and the offensive scheme during his weekly media session. He took issue with how the comments were being portrayed by the media and took back any criticism of the coaching staff.
The lingering question is will the Bears make changes to their offense after their starting quarterback expressed some concerns.
Is Taylor Swift going to be at the game?
Rumors have swirled for several weeks about a burgeoning relationship between Kelce and music superstar Taylor Swift. Kelce's brother, Eagles center Jason Kelce, has continually put fuel on the fire with regards to his brother's relationship.
In a brief interview, Travis Kelce told ESPN personality Pat McAfee that he invited Swift to Sunday's game and that he "threw the ball in her court."
NFL Network commentator Rich Eisen mentioned on air Sunday that he is hearing Swift will be in attendance for Sunday's game.
Rich Eisen saying pregame that he's hearing Taylor Swift will be in attendance at Arrowhead today

Bears simply gotta show up for TSwift

— Brad Spielberger, Esq. (@PFF_Brad) September 24, 2023
What else did I miss this week?
Here's everything else that happened at Halas Hall this week.
[ Chicago Bears GM Ryan Poles reiterates support for Matt Eberflus, Justin Fields ]
[ Bear Down, Nerd Up: When will Chicago Bears' historic losing streak end? ]
[ 3 things Chicago Bears head coach Matt Eberflus said Monday after Tampa Bay loss ]
[ Five big takeaways from Chicago Bears' Week 2 loss against Tampa Bay ]