La SALLE – Some of the best athletes, coaches, teams and media members in area history came together Thursday at the Auditorium Ballroom, some traveling from Florida, Texas, Colorado and even Germany.
Twelve individuals and four teams were inducted into the Shaw Media Illinois Valley Sports Hall of Fame.
"This class easily could have been the first class because of the quality of the inductees," emcee Lanny Slevin said as he began the festivities.
The talented members of the Class of 2023 were very interconnected.
Mendota's Don Hamel and Larry Corrigan were good friends in high school.
"It's a great honor (to be inducted). It means a lot. I have friends and family here. I'm very happy."

—  Larry Corrigan, former Mendota athlete, college baseball coach, MLB scout
La Salle-Peru volleyball coach Mark Haberkorn joked his 1990 Class AA fourth-place squad beat fellow 2023 inductee, the 1990 state champion Princeton volleyball team, in a conference match, noting it was "one of the greatest matches I've been associated with."
And Distinguished Media Award recipient Kevin Hieronymus covered the 1990 PHS volleyball squad along with fellow inductees Eric Bryant and Brad Bickett.
The 1953 Hall football team that went 9-0 and outscored opponents 208-54 kicked off the night as one of two Legacy teams along with the 1951-52 DePue boys basketball team.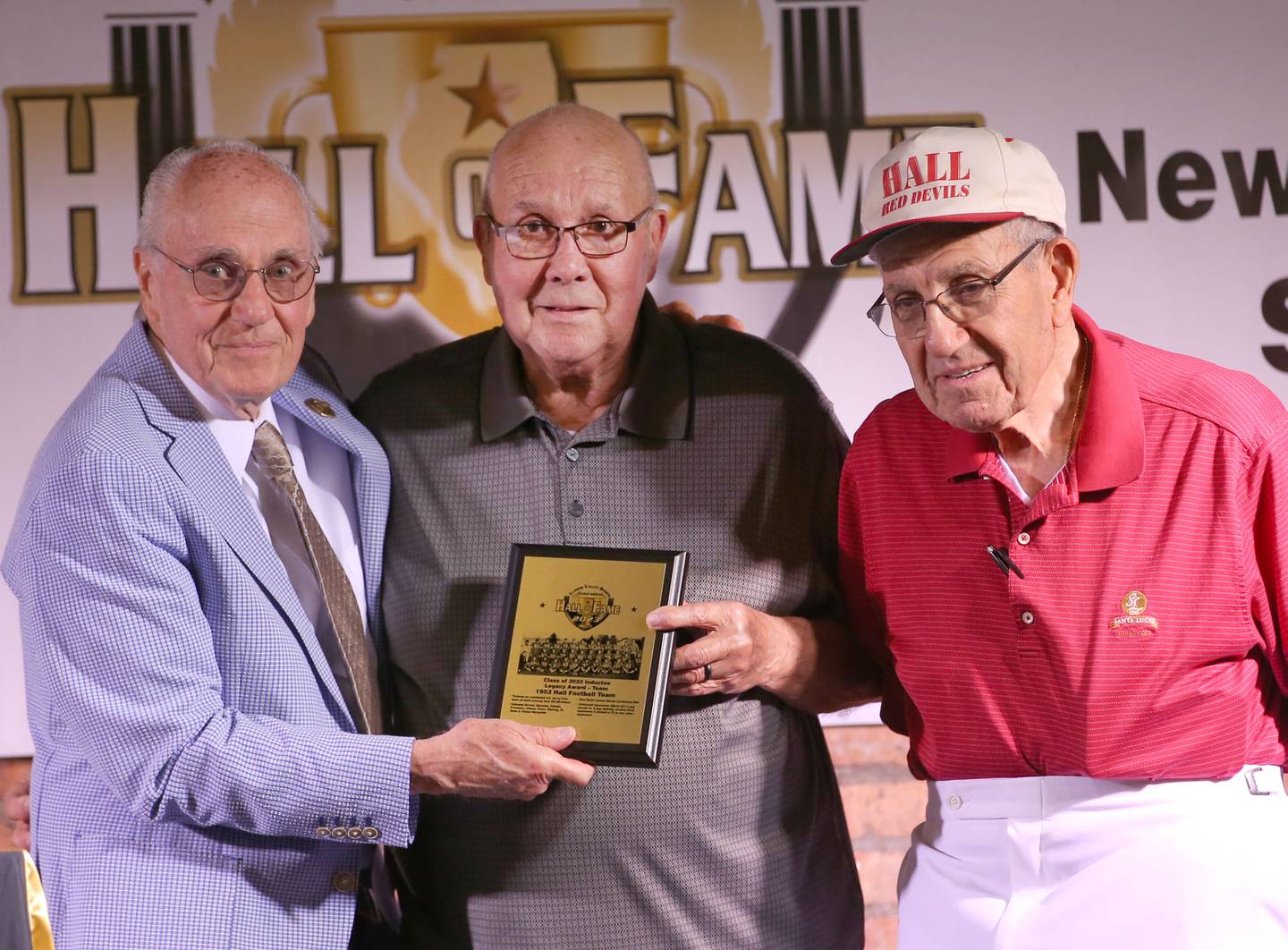 "We had 32 guys as freshmen and 32 guys as seniors. Nobody quit," said Roger Bruno, one of two team members who went onstage to accept the plaque. "There was no quit in us. We just learned how to play the game."
The 1951-52 Little Giants basketball team went 28-3 and won the program's fourth consecutive regional title. Frank Montez was in attendance to represent the DePue squad.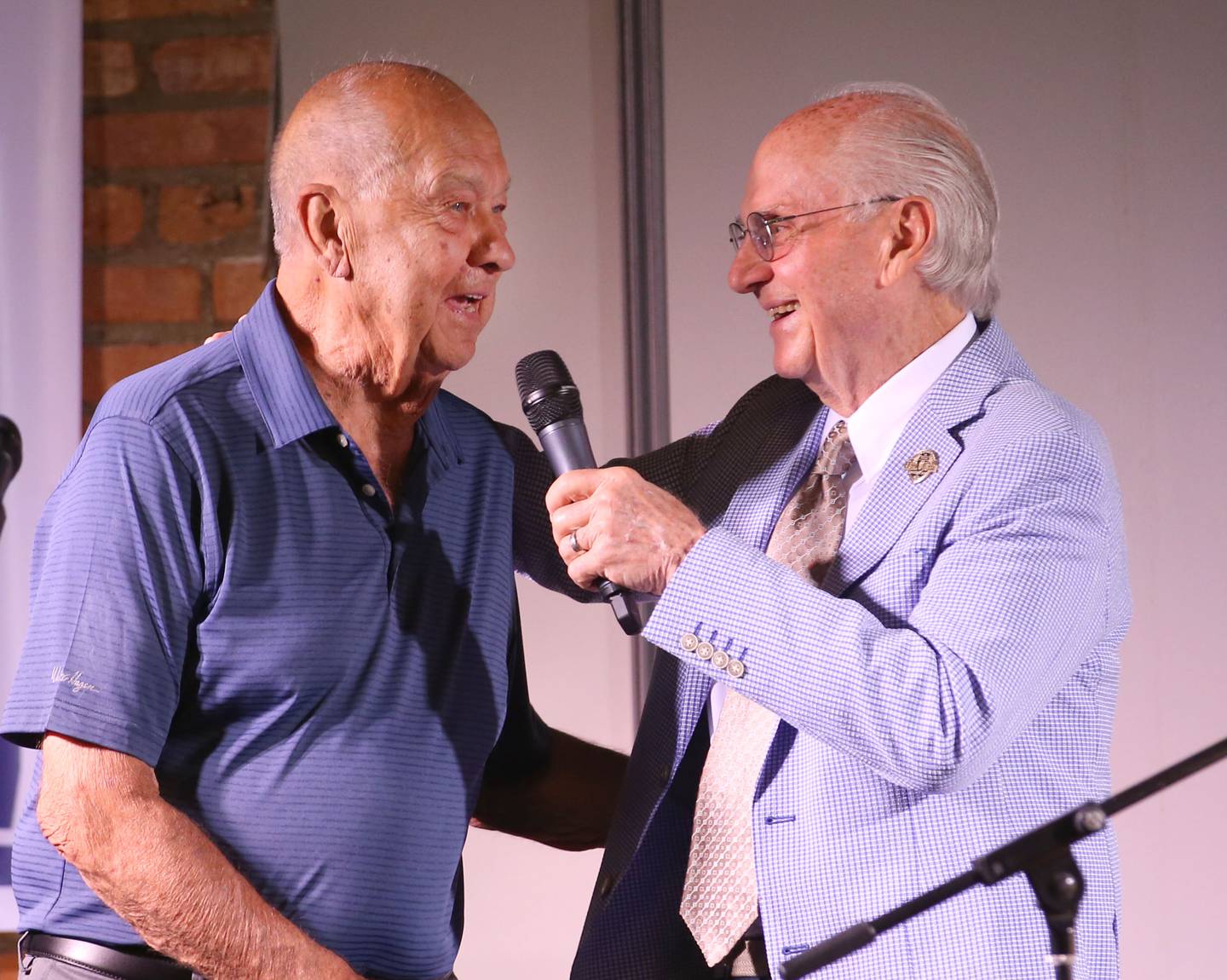 Legendary Tiskilwa boys basketball coach Bob Prusator was the first individual inductee of the night. He led the Indians to a 531-199 record, 14 conference titles, seven regional championships, one sectional crown and one state appearance in 27 seasons. He also coached football for nine years.
"Some of the special memories are winning, my sons playing for me and the community support," Prusator said.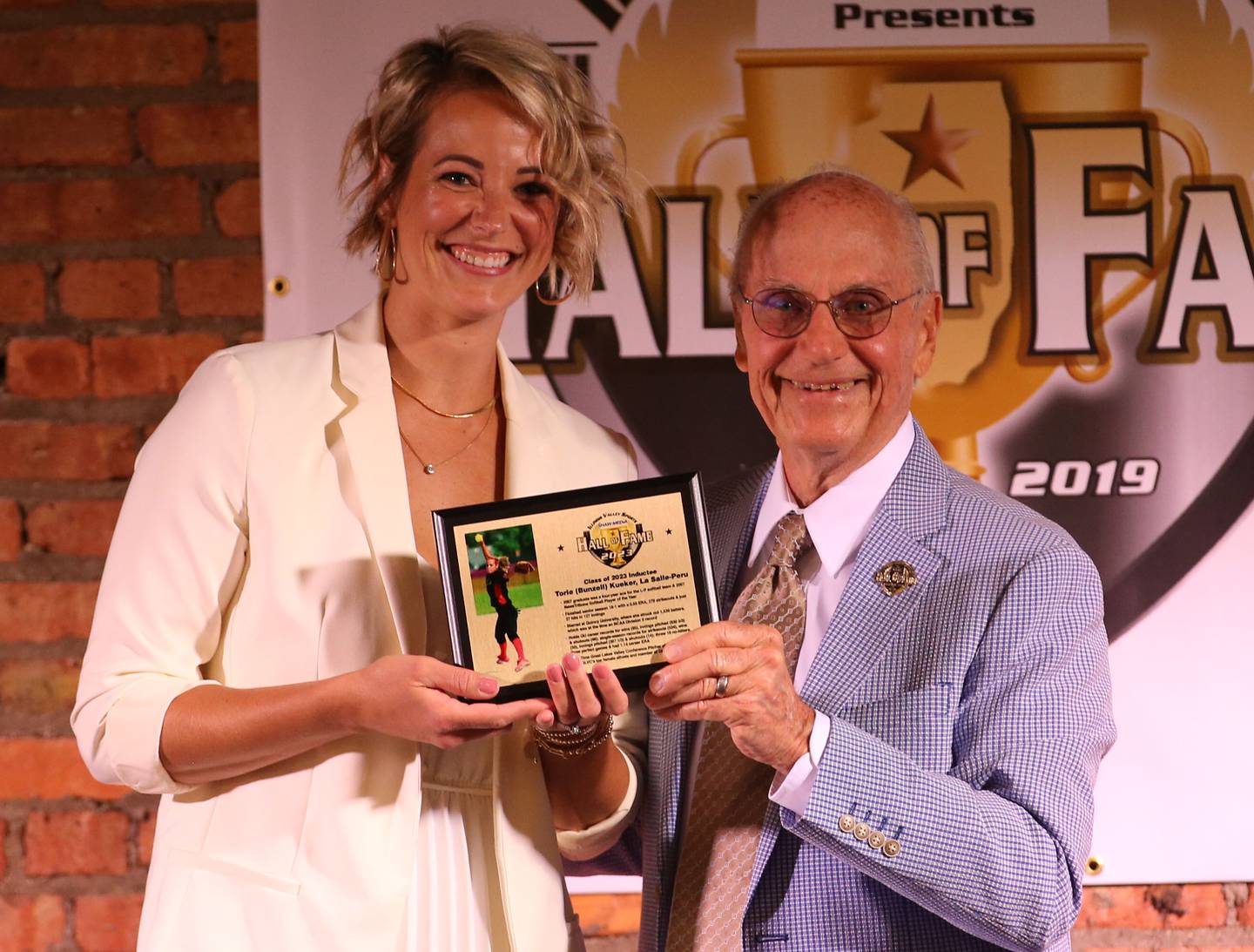 Torie (Bunzell) Kueker was the 2007 NewsTribune Softball Player of the Year after going 18-1 with a 0.55 ERA and 270 strikeouts in 127 innings. She went on to pitch at Quincy University, where she set the NCAA Division II record for career strikeouts with 1,539, as well as several career and single-season Quincy records.
She talked with Slevin about getting into sports from a different perspective now with her oldest child just starting T-ball.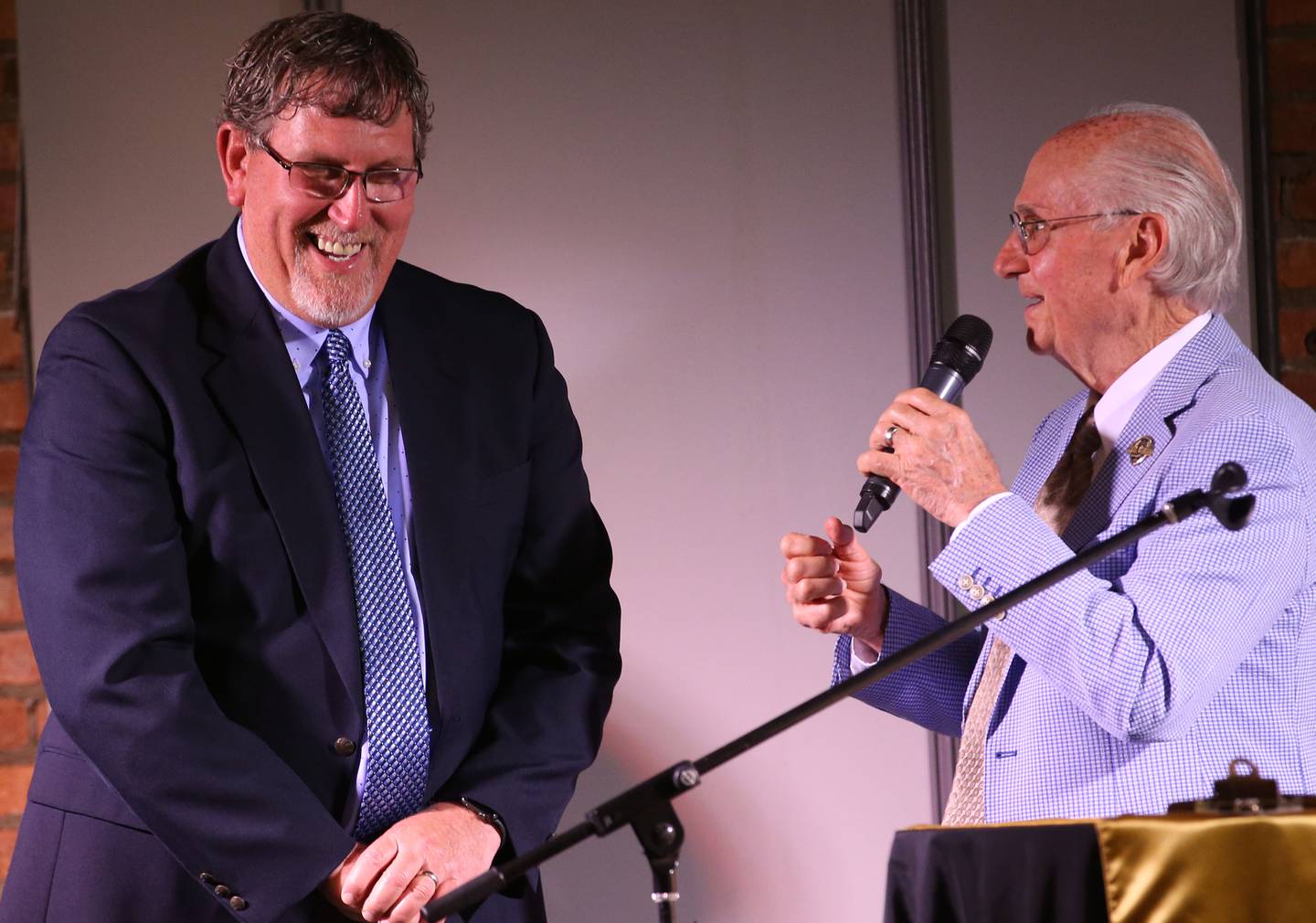 Brad Bickett is one year away from retirement, saying "to finish my career at Bureau Valley means a lot."
Bickett is Ohio High School basketball's all-time leading scorer with 2,177 points and led the Bulldogs to a runner-up finish in the 1986 Class A state tournament. He owns a career coaching record of 493-313 in 30 seasons, including three straight Class A third-place finishes at Bureau Valley from 1999 to 2002. He later coached at Rock Falls, and said it gave him the opportunity to coach his son.
Bickett acknowledged his wife for the sacrifices she made for his career and joked about his two youngest daughters missing the ceremony because they couldn't skip strength and conditioning.
"That's how we do it in the Bicket house," he said.
The late Bron Bacevich was the individual Legacy Award recipient. He coached football and baseball at St. Bede and had coaching stops at Marquette Academy, the University of Illinois and Quincy College among others.
St. Bede superintendent Eve Postula, who had two uncles play for Bacevich, accepted the award on his behalf, saying he made "such a lasting impression at St. Bede."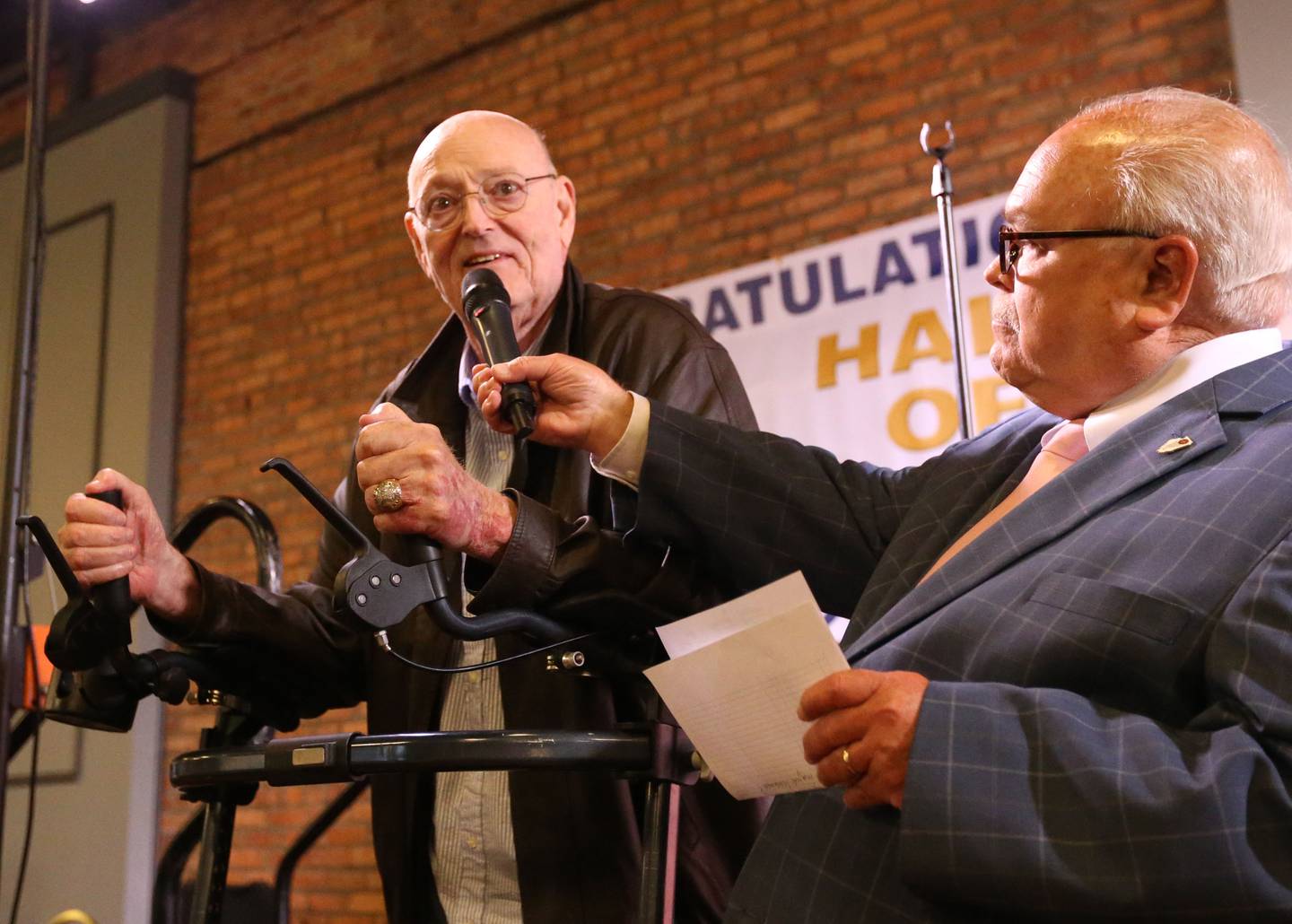 Corrigan was supposed to go to Illinois State University but ended up playing baseball at Iowa State University, which he said "changed my life entirely."
He was an All-American at Iowa State, was drafted by the Los Angeles Dodgers and played six minor league seasons. He also served as the head coach at Iowa State and was a scout for several MLB teams.
"It's a great honor [to be inducted]," said Corrigan, who traveled from Florida for the event and had friends come in from Iowa and Colorado. "It means a lot. I have friends and family here. I'm very happy."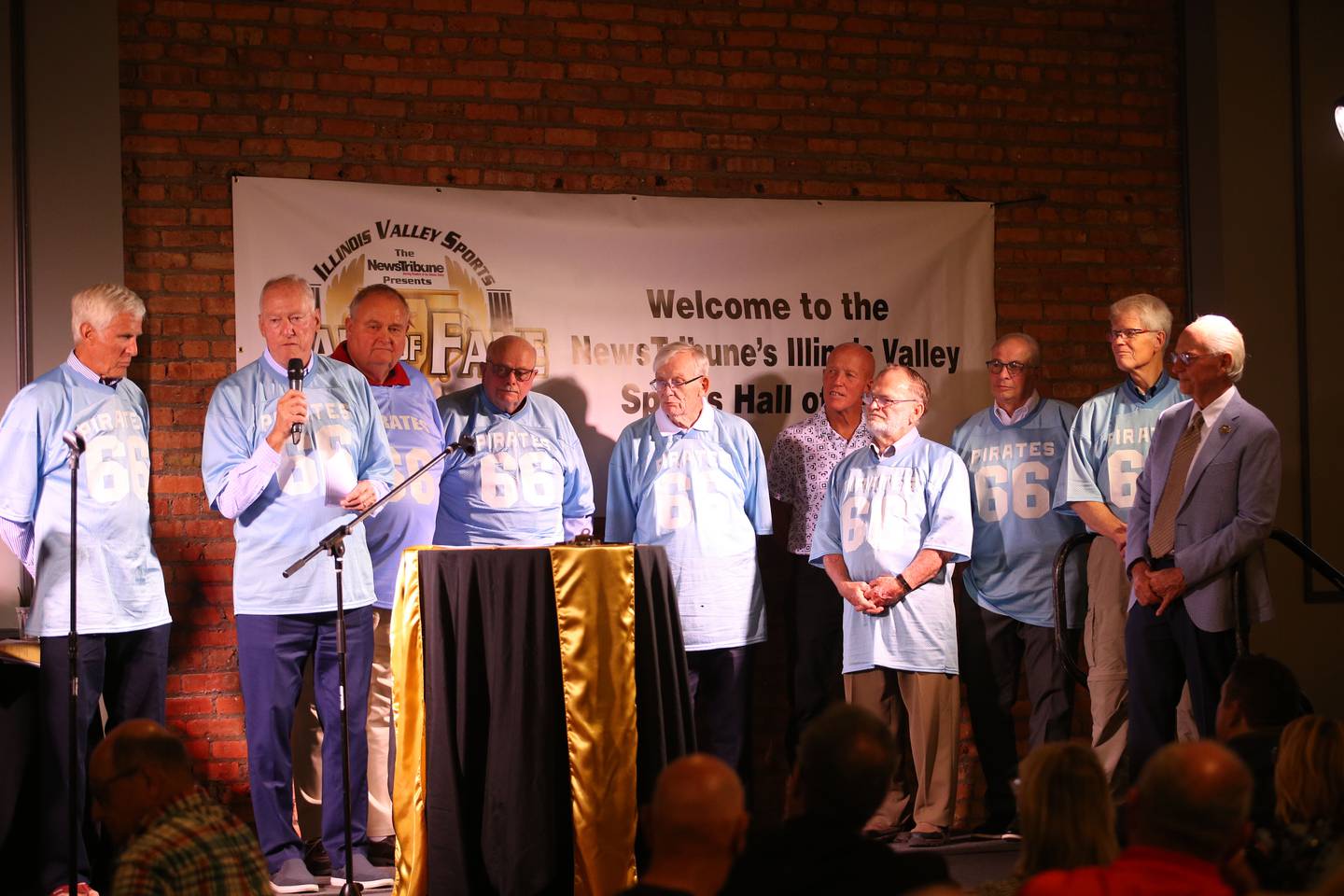 Nine members of the 1966 Ottawa football team went onstage wearing powder blue 1966 Pirates shirts to accept the plaque for their team that went 9-0 and outscored opponents 380-19.
"I got to connect with a lot of teammates I haven't heard from in years," said Kerry Novak, a member of the team and son of legendary coach Bill Novak, also a member of the IV Hall of Fame. "It's been absolutely special. It's a great honor."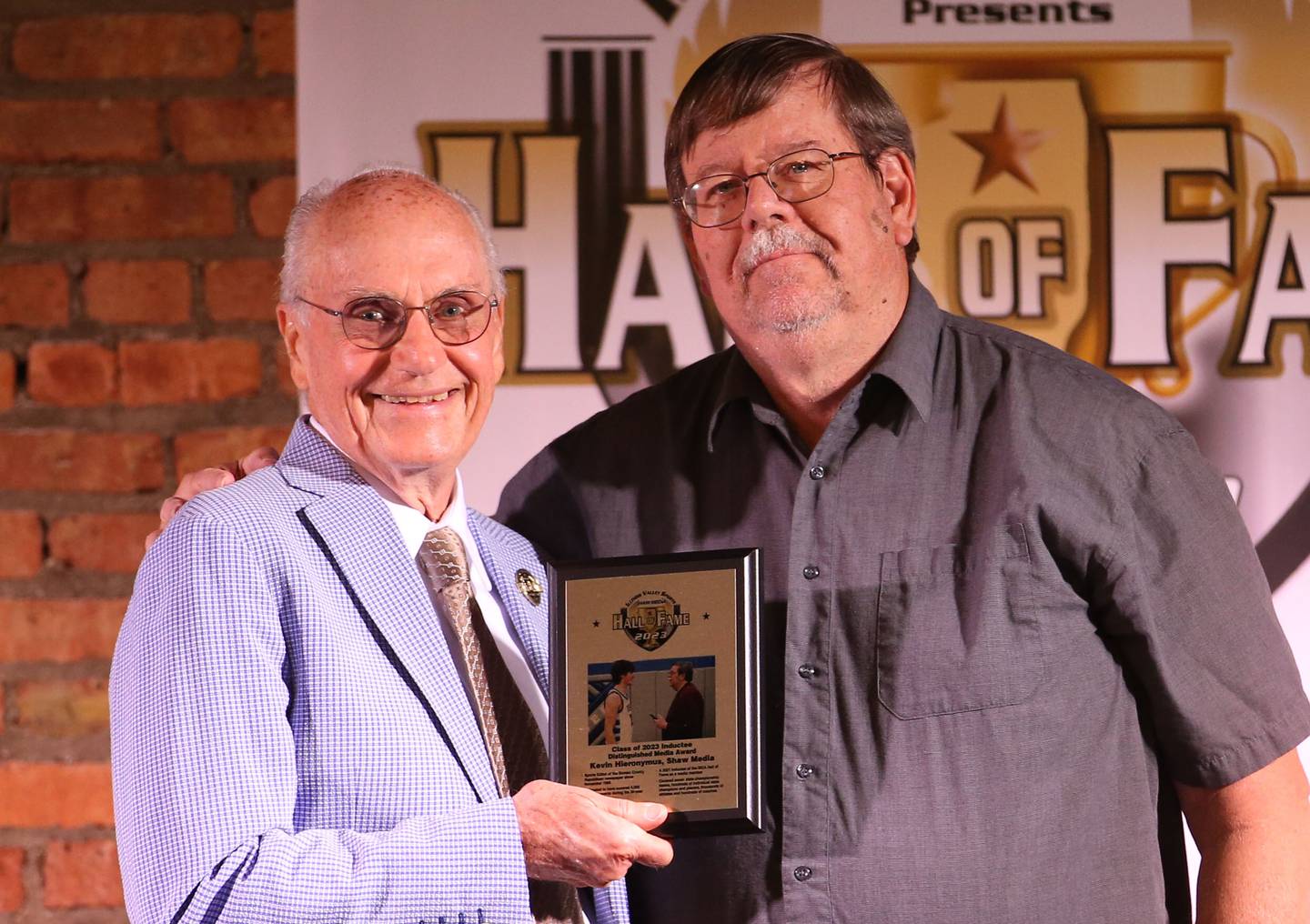 Hieronymus has been the sports editor at the Bureau County Republican, a Shaw Media paper. He is estimated to have covered 4,000 events, including eight state championship teams.
"I've had great relationships with kids and coaches over the years," Hieronymus said.
When Slevin asked how long he'd keep writing, Hieronymus said, "As long as I'm having fun, I'll keep doing it."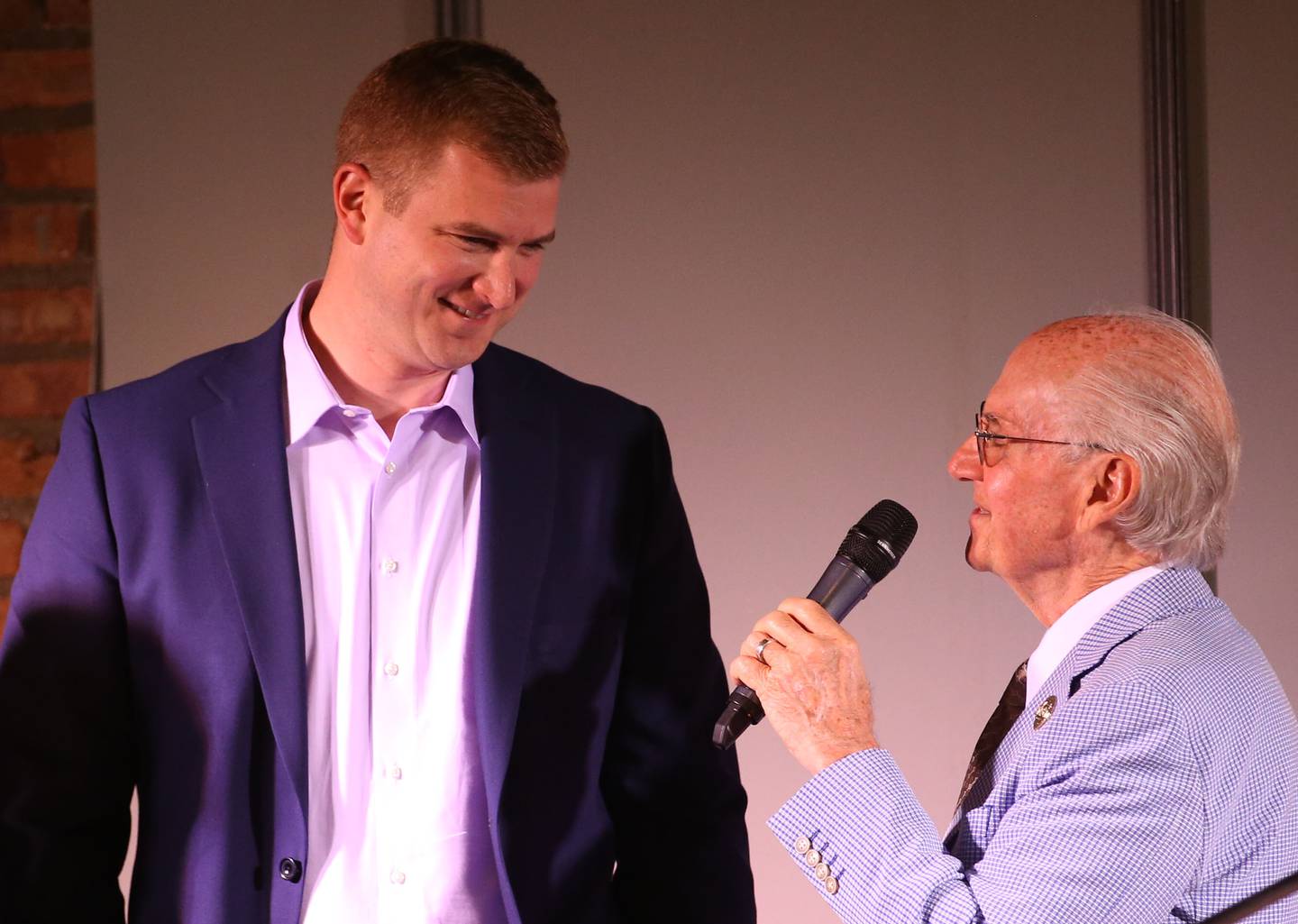 Slevin called Carlton Fay "one of the best Class A players this state has ever produced."
Fay is Putnam County's all-time leading scorer (2,129 points) and rebounder (1,125) and led the Panthers to the Class A state basketball tournament in 2007 before going on to a career at Southern Illinois.
"I look back on it and realize how much fun we had," said Fay, who also acknowledged all the work he and his teammates and coaches put in going from "awful" his freshman year to a state tournament team by his senior season.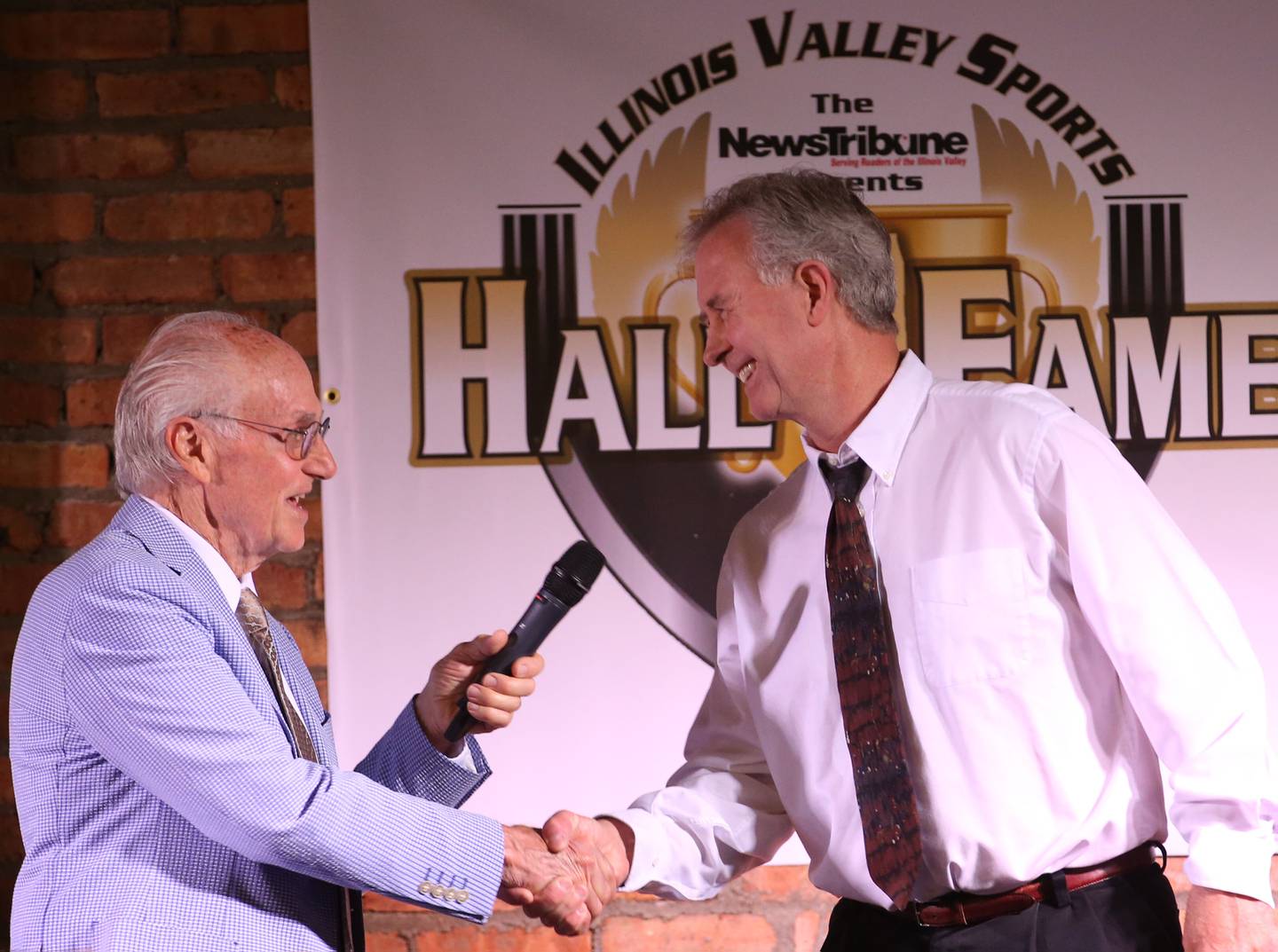 Tom Henderson Sr. coached tennis at Ottawa from 1958 to 2000, leading the boys team to 36 district and sectional titles and the girls program to 23 district and sectional titles.
"I think what my dad was really great at was believing in his players," Tom Henderson Jr. said.
Hamel, who came from Texas, is the all-time leading scorer in Mendota basketball history with 2,158 points. He played at Northern Illinois and later had a successful coaching career.
"I've been very blessed," said Hamel, who drew laughs with jokes about how much he shot the ball. "I've been around great people and great athletes."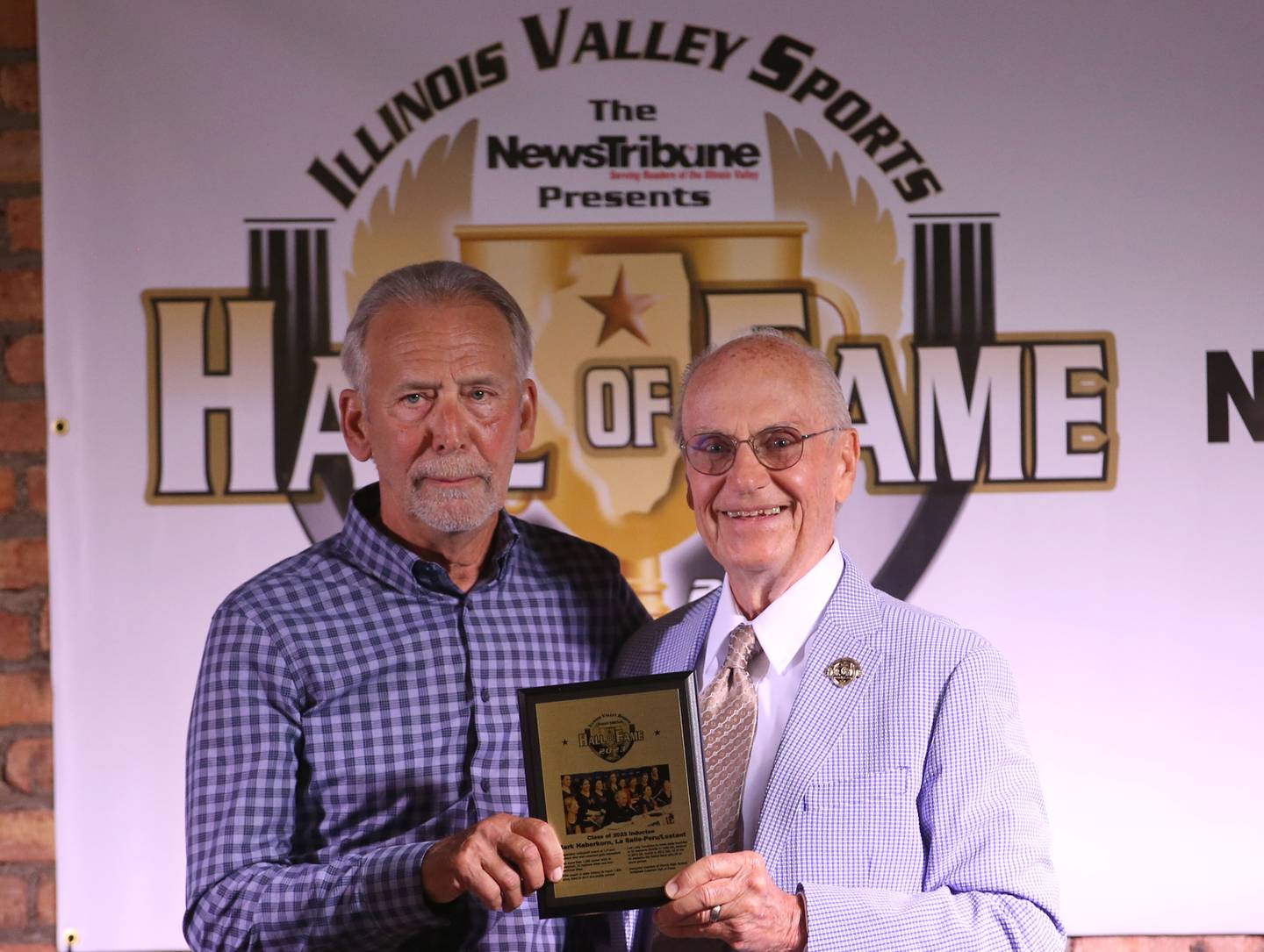 Haberkorn, who has coached Lostant and L-P, is one of only five volleyball coaches in state history to win 1,000 matches. He's led the Cavaliers to 19 regional titles, four sectional championships and three state trophies.
"I've been fortunate to coach a lot of great players, and I've always had one of the best coaching staffs," Haberkorn said. "That's why you stay in the profession.
"There's been a lot of days in gyms and a lot of days on buses. I love it and I'll do it as long as I love what I'm doing."
Slevin said the late John Pocivasek, known as "Mr. Marquette," was one of the nicest, most humble people he has ever met.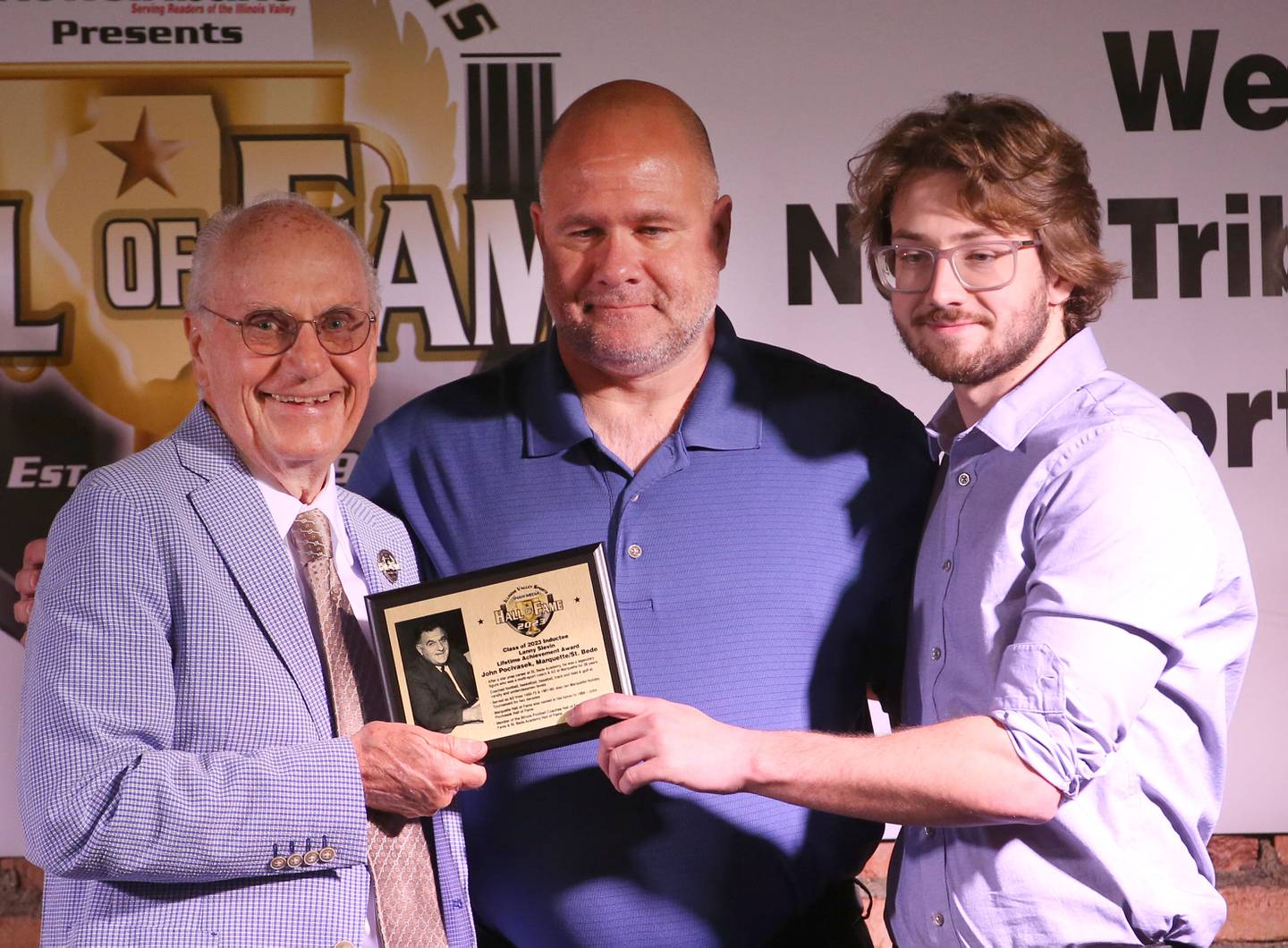 Pocivasek, the Lanny Slevin Lifetime Achievement Award recipient, was a standout athlete at St. Bede and later coached football, basketball, baseball, track and field and golf at Marquette along with serving as the school's athletic director.
Pocivasek's son Tom and grandson Jacob accepted on his behalf. His grandson recalled the long lines at his grandfather's funeral, signaling "all the people he impacted."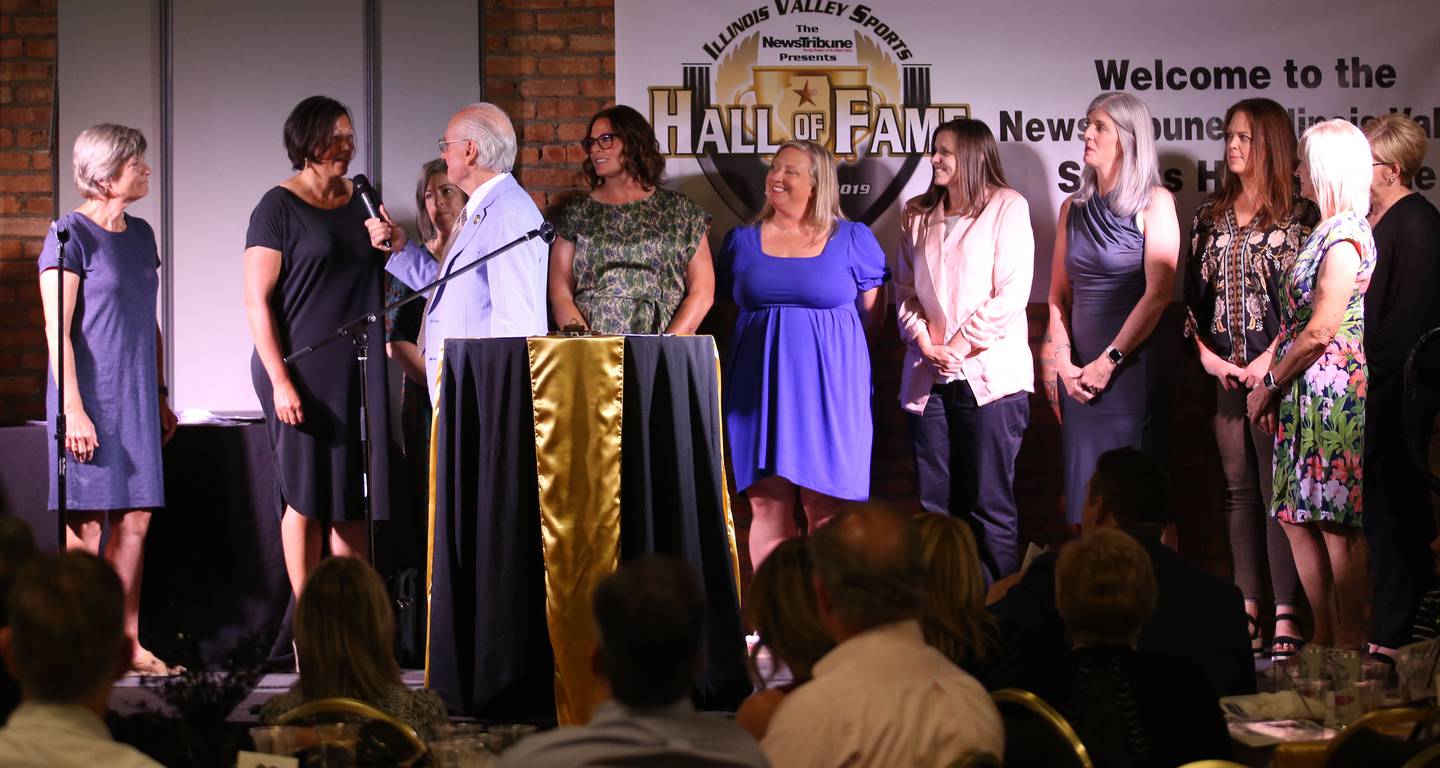 The 1990 Princeton volleyball team is one of three girls teams in the area to win a state championship, finishing 36-2-1.
Nine members of the team were present, including coach Rita Placek; star Nicole (Coates) Schaefbauer, already a member of the IV Hall of Fame as an individual; and Karen Flaherty, who traveled from Germany.
Schaefbauer called the state title run "a great ride," and Placek said she was "lucky to end up at Princeton in a job that required me to coach." She thanked her players for being patient with her as she learned the ropes.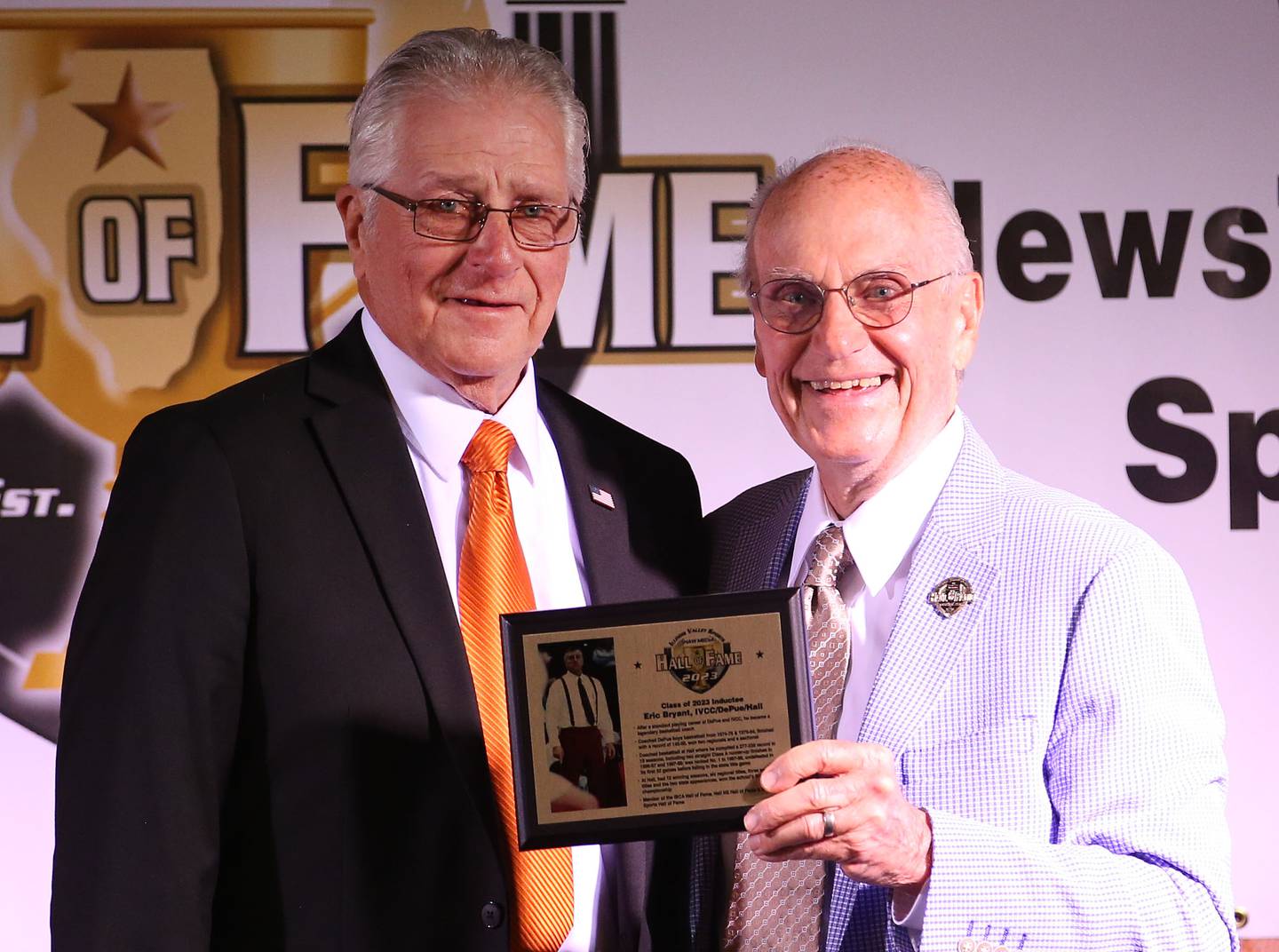 Bryant was the final inductee. He had a standout career at DePue and IVCC before getting into coaching.
He led the DePue boys basketball team to a 145-90 record, two regional titles and a sectional crown. Bryant later coached Hall to a 277-238 record, six regional titles, three sectional championships and back-to-back Class A runner-up finishes.
"I had some really good coaches in grade school," Bryant said. "They taught me a lot about being a good person and working hard. I always wanted to be a coach."