HINCKLEY – Friday's championship game of the 42nd annual Little Ten Conference Girls Basketball Tournament pitted top-seeded Newark against No. 2-seeded and defending champion Serena, both teams that like to apply defensive pressure all over the floor, at Hinckley-Big Rock.
Neither offense fared well.
The Huskers (17-8) were able to push out to a 10-point lead late in the third before the Norsemen cut the lead to three with five minutes to play. However, from there, Serena made 5 of 7 free throws while holding Newark (14-5) scoreless to wrap up a 38-30 victory and a second consecutive title.
"We talked about how with both teams wanting to really pressure the basketball that it might be an ugly game with a lot of turnovers," Serena coach Jim Jobst said. "I felt the key would be who could shake off mistakes, who could keep attacking, and who could stay positive.
"We aren't a team that is used to being pressured full court, so I think it took us a while to adjust. I felt like we handled Newark's pressure a lot better in the second half and then did a good job of getting into our half-court offense if a break wasn't there."
Serena held a 16-13 lead at halftime before two quick baskets by Newark's Addison Ness and Kiara Wesseh.
The Huskers then put together an 11-0 run with seven points by Paisley Twait and four more by Mikayla McNally to put the score at 27-17.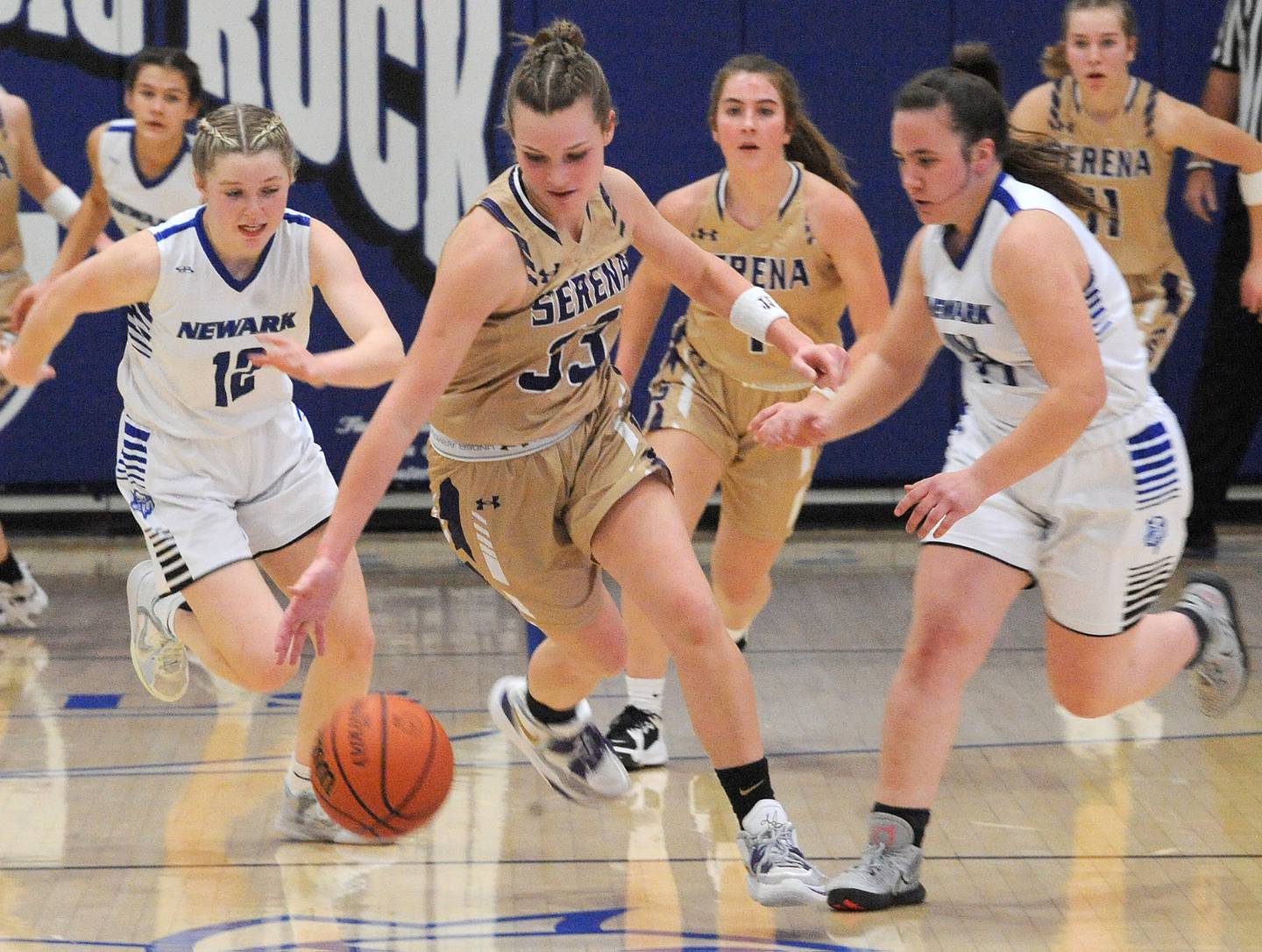 Twait finished with a game-high 20 points, five rebounds and two steals, while McNally posted 10 points, nine rebounds and three assists.
"There were so many turnovers on both sides, but sometimes you just have to rough it out," said Twait, who was in her second game back after an injury at the Amboy Holiday Tournament. "I've been working hard to get my shot back after missing a month of the season. That mid-range shot, the one near the free-throw line, has always been my spot, I feel, but it was really a couple of posts on the block that got me going.
"When I saw that first ball go through the hoop, I was able to relax a little, and really from there just tried to make the most of opportunities to score when I had them."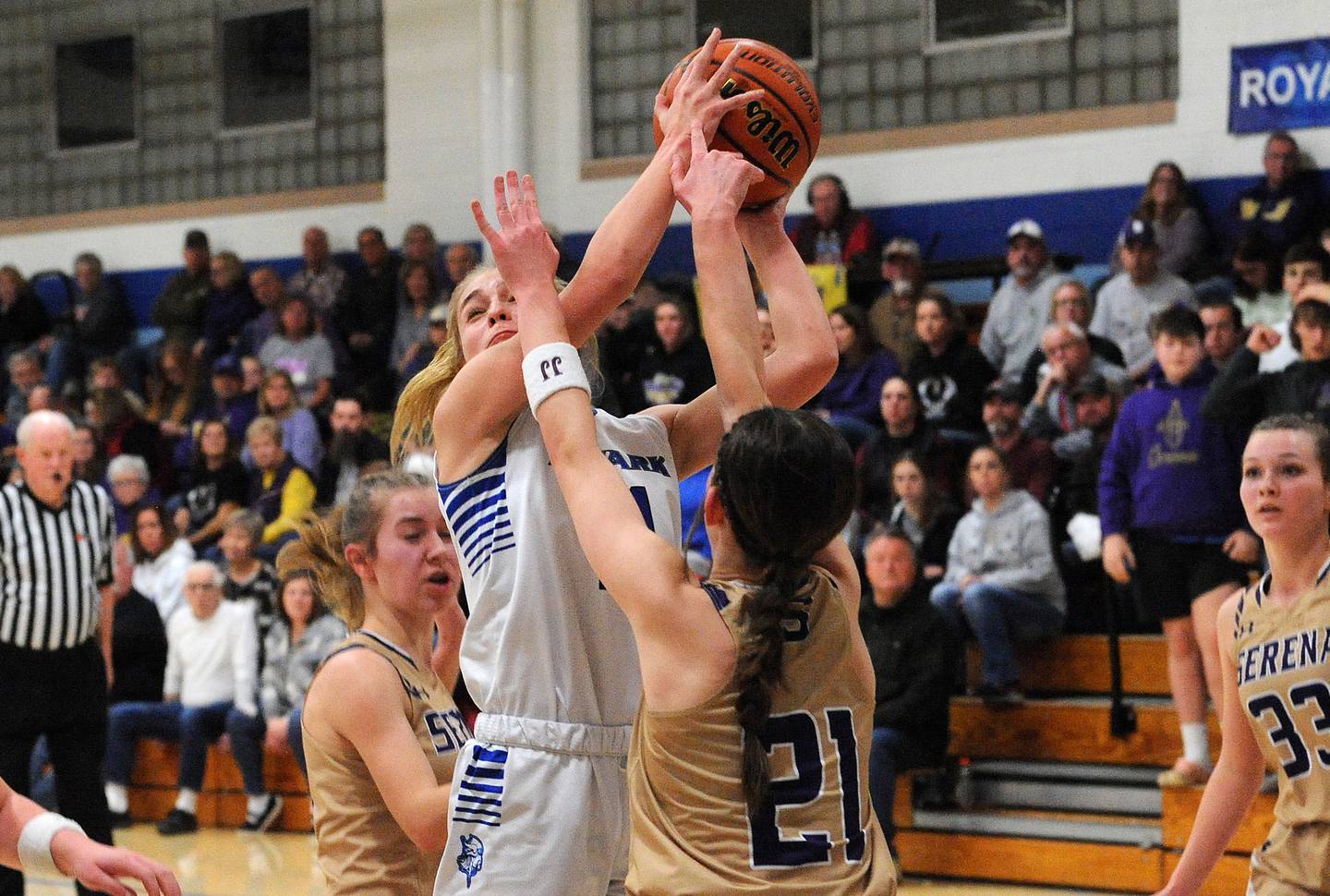 Newark regrouped with an 8-0 spurt with four points by Emily DiClementi, a rebound hoop by Brooklyn Hatteberg and a pair of free throws by Addison Ness. But Serena closed out the game from the line while holding the Norsemen to one shot or forcing one of 26 turnovers for the game.
DiClementi led Newark with nine points, while Wesseh (five rebounds) and Ness (four rebounds, three assists) each had six.
"I felt like our defense was pretty solid all night, but we struggled on offense," said Newark assistant coach Jasmine Mitchell, who was filling in for head coach Glenn Clausel. "There just seemed to be a lid on the basket at key times, and that happens. I thought we could have attacked the rim a little better, but Serena was also doing a good of shutting off angles.
"We want to play fast, and so does Serena, so I think each of us seeing an opponent that wants to pressure full-court was a huge adjustment. The little run we had to cut it to three points was pretty solid, but then we just couldn't get that next hoop to get us over the hump."
Twait said she felt her team needed this game for confidence's sake.
"I felt like we had to prove ourselves again from last year," Twait said. "I think a lot of people thought, 'Oh well, Serena is done now.' We just wanted to prove we are a good basketball team.
"It wasn't pretty, but we were able to come out on top."
—
At Hinckley
42nd annual Little Ten Conference Tournament
Championship game
Serena 38, Newark 30
SERENA (38) — Mahler 2-2 2-6 6, Cole 0-3 0-0 0, McNally 4-6 2-5 10, Twait 7-12 5-9 20, Setchell 1-7 0-0 2, Brennan 0-4 0-0 0. Totals 14-34 9-20 38.
NEWARK (30) — Wesseh 3-8 0-0 6, Kruser 1-1 0-0 3, Hatteberg 1-5 0-0 2, Carlson 2-8 0-2 4, Ness 2-6 2-2 6, Peshia 0-0 2-2 2, Snyder 0-1 0-2 0, DiClementi 2-5 1-2 7. Totals 11-34 5-10 30.
Serena (17-8) 8 8 11 11 — 38
Newark (14-5) 7 6 7 10 — 30
3-point goals — Serena 1-6 (Twait 1-2, Setchell 0-4); Newark 3-9 (Wesseh 0-1, Kruser 1-1, Hatteberg 0-1, Carlson 0-3, DiClementi 2-3). Rebounds — Serena 27 (McNally 9, Twait 5); Newark 24 (Wesseh 5, Hatteberg 4). Assists — Serena 11 (Setchell 4, McNally 3); Newark 7 (Ness 3). Steals — Serena 8 (Setchell 3, Twait 2); Newark 10 (Ness 4, Wesseh 3). Blocks — Serena 0, Newark 0. Turnovers — Serena 21, Newark 26. Total fouls (none fouled out) — Serena 11, Newark 20.