After starting a Starved Rock-based business a few months ago, photographer and businessman Matthew Klein has created special 2022 Starved Rock and Matthiessen state park calendars.
This will be the second year Klein will be offering these calendars to the public, as this year all of the proceeds will go for the Starved Rock Foundation.
"At the end of last year I wanted to make a calendar of all of my Starved Rock images and I didn't know if I would sell any," Klein said. "I put a bulk order in, which was 11 at the time, and I hoped 11 people would want them. I ended up selling a lot more than 11 last year. It went really well."
After seeing last year's success, Klein was encouraged to continue the project while ensuring the proceeds will go to the foundation that helps promote the parks.
"I started thinking, 'OK what am I going to do this year,' " Klein said. "Knowing all of these other photographers in Illinois as well as the Starved Rock Foundation and what their mission is, I thought, 'Hey let's use this as a fundraiser for them.' "
The Starved Rock Foundation is a volunteer-run organization that supports the parks through educational programs, guided hikes, exhibit updates, among other projects.
"It's not really about the dollars; it's more about sharing the images," Klein said. "While I was doing this last year I came to that realization.
"It's more of sharing the moments and being an avid hiker and being out there all the time, anything that I can do to kind of help improve the conditions of the park I'm always willing to do."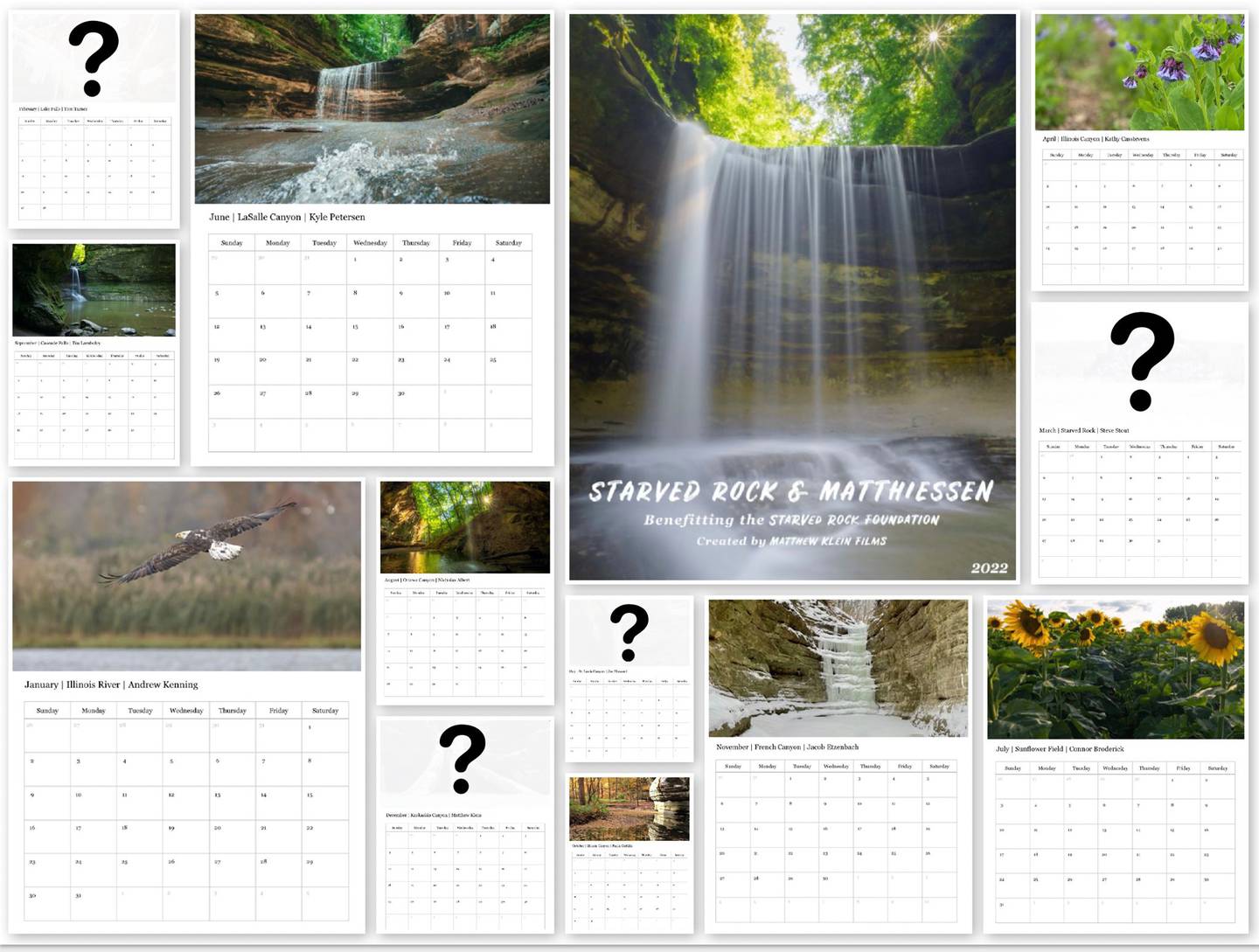 Klein believes the preservation of the parks is important as many in the area have grown up around them and regularly come out to enjoy them.
"In some part it's our responsibility to help give back in whatever way that we can," Klein said. "It just so happens that me being a photographer in my free time is a way that I can give back, but I think there are a lot of different ways that people can give back."
Klein, himself, has a photo in the calendar along with 11 other photographers including Andrew Kenning, Tom Tarner, Steve Stout, Kathy Casstevens, Joe Howard, Kyle Petersen, Connor Broderick, Nicholas Albert, Tea Lamboley, Paula Guttilla and Jacob Etzenback.
Klein decided to lean on his relationships with other photographers to create a truly unique collection of images. Each month of the calendar features a different photo from one of 12 photographers that will also accompany the given season of the month it represents.
"It's a great way to see the different locations throughout Starved Rock and Matthiessen parks through the eyes of different photographers and it's all benefitting a really good cause," Klein said.
Klein said a difficult part of the process was collecting a variety of images that didn't all feature one section of the park and correlated with the weather of the month they would be representing.
"I think by involving other photographers it not only raises awareness in the local community, but also in their communities as well," Klein said. "We're seeing a really nice spreading out effect."
Each photographer donated a personal image to be used in the calendar. The 11-by-14 inch calendar is professionally printed through Klein and can be acquired through a variety of different ways.
The calendar can be ordered online at https://www.matthewklein.life/calendar?fbclid=IwAR3MguQ2Jge6MDHNUZPx8V_asq-4wln-KPxvbjLL-MNWayD07tVPgkRgIto, where you may choose paid shipping or a free local pickup at the Starved Rock Visitor Center. It may also be purchased at Stage 212 in La Salle and at Bruce & Ollies at the Bickerman Building in Utica.