Tuesday at the North Central Illinois Artworks Gallery in Peru was filled with emotion, respect and remembrance as many gathered to view a collection of interviews of local World War II veterans speaking about their experiences.
The veteran interviews were recorded about 20 years ago and since have been preserved at the Richard A. Mautino Library in Spring Valley. Now they are available for viewing thanks to NCI Artworks Executive Director Julia Messina,.
"I'm on the board at the library and I just asked the question 'Remember those videos that they did 20 years ago, has anyone ever checked those out?'" Messina said. "They told me no, and I said 'I'm going to fix that.' There's a way to do this so that people can see their grandpas and great grandpas."
NCI Artworks used the interview to host World War II Tuesdays, an event that will run from 5:30 to 7:30 p.m. every Tuesday through Nov. 16 at 400 Fifth St. in Peru.
Veterans Eugene Klein, Hank Mahnich, Louis Malooley, Ray Michael, John Picco, Dom Rochetto and John Ruskusky were featured in the first showing.
Although some of the veterans showcased in the interviews are still alive, some have passed away since they were recorded.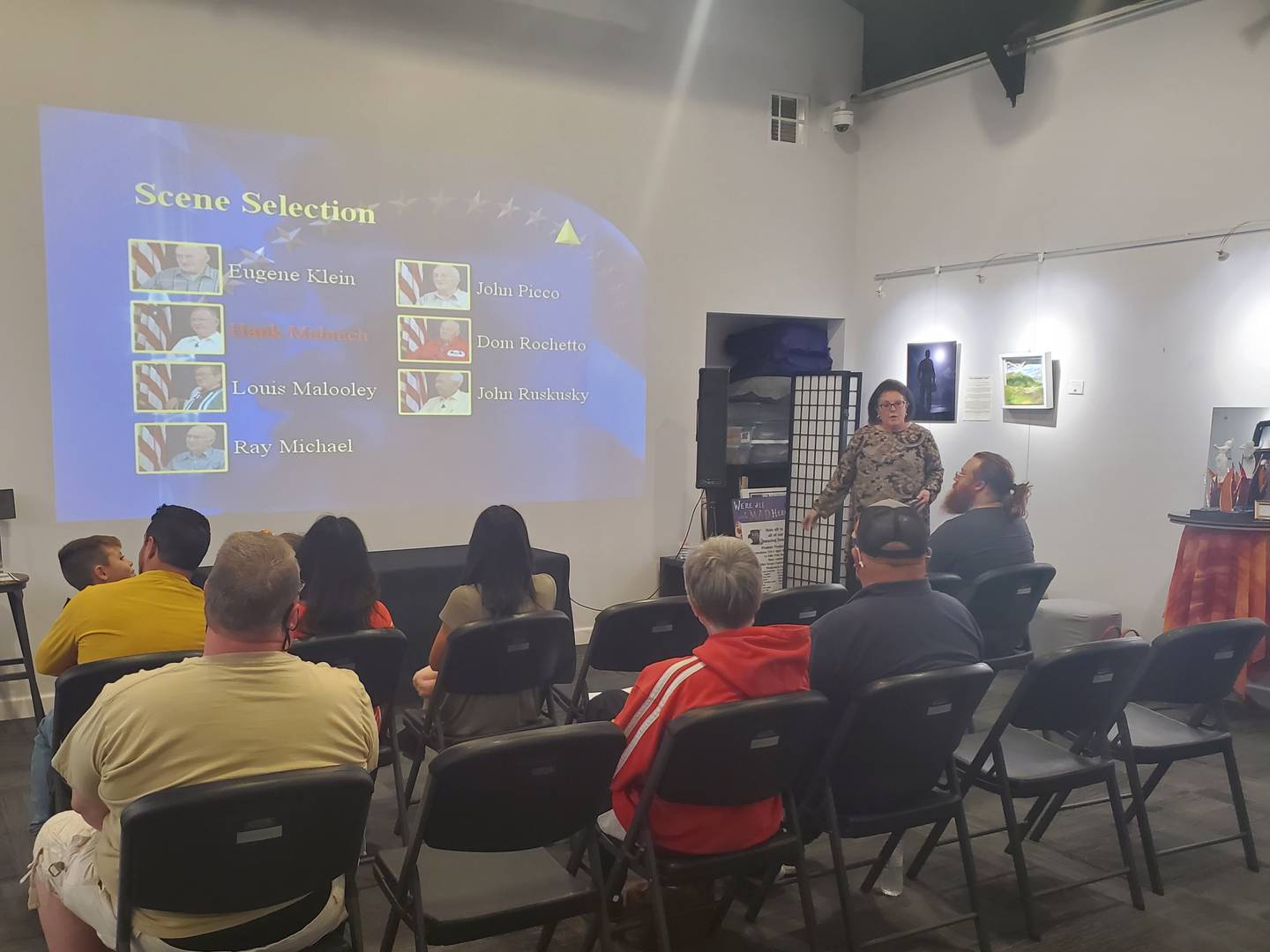 For some families, the recorded interviews gives them a unique opportunity to see loved ones who might have passed away and to hear stories they might not have heard.
For Dan Dolan and his family who traveled from Morton, being able to watch the interviews was an experience they'll never forget. Dolan's grandfather, Louis Malooley, also was featured during Tuesday's showing.
"I've been looking for videos so my kids can meet my grandpa forever," Dolan said. "So this is crazy that it worked out this way because, for the last year really, I've been hunting hard trying to find home videos and nobody has any of them."
Dolan said he would drive 1,000 miles to see an event like this one since he and his family were able to see his grandfather speak on his experience during WWII.
"This is so cool because I do so much for veterans and first responders and I never think of my grandpa as a veteran," Dolan said. "I think of him as my grandpa, so I think it's just really cool that people are remembering him."
Interest from the families of the featured veterans has been extensive as NCI Artworks has scheduled private screenings for many families to accommodate the large number they expect in attendance.
"It's amazing, this one woman from France saw it on Facebook and she called her cousins over here and said, 'Let's go see her dad,' " Messina said.
Families have made plans to travel from across the world to see their loved ones in their own words, some for the first time.
Although the family appeal is substantial, visitor Christopher Kmetz said it's not just family members who should take the time to hear the veterans' stories. Kmetz was happy to be there and to support the initiative and said events like this are important to the community.
"I think it's a way to let the local people know about all the WWII veterans in the area and who their local heroes are," Kmetz said. "It's about the stories that they can tell. This is the way to do it. It's important that we recognize that we have a lot of heroes in our area that we don't really stop and think about."
Dan Zissler and Tom Marenda, who grew up around many of the names planned to be featured, also said they believe these showings are important to keep the words and the images of these veterans alive and well.
"It's important to hear from the people who were there," Zissler said. "This is a great way of preserving that history. It's more than just interesting because a lot of the guys that were in combat never talk about it and it's quite remarkable that these gentlemen at some point in their lives decided to talk about it."
The recorded stories shared combat perspectives and gave viewers a glimpse into veterans' minds and feelings.
"There's a few people who I knew that I really want to listen to," Marenda said. "I want to listen to all of them, though."
Visitors can expect to hear from recorded veterans James Barto, Jack Cassiday, Paul Khoury, Jim Coutts, Ralph Engelman, Carl Blum, Al Brady and Jim Jenkins in the Oct. 26 screening.
The Nov. 2 screening will feature Thurman Dwyer, Bob Blum, Dwyer and Blum, John Krueger, Helen O' Halloran, Charles Palia and Don Fescenmeyer.
The Nov. 9 screening will feature Al Kalupka, Tom Sobin, Sr. "Red" Withrow, Bud Pizzamiglio, Norm Sebastian, Ed Wood, Ed Zeglis and John Troy.
The Nov. 16 screening will feature Mike Chiaventone, Tom McNally, Burl George, Joe Nimee and Earl Michael.
These events are free and open to the public, however as donations are welcome. For information about the screenings, reserved seating or a private screening for larger groups or families, call or text 815-866-5167.