Jan Martin glanced out her office window and grimaced at the long line of people signing up for food assistance and holiday baskets.
Martin is executive director of the Hall Township Food Pantry. She said the snaking queue of people in need was only a partial surprise. With only six weeks until Thanksgiving, this is the time of year when people seek help in filling their holiday tables. On the other hand, the demand was shaping up to be greater than in years past.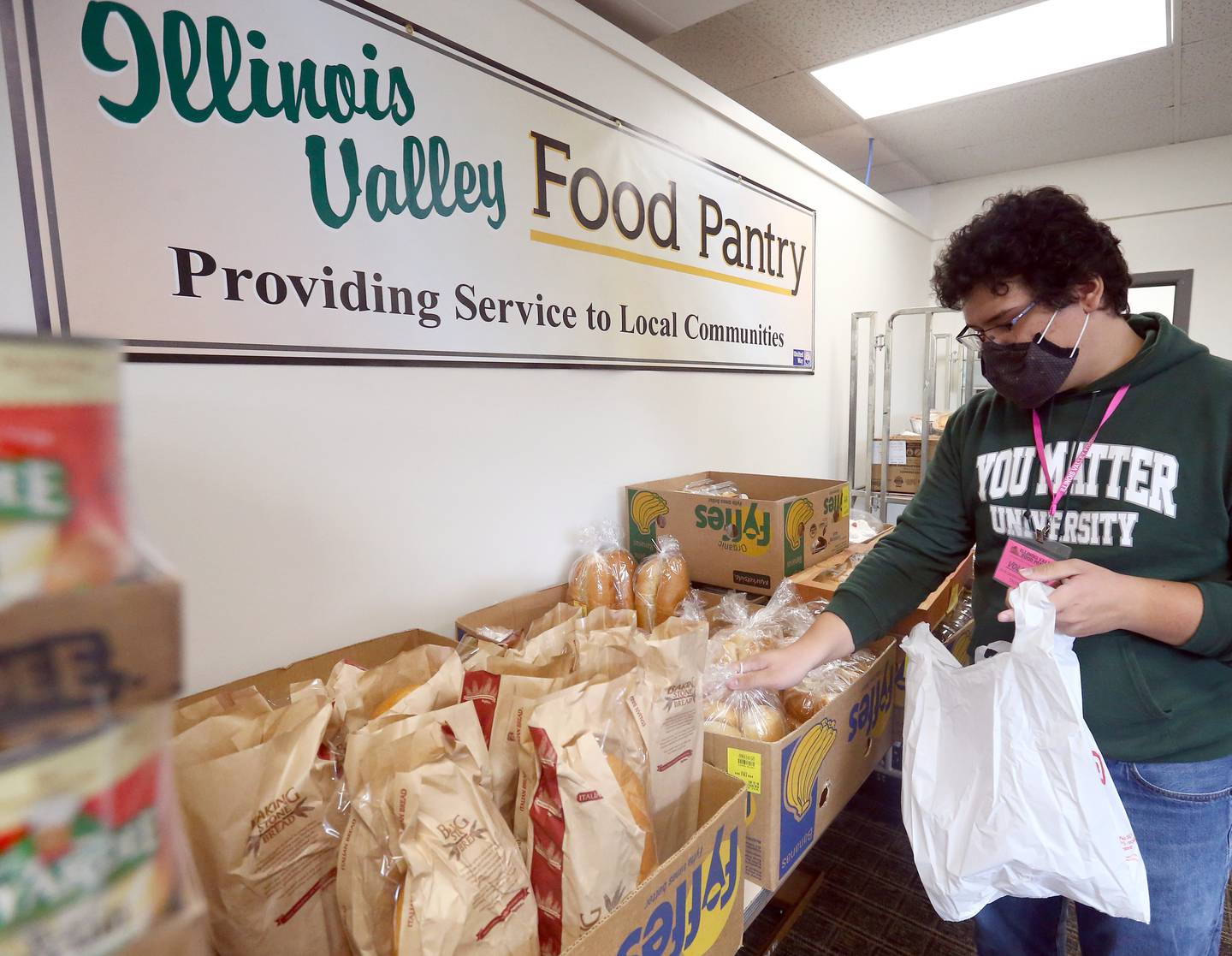 Food pantries across North Central Illinois reported similar findings. Demand for food assistance had been falling as infection controls were loosened – demand slid by nearly half at some agencies – but now it's creeping up again as the holidays approach and as federal relief funds are drawing to a close.
At the Illinois Valley Food Pantry in La Salle, Executive Director Mary Jo Credi said demand for food assistance slid by 40% as she and her volunteers weathered the worst of the pandemic.
However, Credi recently reported the volume of new clients has risen 6%, nearly double the volume of signups she'd see in a normal year, and that figure is likely to rise. Credi said she recently fielded calls for food aid from the La Salle County Health Department to feed an anonymous group in quarantine.
Although the true number of hungry individuals seeking assitance remains a mystery, Credi said the reason for the uptick is to understand. The impending end of stimulus checks and federal child care aid means no safety net for those below or just at the poverty line. Credi said she is bracing for a long winter of increased demand for food.
"We're going to get hit and we're going to get hit hard," she predicted.
Food pantries are appealing for cash donations not only through the holiday giving season but also through a murky span of months where government assistance may or may not materialize. Although direct food donations are accepted, Credi and Martin specifically are requesting cash because local pantries have access to food banks where they can buy bulk shipments for pennies on the dollar.
Martin also said government commodities have greatly improved. Over the past year, food banks are able to offer a much wider selection for Martin and others to fill their shelves.
Martin said she's grateful for the additional resources because there are plenty of mouths to feed.
"We serve over 300 families – 800 individuals – each month, comprised of mostly senior citizens and families with children," Martin said. "As we prepare to help make their holidays special, we think of our own family celebrations and hope to give our clients what we want in our own table."
Longtime donors can be forgiven for thinking demand for food had eased with pandemic restrictions, which for much of the summer was indeed the case.
Tracy Cooper is executive director of the Mendota Area Christian Food Pantry and she confirmed that food demand had dropped office one infection rates began sliding and a growing percentage of the community was vaccinated.
"We had some really super-high numbers during the pandemic, then they dropped off," Cooper said. "Now we're climbing again."
"We're getting more new families," Streatorland Community Food Pantry President Bertie Beckman said.
Ottawa Community Food Basket Executive Director Marissa Vicich said her numbers are rising, too, but she emphasized that they haven't returned to levels seen before the recovery.