St. Bede Academy's 2021 homecoming celebration drew a record number of alumni to the Peru campus Sept. 23-26 as double reunion classes returned.
Several alumni were honored as inductees in the St. Bede Athletic Hall of Fame for 2020 and 2021 on Sept. 25. The school honored 2020 inductees Dan Carruthers 1980, John Brolley '80, Erin (McGunnigal) Heide '00, the 2015 Bruins Baseball Team and Bill Liebe '70 (posthumously), as well as 2021 inductees John Barnes '16, Kayla MacDavitt '12, Dave Hancock '77 and J. Mike Fahey '61 (posthumously).
Richard Giudici, a member from the Class of 1946, presented the game ball on the field at the start of the varsity football game Saturday. Giudici, 94, made the trip from Davenport, Iowa, with his son Michael as St. Bede honored his 75th class reunion. The halftime show featured the Classes of 1970 and 1971, who were escorted by the St. Bede cheerleaders to honor the newest Golden Bedans and their 50th reunion class gifts to the academy.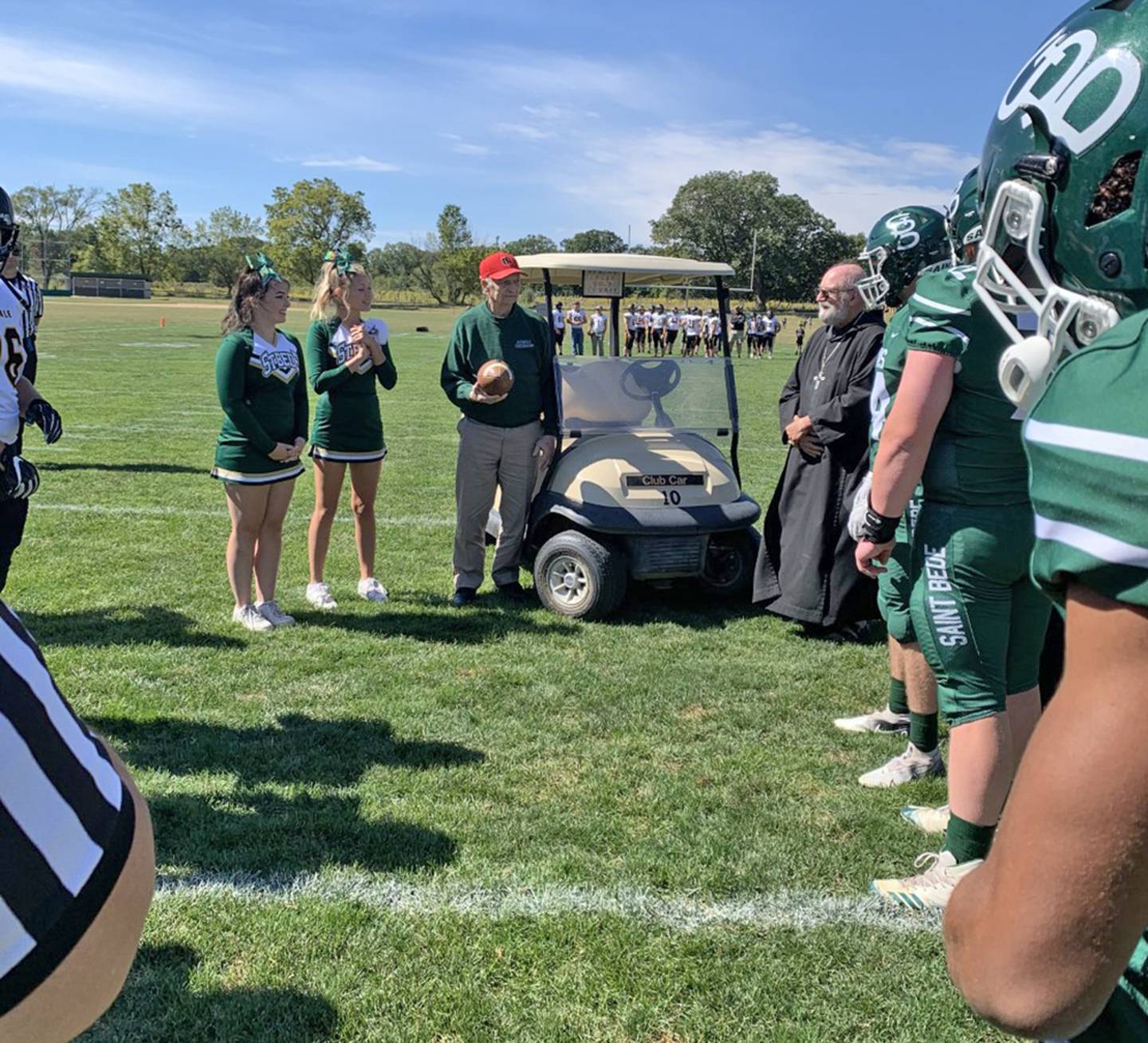 The Class of 1970 raised over $50,000 as their class gift for a campus improvement project. This project included new signage throughout the campus to welcome all to St. Bede and a tractor with accessories for the St. Bede grounds crew.
The Class of 1971′s gift, which also raised over $50,000, will be directed to the gymnasium improvement project, which will be completed over the summer of 2022.
Both class gifts also will include a donation to Phase 3 of the Legacy Project for renovations.
"These generous gifts fulfill many significant projects," said Julia Yaklich, director of mission advancement, in a news release. "We are blessed that our 50th Reunion classes continue to honor their experience at St. Bede by ensuring that today's Bruins have access to the same life-changing education and experience that they did."
The annual homecoming celebration began with the parade and powder puff game on Sept. 23. The variety show took place Sept. 24, followed by the Jim Lattin 5K Run/Walk on Saturday morning. For the fourth year, the Bruins Jam, took place after Saturday afternoon's football game, which included a lineup of performances featuring St. Bede alumni from the Class of 1977 through 2019.
Sunday concluded with a catered brunch coordinated by the St. Bede Alumni Association in the Perino Science Center. The Alumni Association made a special presentation during brunch honoring Andrew Bacevich, from the Class of 1965, and Vic Abell, from the Class of 1956, as the recipients of the Distinguished Alumnus of the Year Award for 2020 and 2021.
"What a memorable weekend it was for our entire St. Bede Family," Abbot Philip Davey, OSB, said. "It was wonderful to see everyone on campus, and you could feel the Spirit of St. Bede everywhere."