The Peru Junior League softball team fell behind early in Sunday's District 20 title game against Bi-County in Peru.
But the Peru All Stars rallied to win 13-9 to claim the district banner and advance to the state tournament, which begins Tuesday in Keystone Park in River Forest.
Peru will face the District 17 champion at 8 p.m.
"It means everything," Peru manager Mike Pecchio said. "These kids came together. A lot of the kids play travel ball and there were some conflicts throughout the year, but the kids made the games. They practiced hard and dedicated themselves to playing city ball, which is kind of rare these days. They came together and got the job done."
Peru fell behind 5-1 but scored three runs in the fourth to cut into its deficit before exploding for nine runs in the fifth.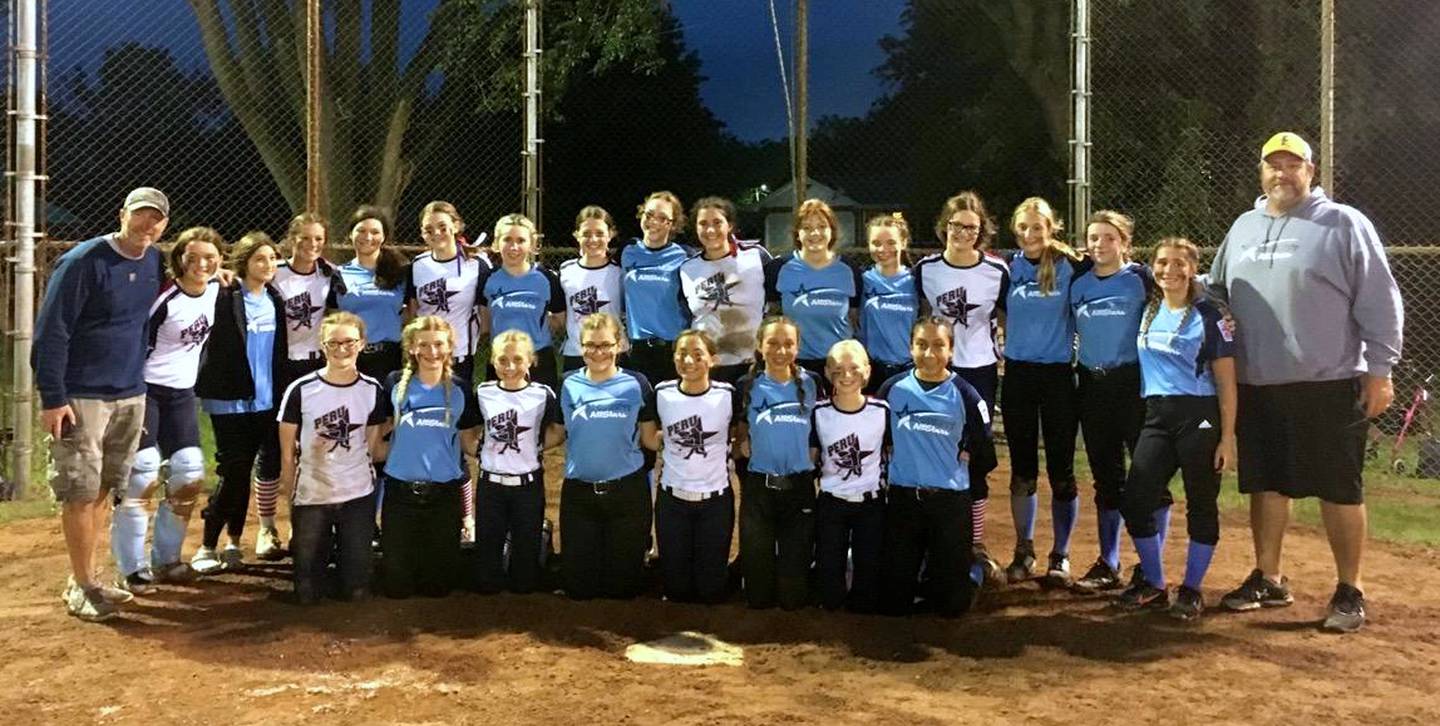 Carly Garretson, Quinn McClain and Kenzie Chamberlain each drove multiple runs during the decisive fifth inning.
"They changed their pitcher, we were looking at a lot of pitches, took a lot of walks then we got a big hit when we needed it," Pecchio said. "It was a little bit of a cycle. We took a couple more walks then a kid would get a big hit. It was just one of those innings that we really needed."
Garretson went 3-for-5 and pitched the final two innings for Peru. Callie Mertes pitched the first five innings for Peru, striking out six batters. Grace Pecchio was 2-for-2.
Mike Pecchio said he expected a tough game Sunday after Peru edged Bi-County 8-7 in Thursday's semifinal. Bi-County earned its spot in the title game with a 17-4 victory over Spring Valley on Friday.
"This Bi-County team and our team are pretty equal," said Mike Pecchio, who added Peru's coaches felt Bi-County's Valeria Villagomez was the MVP of the tournament. "However this would have turned out, I think we prepared each other for playing in the state tournament. I'm glad we played them. It's the way it should be. It seems like every year it's the same two teams in the championship.
"The fans were great. Everybody was excited. Everybody was cheering. It was nice to have the district tournament back after it was absent last year. In this era of travel ball, it's hard to get kids at this age to come out and play, but it was a great turnout this year for both sides. We couldn't have asked for anything more. We're ready to go (for state)."