HENRY – The opening two nights and three matches of the Class 1A Henry-Senachwine Volleyball Regional produced upsets all around, and things didn't veer off course during Wednesday night's semifinals on John C. Anderson Court.
In the opening semifinal, No. 8-seeded Woodland continued its strong play with a 25-22, 25-19 victory over top-seeded Yorkville Christian. The Warriors scored the final three points of the back-and-forth opening set and then reeled off the final six points of the second to set up a chance to capture their first postseason title since 2012.
In the night's second semifinal, No. 10 seed St. Bede topped No. 9 Putnam County, 25-18, 25-14. The Bruins used strong serving runs midway into both sets against the Panthers to advance. St. Bede, which had dropped a three-setter to Putnam County in Granville just over three weeks ago, will be looking for its first regional title since 2001.
Woodland (21-8) and St. Bede (13-19-1) will meet for the championship at 6 p.m. Thursday.
Yorkville Christian finishes the season 28-6, while Putnam County bows out at 18-17-2.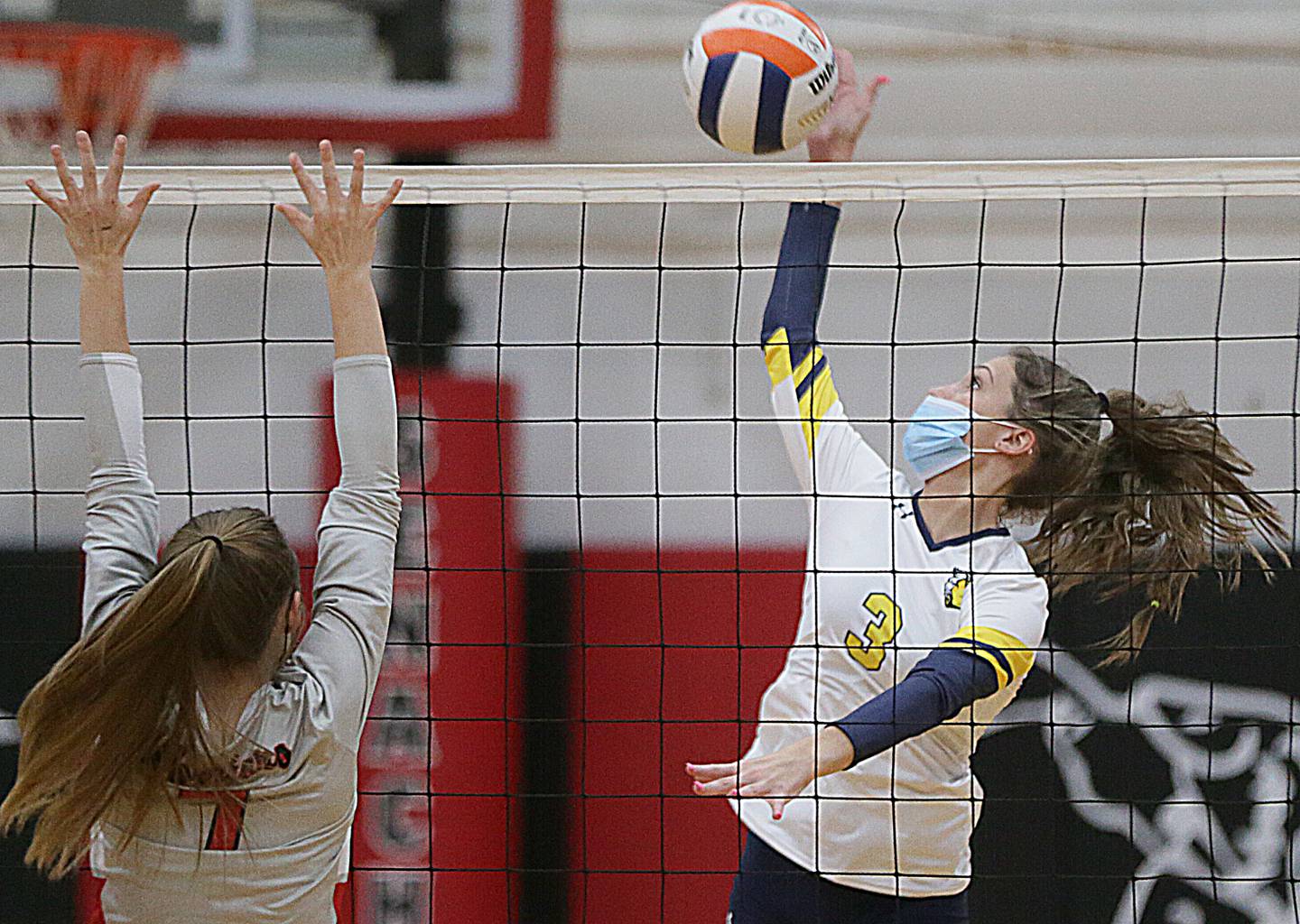 Woodland def. Yorkville Christian, 25-22, 25-19
In the opening set of the curtain raiser, Yorkville Christian's Cloe Saxe's six kills help the Mustangs hold a 18-15 advantage, but a three-point spurt by Kaleigh Benner, two more from Jena Easton and back-to-back aces from Emma Highland following an Ella Sibert block closed things out.
In set two, the Mustangs held a 19-18 lead after a Nina Schuberth kill, but a kill by Woodland's Brynna Beutke, then a trio of hitting miscues and a net violation by YC preceded a tip kill on match point by Sibert.
Sibert led WHS with seven kills and four blocks, and Emma Highland with 12 service points, two aces and four digs. Lexi Struble and Clara Downey recorded five digs each, while Easton and Shae Simmons each passed for three assists.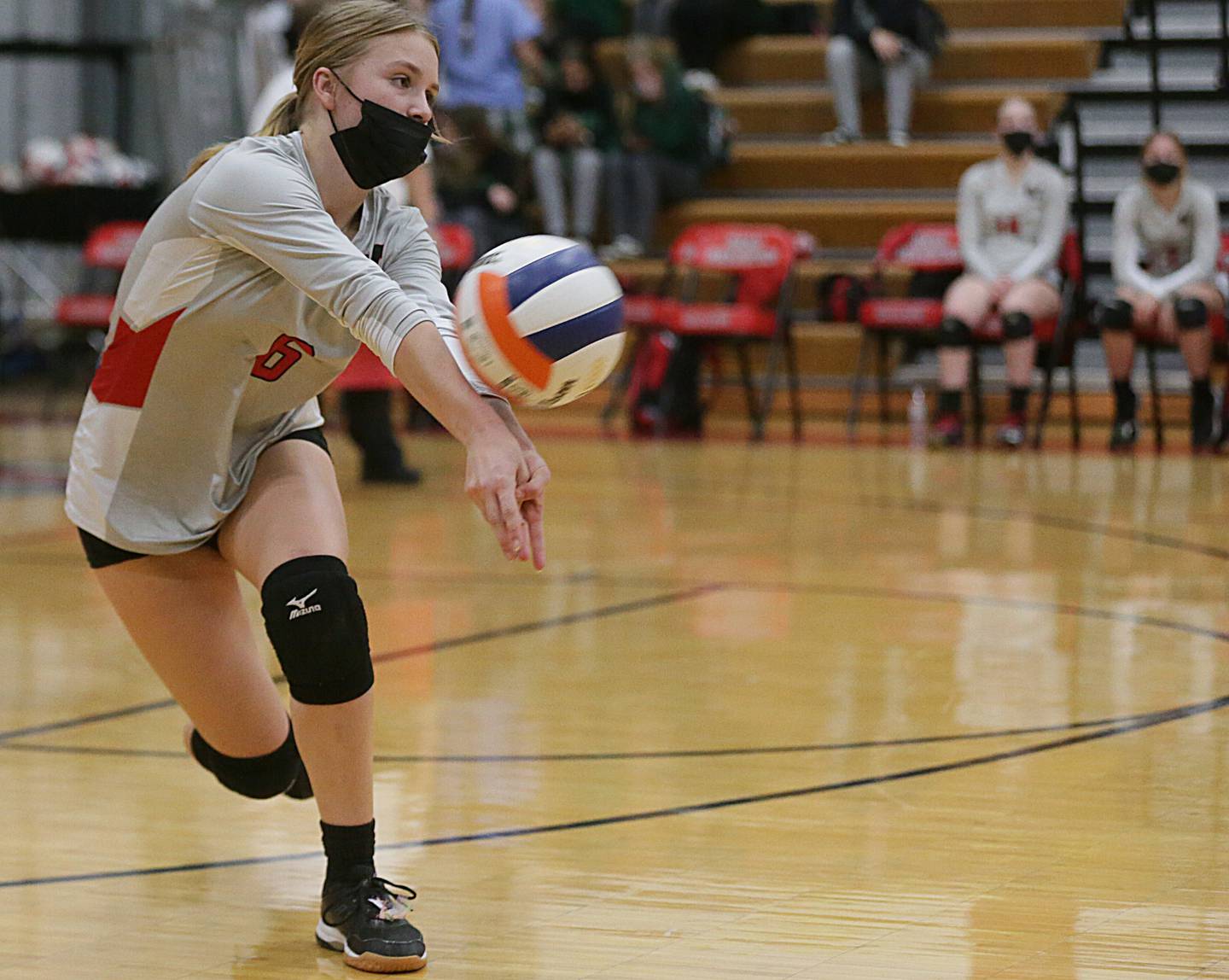 "This is so exciting," said Woodland coach Michelle Pitte. "Yorkville Christian is a very good team, but I think my girls came in knowing what we can do, what we are capable of, and they just don't quit. They showed it tonight. They are playing with so much confidence right know and are on a heck of a run.
"Hopefully we can keep this going (Thursday)."
Yorkville Christian was paced by 10 kills and three aces from Saxe, with Mikayla Highland adding four kills and Ava Tickel nine points.
"We are a young team with only one senior in the starting lineup, and we are learning," said Yorkville Christian coach Bob Coselman. "We'll take this as a learning experience and come back stronger next year. We just had way too many hitting and serving errors (25), and those are not areas we normally struggle with, but we did tonight."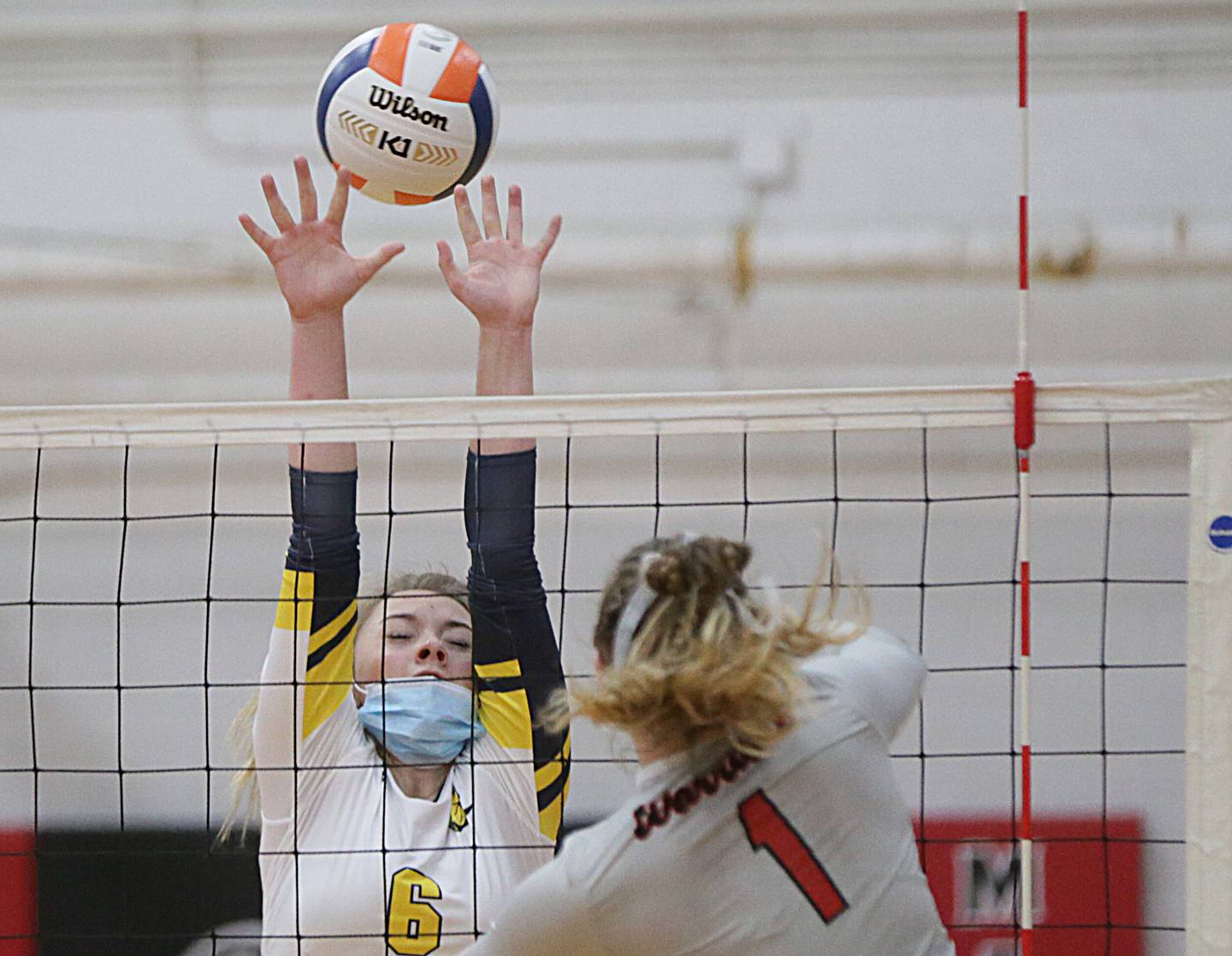 St. Bede def. Putnam County 25-18, 25-14
The teams were tied 15-15 in the opening set before consecutive kills from the Bruins' Ali Bosnich and Leah Smudzinski and a handful of Panthers errors made it 22-15. PC had back-to-back kills from Ava Hatton and Sydney Miller, but a trio more miscues gave SBA the win.
In the second set, St. Bede jumped out to leads of 11-5, 14-7 and 15-9 before a five-point serving burst from Aubree Acuncius pushed the margin to 21-9.
The Bruins were led by seven kills by Emily Robbins, five from Smudzinski and four from Lia Bosnich, while Acuncius posted 14 points and Mia Waters six.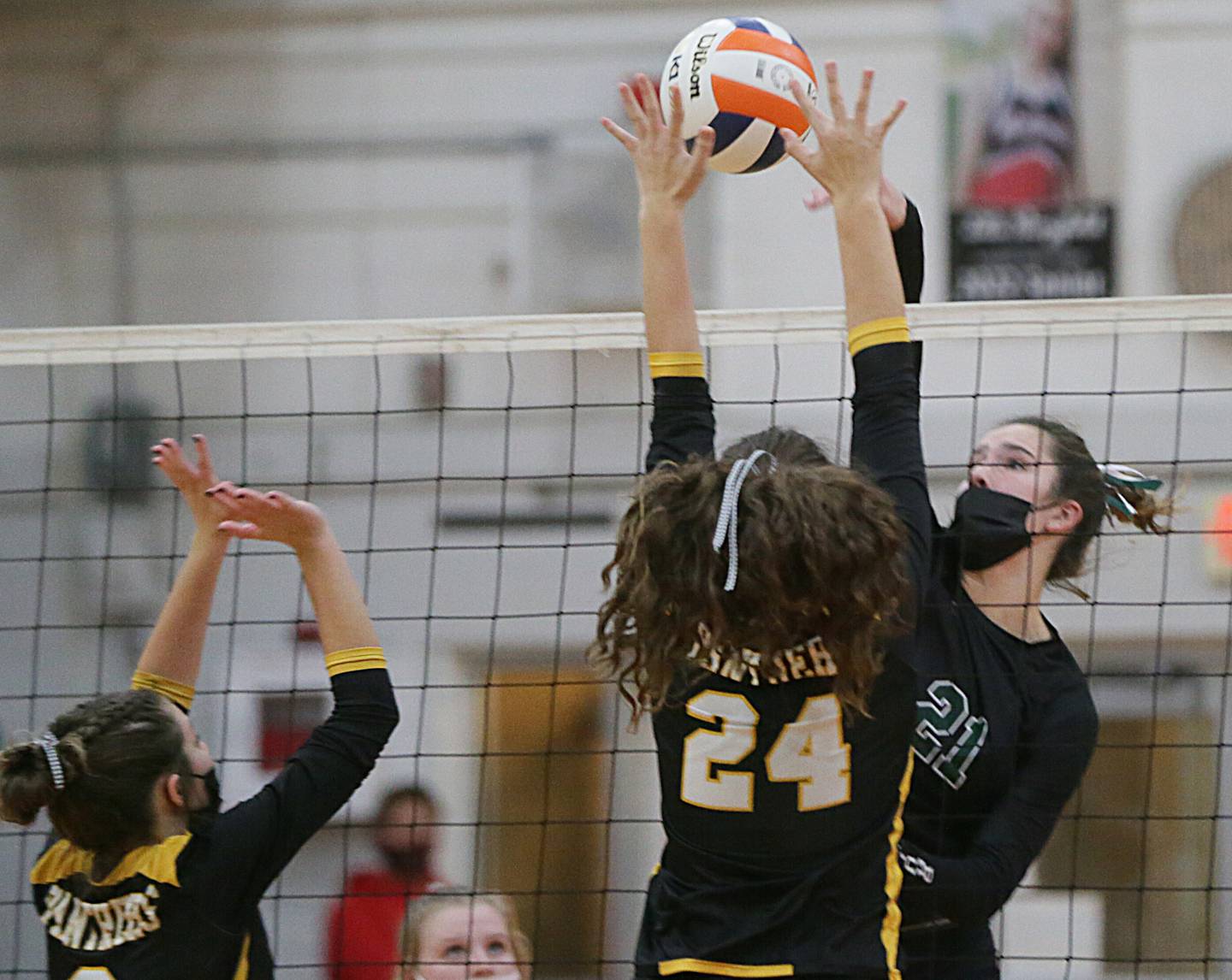 "We played them earlier this month, and they beat us in three at their place," said St. Bede assistant coach Christine Hanson. "It wasn't so much we wanted revenge, but with it being the postseason and having 10 seniors on this team, we wanted this one to keep things going.
"I feel we came out with a ton of energy, and we've been playing well as of late, so the confidence has been there too. I also feel like this team is starting to jell and hit its peak ... there is no better time for that than right now."
The Panthers received five kills each from Maggie Richetta (two aces) and Linzee Fay, while Hatton had four points.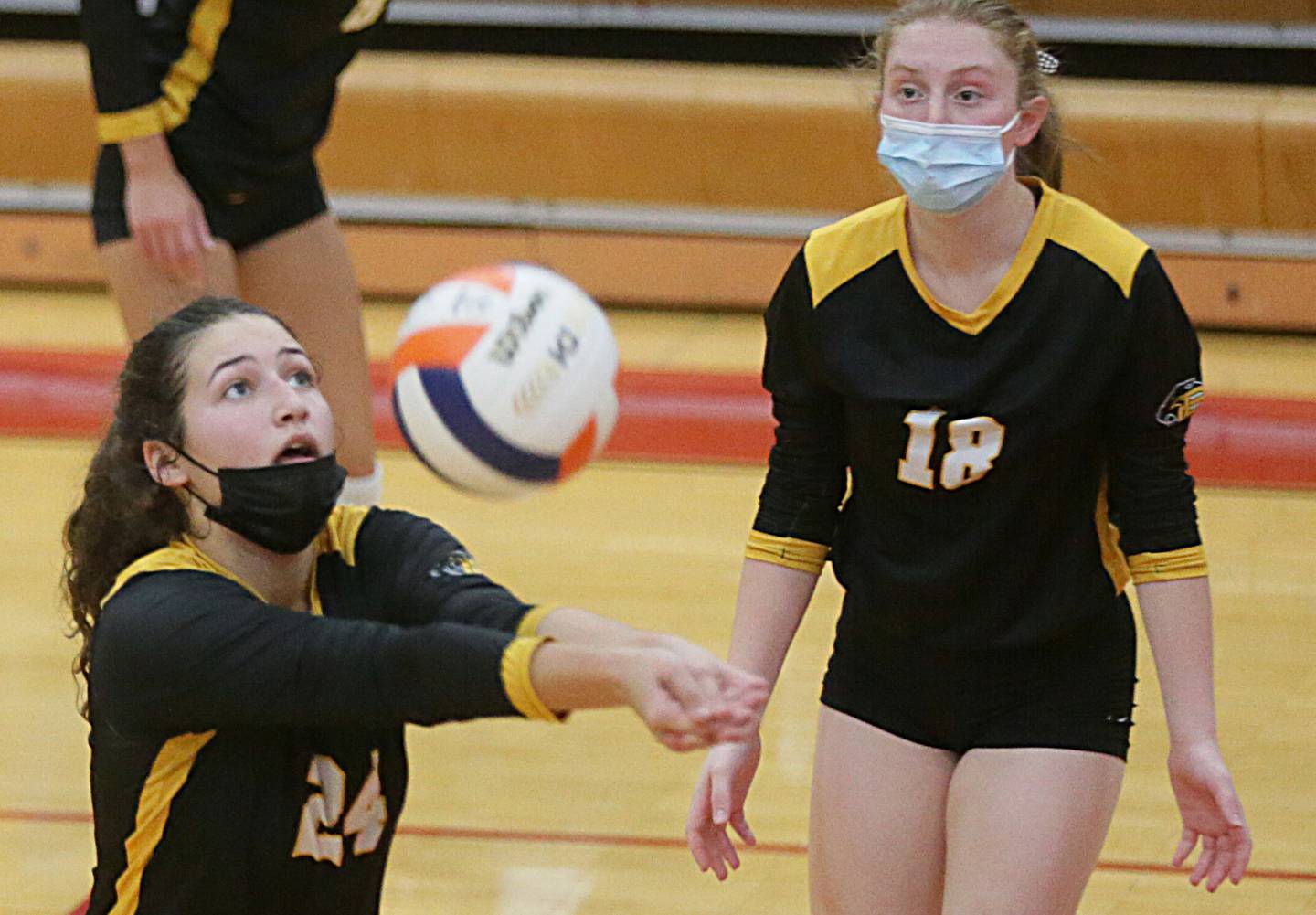 "St. Bede came to play tonight and was able to find open spots tonight, and we struggled to close up those open spots," said Putnam County coach Amy Bell. "Unfortunately the game of volleyball is about momentum, and they grabbed it early and we just couldn't seem to wrestle it away from them.
"This has been a great group of seniors, some of them I've coached since seventh grade, and they've shown great leadership and taught a lot to the younger girls. We have a great bunch of underclassmen that will be back, and they have some really big shoes to fill, because these seniors will truly be missed."