PERU – One can believe that there were external factors that determined the winner of Monday night's volleyball matchup between Marquette and host St. Bede.
If you're a Crusaders fan, you could go along with MA coach Mindy McConnaughhay and feel it was more of the bad luck that's seemingly followed her team all through October, making it much more a trick than a treat as Halloween approaches.
If you favor the Bruins, you could agree with coach Abbi Bosnich and believe in the positive karma of the pink jerseys worn by both teams in this match to mark Breast Cancer Awareness Month, as her team has played well since first wearing them Saturday.
Or you could believe that it was just St. Bede's night, not Marquette's.
The Bedans finished off a close first set with three key points by Grace Maschmann, then used a nine-point service run by Mia Waters to take control of the second game and take down the Cru, 25-19, 25-19, at Abbott Vincent Gymnasium.
St. Bede, which recently learned that it will be the No. 10 seed in the Class 1A Serena Sectional, jumps to 11-18-1. Marquette, which drew the No. 4 seed in that same sectional, drops to 21-8 this season with its fifth loss in the past eight October matches. The two will square off in their postseason opener at 5:30 p.m. Oct. 26.
"We may have to wear these jerseys all the time now. Our girls play well in them," Bosnich joked. "We came off the Plano Tournament having played well against Sandwich and Yorkville Christian and tonight they built off of that.
"We have struggled with bringing balls back this season, but the last couple of weeks, we've put our focus on going after loose balls or hits that we think are dead, and tonight we did a great job of going after those balls that in the past we might have let go and thought, 'That's OK, we'll get the next one.' Tonight, there weren't many of those, and that makes all the difference, taking momentum away from the other team that's expecting a ball to drop."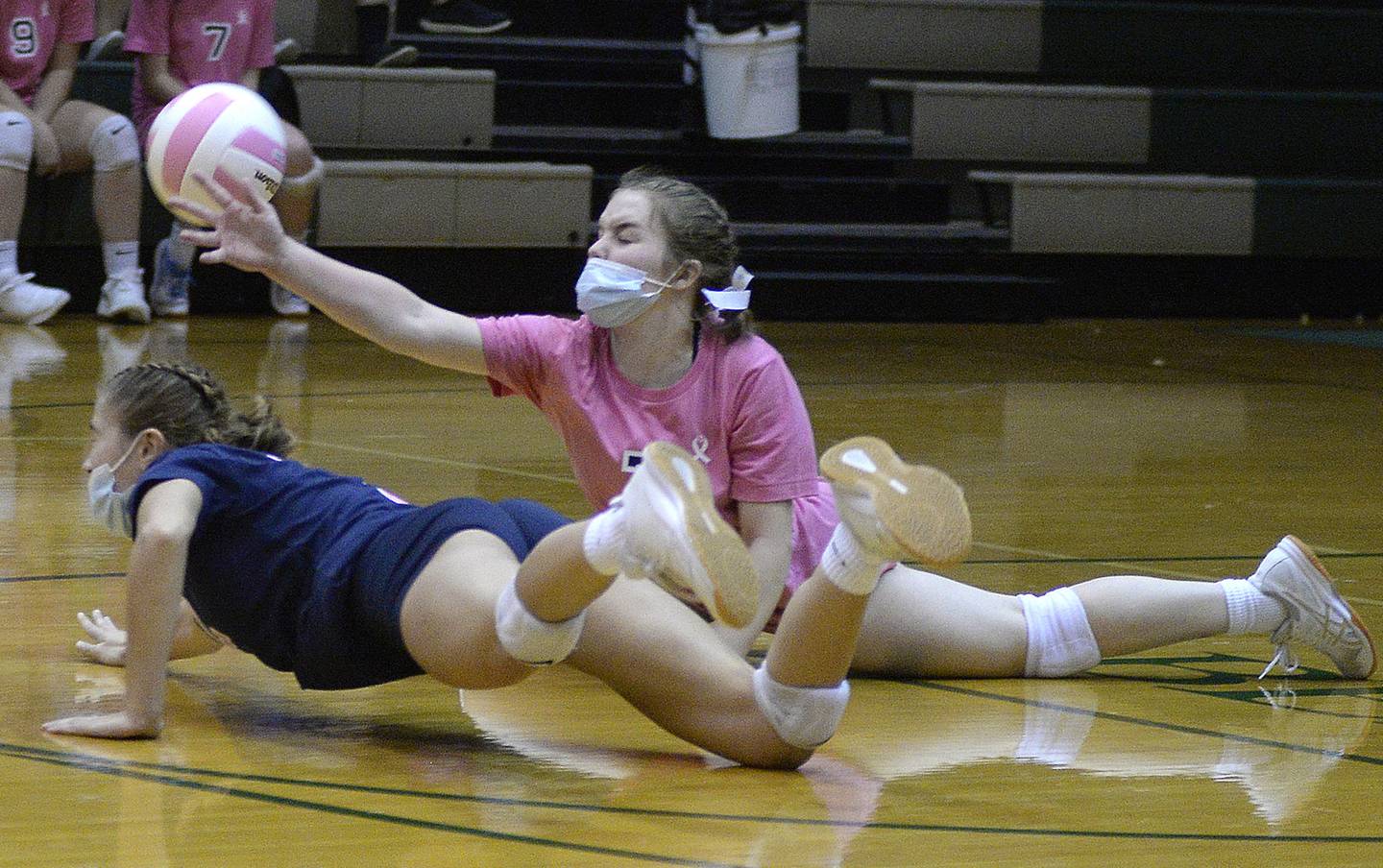 The night started out close, the hosts taking a one-point lead in the opening set when a sideout kill by Emily Robbins and three points by Waters opened a 17-12 edge. A pair of Kaylee Killelea kills got the Cru within 19-16, but the SBA advantage was two when one of five Marquette service errors in the first set went for sideout. Maschmann then reeled off three points in a row to take the Bruins within a point of the win.
The Crusaders jumped on top in the second game, with aces by Nora Rinearson and Lilly Craig and an Eva McCallum kill took the visitors to a 6-2 lead. However, an Ali Bosnich sideout blast – one of her team-high seven kills - brought Waters to the line for her decisive run, which included three more Bosnich kills and two aces.
Down 12-6, MA didn't quit, a kill by Makayla Backos and a tip by Killelea bringing it within 14-12. But a sideout kill by Bosnich led to three more points by Payton Giordano and it seemingly drained the Cru of energy, while the Bedans had plenty.
Giordano ended with 12 digs, Leah Smudzinski five kills and Maschmann 21 assists for the Bruins.
"Unfortunately, it seemed every time we'd get the ball back, there'd be an error here or an error there," said McConnaughhay, whose team got five kills each from Killelea and McCallum and 12 digs from Lindsey Kaufmann. "I never felt like we got into a good sync and were just out of system the whole night. The vibe was definitely off for us … and we're at a loss as to what to attribute that to. Something was off tonight and I'm not sure what. Maybe it just wasn't our night. I hope that's all it is. We looked a little chaotic.
"We let St. Bede control the tempo, and that came back to bite us in the butt. Give St. Bede credit. They came out and took this one from us."