OTTAWA — La Salle-Peru coach Mark Haberkorn said his message after watching his squad drop the opening set to rival Ottawa on Thursday was pretty simple.
"Anytime these two programs play — it's a rivalry — so anything can happen.

—  La Salle-Peru coach Mark Haberkorn on when the Cavaliers and Ottawa play each other
"We talked about how we had to more consistent and play more aggressive," said Haberkorn. "Ottawa served tough, especially in the first set, and we weren't able to get into our offense. I said to them, 'We are going to play two more (sets) tonight, but we have to start executing better.' We were coming off a tough (three-set) loss at Rochelle on Tuesday and we didn't get off to a good start.
"But anytime these two programs play — it's a rivalry — so anything can happen. I thought we did a good job of getting into the flow of things in the final two sets."
The Cavaliers, using a mix of what Haberkorn had asked for and taking advantage of Pirates miscues, rebounded to capture the final two sets in a 19-25, 25-20, 25-22 Interstate Eight Conference triumph at Kingman Gymnasium.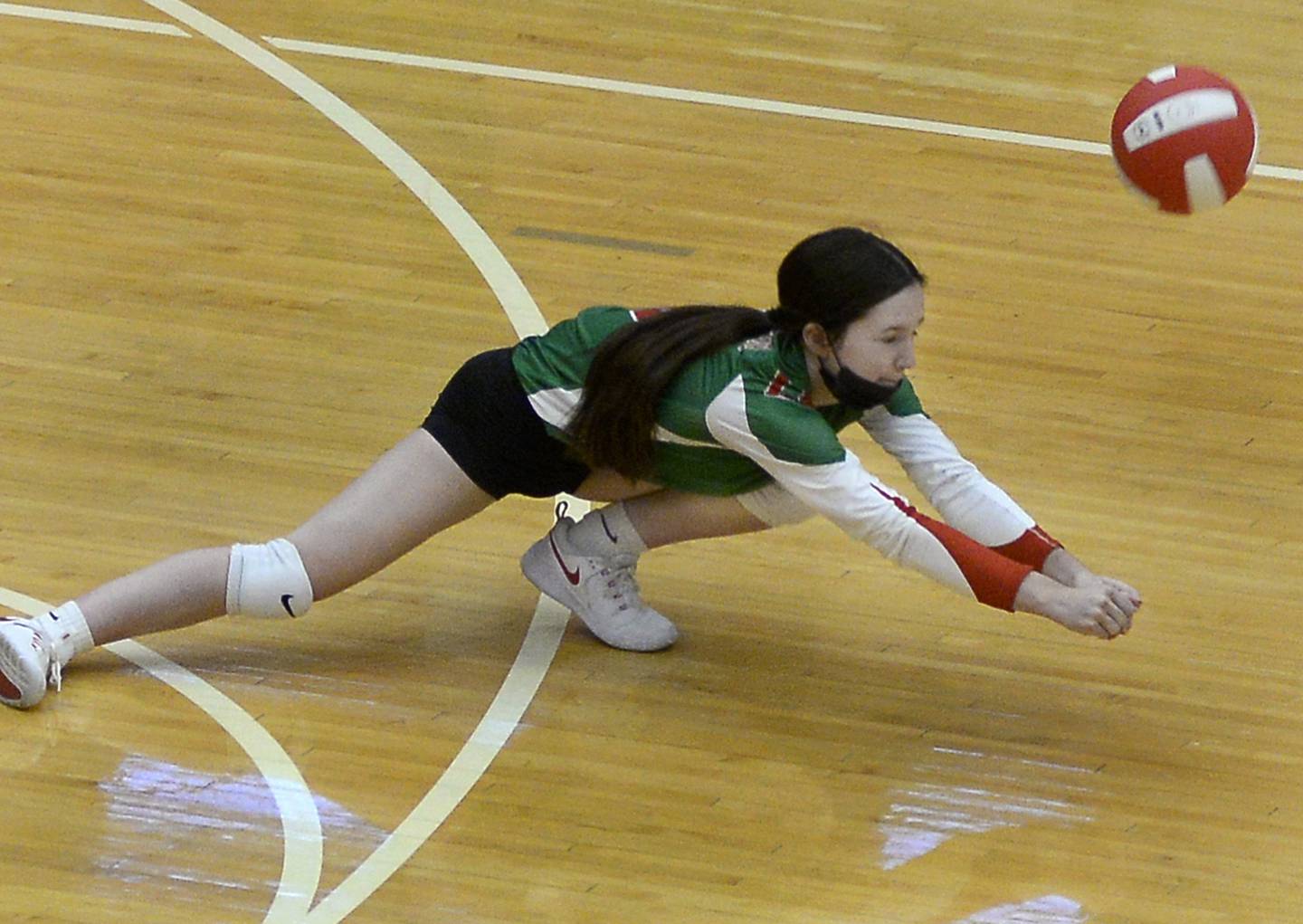 L-P (4-11, 2-4) was led at the net by Camryn Piscia (six kills, two blocks), Katherine Sowers (five kills, eight assists), Madalyn Freeman (four kills) and Sarah Peters (four kills, two blocks), while Avery Urbanski had a team-best 11 assists and 10 digs. Reena Stevens had eight digs, Brooklyn Ficek four aces and Taylor Martyn nine points, two aces, seven digs.
Ottawa (8-13, 2-4) was paced eight kills and eight points from Chey Joachim, seven kills from Mel Pries, seven kills and three aces from Allie Snyder, six kills and five points from Grace Landers and four kills apiece from Ryleigh Stevenson and Brea Konwinski.
"(La Salle-Peru's) energy was there and they just wanted it more than we did. That's what it really came down to," said Ottawa coach Jenn Crum, who was missing a couple regulars due to injury and added she hasn't been able to put together a consistent lineup because of it. "We have the ability and the skilled players, but we made way too many errors tonight, especially in key situations. Missing serves (10), hitting errors (15), you just can't do that consistently and win matches. We gave L-P points at critical times and they gained momentum off that.
"This one hits hard because I felt we played an OK first set and then we just didn't play as well the final two. This is a match we were really hoping to get, but it just didn't work out. We now just need to pull together and come out strong at Rochelle next Tuesday and go from there."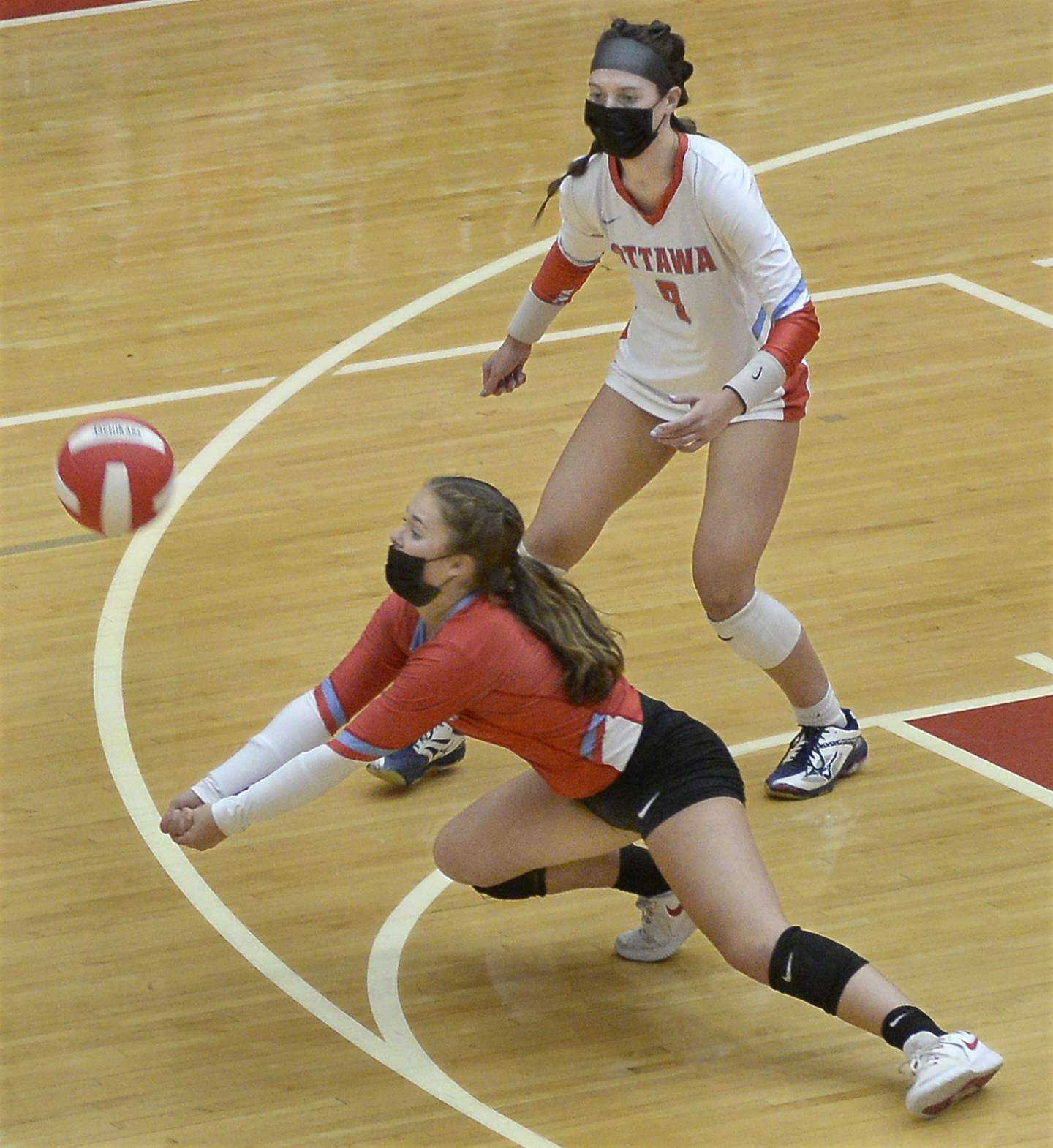 The hosts used a five-point serving run from Joachim, including a pair of kills each by Konwinski and Snyder, to push a first set two-point lead to 18-11. Then after L-P closed it to 20-19, Ottawa scored the final five points — three Cavs errors, a violation and a Joachim kill — on Stevenson's serve to close things out.
The visitors held a slim 10-9 advantage in the second set before a sideout kill from Freeman sent Ficek to the line and after the latter served up a trio of aces and Peters recorded a winning swing, the lead grew to 15-9. The Pirates closed to within 21-19 on a kill by Landers, but an Ottawa serving miscue, hitting error, another ace from Ficek and another kill from Freeman sent the night to a deciding third set.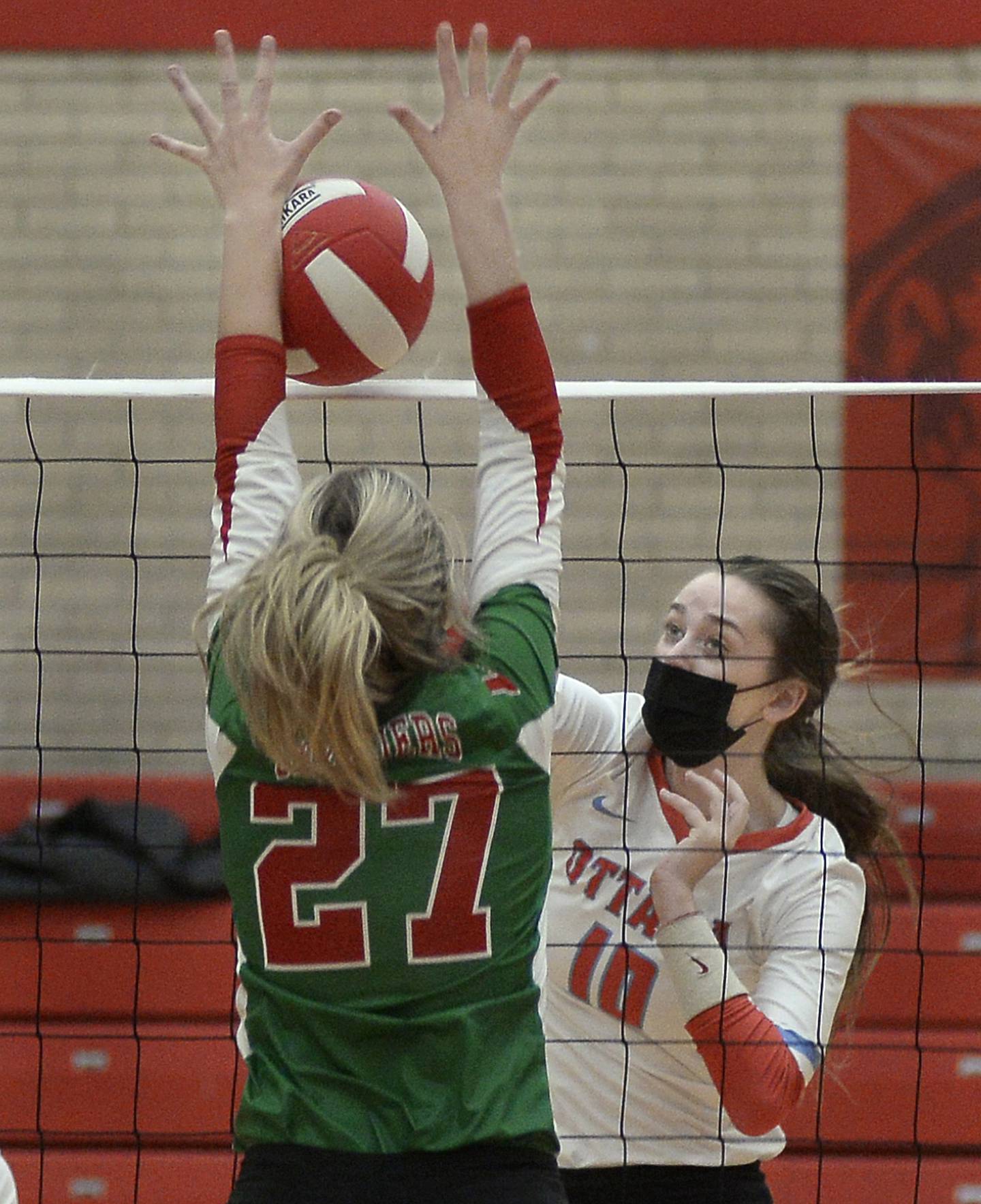 The final set was a back-and-forth tussle with neither club able to hold more than a four-point cushion. L-P lead just 22-21 after an ace from Joachim, but a pair of Ottawa hitting errors and a net violation on match point ended the match.
"We had a little bit of lead (21-16) there late in the third set and then you look up at the scoreboard and its 22-20 and anything can happen," said Haberkorn. "But we were able to get a couple breaks there and finish out the win. We've been in that situation (close sets late) a lot this year, and we've won some and lost some. Tonight we believed we could do it and we did."