CHILLICOTHE – As his team took the field to begin the second half with a one-goal lead in the IHSA Class 1A Illinois Valley Central Sectional championship on Saturday afternoon, Mendota boys soccer coach Nick Myers said, "This is going to be the longest 40 minutes of my life."
Then shortly after his Trojans had recorded a 3-2 victory over tradition-rich, and what many felt was the No. 1 team in Class 1A, Quincy Notre Dame and the photos with the plaque were continuing, Myers was asked about his halftime prediction.
"It truly was the longest 40 minutes of my life," he said with a smile and wipe of the brow. "You want to talk about a ton of drama? I mean we punched in that second goal early, but I didn't feel safe. We knew how deadly they are on set pieces and corners and they proved it. Then Manny (Trejo) comes up with that save on the PK and that was all the momentum we needed. Also credit to all the boys for hanging on for dear life because Quincy Notre Dame threw everything they had at us those last 15 minutes, but we were able to hold them off."
"This was a total team effort and this is something our seniors have been working four years for. This is truly incredible."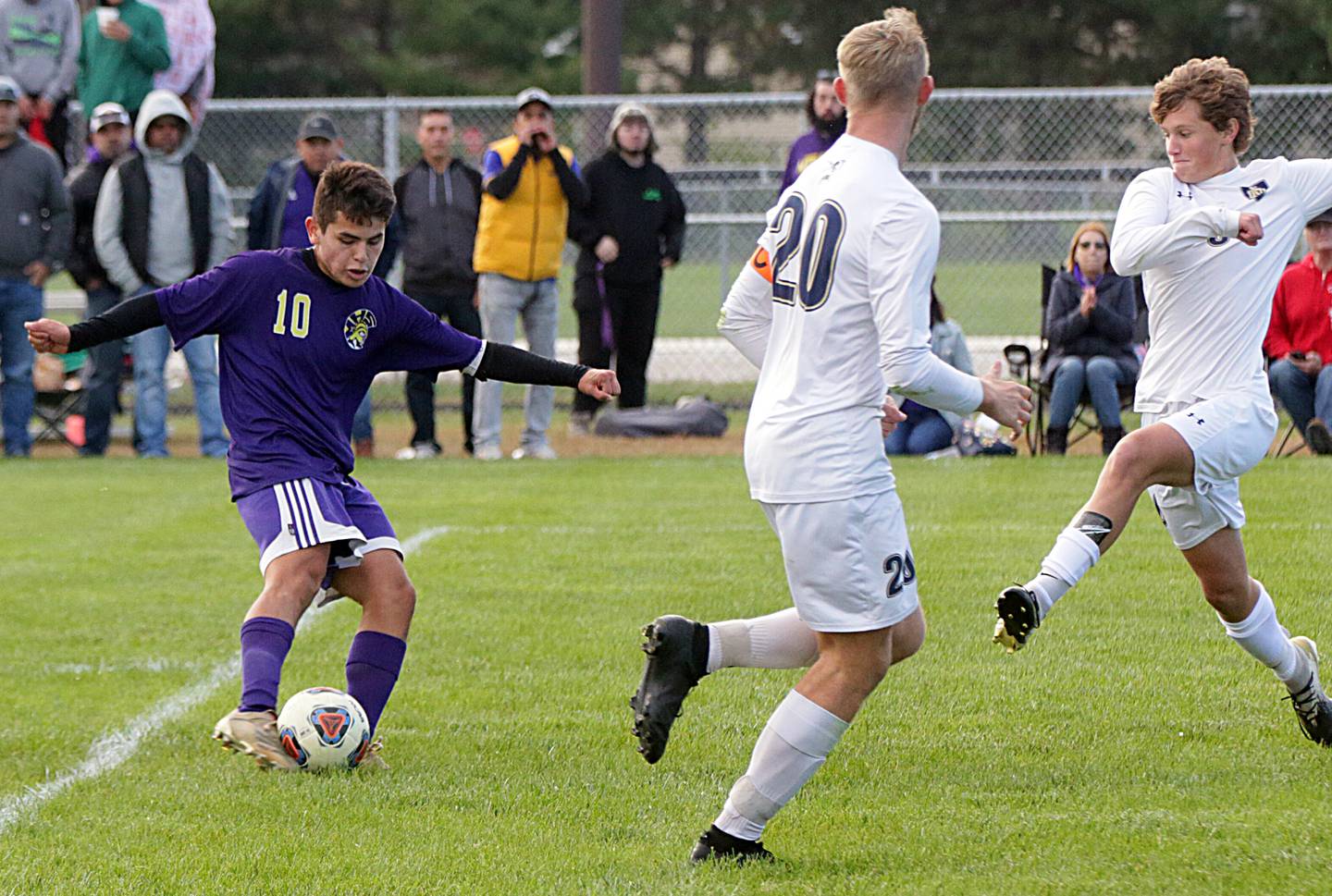 Mendota (23-0) moves to the Bloomington Central Catholic Super-Sectional where it will face the host Saints (23-2-1), a 2-0 winner over Normal U-High in their sectional final, at 7 p.m. on Tuesday. Quincy Notre Dame ends the season 16-6-3.
Mendota controlled all aspects of play in the opening half and took a 1-0 lead in the 17th minute when junior Johnathan Cortez hooked a 20-yard left-footed shot from the left wing over QND keeper Jacob Schisler and just inside the weak-side post.
"We came out with so much energy and our crowd was nuts," Cortez said. "I had a little give-and-go with Ricky (Orozco) and then I was just trying to take my guy down the line. I saw my teammates in the box, so I was just trying to get space and get the ball in there, but it just happened to go in. Once it came off my foot and I saw it heading toward the goal, I was like 'Please don't let him get it.'"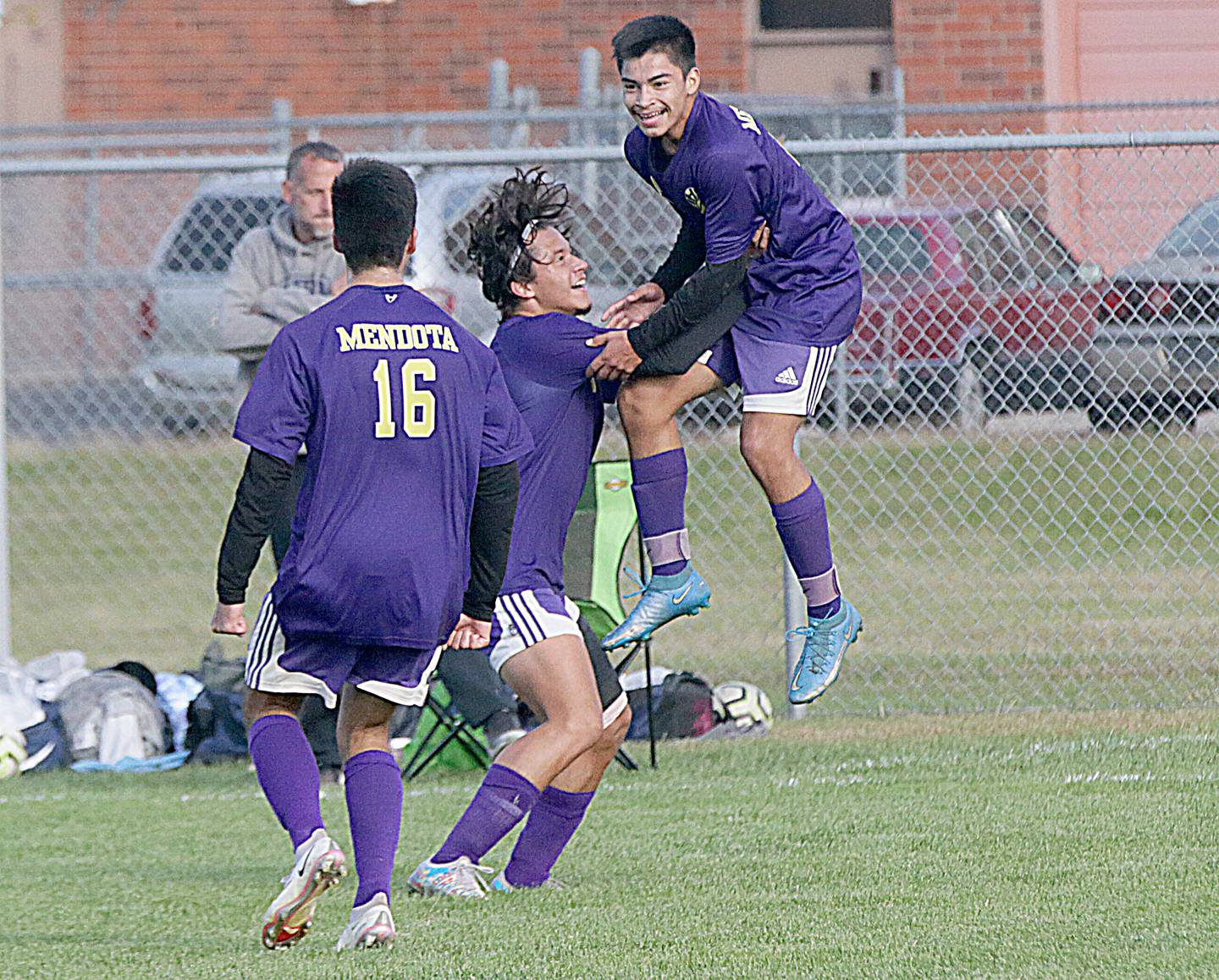 The Trojans made it a two-goal contest 167 seconds into the second half, starting with a throw-in by Jasiel Watson to Yahir Diaz.
Diaz chipped the ball past one defender just inside the box on the right wing, and as a second defender tried to recover, the MHS all-time leading scorer sent a crossing pass to Orozco near the goal mouth. Orozco's initial shot was stopped, but his rebound found the back of the net.
"We talked about how crossing passes were going to be there today and if you were on the weak side you had to be ready," said Orozco, who left the game with a cramp with just under 10 minutes to play and had to watch the time tick down from the sideline. "As soon as I saw Yahir beat his first guy I knew I had to get to the front of the net. I just knew he'd find me and he did.
"Those final minutes were so stressful, but we did it."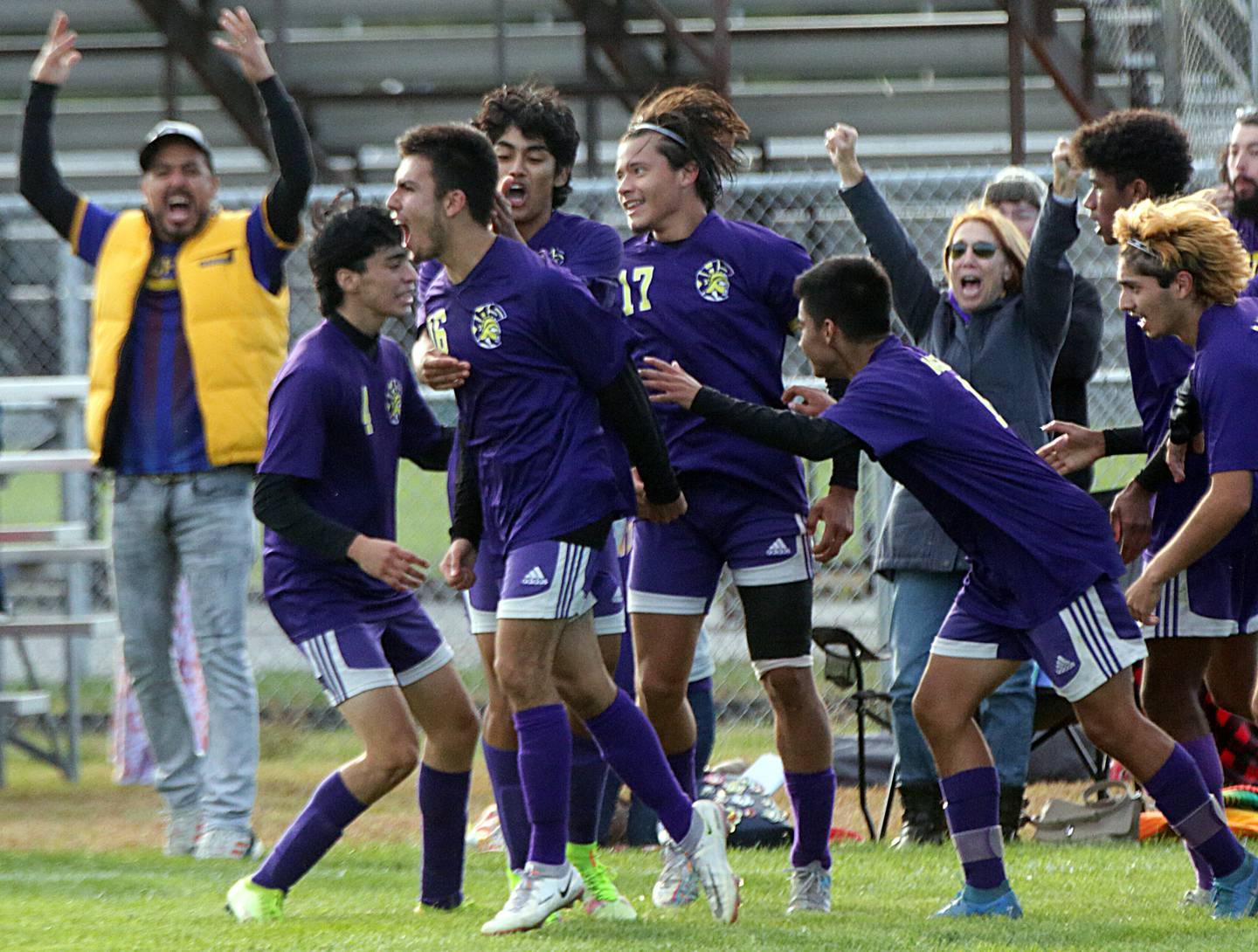 The Raiders scored off a corner kick at the 21:08 mark to draw back to within one and looked to have a great chance to tie the game after receiving a penalty kick with 12:59 on the clock.
However, Manny Trejo was able to stop QND's leading scorer Tanner Anderson's shot with a diving leap to preserve the lead.
"I saw that he was right-footed and most guys like that like to go with the inside of their foot, so to my left," said Trejo, who had three saves and a number of great clears. "I made up my mind I was diving left and I had my eyes on the ball the entire time. Penalty kicks are as much mind games as anything, but I felt all the pressure was on him. You get one guess and I guessed right. That's all you can really hope for in those situations."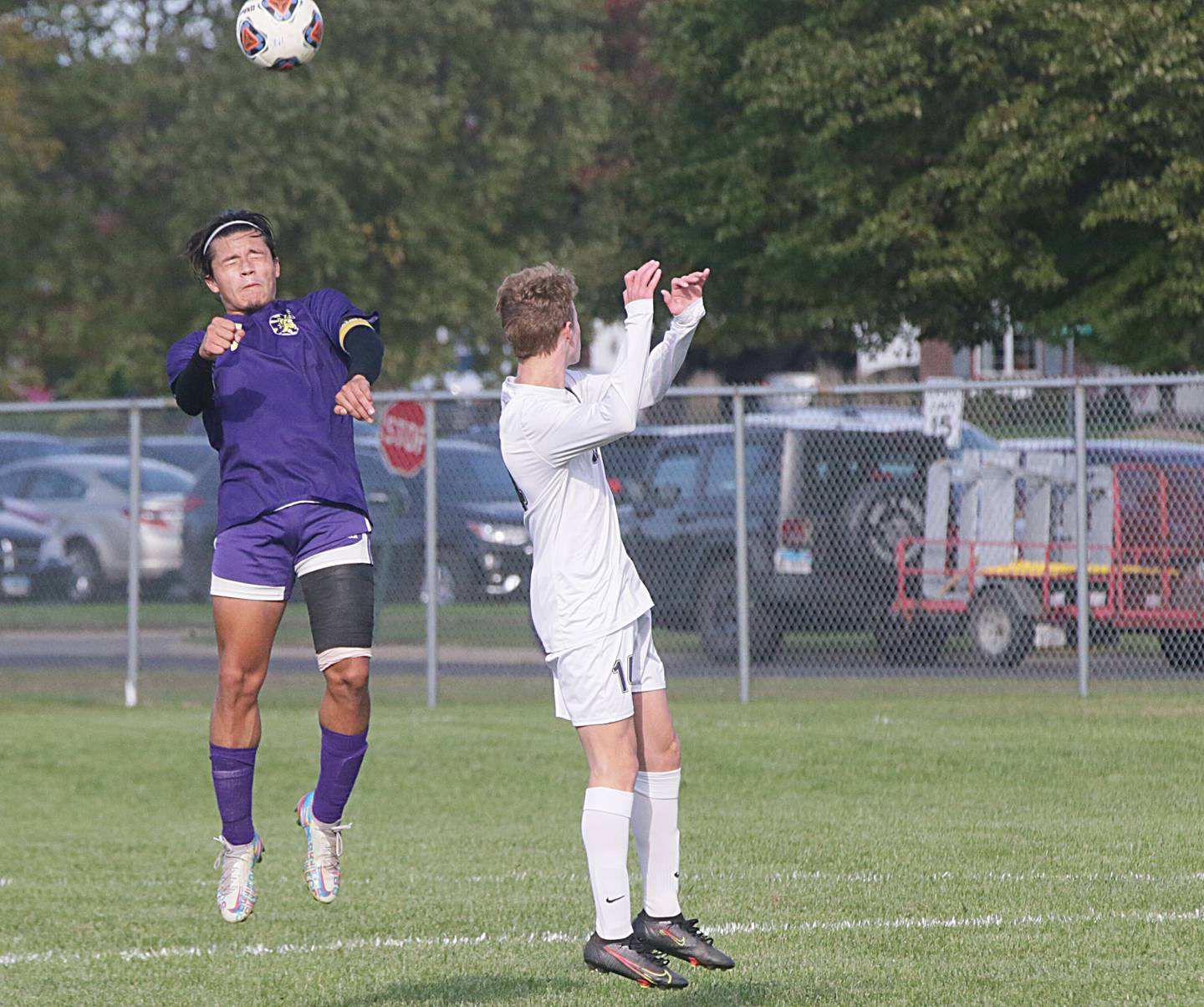 Mendota made it 3-1 with eight minutes to play when Diaz, with defenders on each shoulder, chipped the ball with the back of his foot and turned between the two before uncorking a 10-yard shot that found its mark.
"I just saw a little pocket of space and tried to get the ball through the defenders," Diaz said. "I don't know how the ball or I got through them but we did. Then I got a quick look at where the keeper was, and he was right there, so I just tried to put a hard, low shot to his left. It was a great feeling, best ever."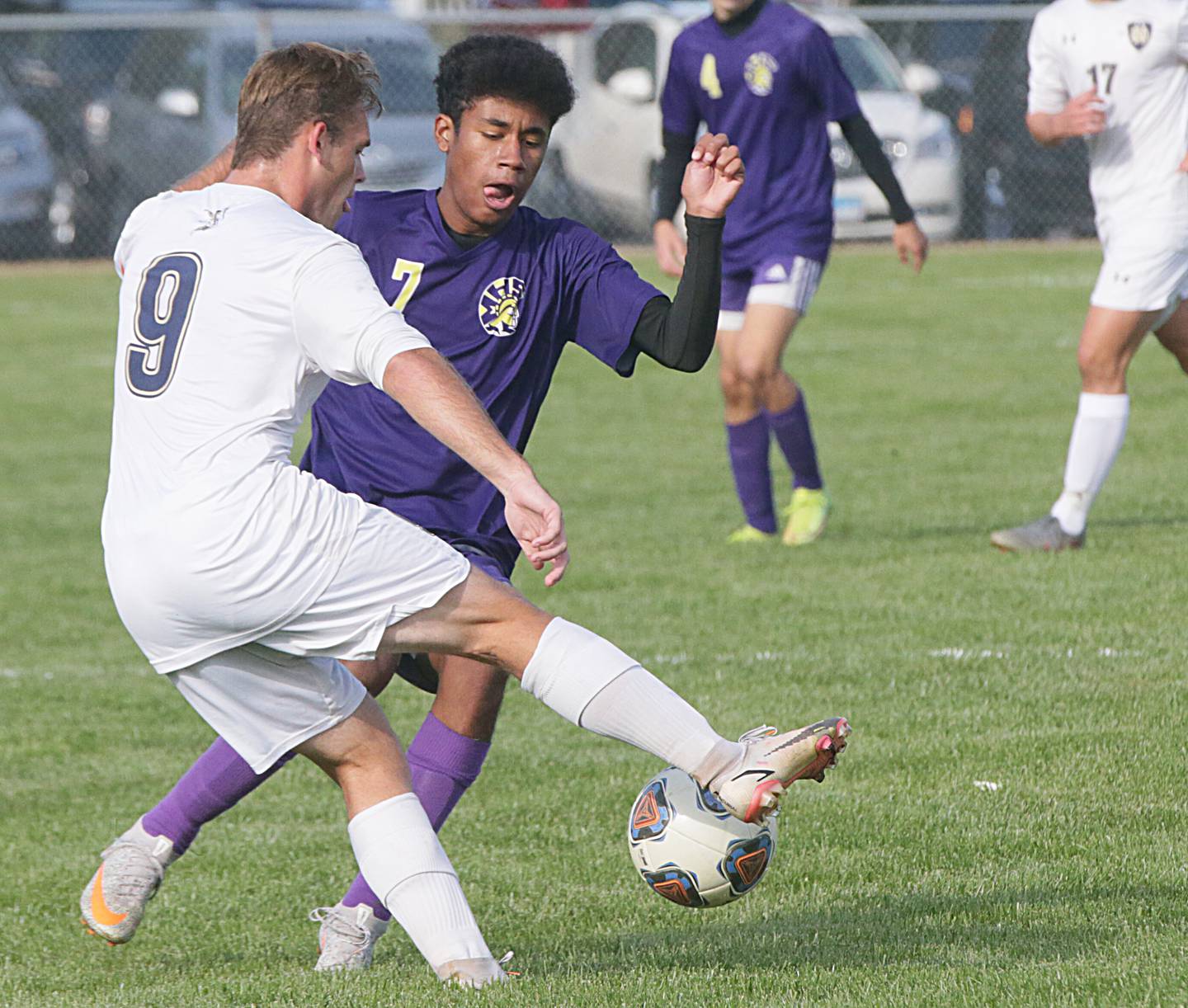 Quincy Notre Dame struck again off a corner kick with 5:58 on the clock, but that was the last good look it had as the Trojans, who held a 17-9 shot advantage (9-5 on net) for the game, closed things out.
The Raiders had defeated the Trojans 7-2 in the sectional semifinals in 2019 and senior center back Rafael Romero, who missed a few minutes late in the game but returned after an ankle injury, said he remembers that game very well and thinks his six fellow seniors who were on the team do as well.
"That really was old news. They have a different team and so do we, but I can say for myself it was nice to get a chance to play them again, for us to play so well and to come out on top this time," Romero said. "This was one of our goals, but now we move on to our next one Tuesday."