Three area basketball players will represent their high school one more time Saturday before moving on to their college careers.
La Salle-Peru's Brooklyn Ficek, Fieldcrest's Ashlyn May and Princeton's Grady Thompson will compete in the Illinois Basketball Coaches Association All-Star Games on Saturday at Pontiac High School.
Ficek, a four-time NewsTribune All-Area pick, will play on the Class 3A/4A South team.
As a senior, Ficek averaged 13 points, 3 assists and 2.5 steals per game to helped the Cavaliers to a 17-14record. She finished her career as second in L-P history in points with 1,328 and steals at 283.
The 3A/4A girls game is scheduled for 3 p.m.
"I think it means a lot to play in the IBCA game because there are a lot of amazing players in Illinois, and just being selected to be one of the girls that gets to play in the game shows that I've been recognized as one of those amazing players," said Ficek, who will play at the University of Wisconsin-Parkside.
May was the three-time NewsTribune Girls Basketball Player of the Year, joining Hall's Kailey Klein and Mendota's Jaci Bice as the only area players to win three times or more.
"I think it means a lot to play in the IBCA game because there are a lot of amazing players in Illinois."

—  Brooklyn Ficek, La Salle-Peru guard
May will play for the North squad in the 1A/2A game. The North team will be coached by Byron's Eric Yerly, a Hall graduate.
May averaged 14,1 points, 4.2 assists and 3.7 steals per game in leading the Knights to a 32-4 record and a repeat sectional championship.
The 1A/2A girls game kicks off the day's action at 11 a.m.
"It's great to be part of the all-star game," May said. "I am excited to go play basketball with some of the best girls in the state and to be able to represent my high school team one more time. All of us girls put a lot of effort into our sports, so it's nice to recognize that talent while having fun with each other. Being part of the all-star game has been a goal of mine and it will be fun to end my high school career with it.
"Representing Fieldcrest has been an honor, and I am glad I get to do it one last time. My high school teammates and coaches have shaped me into the player and person I am, so getting to show everyone what that program has done for me is great."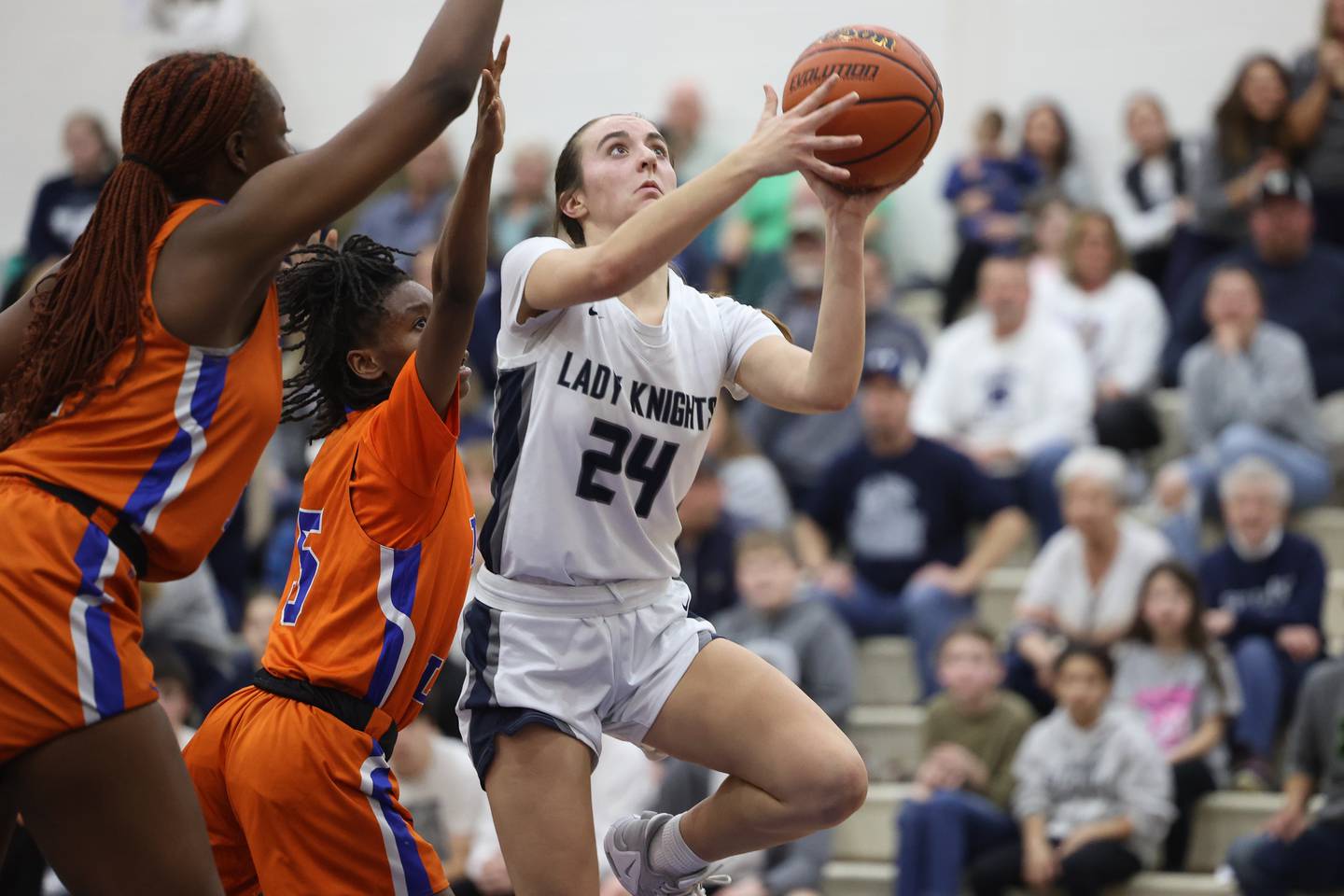 May also is looking forward to playing with and against her future Illinois Wesleyan teammates in Eureka's Ellie Cahill, Elmwood's Olivia Meyers, Pana's Anna Beyers and Normal Community's Sopha Feeney.
Meyers will play with May on the North team, while Beyers and Cahill are on the South roster. Feeney will play in the 3A/4A game.
"One of the parts I'm most excited for is that all of my teammates at IWU in the fall will be competing in the game," May said. "It's nice to be able to compete and play with them before we become teammates next year."
Thompson, the NewsTribune Boys Basketball Player of the Year, will play for the North team in the 1A/2A boys game, which is set for 1 p.m.
"I'm real excited for it," Thompson said. "I think it's pretty cool to have the top guys all go and play with each other. It means a lot to be able to go play with those guys. It makes you feel like your hard work paid off."
Thompson, who played in the Illinois-Iowa All-Star Game in March, was the first Tiger named First-Team All-State since Joe Ruklick in 1955. Thompson broke Ruklick's Princeton career scoring record, finishing with 1,468 points.
Thompson averaged 21.8 points, 6.6 rebounds, 2.1 steals and 1.6 assists per game to help the Tigers to a 32-3 record and a regional championship.
The North team will be coached by Aurora Christian's Dan Beebe, who previously was an assistant at Hall.
The IBCA left an honorary spot for Dylan Bazzell, the First-Team All-Stater who was killed in a sledding accident over spring break in Colorado.