SPRING VALLEY – It may not have been their best golf of the season, but it was more than enough to carry the St. Bede Bruins through to the regional championship.
The host Bruins shot a 340 on their home course Wednesday to capture the Class 1A St. Bede Regional boys golf championship. It was their second regional title in three years.
"It was our goal from the start of the season," St. Bede senior Jake Delaney said. "We knew we had the regional here, and we just wanted to get through first off. But we wanted to win because we had a good chance to have a pretty good team this year.
"We had some guys didn't really play their best. I didn't play my best at all. It got us through today, so we'll take it, make improvements and we'll come back strong next week."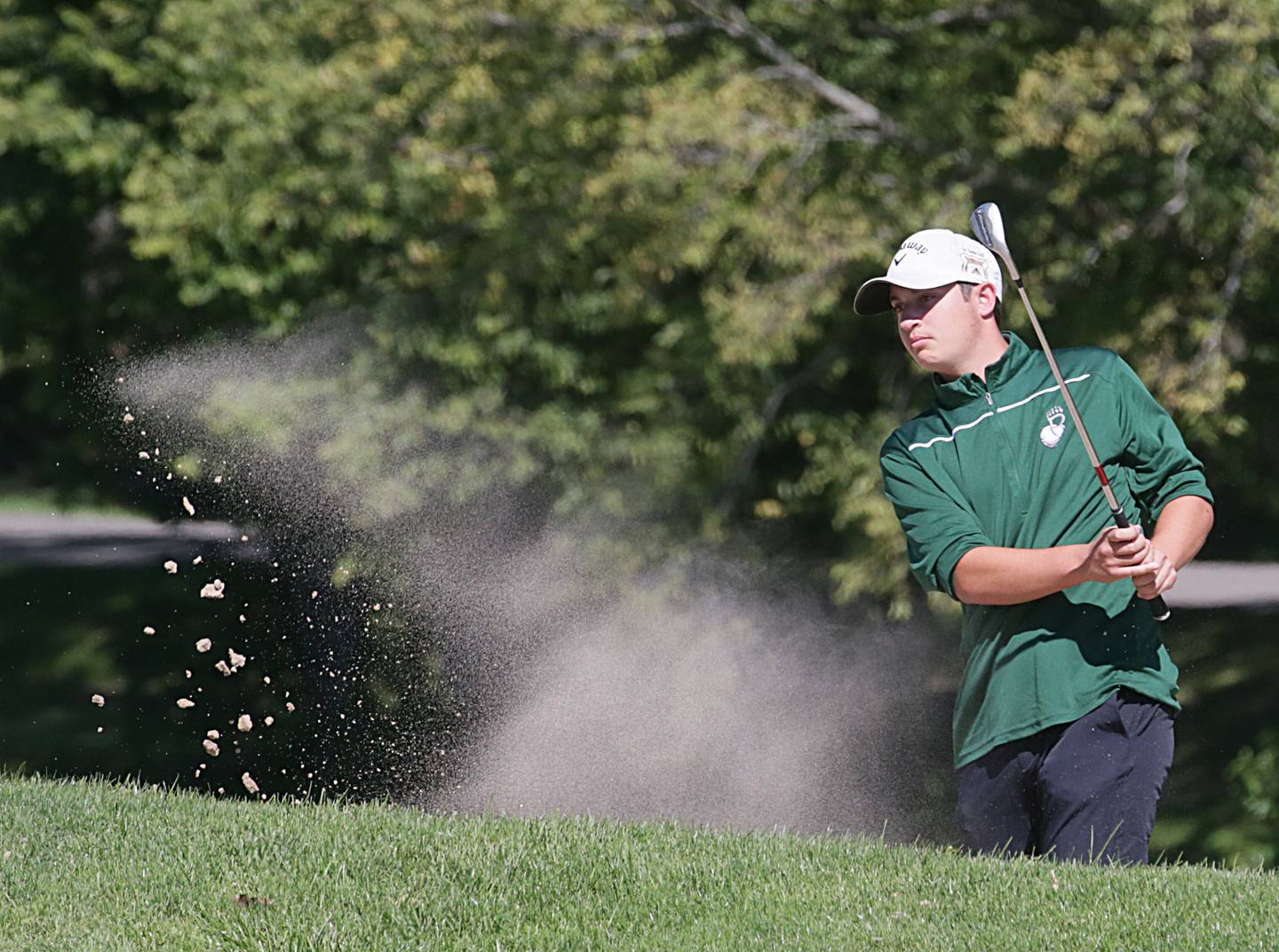 St. Bede coach Rich Cummings said the thrill of victory overcame the disappointment with their scores.
"I don't think they played as well as they can play. We've played much better during the year, but in the end, we're moving on," he said. "They're a little down right now, but once they get the plaque in their hand, their mood will brighten."
It was a clean sweep for Bureau County, with Hall, also on its home course, shooting a 349 for second and Bureau Valley (153) taking third to round out the team advancers.
The Red Devils advance for the first time in nine years, the Storm the first time in five years and only the second in school history.
Hall sophomore standout Landen Plym was the regional medalist, shooting a 78 for a three-stroke victory over Brendan Pillion of St. Bede and Camden Figgins of Serena-Newark senior, who tied for second at 81.
Plym, who finished seventh as a freshman at regionals, set his goal to win a regional title this year. He said he just "had to practice harder, stay more focused and have a better short game."
Other than a couple of "lip-outs," Plym was happy with how he played.
Other sectional qualifiers included junior Carson Zellers (83) of Marquette, senior Lucas Bernardi (84), sophomore Blake Ramsey (86) and junior Connor Reichman (90) of Fieldcrest, freshmen Carson Rowe (86) and Jacob Miller (88) of Henry and senior Hudson Stafford (91) of Serena-Newark.
Behind Pillion's runner-up finish, Delaney came in fourth at 82 for the Bruins while juniors Logan Potthoff carded an 88 and Ryan Slingsby a 89.
Delaney said playing at home was a big advantage.
"Especially Spring Creek," he said. "It's a course if you don't have experience playing it, it's going to be really, really tough. Us kind of knowing which way the greens are going to move, where the pins are at – being at home means a lot. If there's hidden water from the tees and guys don't know that's there, it's tough. It's a challenge."
Plym also said it was nice to play on his home course.
"I like this course," he said. "I know the angles of where to shoot it from and where to hit it on the green to."
Hall senior Grant Plym, Landen's cousin, cracked the top 10, finishing in a tie for eighth (86). Other scorers for Hall were Josh Scheri (17th, 90) and Jacob Diaz and Lukas Mannriquez shooting 95s, finishing in a six-way tie for 28th.
Bureau Valley senior Cooper Balensiefen, who has been the No. 4 or 5 player all year, stepped up to lead the Storm with an 86, finishing eighth, a stroke ahead of No. 1 player freshman Wyatt Novotny, who tied for 11th.
Also scoring for the Storm were seniors Seth Spratt (13th, 88) and Parker Stier (21st, 92) and sophomores Landen Birdsley (21st, 92) and Colin Stabler (96).
"I was impressed how they held on," BV coach Jack Gustafson said. "It was not easy scoring conditions."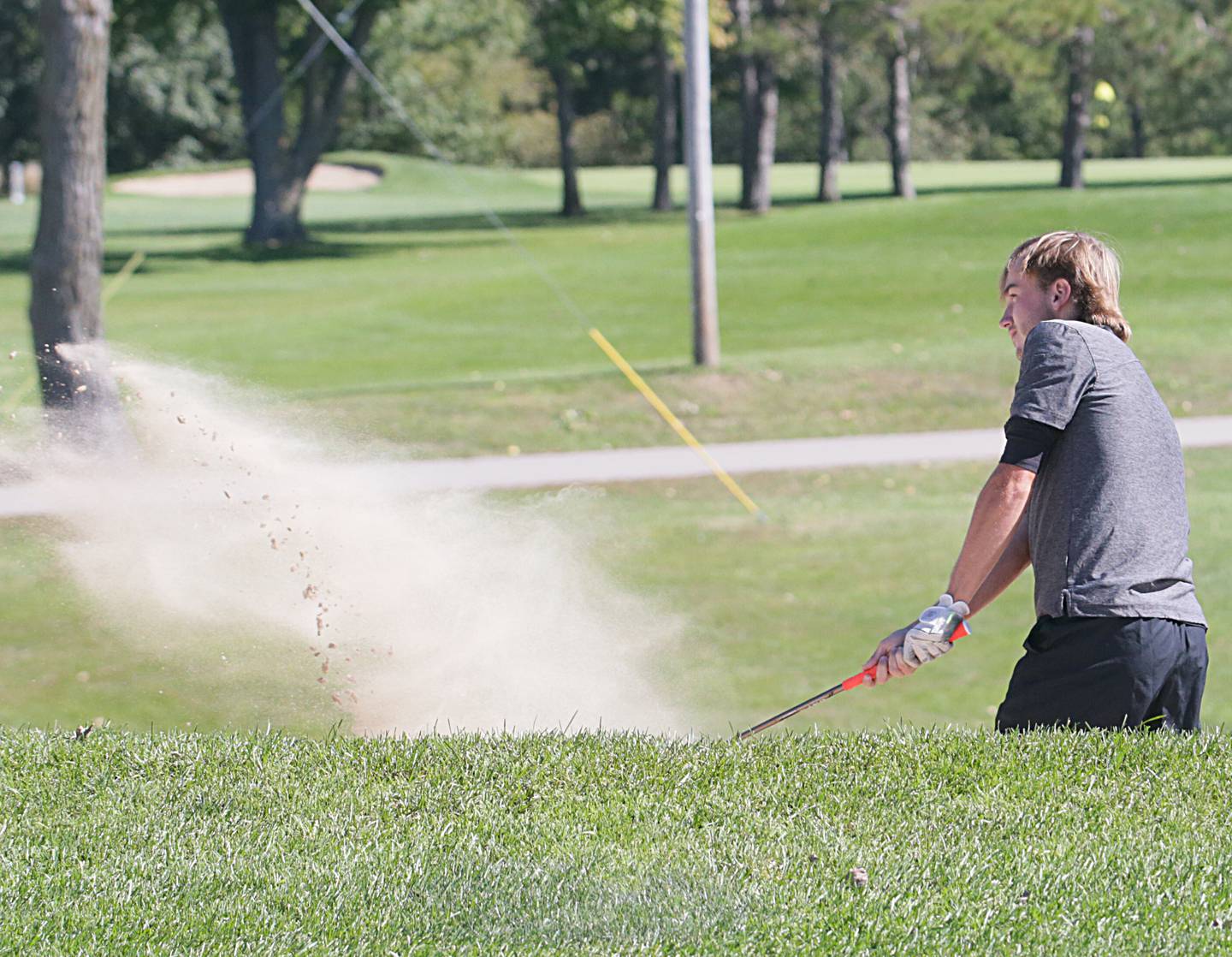 Figgins, who qualified for sectionals for the third straight year, was pleased with how he played despite the brisk conditions.
"Today was definitely one of the colder starts I've had to a golf tournament," he said. "I played really well today and was driving the ball great. I was striking the ball the best I have all year, although I did not make any birdies."
"I am very excited to play TPC Deere Run for sectionals, and I'd love to get a run at state for my final year."
Zellers, who tied Midland's Brett Smith for fifth, was pleased with his round outside of the double bogeys he had on the seventh and eighth holes.
"There were a few holes that affected my score, 7 and 8, but it's golf, it happens. I'm not complaining," he said. "I parred hole 9, and it was like it never happened."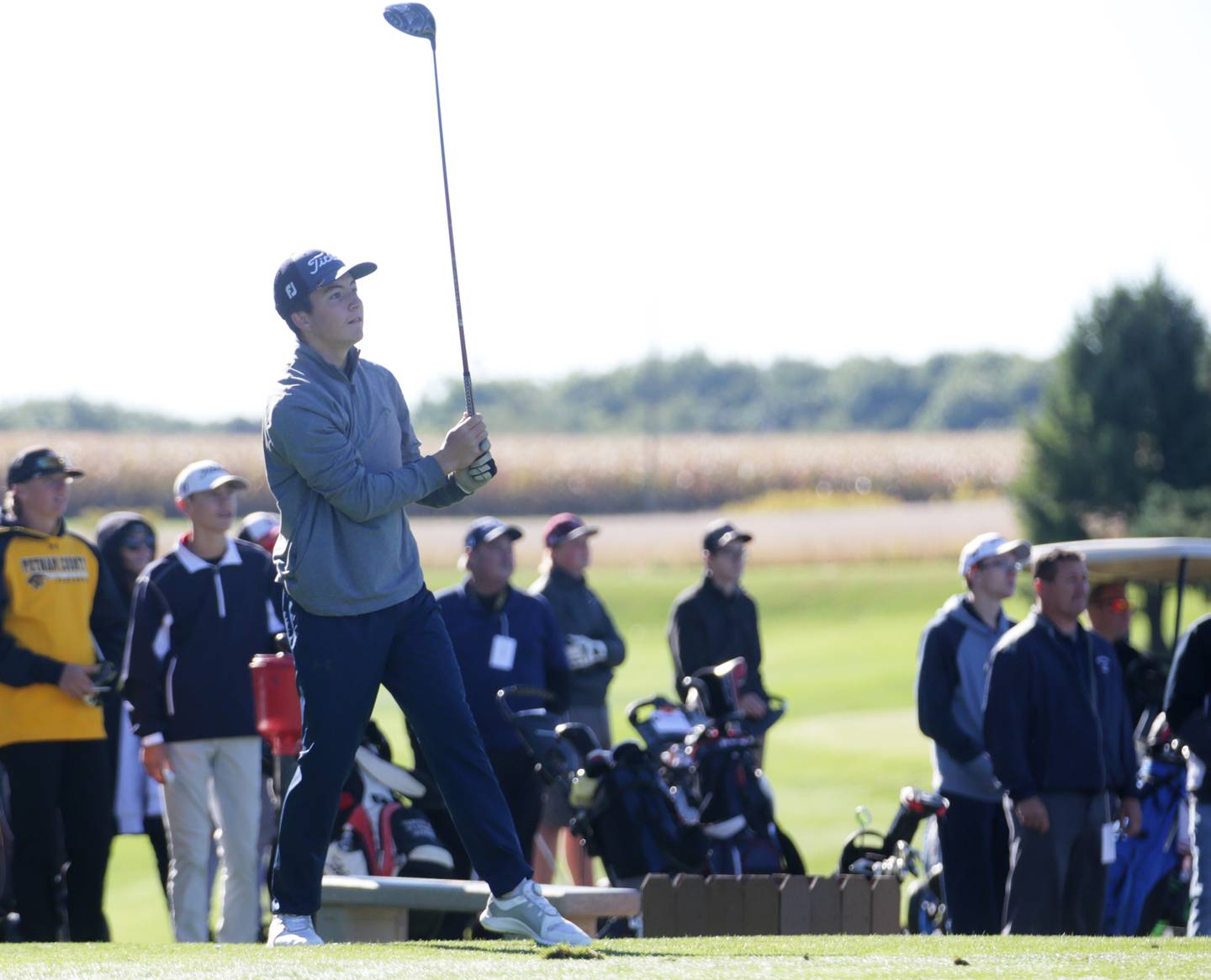 Zellers, who also qualified for sectionals as a freshman and sophomore, said he was just focused on "playing the best I could."
Fieldcrest missed the team cut five stroke, finishing fourth at 358. Sophomore Nathan Buchanon chipped in a 97.
Marquette placed fifth, including scores from sophomore Ashton Grady (92) and juniors Daniel Hoffman (93) and Ryan Peterson (95).
Putnam County, which finished ninth (378) was led by junior Logan Keesee and senior Andrew Pyszka, who each shot 93s.
Senior Mason Sterling led Woodland at 102.
Earlville was paced by junior Ryan Browder (107).