The Illinois Valley Pistol Shrimp have put together a solid Prospect League season so far — holding a 17-11 record heading into Friday night's home contest against the Burlington Bees — with the 60-game schedule nearing its halfway point.
Inside of the team's success has been solid performances from a trio of former local prep baseball standouts, Hall High School alum Chance Resetich, as well as Ottawa High School graduates Evan Evola and Jared Herzog.
Resetich played 11 games at the beginning of last season, hitting .265 for the Pistol Shrimp in the short stint, but is a full-time member of the team this summer.
"To be honest, last year in my time with this team I was more focused on trying to have good at-bats and having good pitch selection, but this summer I'm just playing," Resetich said. "I felt like I was just starting to heat up when my time with the team was done last summer. It's been nice to know that this is what I was going to be doing for 60 games this summer and I'm glad to be part of it."
The former Red Devil played his sophomore year this spring at NJCAA Division II Black Hawk College, hitting ,376 with 11 home runs and 55 RBIs. and was named All-North Central District/Region IV Second Team for the Braves, He will be playing at NCAA Division I Southeast Missouri State University next spring.
Resetich was hitting .296 with seven doubles, three homers and 16 RBIs for the Pistol Shrimp heading into Friday, with team-bests in games played (27), at-bats (103), hits (32) and stolen bases (3). He's recorded a hit in 21 of 27 games and earlier the season posted an 11-game hitting streak.
"This summer I'm just trying to help the team win and myself just be consistent," Resetich said. "I feel like I'm getting better as the team does better. In this league you are playing almost every day, so being as consistent as you can is very important. The competitiveness and talents in this league are really good, so you have to be ready every game.
"I'm having a great time and hopefully we can all continue to play solid baseball moving forward."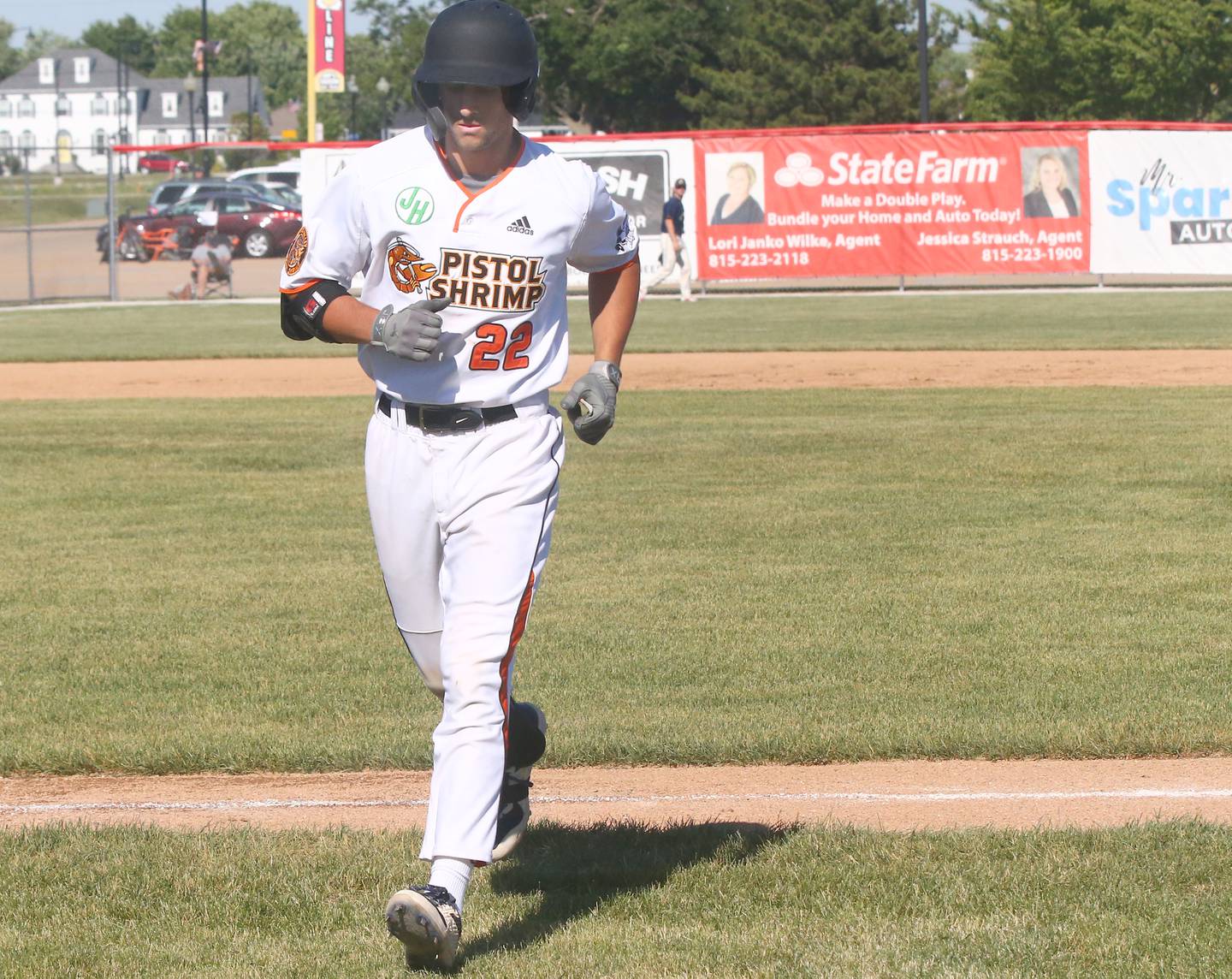 The left-handed hitting Evola said he was hoping to keep doing the things he did this past spring in his freshman season at Webster University in St. Louis. With the Gorloks, Evola batted .409, with 15 doubles, eight homers and 49 RBIs, which earned him St. Louis Intercollegiate Athletic All-Conference First Team, Newcomer of the Year and Player of the Year, as well as being named to the D3baseball.com First Team and its Rookie of the Year.
"I hit the ball well in the spring at Webster, so really, I'm just trying to carry that over to this summer," said Evola, who has played in 17 games for the Pistol Shrimp and is hitting .325 with four doubles and a pair of RBIs. "There are a lot of really good arms in this league which is helpful for me ... it's a challenge. I want to keep working on staying consistent with my swing and I feel I've been able to do that so far. We have a rotation because of having so many guys being good hitters, so you just have to make the most of the opportunities."
"The first couple of games I think everybody is just trying to get a feel for each other. I think the first road trip we took was a great chance for us to get to know each other better and be more comfortable around each other. I feel like it didn't take long for everyone to start playing for each other. I think we all work and get along really well with each other and that has made the season so far so fun.
"It's been fun to be able to play in front of my family and friends again. My mom has friends with younger kids and they've come up to me wanting to take picture with me or to sign a ball. Hopefully it's fun for them, because it's fun for me.
"Overall, I look at this opportunity as one to make new relationships and just have fun playing baseball."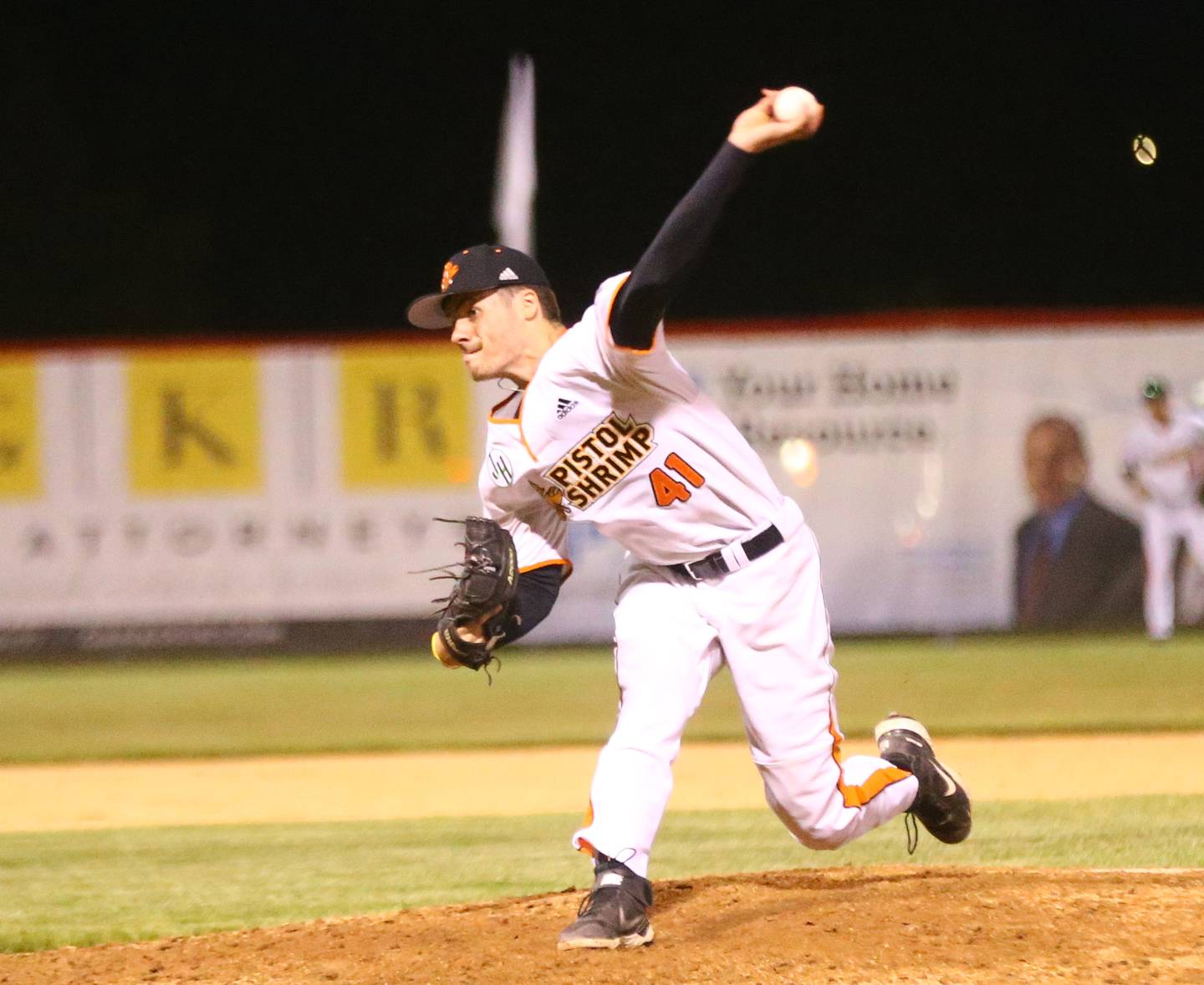 Herzog entered this summer with the Pistol Shrimp coming off a solid freshman season at Rockford University where he was named to the Northern Athletics Collegiate All-Conference Second Team. The former Pirates' standout and southpaw pitched in 11 games (10 starts) for the Regents, working 61 1/3 innings with 87 strikeouts and an ERA of 3.52, while also hitting ,270 with 21 RBIs.
So far for the Pistol Shrimp, Herzog has appeared in seven games (two starts) and is 3-1 with a 2.21 ERA. In 20 1/3 innings pitched, he has allowed just 12 hits, with 12 walks and 35 strikeouts.
"I feel like I had all of my pitches in a good place coming into this summer, but my main goal was to limit my walks," Herzog said. "I like to pitch around the zone a lot and sometimes that ends up biting you in the behind because it can lead to walks. I have been just trying to throw strikes consistently and pitch as hard as I can.
"This league gives you a lineup of really good hitters each and every game. I think every pitcher wants to have that challenge and I think it can show you what you can do and your capabilities. When you can get great hitters out it only boosts your confidence. I'm a starter at heart, so maybe my numbers didn't show it, but it was a little struggle for me to come out of the bullpen. Being a reliever, you have to be mentally ready quick, and the routine is so much different.
"It's nice to be close to home this summer playing baseball. I love the pro-ball type of atmosphere, pitching in front of a lot of people, and just the overall feel of playing for this team this summer.
"It's been a blast."