WILLIAMFIELD - The West Central Heat softball team has not lived up to this nickname when it comes to bunting. They've been more like the "Cold."
But, when they needed to lay down the bunt the most, they executed it to perfection in Friday's Class 1A Williamsfield Sectional championship.
Junior Bailey Ryan pushed across the go-ahead run with a squeeze bunt in the third inning to take a 2-1 lead over St. Bede.
West Central pitcher Addie Seitz took care of rest, holding the Bruins scoreless the rest of the way to send the Heat to the Sterling Supersectional on Monday.
"We've been working on that all year and never pull it out," West Central coach Scott Swiler sad. "We couldn't bunt to save our butt the last game. Today, it was just something that won the game. That's what we work on, squeezing. We just sometimes can't get them down.
"Bailey fought me a lot in practice about bunting, but you can tell it's a productive fight. She got it down and got that winning run."
Ryan said bunting has been a focus point in practice because "we got to a point where we couldn't get a bunt down. Every day in practice we do it several times. We call it the ring of fire, you all just bunt in a circle until somebody gets out."
Brynna Seitz beat out a single to short to start the Heat rally in the third inning. Addie Seitz followed with a perfectly executed hit-and-run single to the vacated shortstop hole when St. Bede's Ella Hermes went to cover the bag, that put runners on first and third.
MacKenzy Ludington followed with a single down the right field line to bring home Brynna Seitz to even the score. Ryan then followed with her squeeze bunt to put the Heat ahead, 2-1.
Ryan said she got "real nervous" when she got the bunt sign because, "I'm notorious for popping up bunts. I was working real hard to get that down."
It was one of three successful sacrifice bunts the Heat executed in the game.
"[Bunting] is usually something we do," St. Bede coach Shawn Sons said.
Sons, whose team bows out at 20-4, was pleased to see his team go down fighting.
"Every game we played, it was fight, fight, fight," he said. "Even in the games we were running away with it, they brought everything they had to every at-bat, every pitch, every out. I'm so proud of them for that.
"Obviously, this isn't the way we wanted it to turn out. Give credit where credit is due. They got the hits and breaks when they needed them."
St. Bede senior Ryann Stoudt said it was a disappointing loss because the Bruins didn't reach their ultimate goal of going to state.
"We were kind of looking forward to going to state, but you win some and lose some," she said. "I'm glad we played 100% on the field and left it all there and we were there all together."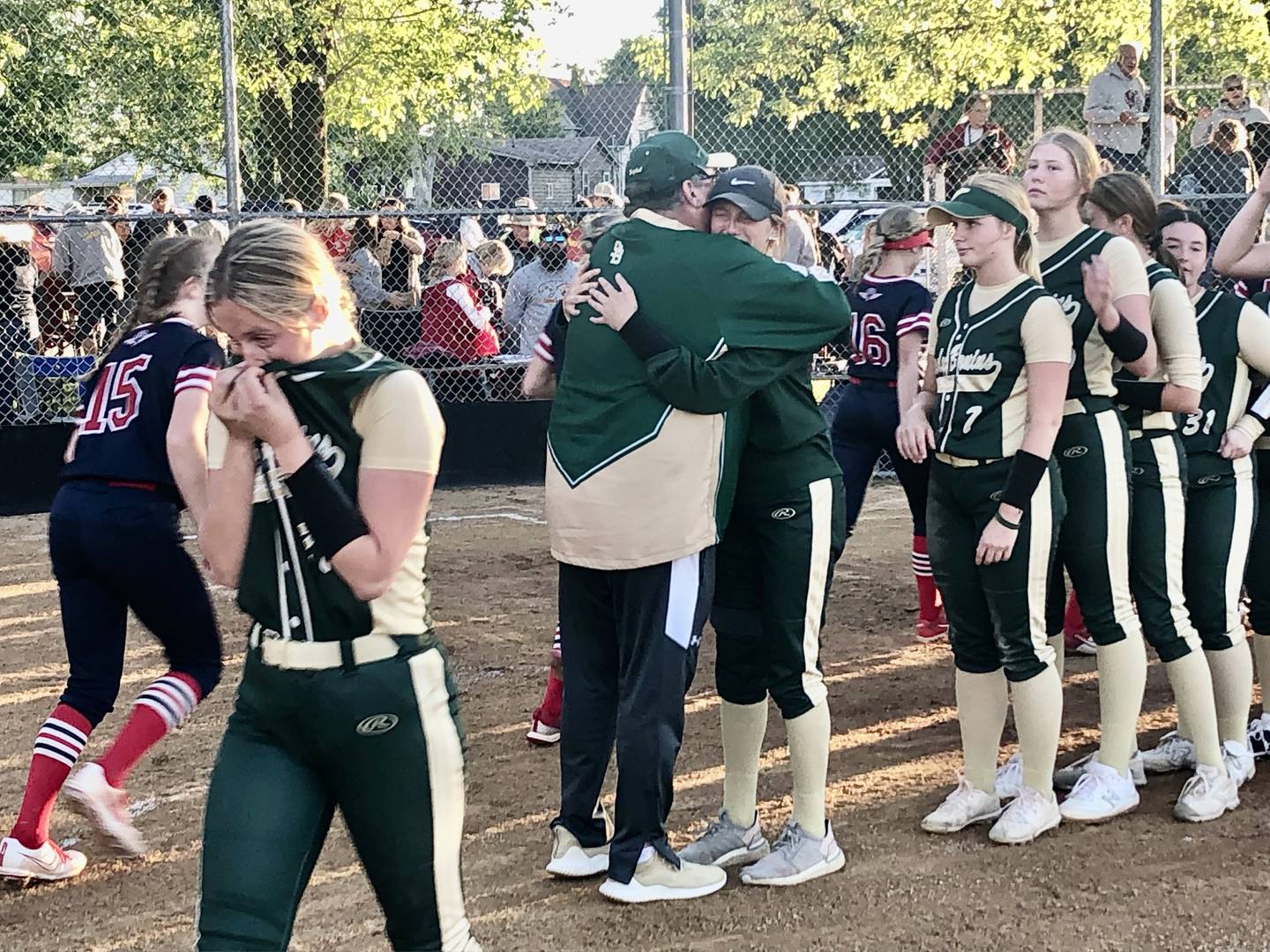 Sons lined up to hug each girl after the game and it was hard to let them go. He said he and his staff worked on showing the Bruins the big picture.
"I told them, 'Don't let softball define you as a person. It's just one game.' ... It's a successful season. Just because you didn't win this game, you're not a failure," he said. "So many times, people look at it, 'Oh, you didn't go all the way.' It's so much more than that.
"The relationships these girls have. I remember telling these girls on road trips this year, the dancing you're doing and Tik Toks ... remember this, because we had a goal. We wanted to go to state. A goal is a destination. And you have to to take the time to appreciate the things on the road to that destination. Hopefully, they did that."
St. Bede, which outhit the Heat, 9-5, put runners on in each of the final four innings with hits, but Addie Seitz worked out of trouble each time.
Grace Maschmann reached on a two-out swinging bunt in the sixth that hugged the third base line and raced to second when the Heat throw sailed past first. Swiler took one look at Addie Bontz coming to bat and intentionally walked her. Bontz had led off the game with a triple and scored on a comebacker by Hermes to give the Bruins an early 1-0 lead, and he didn't want to give her another chance.
"She's a leadoff hitter for a reason and hit the ball hard," he said.
That strategy worked, as Seitz was able to induce a flyout from Hermes that didn't quite get over the left fielder.
The Bruins threatened again in the seventh with Ryann Stoudt leading off with a single. Seitz struck out Bella Pinter and Reagan Stoudt and retired pinch hitter Maddie Dalton on a comebacker to send the Heat to the Elite Eight.
It was the first sectional championship in school history since it formed in 2005.
"Means a lot because some of us have known each other forever. To be able to do this together is huge for us," Ryan said.
The Heat (28-6) will face the winner of the South Beloit Sectional in Monday's Sterling Supersectional at 11 a.m.
"I can't say anymore about this team," Swiler said. "They've challenged everything and come together at the end. They've busted their butts. We've got people in the right position and they're having fun."