"I'm running early, because people are losing hope. Do not lose hope."

—  State Sen. Darren Bailey (R-Xenia), announcing his bid for the Republican nomination for governor
Fresh off announcing his bid for the GOP nomination for governor, state Sen. Darren Bailey drew about 50 supporters in Utica on Wednesday, pledging fiscal restraint, lower taxes and pension reform.
The Xenia Republican had sued to halt Gov. JB Pritzker's executive orders and appeared without a mask upon entering Jamie's Outpost in Utica, where he was greeted by a like-minded crowd. Two masks were spotted among the throng that cheered Bailey's denunciations of "political elites" and his pledges to halt the outflow of 850,000 residents fed up with high taxes and dwindling opportunities.
Bailey told supporters that if elected, his first two acts would be to restore integrity to the classroom and to law enforcement. To that end, he pledged to halt unfunded mandates on schools and to reverse the recently enacted police package that eliminates cash bond and forces police to let fleeing suspects go in some cases.
"I'm running early," he said, noting the primary is a full year away, "because people are losing hope. Do not lose hope."
Bailey was elected as a state representative in 2018 before winning the election for state senator of the 55th District in November. Since then, Bailey has toured the state and conducted rallies, calling on Pritzker to lift restrictions on businesses and raising other issues.
On Wednesday, Bailey described himself as a generational farmer who "rolls up his sleeves to get things done" and pledged to end the state's fiscal woes by enacting a "zero-based budget." As he explained it, state agencies would have to justify their expenses before he approved their budgets, and there would be no automatic renewal of line items.
He further pledged a tax cut by the end of his second year as governor and said he hoped to tackle structural reforms, such as correcting the state's unfunded pension obligation and reducing the number of governments (Illinois has more units of government than any other state) as a means of lowering the tax burden on families and businesses.
He found a receptive audience in Utica.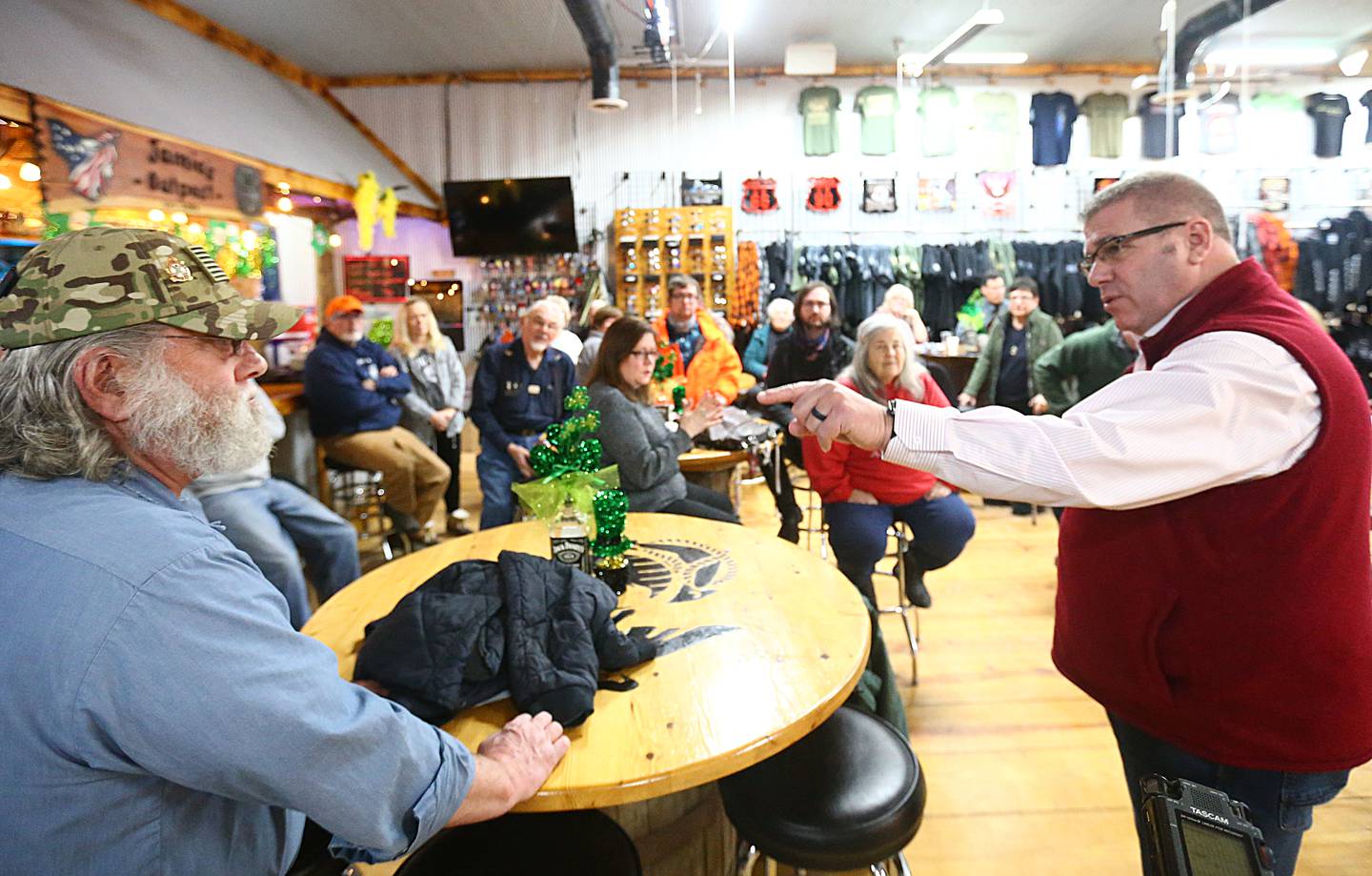 "He was a good speaker, and he made a lot of good points," Gene Cattani of rural Spring Valley said.
"I'm friends with him on messenger," Rich Kile of Peru said. "We need somebody who's got a little common sense. You can't just spend money without some coming in."
Larry Smith, chairman of the La Salle County Republican Central Committee, similarly praised Bailey's message, although he stopped well short of making an endorsement. The primary is March 15, 2022, and the GOP field already is crowded with former state Sen. Paul Schimpf and businessman Gary Rabine having declared their bids for the Republican nomination.
"I like Darren, personally," Smith said. "I like his statements. I like his initiatives."
Bailey and his family co-founded Full Armor Christian Academy, and Bailey served for 17 years on the North Clay Unit 25 Board of Education in Louisville before his election to the General Assembly in 2018. He is best known for suing to halt Pritzker's mandated infection controls, prevailing before a judge in his home county (Clay) before a Sangamon County judge ruled against him.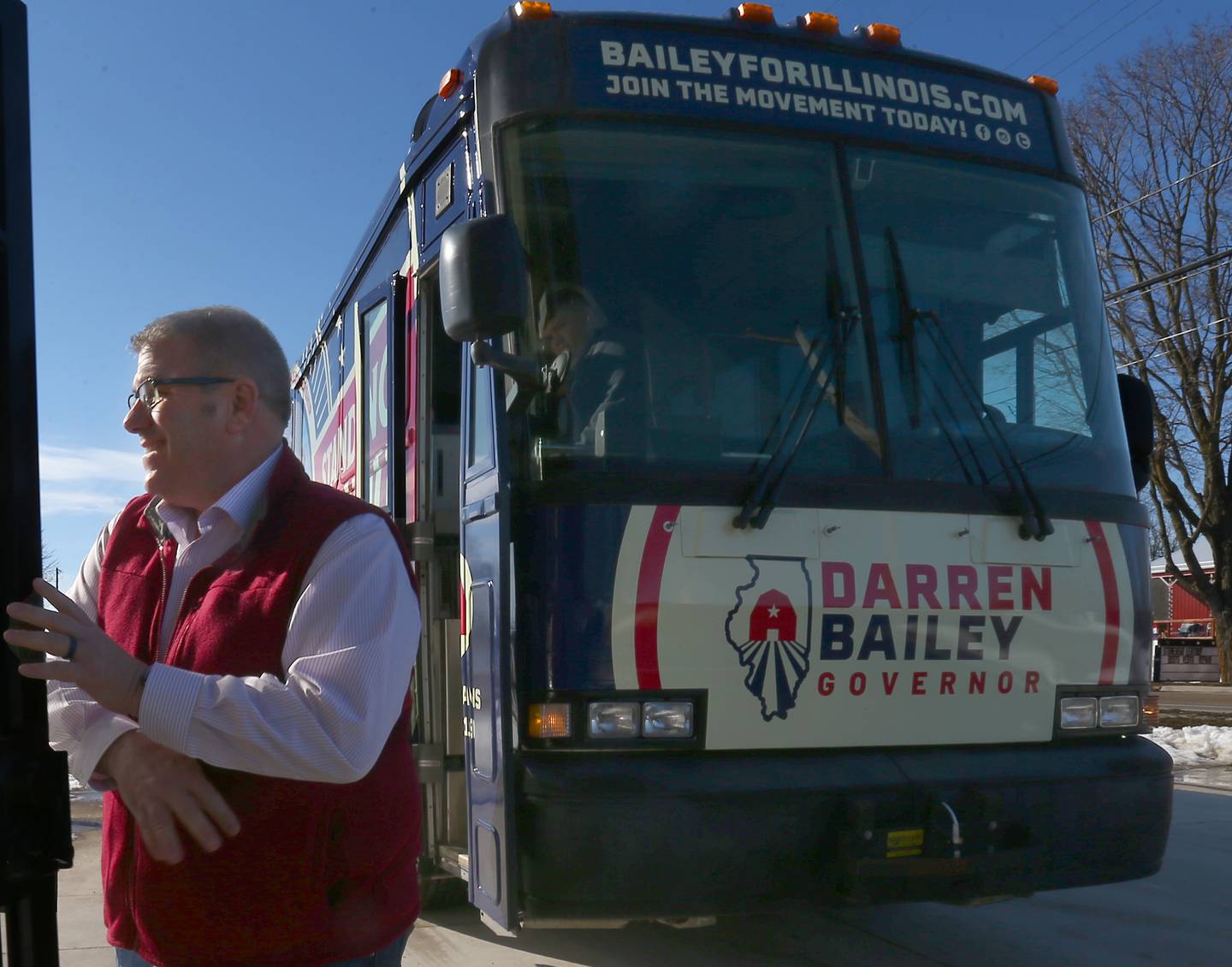 — Capitol News Illinois reports contributed to this report.