Here is a look at the softball seasons ahead for Earlville, Newark, Serena, Somonauk/Hinckley-Big Rock/Leland, Fieldcrest and Sandwich.
Editor's note: Softball previews for Ottawa, Streator, Marquette, Seneca and Woodland/Flanagan-Cornell are being published individually.
Earlville
Coach: Shannon Cook (27th season)
Last season: 11-10 overall, 7-5 Little Ten
Top returning players: Brooklyn Guelde, jr., P; Hannah Pfaff, jr., SS; Chesney Auter, jr., C/OF
Top new players: Bailey Miller, fr., C/UT
Worth noting: This season, the Raiders have only 10 players in the program, with one senior, four juniors and five freshmen. "We have a small team and relatively young team," Cook said. "We have only three returning players from last year. … And we've got a really nice pitcher in Brooklyn. Our freshmen are going to have to step up and play a lot." Guelde, who posted a 6-4 record last spring with 95 strikeouts, will have to carry the load in the circle for the Raiders against tough-hitting conference competition if Earlville is going to find success.
Newark
Coach: Tim Schofield (5th season, 96-22-1)
Last season: 31-5-1 overall. 12-0 Little Ten
Top returning players: Kaitlyn Schofield. Sr., P/2B; Taylor Kruser, sr., P/SS; Bre Dixon, sr., OF; Peyton Wohead, sr., C/1B; Kodi Rizzo, jr., P/2B/OF; Ryan Williams, jr., SS/3B; Dani Peshia, jr., C/3B/OF; Dorothy Wood, so., P/2B/OF; Gwen Friestad, so., 3B/OF
Top new players: Tanner Kempiak, so., P/UT; Sadie Pottinger, fr., C/2B/OF
Worth noting: Newark set a program record for most wins in a season last year and advanced to the Class 1A State Finals, where it hoisted a fourth-place trophy. The Norsemen return all but two starters and are loaded with talent. "Last season, our team set the bar high. … And we aren't going to sneak up on anyone, and the girls know that they'll have a target on them," Coach Schofield said. "They are going to get every team's best effort." Newark has the luxury of boasting three accomplished pitchers. Kaitlyn Schofield will lead the way after recording an 11-2 record in 2022 with 136 strikeouts and a 1.15 earned-run average. Rizzo (10-3, 74.2 IP, 130 K, 1.60 ERA) and Kruser (9-0, 64.1 IP, 101 K, 1.90 ERA) will be right behind. Offensively, Newark produced 320 runs, 37 home runs and a team battling average of .327. Kaitlyn Schofield paced the group with a team-best .433 average, 52 hits, 38 RBIs, 10 homers and 56 runs scored. Sweet-swinging lefty Williams was next in line with a .429 average, a club-leading 14 doubles and 45 runs tallied while matching Kaitlyn Schofield with 38 RBIs. Peshia added 37 RBIs along with eight round-trippers.
Serena
Coach: Kelly Baker (14th season, 179-139)
Last season: 18-8 overall, 10-2 Little Ten
Top returning players: Paisley Twait, jr., 3B/C; Jenna Setchell, so., SS/P; Maddie Glade, so., P; RayElle Brennan, so., C/3B; Reese Cole, sr., OF; Alexis Linder, sr., 1B; Makayla McNally, jr., CF; Lanee Cole, so., UT
Top new players: Alyssa Engel, so., P; Cali Edwards, jr., P; Harlee O'Dell, jr., OF; Hannah McNelis, so., UT
Worth noting: Serena has a fine group returning, having lost only two players to graduation. One was all-state shortstop Katie Baker, but there's still a lot left in the Huskers' tank. "I am really excited to get started this year. ... This team is strong and experienced and should be able to finish near the top of the conference like last season," Coach Baker said. "One of the goals we have is to continue to improve, stay focused and not settle." Setchell will fill the void left by Katie Baker, moving from second base to shortstop. She'll bat near the top of the order after hitting .439 and delivering 27 RBIs as a freshman. Brennan will lead off again after doing so in her freshman campaign, where she crossed the plate 39 times and struck out only twice in 110 plate appearances. Brennan will catch classmate Maddie Glade, who produced a solid first year in the circle as the Huskers ace. Glade tossed 147 2/3 innings, posting 199 strikeouts and a 2.97 earned-run average. Twait drove in a team-best 40 runs as a sophomore.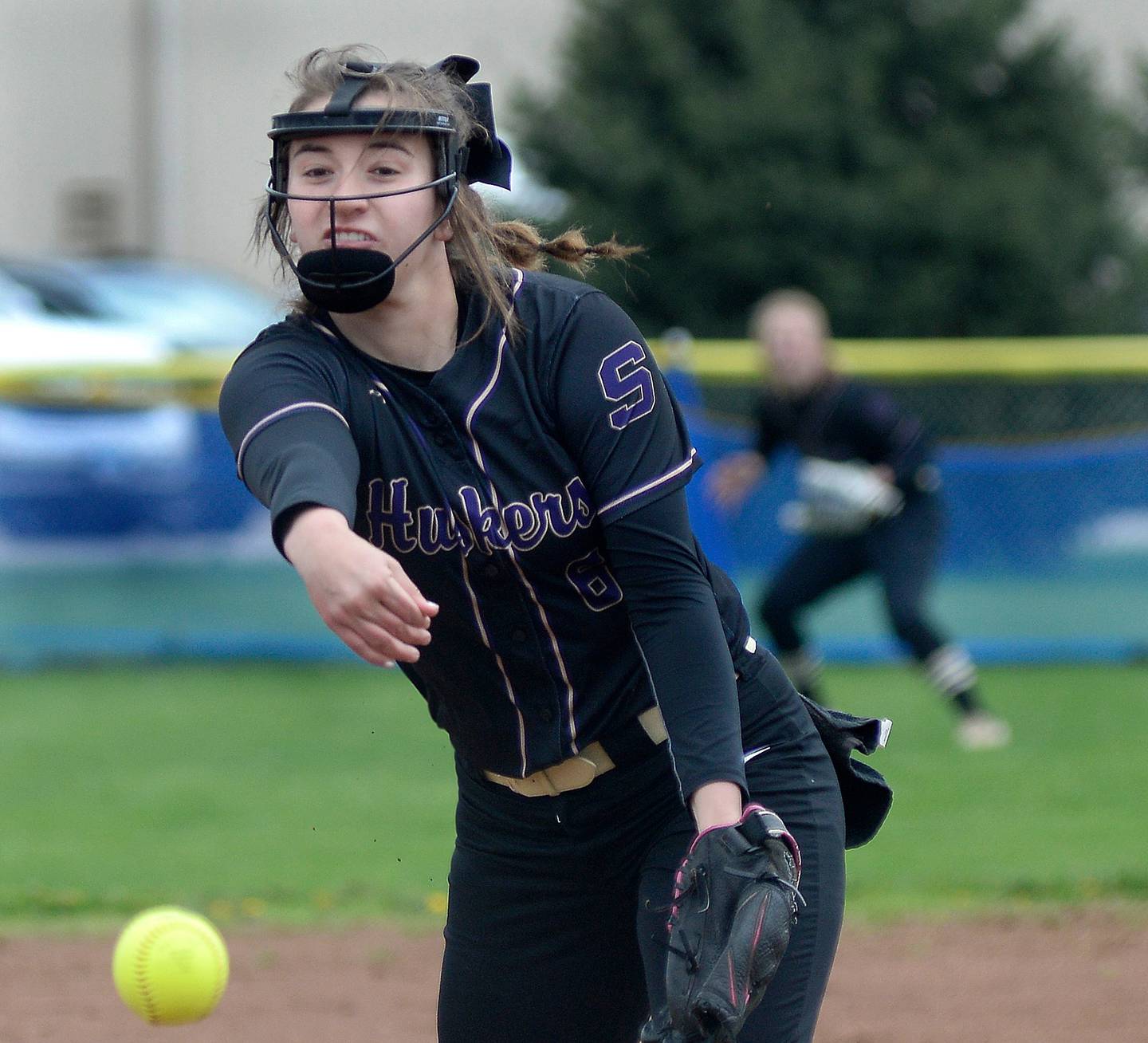 Somonauk/Hinckley-Big Rock/Leland
Coach: Hannah Bazan (2nd season, 8-10)
Last season: 8-10 overall, 4-8 Little Ten
Top returning players: Bre VerCautren, so., P/SS; Haley McCoy, jr., OF; Felicity Thornton, jr., C; Taylor Johnson, so., 2B; Olivia Taylor, jr., OF/2B
Top new players: Kadyn Haage, fr., 3B/C; Izzy Podner, fr., P/IF; Kammy Ambler, fr., 1B/3B
Worth noting: This is the second year of the cooperative of the three schools, where Somonauk serves as the IHSA's official host, joined by Hinckley-Big Rock and Leland. Bazan is happy to have a sizeable number of 22 players in the program, but has no seniors to go with four juniors, three sophomores and a whopping 15 freshmen. "Just like last year, we're very inexperienced, so we'll learn how to grow better, game to game," Bazan said. "But I like the fact that we have solid numbers in our program now, and we can keep building on that into the future." The Bobcats will field 12 from Somonauk, six from Leland and four from H-BR, where sophomore standout VerCautren attends. As a freshman, VerCautren was the team's primary pitcher and leading hitter with a .393 batting average to go with a .493 on-base percentage. Somonauk junior McCoy was next in line, hitting .345 in her sophomore season.
Sandwich
Coach: Mattie McGuire (8th season)
Last season: 9-15 overall, 3-11 Interstate 8
Top returning players: Alexis Sexton, sr., CF; Breanna Sexton, sr., SS; Lily Geltz, sr., 1B; Allison Olson, sr., C; Aubrey Cyr, so., P; Hailey Hoffman, sr., P
Top new players: Peyton Dudzik, jr., P; Johanna Freeman, jr., P; Alexis Sinetos, jr., P; Brooklyn Marks, so., P
Worth noting: The Sexton twins were offensive standouts last season. Alexis batted .412, compiled an on-base percentage of .472 and struck out only five times hitting in the leadoff spot. Sister Breanna followed closely with a .370 average and a .452 OBP. Olson figures to be the Indians' main power hitter, according to McGuire, after having hit .338 last year. Transfer Marks will be one to watch in the circle. "We are so excited for this upcoming season, because we have six senior leaders who have been on varsity since the shortened 2021 season," McGuire said. "We are also excited to see what new talent we have in our junior class that's stepping up to varsity competition taking over spots that were lost to graduation."
Fieldcrest
Coach: Elizabeth Kay (9th season)
Last season: 5-17 overall, 1-9 Heart of Illinois
Top returning players: Ashlyn May, sr., SS; Morgan Gerdes, sr., P; Allie Wiesenhofer, jr., 3B; Bella Fortner, jr., C/OF; Keara Barisch, so., P; Lauren Van Coppenelle, sr., 1B/OF; Falyn Ehrnthraller, sr., OF
Top new players: Prudence Mangan, fr., OF
Worth noting: Fieldcrest struggled through a competitive HOIC schedule last season, but has a nice group of 18 that makes up this year's program. "We are an extremely athletic team, and almost all of our athletes are multisport athletes," Kay said. "We'll look to be competitive and utilize our strengths to win games. I'm excited to see what the season has in store for our girls." May recorded a .346 batting average in 2022 and played solid at shortstop. Gerdes also provided a good bat, striking out only five times as a junior. Gerdes will also serve as one of two returning pitchers along with Barisch. Wiesenhofer is a solid defender at third base, Kay said, while Fortner returns after missing last season because of a medical issue. She was a starter as a freshman leadoff hitter. Mangan is a promising ninth grader for the Knights.