RURAL VARNA – There are none so free as those who have nothing to lose.
The St. Bede Bruins, seeded No. 10 in their half of the Putnam County Sectional, played Wednesday night's Class 1A Midland Regional semifinal against No. 1-seeded Marquette just that way.
Showing a calm demeanor throughout, even when their 13-point first-half lead disappeared under an intense Crusaders surge to start the third quarter, the Bruins got a pair of enormous, tie-breaking 3-pointers from senior Callan Hueneburg midway through the fourth quarter and held on behind Isaiah Hart's free-throw shooting for a wild 61-57 upset of Marquette.
St. Bede made shot after shot in the first half while the Crusaders stumbled to a 2-for-17 start from the field. However, with the game tied at 48, Hueneburg nailed a 3 from the right corner with 3:41 left to put the Bruins on top for good.
"We knew they'd be coming out in the third with energy … so we just tried to stay as composed as we could," Hueneburg said of the Marquette's rally to a 37-34 lead in the third quarter. "The guys set really good screens to set me up for the open shots, and I was able to hit them.
"Beating the No. 1 seed feels awesome, and against a team that had beaten us [72-38 on Nov. 29], that shows how far we've come this season."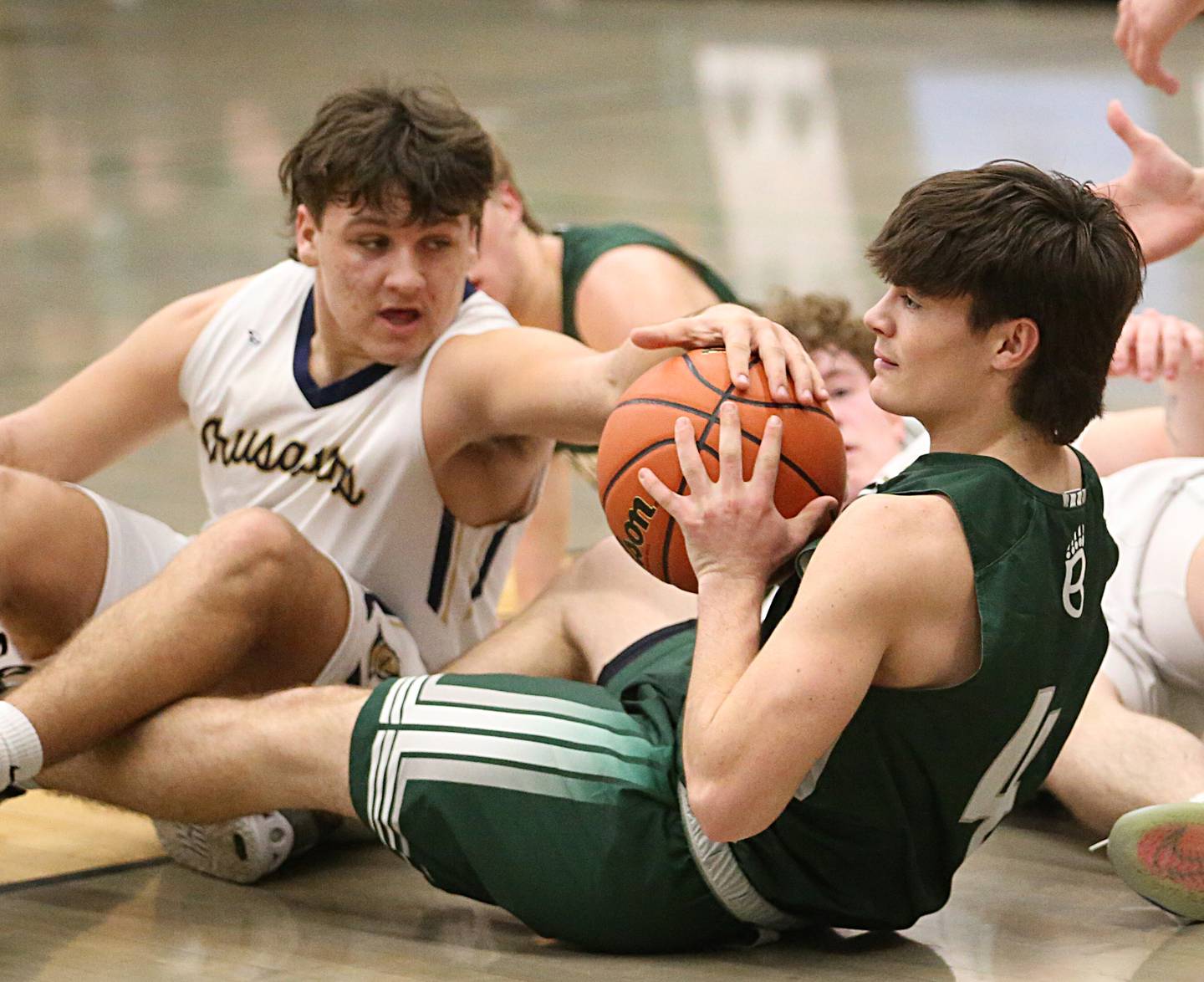 The win gives St. Bede a berth in Friday's championship game against Midland. The Timberwolves defeated Newark 45-42 in the second game on three free throws with 0.4 seconds left by junior Keagan Faulkner to set up the Friday final slated for 7 p.m.
It wasn't that the Bedans were overpowering at the start. They just made shots, while the Crusaders couldn't. A run of 11 straight points, capped by a pair of Brendan Pillion free throws at 6:12 of the second quarter, opened a 20-9 St. Bede lead.
"We were up eight at half, and when the guys came out on the court, there was a sense of calm," St. Bede coach Brian Hanson said. "We said in the locker room that when their run comes – and there was no doubt, Marquette would make a run, maybe two, in the second half – that we needed to show that same calm. They got us going faster and had us chasing the ball around, but the guys maintained their composure the entire time. They really played with poise tonight.
"The guts, that's a great way to put it. Even the guys that weren't in the game were into the game emotionally and mentally. It was a totally selfless team effort."
Down 29-21 at the half, the Cru's Tommy Durdan, who had only two points over the first two quarters, exploded for 11 in the third to erase the deficit. The last two of his points gave Marquette a 37-34 lead with 3:10 remaining.
But the Bruins had an answer for that run, not in bunches but a shot at a time. Buckets by Pillion and Hueneburg were offset by a converted steal by Durdan and two Griffin Walker free throws, knotting the score at 48 with 3:53 to play.
That's when Hueneburg canned his first 3 and, after a basket by MA's Taylor Waldron, added a second bomb for a 54-50 lead. A Krew Bond putback cut it to two, but Hart went to the line and connected on 5 of 6 free throws. John Brady added two in the final 1:45 to keep the Crusaders at bay.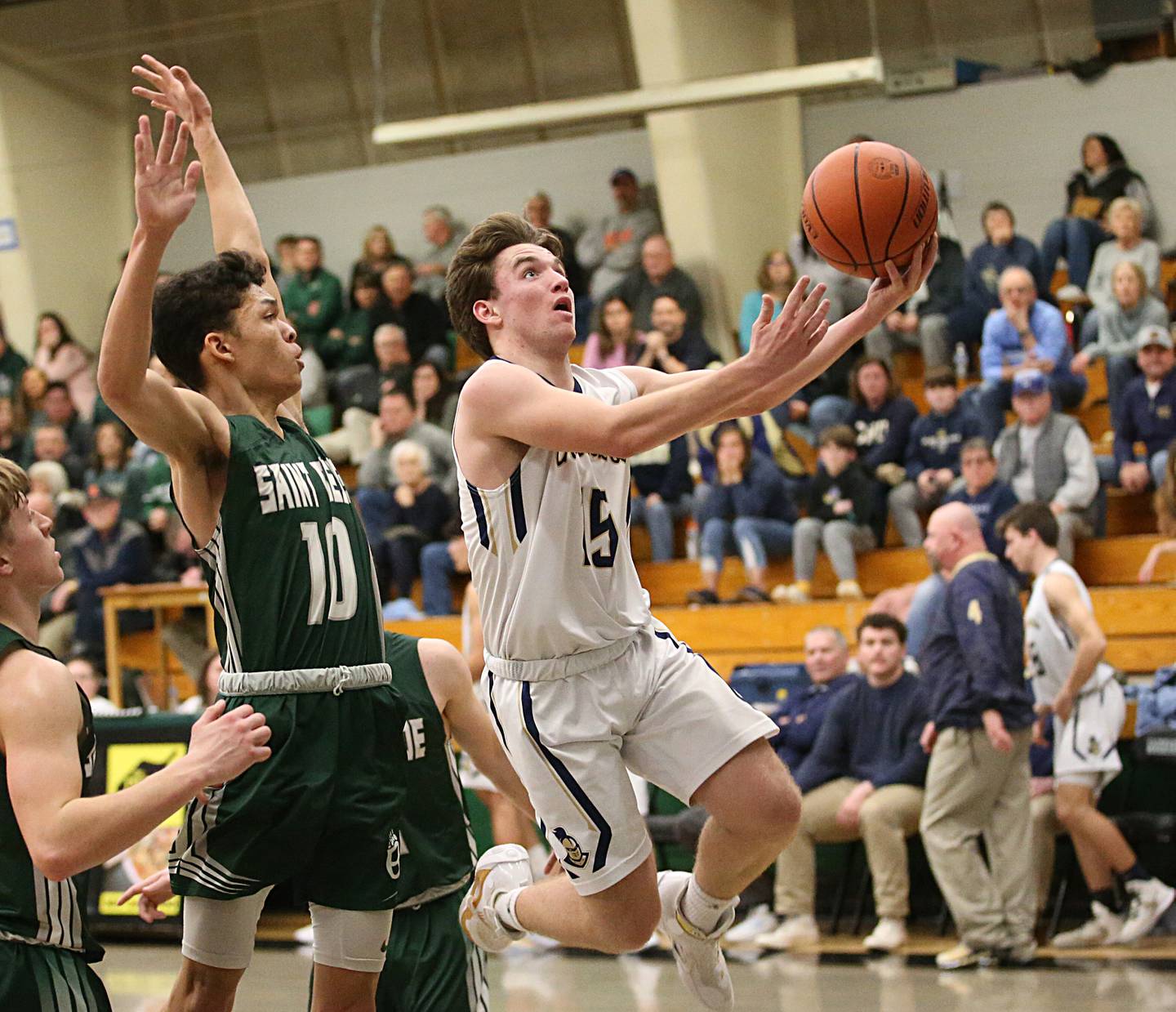 "[Hueneburg] was on tonight," Marquette coach Todd Hopkins said. "We talked all night about chasing them off the arc. That was our game plan, and the 3s he hit really hurt. Give him credit … give St. Bede credit. They sped us up, got us on our heels at the start and made plays. We had a good third quarter, got a lead, but we just couldn't get on a run.
"We didn't play a very good game tonight. St. Bede beat us. They deserved to win."
Hart's 15 points led the Bruins (11-21), while Hueneburg added 14 and Pillion 12.
For Marquette (23-7), Durdan ended with 17 and Bond 10 in the loss.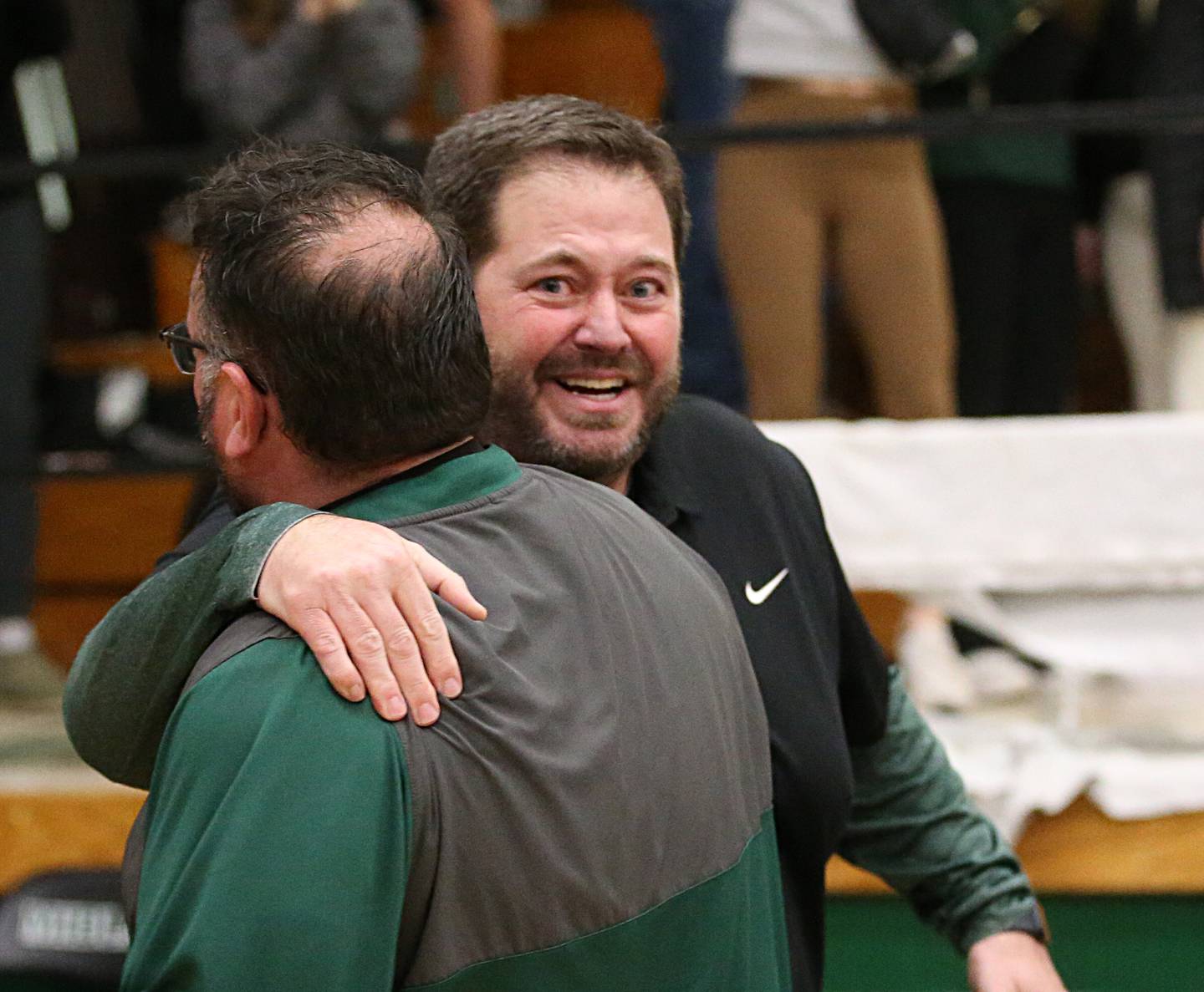 Midland 45, Newark 42
In the nightcap, Newark used 12 of Zach Carlson's team-best 16 points to take leads of 16-11 after one quarter and 25-23 at the half. The Norsemen still maintained a seven-point edge heading to the fourth quarter, but Midland's Brett Smith hit the last five of his game-high 21 points and Faulkner four free throws around a jumper to tie it 42-42.
The Norsemen missed a layup in the last 10 seconds, and Riley McFadden rebounded and called timeout with 5.0 showing. On a desperation shot, Faulkner was fouled and cooly sank all three free throws with less than a half-second left. He finished with 19 points.
Jake Kruser had 10 points for Newark.