RURAL STREATOR — During the minute break between the first and second quarters of Friday's Tri-County Conference contest at the Woodland Warrior Dome, Dwight coach Jeremy Connor said there was one message, and really only one, that he gave to his squad.
"We talked about how (6-foot-7 senior) Wyatt (Thompson) had only touched the ball like two or three times the entire first quarter, and that's our game plan," said Connor, whose team trailed 11-4. "It's no secret to anyone, he is the key to our offense, and everything runs through him. The more touches he gets, the more openings will be there for the other guys on the floor.
"I probably said, 'We have to get the ball to Wyatt' 10 times during the break before the second quarter."
Thompson then netted 26 points over the next three quarters, finishing with 28 points, 16 rebounds, two assists, two steals and three blocks to help the Trojans (8-12, 2-3) bounce back with a 51-40 triumph over the Warriors.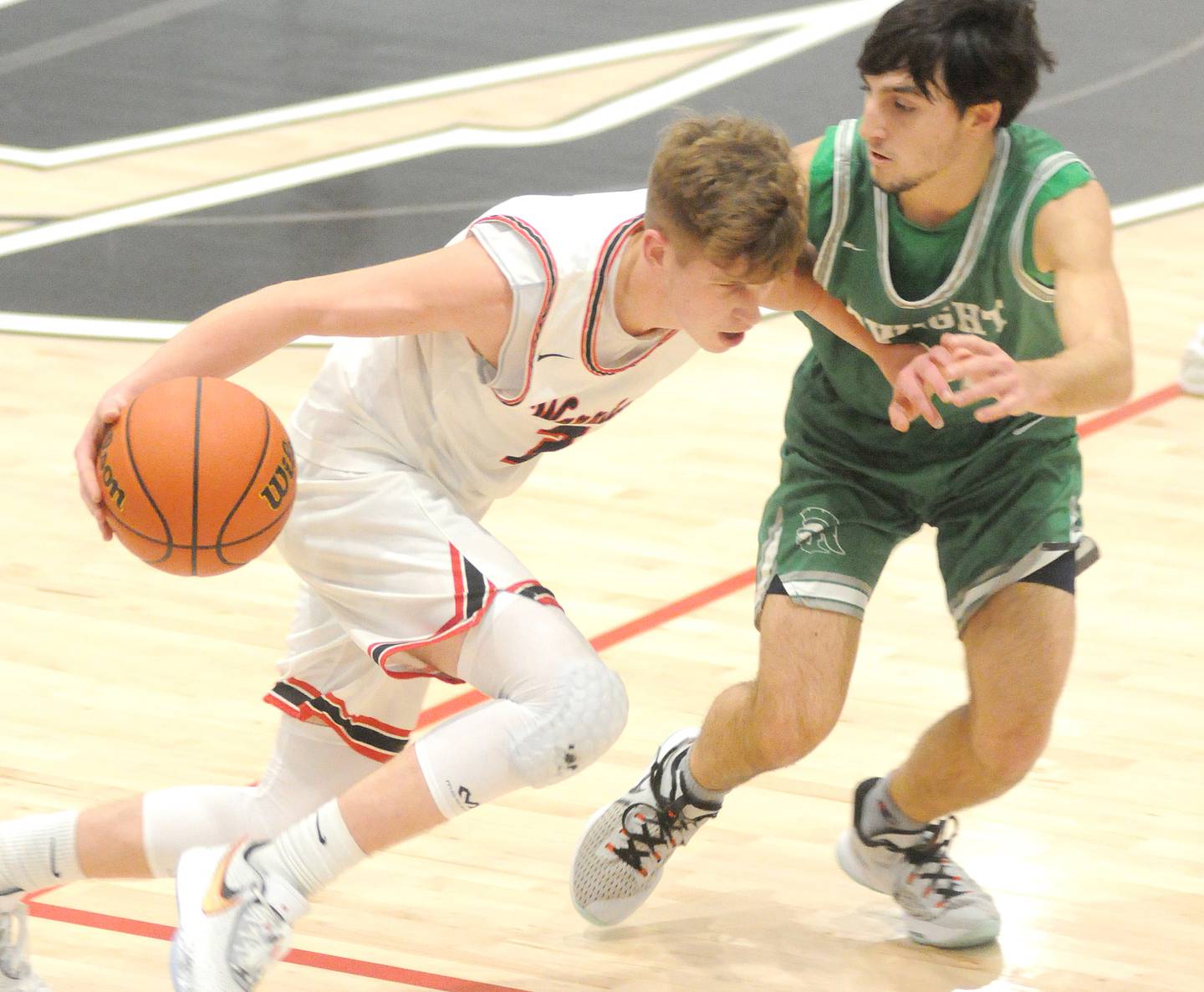 "We did a much better job of finding him after the first quarter, and well, you saw what happened ... we looked much smoother and were more efficient on offense," Connor said. "He just makes things happen."
Woodland (4-14, 0-5) used an 11-0 run to close out the opening frame, with Jonathan Moore scoring six of his team-high 11 points and Tucker Hill swishing a 3-pointer at the horn.
"I didn't get a chance to say, 'Get me the ball' during the break after the first quarter, because Coach Connor beat me to it," Thompson said with a laugh. "I feel like when I have the ball in my hands, it can open up a lot for my teammates, and they know that too. They did a great job of finding me the final three quarters and, in turn, we were all able to get some pretty good looks at the hoop.
"It tough to have three or sometimes four guys all over me when I catch the ball down low, but I know when that happens, I'm going to have a teammate cutting, and I don't have any problem dishing it off."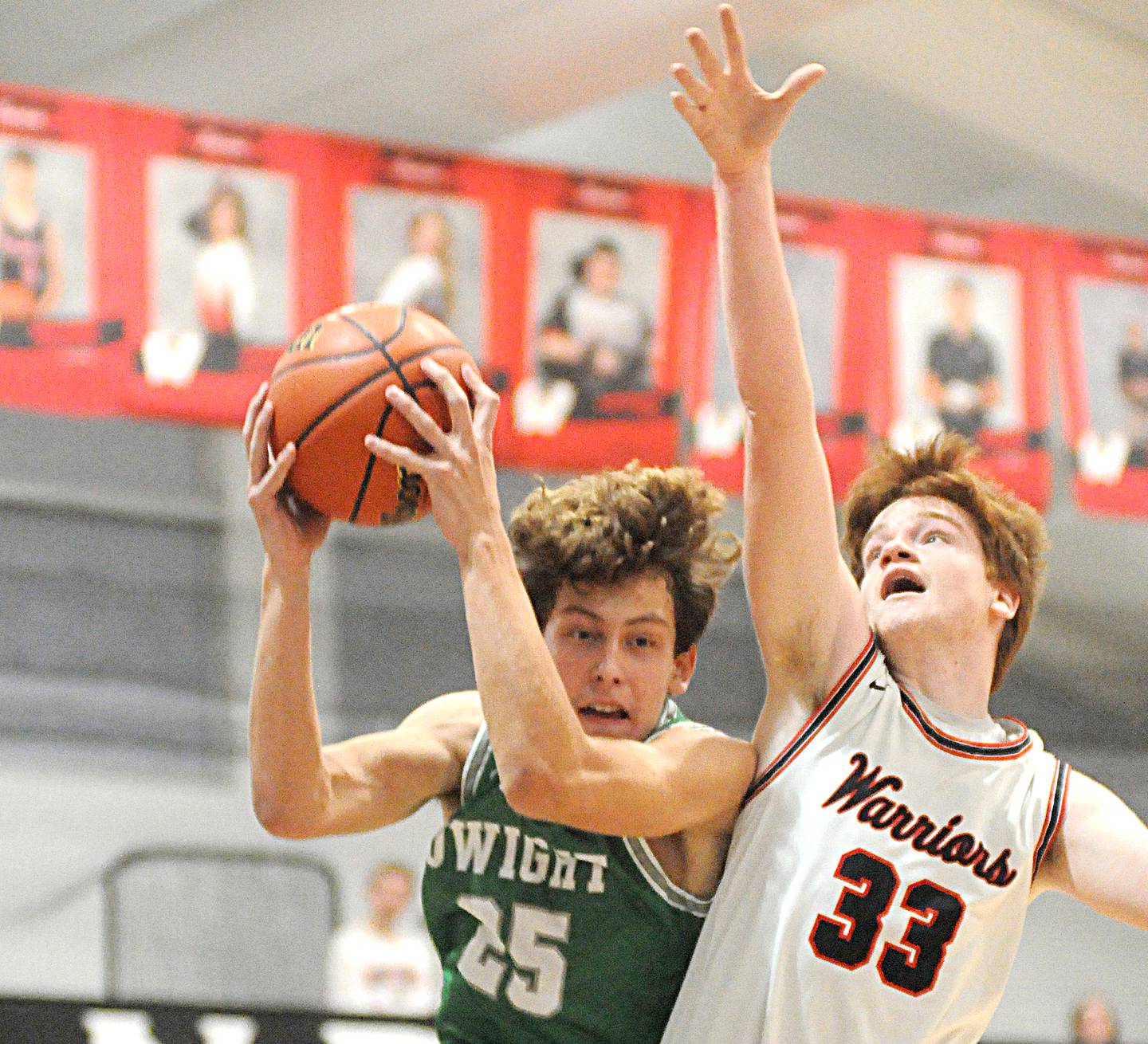 Woodland held an 18-12 advantage after a corner triple by Carter Ewing at the four-minute mark, but from there the hosts wouldn't score until a Dodge layup two minutes into the third quarter.
During the Woodland scoring drought, Dwight used eight points from Thompson and a 3-pointer and free throw by Conner Telford to lead 24-20.
Thompson finished the period with a pair of 3s and a drive down the lane ending in a dunk to help push the visitors lead to 40-30 heading to the fourth.
From there, Dwight went on a 7-0 burst – five points from Dawson Carr (12 points, four rebounds) and two more from Luke Gallet – to start the final eight minutes and push the lead to 47-30.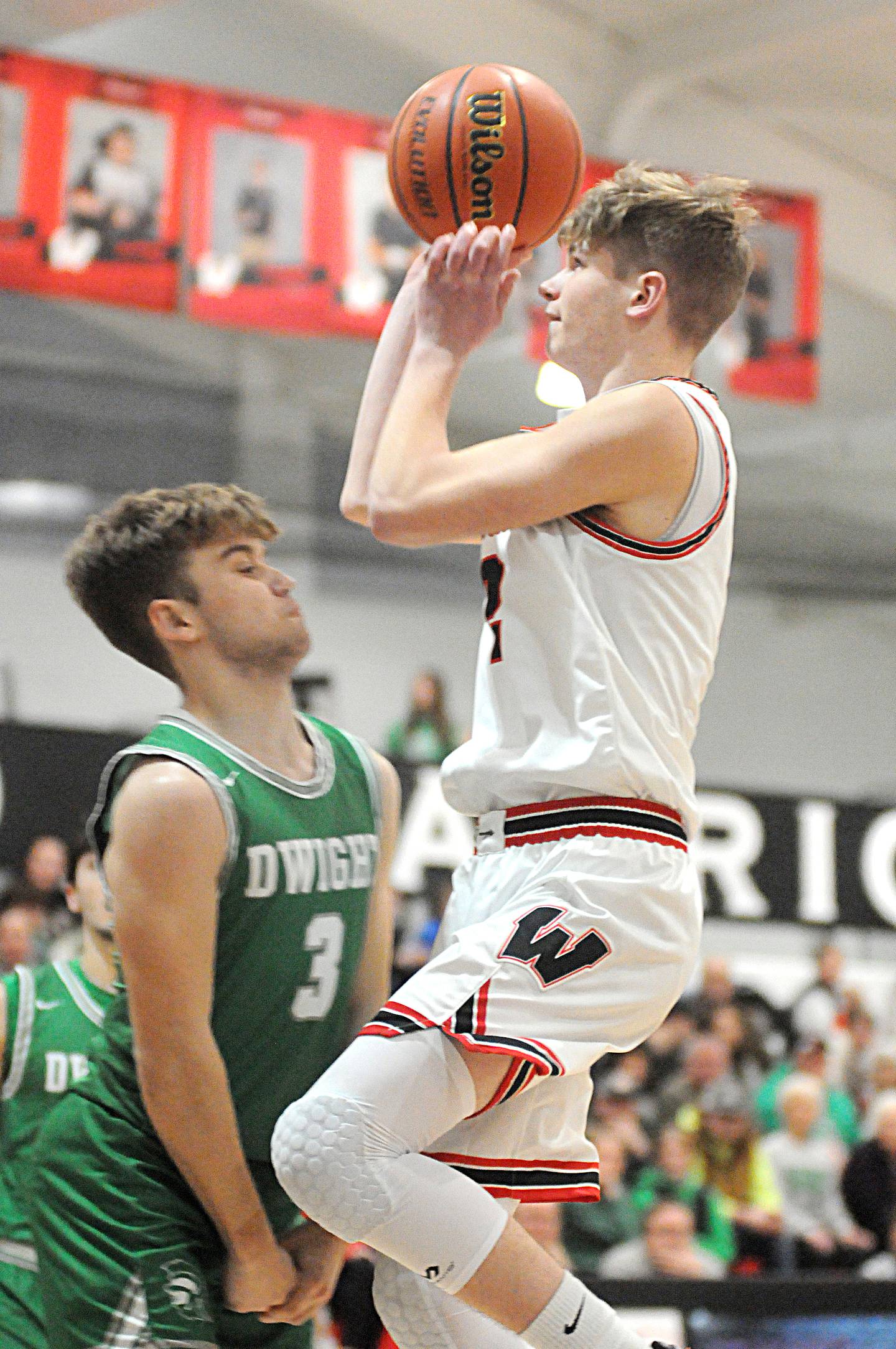 Ewing finished with eight points and three assists for Woodland, while Dodge registered seven points a pair of assists.
Dwight hit 53% (21 of 40) from the field compared to Woodland's 36% (16 of 44) overall and 24% (6 of 25) from beyond the arc.
"I thought we had a pretty good game plan on how to slow down Thompson, but sometimes good players outplay good game plans," Woodland coach Connor Kaminke said. "Give Wyatt and Coach Conner credit for making adjustments after the first quarter. [Thompson] got hot, and then we found it hard to put the ball in the basket the last few minutes of the first half.
"My kids play so dang hard, and they never give up. Sometimes our lack of experience and youth shows, but I really feel despite the outcomes lately that we are playing some pretty decent basketball.
"We'll get back to work Tuesday and continue to try and get better."
Dwight is back in action at 2:30 p.m. Saturday, hosting Herscher.
Woodland next travels to Cullom on Tuesday night to take on old Midstate Conference foe Tri-Point.