Some La Salle County Board Republicans say they are not happy with new district boundaries the GOP-led body approved in November.
While those who supported the new county board map say it was done fairly — and with population shifts within the county in mind — its opponents say it leaves some incumbent Republicans vulnerable in the next election and doesn't take advantage of the party's majority.
One of their chief concerns is the newly-drawn county board district boundaries create four contests between sitting members — including three that pit Republican against fellow Republican. Republicans hold a 17-12 majority on the board.
"Let's not be naive about this. The maps are partisan on the state level in the other direction," Board Member Randy Freeman (R-Lostant) said, referencing the Democratic majority in Springfield that drew new district boundaries for the Illinois General Assembly and Congress.
Board members who oppose the new map, which was approved on a 24-4 vote, now say they have a better solution, but time appears to have run out on making their proposal, according to state statute.
Every 10 years, after the Census, lawmakers and local officials are tasked with redrawing boundaries reflecting the makeup of the community and its population.
County Board Chairman Don Jensen (R-Deer Park) said Monday the boundaries were drawn fairly through a non-partisan process with the county's GIS consultant, noting the county lost 4,266 in its population from the 2010 to the 2020 census.
The county board districts should have less than 10% population deviation, and following the census, districts were at 20%, requiring an update, Jensen said.
Jensen said he contacted the county's GIS consultant and County Clerk Lori Bongartz to create new district boundaries, bringing the county in line with the 10% deviation. To do so, each district needs to have a population of 3,781 people — plus or minus 5%.
He said three maps were presented during the Legislation and Rules Committee, then a final map was adopted at November's meeting.
County board members Mike Kasap (D-La Salle), Curtis Faber (R-Mendota), Arratta Znaniecki (R-Ottawa) and Elmer Walter (R-Grand Ridge) voted no. Znaniecki and Walter are one of the pairs put into the same district by the new boundaries, and Faber now will run in the same district as Joanne McNally (R-Mendota).
The vote doesn't sit well with Randy Freeman (R-Lostant), Walter Roach (R-Streator), Faber, Walter and Znaniecki, who are in favor of rejecting the approved district boundaries and adopting different ones. Roach was slated in the same district as Board Member Thomas Green (R-Streator).
Freeman questioned why the GOP, with majority on the county board, would put its own party in potentially three primary races, acknowledging the La Salle County Republicans should utilize their advantage as the majority party in drawing new boundaries to keep that majority strong.
Freeman said no Republican board members were involved in the process and he was disappointed a separate committee was not formed to examine the new boundaries. He said more considerations than the three maps presented would have worked mathematically, but none of those were further examined by committee or board members.
"It is more expensive, because now two candidates have to raise money and whoever wins is running in two races," Freeman said. "And regardless of how it comes out, you're losing experience from the county board, because at least three of your members are going to be out."
(Walter and Znaniecki have served 12 years apiece on the county board, for example).
Aaron Hansen, state Republican committeeman, created new county board boundaries using the county's GIS information within the required deviation and didn't pit any GOP members against each other. There were, however, Democratic board members from the La Salle-Peru area drawn into the same districts, meaning incumbents still would have to run against each other, just with the scenario flipped to the different party.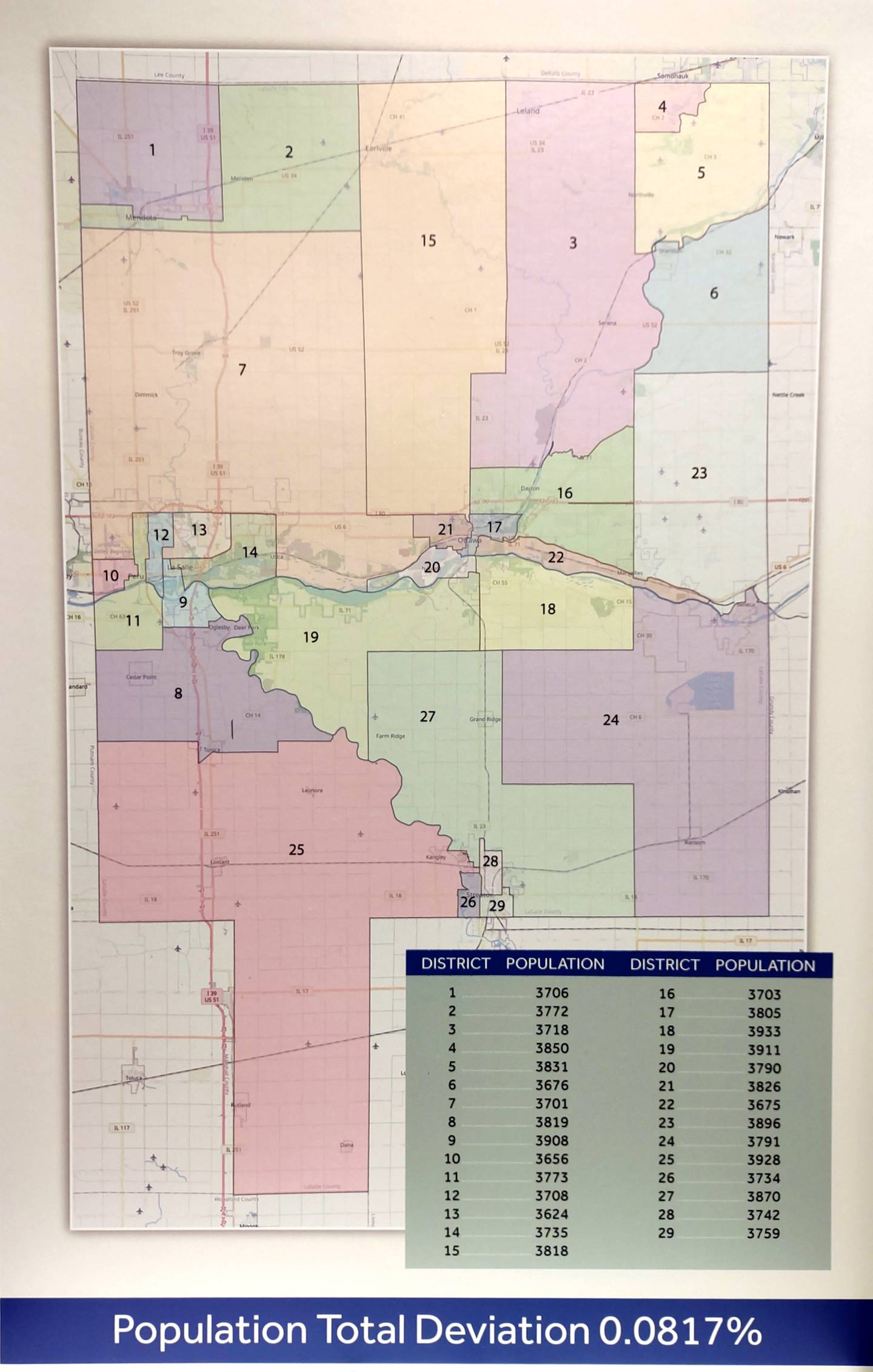 A special meeting was conducted Dec. 13, after one third of county board members requested a vote on rejection of the new county district boundaries. The matter was tabled and there has been no action since.
That delay put to rest any adoption of boundary changes by county board vote.
According to state statute, the county board of each county with less than 3 million people should "reapportion its county so that each member of the county board represents the same number of inhabitants, except that, for the reapportionment of 2021, the county board shall reapportion its county by Dec. 31, 2021." (55 ILCS 5/2-3002)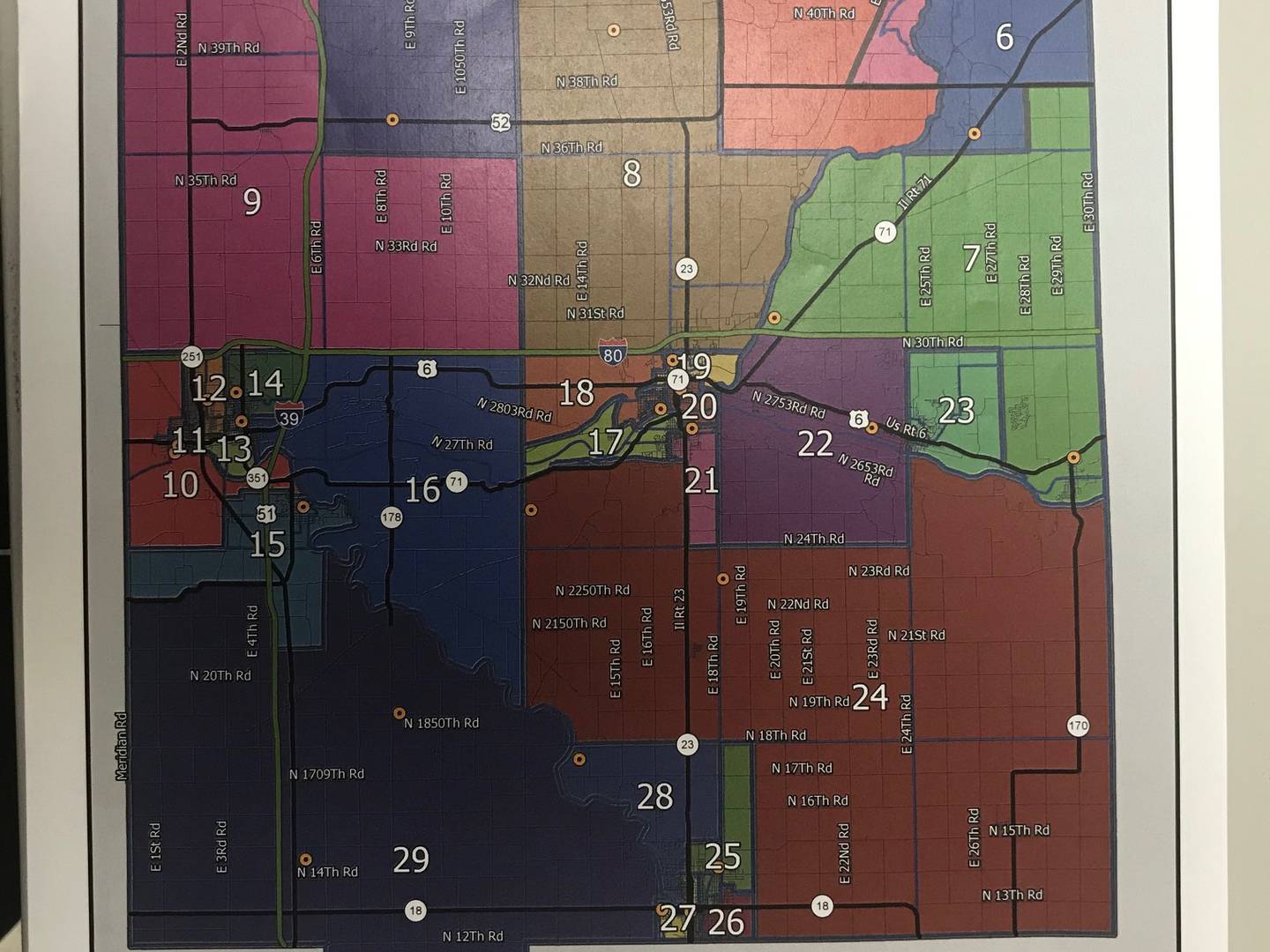 Jensen said he doesn't believe the boundaries should be partisan. He points to his support for the Fair Maps Amendment campaign in Illinois, which seeks a non-partisan, transparent process to draw state legislative and congressional district maps, and believes he would be going against his idealism to change his heart locally.
"I think most of the people would agree with the premise," Jensen said. "In this case, a computer program takes the parameters set forth to draw map boundaries in a non-biased, non-partisan approach. Some people believe those in power should draw the boundaries, but I don't necessarily believe they should."
The Republican group questioning the new boundaries may seek further action.