When "His Name Was Nicholas" premieres on the Streator High School auditorium stage Dec. 17-18, Eric Elder says many of his tears will be found in the story he created with his late wife Lana.
There also is laughter, he said. And hope.
"His Name Was Nicholas" tells the story of St. Nicholas, who was born in the third century and inspired Santa Claus.
Born in the Asia Minor in the Roman Empire, St. Nicholas lost his parents to a plague in Europe but the saint's faith and kindness persevered. He is known for his gift giving.
"The story is very relevant to what we're going through today," Elder said. "He believed children were special and that can be attributed to losing his parents at a young age.
"We all deal with loss. Loss of the people around us. Loss of jobs. Loss of a way of life. How do you navigate life? That's what this story is about. It's all about hope. To live life even when everything may seem like it's falling apart."
Elder said his wife of 25 years always wanted to tell the story of St. Nicholas. They co-authored a book in 2012 called "St. Nicholas the Believer." It was their dream to someday bring the story to life on the stage.
With more than 100 cast and crew participating and 25 original songs, their dream will come to fruition beginning Friday, Dec. 17.
After the pandemic shutdowns, Elder, who served as a pastor and raised his six children in Streator from 1998-2008, said he was motivated to put the story together. The recent $8.6 million renovations to the Streator High School auditorium inspired him to stage the show there. He was able to get support from the Streator Ministerial Association, the Dieken Family Foundation and OSF Health.
"The community started to come together to put it on," Elder said.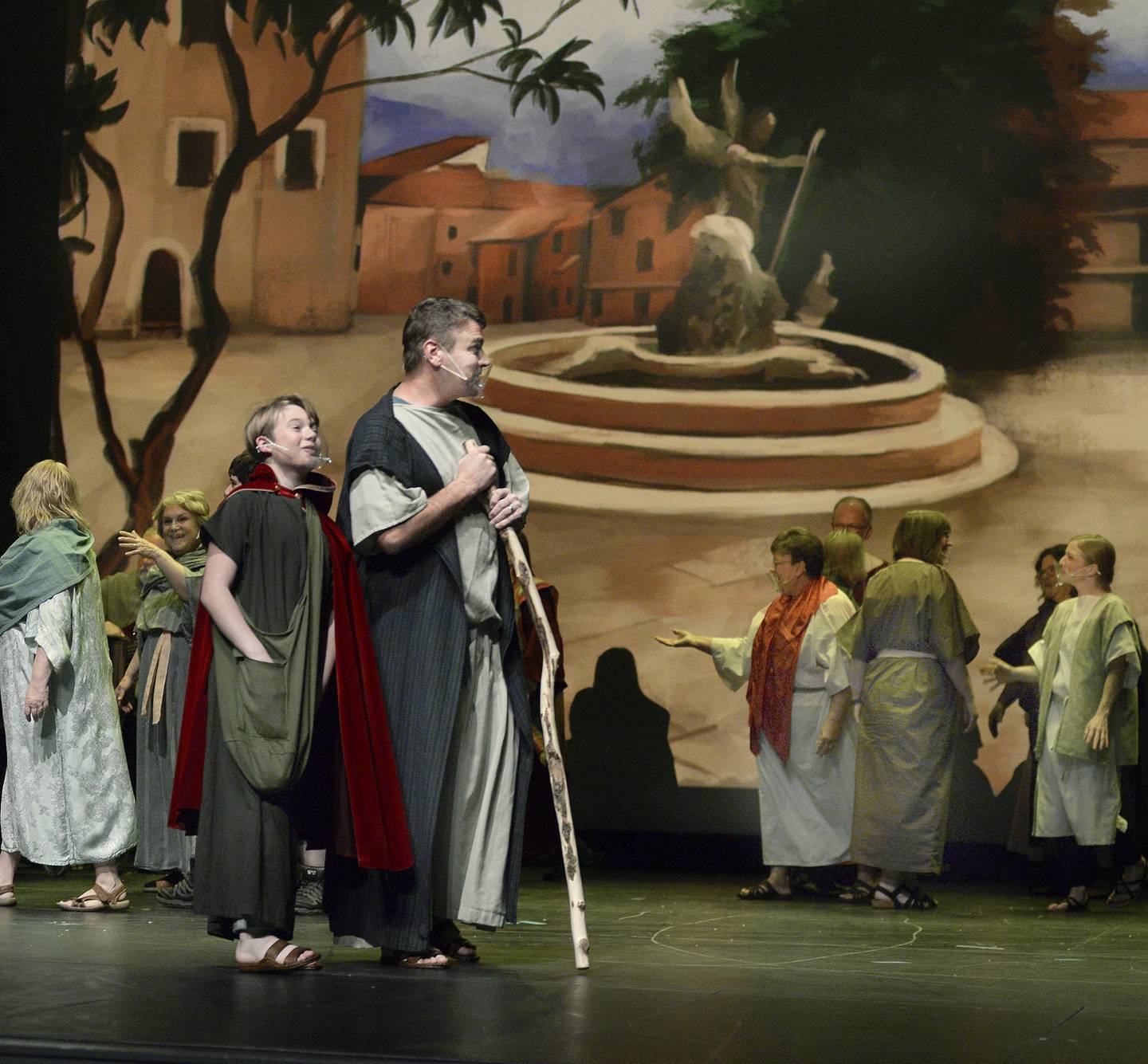 Meetings began in March to organize the performance and auditions started in August, with rehearsals beginning in September.
"We'll have 36 rehearsals by show time," Elder said.
As for writing music and choreographing a musical, Elder said he and his wife had written stories and songs for the Bethlehem Walk events at Central Church of Christ. He had worked on and performed in musicals in high school.
"I love it," he said. "It looks gorgeous. It's a gorgeous production."
Elder is hopeful the production will be picked up in other locations. He said the story has already been adapted to a ballet in South Carolina.
The Streator show will be performed three times — 7 p.m. Friday, Dec. 17, 2 p.m. Saturday, Dec. 18, and 7 p.m. Saturday, Dec. 18, at the Streator High School Auditorium, 202 W. Lincoln Ave. Tickets are available at the door for all three shows. Tickets also are sold at hisnamewasnicholas.com or by calling 815-992-0955. Tickets are $10, $15 or $20; or $10 for a link to watch any of the performances online.
"I hope the show gives hope to people," Elder said. "When I lost my own wife, it added perspective to the story. It isn't the end. There's always hope. This performance will definitely run the range of emotions."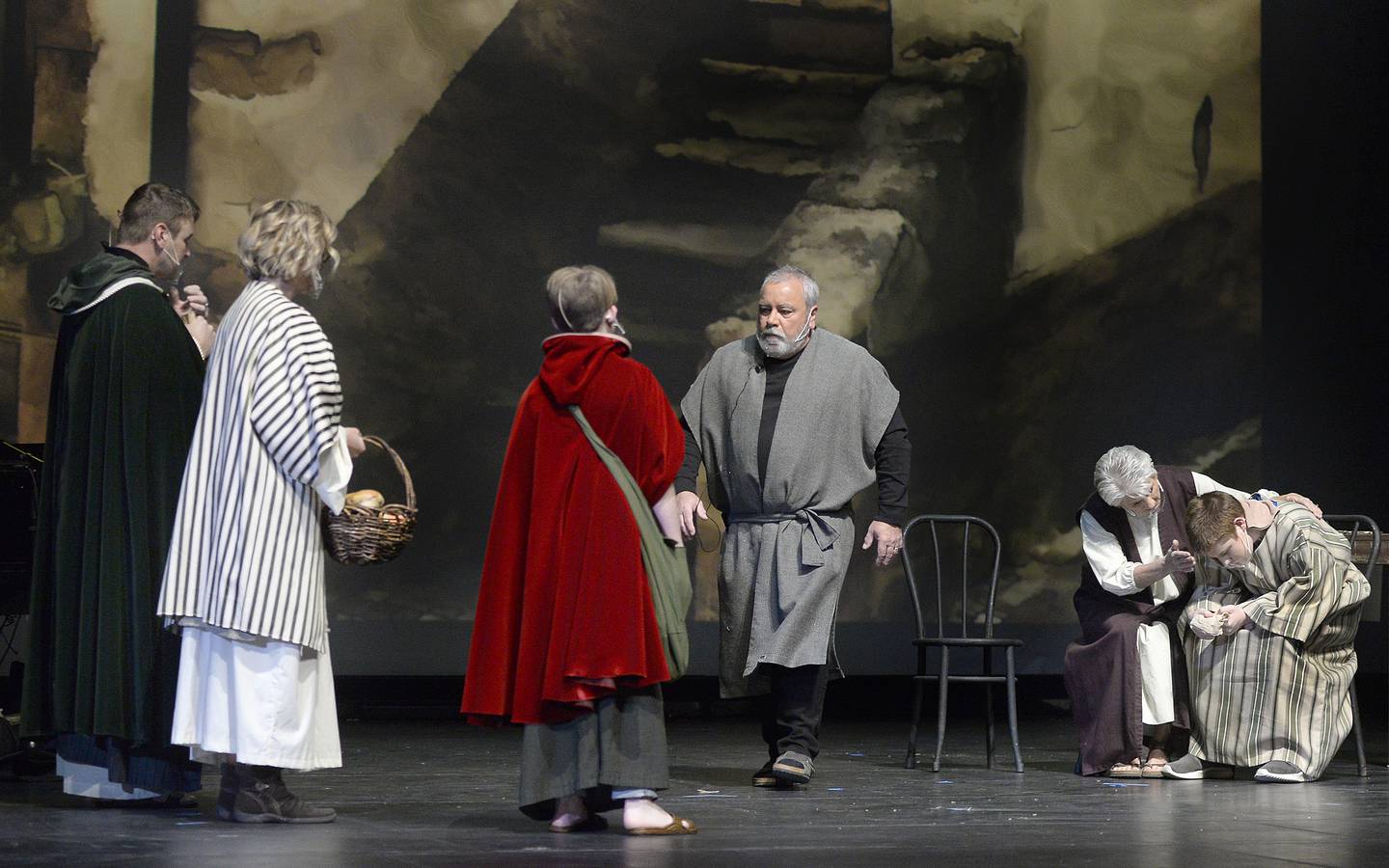 The cast includes: Addi McKinney, Alycia Lanegan, Angela Goluba, Anita Nangle, Arrow Fulkerson, Beth Lawless, Billie Dimmig, Bo Elder, Bonnie Dimmig, Brendan Dimmig, Calla Decker, Carolyn Blasco, Carson Truty, Cecilia Lynch, Chris Clayton, Christian Rhodes, Chuck Giacinto, Darcy Mollo, Darlene Lamb, Dave Lawless, Deb Clayton, Deb Scudder, Dennis Thorne, Denny Rockey, Elaine Goerne, Eliza Missel, Elizabeth Abbott, Elizabeth Davis, Ellie Eccleston, Emric Fulkerson, Eric Elder, Eric Reum, Ezry Green, Heavenly Davis, Helen Krieger, Isaiah Missel, Jamie Galyen, Jane Cavanaugh, Jane Roeschley, Jayce Dimmig, Jeffrey Heilman, Jeffrey Vaughn, Jen Rathbun, Jenna Onasch, Jeremiah Missel, Josiah Elder, Karen Austin, Karie Hallowell, KateLynn Graham, Kathlene Rockey, Kaylee Harris, Kevin Missel, Kim Freeman, Kim Nettleingham, Kyle Decker, Lailoni Davis, Lauren Sherr, Leanne Benner, Liam Dimmig, Lily Austin, Lisa Rhodes, Lynette Giacinto, Lyta Carter, Marissa Grimm, Mark Truty, Marlene Horton, Mary Beth Cunningham, Matthew Gullixon, Megan Decker, Micah Missel, Michayla Mitchell, Michelle Kreier, Michelle Mitchell, Mike Benner, Misti Heilman, Misty Missel, Mollie Benner, Nancy Tallevast, Nolan Osmond, Nora Dimmig, Olivia Smith, Patty Ann Smith, Payton Davis, Renee Carter, Rheagan Goluba, Rhonda Eilts, Rob Tyne, Roger Smith, Sandra Organ, Sarah Hall, Sharon Giacinto, Teirra Fulkerson, Traci Brotherton, Tracy Schultz, Tripp Tomaseski, Troy Dimmig, Vanessa Gerstung, Vicky Snyder, Zach Clayton and Zachary Bole.