Here is a look at the girls basketball season ahead for Sandwich and The Times/NewsTribune's Little Ten Conference teams.
The remainder of the area's girls basketball teams will have season previews published online separately and in print together in the upcoming prep basketball season preview special section.
Sandwich Indians
Coach: Jim Schmidt (1st season)
Last season's record: 10-23, 4-10 Interstate Eight
Top returning players: Claire Allen (sr., F); Alexis Sexton (sr., G); Bre Sexton (sr., F); Lily Geltz (sr., G); Hannah Treptow (so., G); Kaylin Herren (sr., F); Alyssa Broce (sr., G); Allison Olson (sr., G); Melody Goldstein (sr., G)
Top new players: Julia Meyers (jr. G); Johanna Freeman (fr., F); Peyton Dudzik (jr., F); Mia Geltz (so., G)
Worth noting: After a long tenure as Plano's athletic director and its baseball coach, Schmidt retired after the 2021-22 school year only to take up coaching the archrival Indians, who for so many seasons Schmidt fought against. "It certainly is strange, but I got the chance to coach with my daughter (Sandwich assistant basketball coach Mikayla Schmidt). So after my retirement, I thought it would be a challenge to get back into coaching after so many years away from it, and I'm excited to lead a very good team that I think will be pretty strong this season." … Sandwich will return four starters. including leading scorer Allen (11.4 ppg), Bre Sexton, Alexis Sexton and Treptow. Lily Geltz should round out this year's starting lineup with the Indians boasting a whopping eight seniors on the 13-player varsity roster. "Eight seniors is definitely good," Schmidt said. "But because of injuries, illness and learning a new system, it may take a while to get into our groove. Playing a tough schedule like we have should get us ready for a good postseason." The Indians open the 2022-23 campaign Nov. 14 at the Tim Humes Somonauk Breakout Tournament.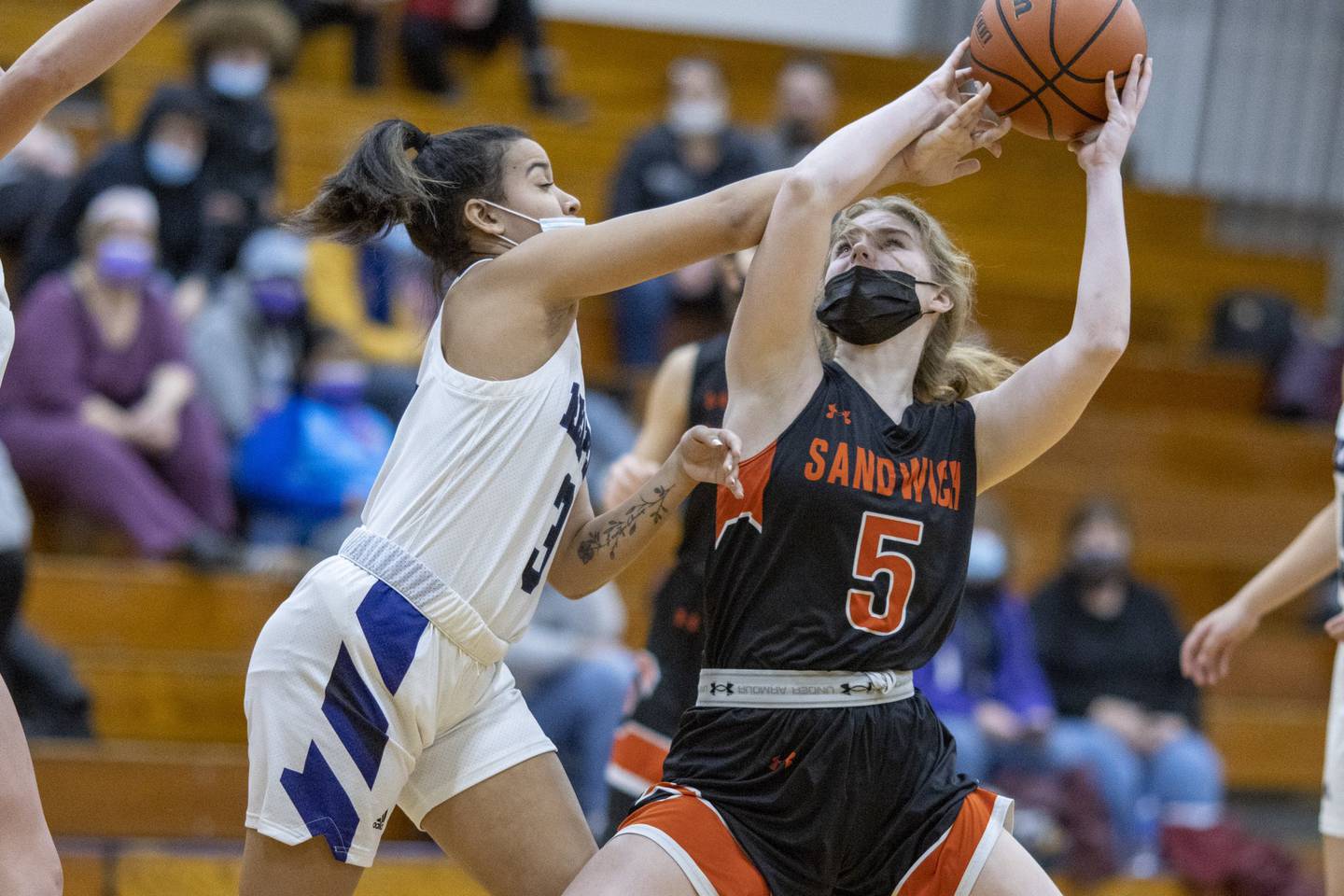 DePue Little Giants
Coach: Gilbert Moreno, (4th season)
Last season record: 8-11, 1-7 Little Ten
Top returning players: Emily Marquez (sr., F); Veronica Fitzgerald (jr., G); Lupita Hurtado (sr., G)
Top new players: Nancy Puga (so., G); Daisy Lopez (sr., F/G)
Worth noting: Marquez is a three-year competitor for DePue who plays hard under the basket, while classmate Hurtado has also been involved with the program for a trio of campaigns and is a fast guard who is a tough defender, according to Moreno. Fitzgerald has competed for two seasons and possesses a fine amount of speed at the guard position. Moreno will rely on the three veteran girls to lead the way for a team that has just 11 players in the program. "We hope to keep growing even with the low number of girls," Moreno said. "But the key this year is to stay healthy." DePue will also bank on newcomers Puga and Lopez. "Puga is a fast, hard worker and will fit in with the other guards … and Lopez is a good athlete that will fit in on top and down low," Moreno stated. The Little Giants will open the season Nov. 19 at LaMoille.
Earlville Red Raiders
Coach: Brandon Skolek (3rd season)
Last season's record: 14-10, 6-2 Little Ten
Top returning players: Mady Olson (jr., G); Nevaeh Sansone (jr., F); Lexie Campbell (sr., G)
Top new players: Jessie Miller (fr., G)
Worth noting: Earlville has just nine competitors on its varsity roster after having lost four starters, including school all-time leading Elizabeth Browder (1,171 pts.) to graduation after the 2021-22 campaign. "Any year after losing Elizabeth Browder … it's going to be tough," Skolek said. "Our numbers are lower than we would like, but we have talent returning this year that played a lot of big minutes last year." That includes Olson, who has been the Raiders' starting point guard in each of her first two prep seasons. "Mady is a talented point guard who has been a consistent piece of our team so far in her career," Skolek said. "We expect big things from her this year as she takes a step up after losing Elizabeth and the rest of the good group of seniors we had." Sansone and Campbell also figure to contribute in pivotal roles, while freshman Miller has impressed Skolek so far in practice during her first year on the prep level. "We will ask Jessie to play a big role immediately as the season gets ramped up," Skolek said. "We expect this team to compete every night, play tough defense and play hard, smart basketball." Earlville opens its season Nov. 14 in Aurora at Illinois Math and Science Academy.
LaMoille Lions
Coach: Melissa Dever (1st year)
Last season's record: n/a
Worth noting: This will be LaMoille's first season of girls hoops since the 2019-20 season when they finished 2-27. It did not field a team during the COVID-19 2020-21 spring season and did not have enough numbers last year. … This year, there are eight girls out — juniors Donna Sloan and Natalie Wamhoff, sophomores Dakota Coffman, Jenna Pinter and Sadie Quest and freshmen Grace Kelly, Ella Ryan and Taylor Wamhoff, who have the most recent basketball experience having played eighth-grade ball last year. … The Lions will play an abbreviated schedule. … Dever, the former Melissa Rotramel, attended LaMoille through her sophomore year before transferring to Princeton. She was a freshman coach at Princeton in 2015-16.
Newark Norsemen
Coach: Glenn Clausel (1st season)
Last season's record: 22-9, 7-1 Little Ten
Top returning players: Emily DiClementi (sr., G); Kiara Wesseh (jr., G); Taylor Kruser (sr., G); Brooklyn Hatteberg (jr., G); Bre Dixon (sr., F)
Top new players: Tess Carlson (so., G); Stephanie Snyder (jr., G); Addison Ness (so., G/F); Payton Wallin (fr., F); Dani Peshia (jr., G)
Worth noting: Clausel takes over for P.J. McKinney, who coached the Norsemen volleyball team this fall. Last year Clausel guided the Newark junior varsity as bench boss and helped lead the varsity squad to a Class 1A regional title before falling to Little Ten rival Serena in the sectional championship. Six seniors graduated off that squad, so Clausel will have some big minutes and points to replace. DiClementi (6.4 ppg) is the leading scorer of the returnees, while Kruser (4.4 ppg, 2.9 apg, 2.1 spg) will be back and run the show at point guard. Dixon is another key to the mix and will play at a forward spot. Wesseh and Hatteberg didn't see a lot of time as sophomores, but will surely be counted on this year according to Clausel. … Carlson, Snyder, Ness, Wallin and Peshia are five more names Clausel will turn to on his young team. "We want to compete strongly in our conference and hopefully in the nonconference games as well," Clausel said. "The girls have been practicing hard and getting used to some new things. We'll be ready to go and open up Nov. 14 against Plano in a very tough tournament at Somonauk."
Serena Huskers
Coach: Jim Jobst (fifth season, 79-36)
Last season's record: 33-4, 8-0 Little Ten
Top returning players: Paisley Twait (jr., G/F) Makayla McNally (jr., F); Jenna Setchell (so., G); Reese Cole (sr., F); Jaiden Mahler (sr., G)
Top new players: Gwyneth O'Connell (jr., G); Harlee O'Dell (jr., G)
Worth noting: It was a historic season for Serena in 2021-22, as the Huskers collected their first state basketball trophy with a fourth-place finish at the Class 1A State Finals. … The lone senior on the club, Katie Baker, also became the school's all-time leading girls scorer (1,680 pts) and fifth overall in the history of the girls Little Ten. … But the big question now for Coach Jobst is how to replace arguably the best girls hooper in Serena lore? "We have four returning starters back and also our sixth girl from last year," Jobst said. "We have a lot of experience coming back this season, but our biggest adjustment will be trying to fill the leadership role Katie excelled in. … That responsibility will fall into the talented hands of Twait (8.7 ppg, 4.3 rpg, 2.5 spg), McNally (7.8 ppg, 6.5 rpg), Setchell 6.7 ppg, 2.8 spg), Cole (4.0 ppg, 3.7 rpg) and Mahler (1.6 ppg, 1.2 spg). O'Connell (6.5 ppg) transferred from rival Newark and should be a solid addition along with O'Dell. "We hope to continue to play an up-tempo game and try to utilize our team speed, which I think is faster than it was," Jobst said. "We're a much deeper team this year than we have been in the past, and we had a great first week of practice. Hopefully we can build off our success from last year." … Serena opens its 2022-23 campaign Nov. 14 at Seneca's varsity tourney.
Somonauk-Leland Bobcats
Coach: Jason Zaleski (first season)
Last season's record: 13-15, 4-4 Little Ten
Top returning players: Josie Rader (jr., G); Katelyn Curtis (sr., G); Haley McCoy (jr., G); Brynn Pennington (jr., G); Morgan Potter (jr., G)
Top new players: Abby Hohmann (fr., G); Aubrey Chiavario (fr., G); Allayna Wold (fr., G); Macey Kinney (Fr., G)
Worth noting: Zaleski – who also serves as Leland athletic director – takes over the coaching reigns from Garland King, who had guided the Bobcats for the last five seasons. Somonauk-Leland returns four starters from the 2021-22 campaign in Rader (6.5 ppg, 6.4 rpg, 3.1 apg, 2.9 spg), Curtis (7.0 ppg), McCoy (8.3 ppg), and Pennington, with Potter also figuring in an upperclass mix that has only one senior, Curtis. Zaleski feels that upperclass leadership has paired very well with freshmen Hohmann, Chiavario, Wold and Kinney, who all have brought confidence from their success on the court in middle school and an ability to be coached while displaying a strong work ethic. The Bobcats will open their season Nov. 14 when they'll host La Salle-Peru on night one of the annual Tim Humes Breakout Tournament. The S-L cooperative's new bench boss is excited to get started. "This is a team that has set expectations for themselves that have not been reached in the program for many years," Zaleski said. "The girls are looking forward to embracing each and every challenge as they work towards becoming the best version of the team by the time the conference tournament comes around."