OTTAWA – Marquette Academy freshman Makayla Backos had attempted one shot all night, and it missed badly.
However, her second and only other try at a basket proved to be the game-winner as the Crusaders withstood a huge rally from Seneca to capture a 37-35, Tri-County Conference victory Monday at Bader Gymnasium.
With the game tied at 35 and time winding down, the Irish looked to have created a sure turnover on Marquette's possession. But Backos found a way to corral the ball that caromed off several players and lay it in with 21 seconds to go.
"It was definitely a hard push for me tonight, and I didn't get a lot of chances to shoot," Backos said. "That first shot I took wasn't even close. But when I had the chance I just kept trying, and in the end I made a big basket that I'm very proud of, which helped us win."
The Cru (6-2, 3-0 TCC) also received a fine performance from Backos' freshman teammate Avery Durdan, who scored a team-best 14 points – 11 of which came in the second half – along with 10 points off the hands of senior Josie Eager, all of her points coming in the second quarter. Senior Izzy Garkey added to the winning mix with a team-leading 13 rebounds.
"Our freshmen played very well tonight, obviously, with Makayla making that big shot near the end and Avery, who also had a great second half, making some big free throws late," MA coach Eric Price said. "Both responded very well in pressure situations tonight, and we were fortunate enough to recover a ball and score when we needed to the most."
Seneca (5-5, 2-2) had two chances to either win or send into the game into overtime.
But after a timeout with six seconds to go, the Irish missed a 3-pointer and a putback at the buzzer. Junior Kennedy Hartwig paced the visitors with a game-high 17 points, while seniors Allie Arwood and Zoe Hougas followed with 11 and seven points, respectively. The Seneca trio were the only players to score for the Irish, while senior Emma Smith hauled down a game-best 13 rebounds. Seneca committed 27 turnovers.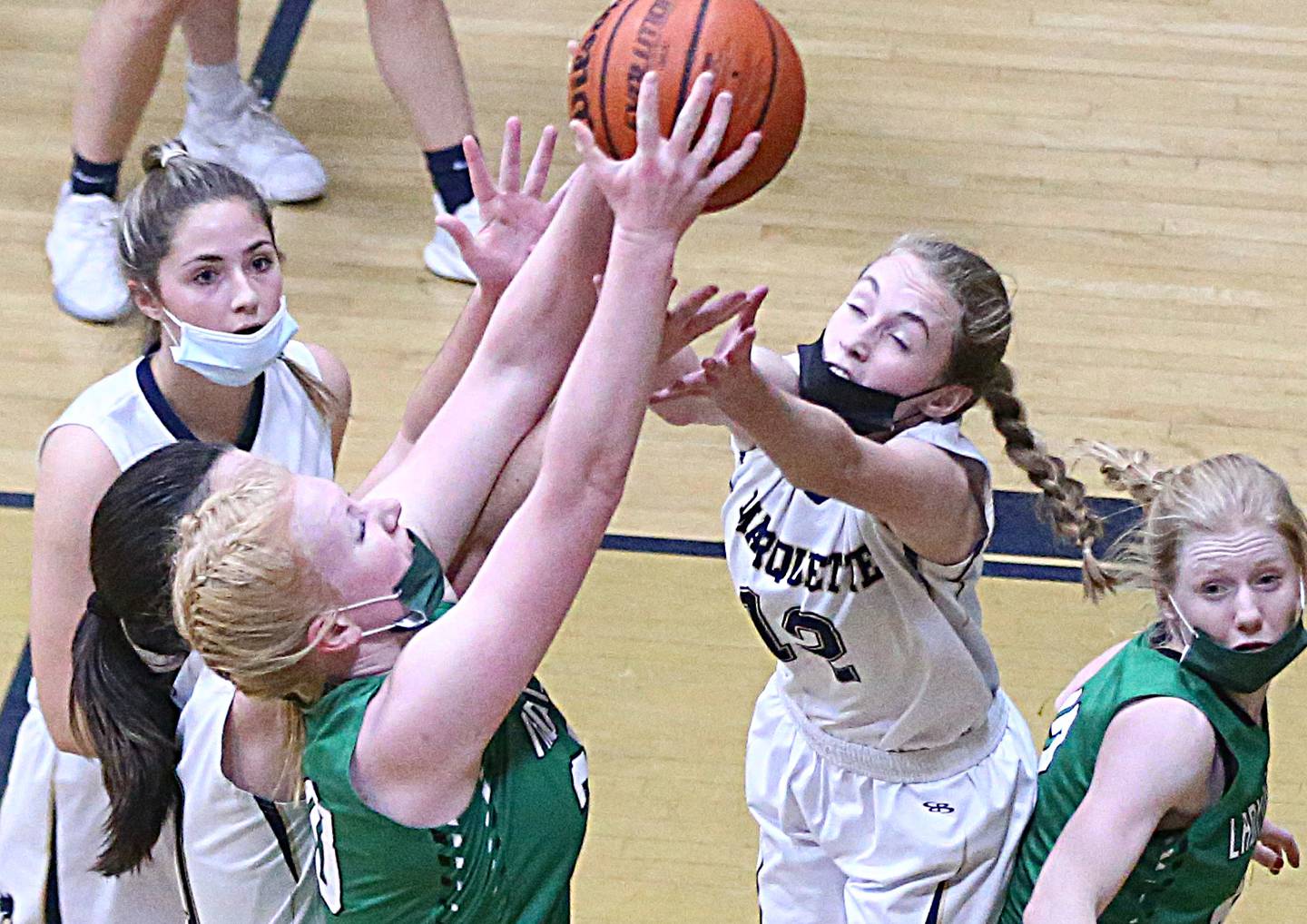 "It was kind of an unfortunate bounce at the end that ended up with Marquette getting the winning basket," SHS coach Brian Holman said. "I thought we had the steal, but the ball went right to their girl for a layup, and we couldn't cash in to win or tie things up in the end. I thought we had it, but sometimes you get unlucky, and we didn't put four quarters together tonight in order to win, especially with all the turnovers.
"But give credit to Marquette. They played a tough ballgame against us."
During a first quarter mired by bad shooting by both teams, Seneca led 8-5 going into the second quarter, where Hartwig netted all of the Irish points. Marquette outscored Seneca 12-7 in the second quarter, as Eager put down all of her points with a floater in the lane to open the period, a three-point play at the five-minute mark, a top-of-the-key triple at 4:05 and a free-throw-line jumper at 1:35 that gave the Cru a 17-15 lead at the break.
Durdan then helped push the Cru lead to 28-22 with six points in the third quarter before Holman turned up the heat in the fourth with a full-court press that earned dividends for the Irish. Seneca went on an 11-5 run to even the contest at 33 on Hartwig's floater with 1:40 to play.
But Durdan nailed a pair of free throws 13 seconds later ahead of a Hougas bucket at 1:15 and Backos' eventual game winner.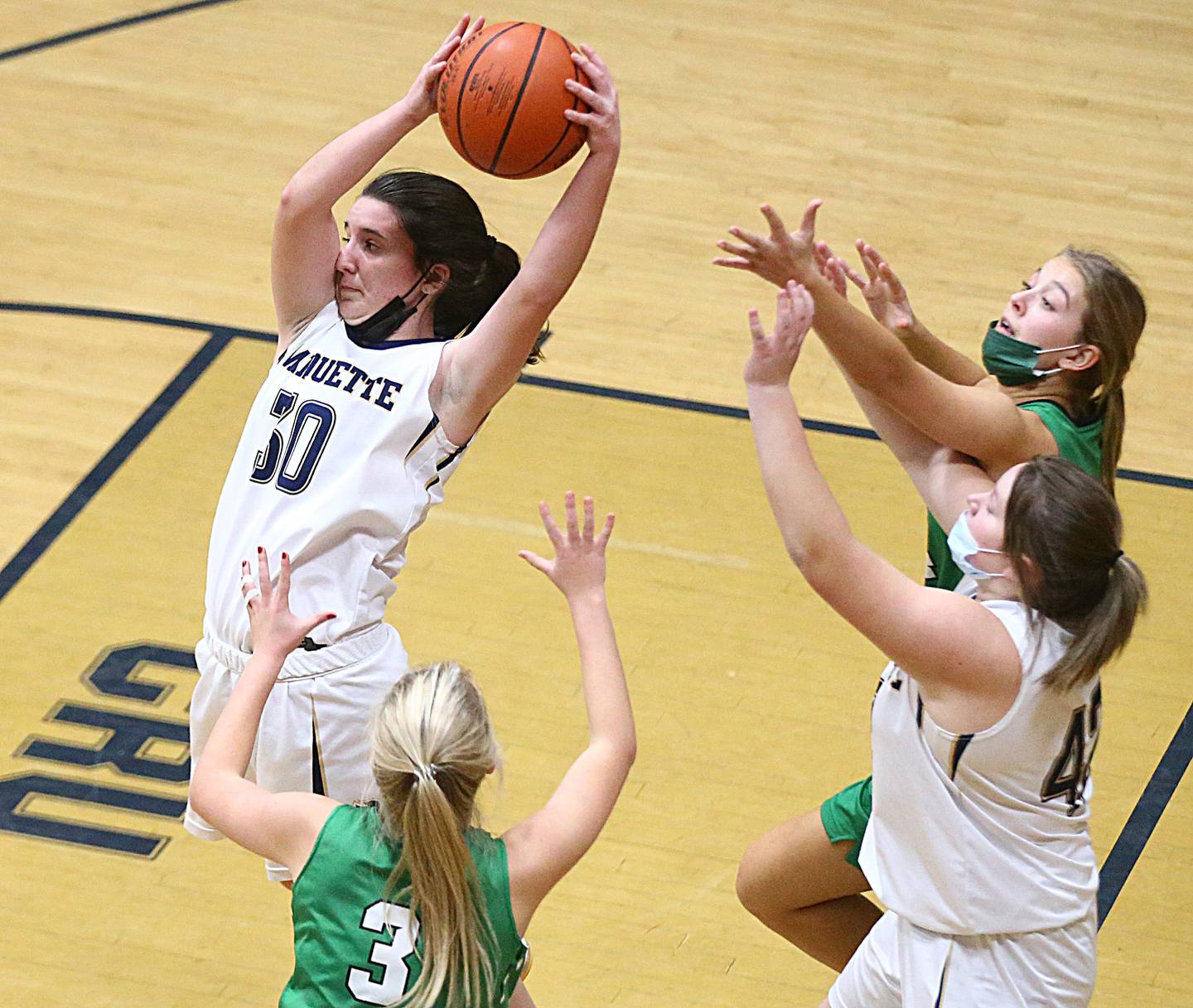 "I was very proud of the way I played in the second half, and to hit those two free throws before Makayla made her shot really got me excited," Durdan said. "I am very confident, even though I'm a freshman on this team that has really made me feel very welcome and appreciated.
"What a big win for us tonight."