LA SALLE - Over time, as waves relentlessly crash upon shore rocks, inevitably it is the waves that ultimately win, pounding the rocks into sand.
After 80 minutes of soccer in the La Salle-Peru Class 2A Regional championship game Saturday, though, chalk up a victory for the rocks.
The Sterling Golden Warriors' speed and ball-handling skills allowed them to dominate possession and send attack after attack like waves, but it was the Streator Bulldogs' rock-solid defense and one little goal scored late in the first half that won the day via a thrilling, down-to-the-wire 1-0 decision at the La Salle-Peru Athletic Complex.
"This win is incredibly important and emotional for me. It was our time."

—  Streator boys soccer coach J.T. Huey
"[Sterling is] an aggressive, fast, controlling team," said first-year Streator head coach J.T. Huey, drenched from a postgame water-cooler shower courtesy of his Bulldogs. "We had a couple lucky breaks where they just didn't finish the ball. They were knocking on the door the whole game, but sometimes just being up 1-0 is enough to give you that little bit of edge. ...
"This win is incredibly important and emotional for me. It was our time."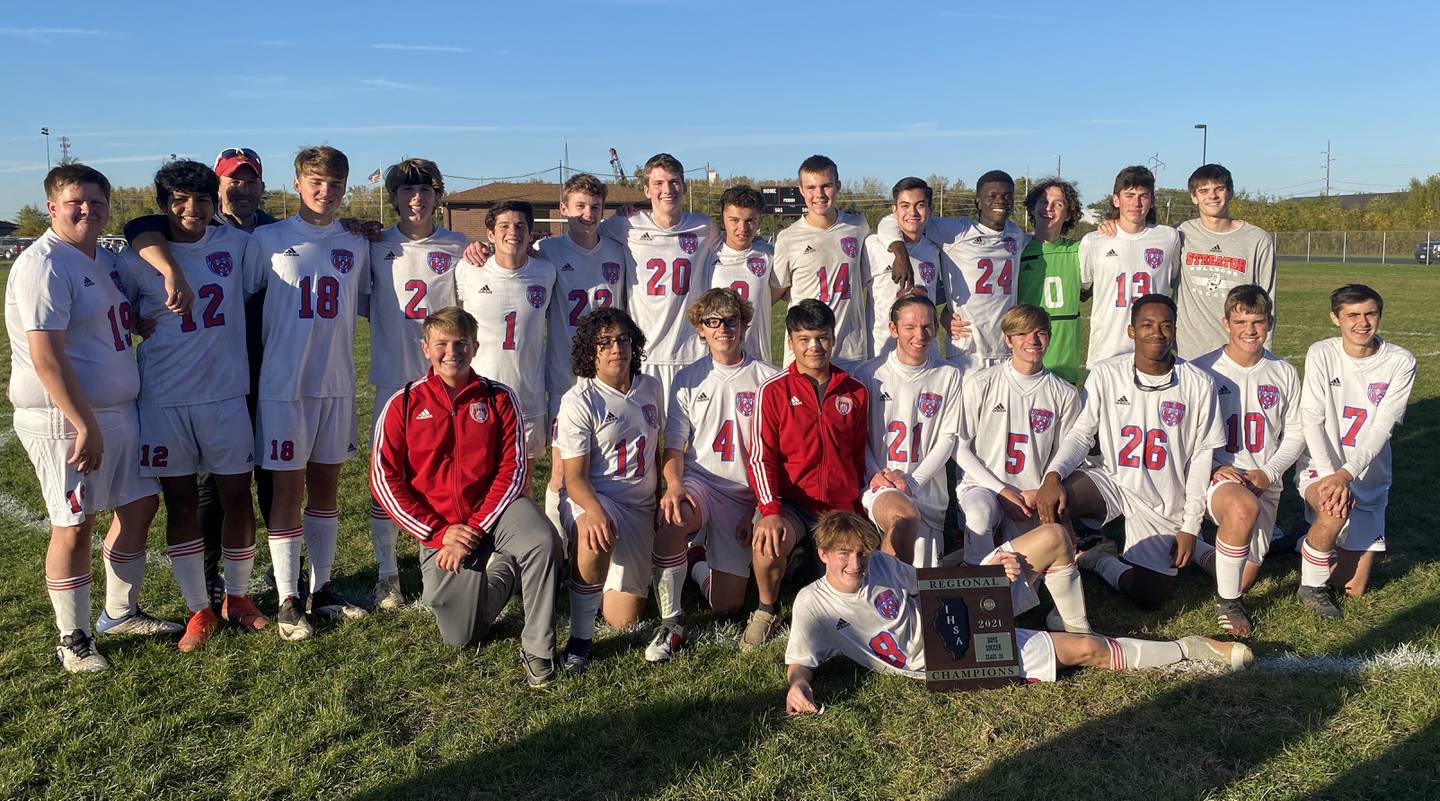 Streator — now 18-6 after winning the first regional title in program history and first postseason championship since a 1999 Class A sectional title before boys soccer added a regional round — heads to Dunlap Middle School on Tuesday, where it will face Morton at 6:30 p.m.
Sterling — despite dominating much of the action throughout, ultimately holding a 17-11 edge in shots on goal and much larger one in overall shots taken — sees its season come to an end with a 10-9-4 mark.
"We just didn't finish, and unfortunately if you don't take advantage of your chances, things don't go your way. That's soccer."

—  Sterling boys soccer coach Brian Cebula
"We just didn't do the most with the chances we had," Sterling coach Brian Cebula said. "I think we created a lot more chances and controlled a lot of the game. We just didn't finish, and unfortunately if you don't take advantage of your chances, things don't go your way. That's soccer. ...
"But we'll only be graduating three starters. We'll be back. Hopefully they take this experience, and next year we can build from it."
The contest's lone goal came with 2:02 remaining before the halftime break.
After turning away multiple Golden Warriors penalty and corner kicks, the Bulldogs got a couple of their own as the half wound down. Landon Muntz set up to take the second of those with just over two minutes showing on the clock, delivering a dart seven feet high right in front of the net.
Jack Starkey won the battle to get a head on it, but had his shot deflected away short of the goal line. The ricochet, though, found its way to a waiting and ready Noah Russow, and the Bulldogs freshman delivered his own header into the net for a 1-0 Streator lead.
"Jack hit it, and it deflected off one of our players, and I just hit it in over [the goalie's] gloves," Russow said. "I just ran in and hit it.
"This is an amazing feeling."
The second half grew more intense and physical as each minute ticked off the clock. Sterling put eight second-half shots on goal in the final 40 minutes and seriously threatened a dozen more times, right up to the final horn. Streator's defense — led by keeper Noah Camp, Keaton Yedinak, Parker Phillis, Declan O'Connor, Adam Williamson and strengthened by the in-game adjustment of dropping stopper Mac Beals back to frustrate the Golden Warriors' lightning-fast attacks — turned back each and every wave.
"We all trust each other," Williamson said. "We talked a lot today, we'd had some problems marking up, but we just helped each other. We had to work together, and we have a lot of trust in [Noah Camp]."
Camp's stop of a Luis Ibarra Rodriguez point-blank rocket with 17:40 remaining to preserve the lead was the highlight of his 17 saves.
Sterling goalie Sergio Garcia recorded 10 saves against the one goal surrendered, aided by strong defensive work from Angel Rosas, Carter Chance, Cesar Chavez and especially Yurly Guerrero.