Like many of his classmates, Streator's Jack Haynes didn't get to enjoy a complete four-year student-athlete experience because of the COVID-19 pandemic.
That's what made this year so special for the Bulldogs senior and 2022 The Times Boys Basketball Player of the Year.
"It was my senior year, my last ride – getting to 1,000 [career] points, being [The Times] Player of the Year, [Illinois Central Eight] All-Conference, [IBCA Class 3A] All-State special mention," Haynes said. "This is the year we've all been talking about, all the seniors, and it went as expected and how I wanted it to. I had a lot of fun. I know that."
Haynes was a lot of fun to watch, too.
The 6-foot-7 post averaged a double-double of 18.4 points and 11.0 rebounds a game to lead Streator to a 21-9 record and the Illinois Central Eight Conference championship. Haynes made 50.8% of his field-goal attempts and added versatility to his game with a jump shot that forced opponents to respect the lanky forward not just in the paint – where he scored 63.3% of his points – but behind the 3-point line, as well.
"Once it all started [coming] together and everyone knew their roles, I knew what the game was going to look like and just read the floor," Haynes said. "I'd use [the defenders'] weaknesses against them.
"It means a lot that we got a full regular season with 30-plus games, and I'm just happy I got to do it with my friends one last time."
Even with the bulk of his junior season wiped out by the pandemic, Haynes reached 1,000 career points with a dominant 36-point performance against Plano on his home court at Pops Dale Gymnasium on Feb. 9.
He was the first Bulldogs player to score 1,000 points since his older sister, Natali Haynes, did so for the girls team during the 2019-20 season. He was the first boys player to reach the milestone since Streator's all-time leading scorer, J.J. Cravatta, did so in 2010-11.
"There was a time when I wasn't tall and I wasn't big and I wasn't athletic, but all I wanted to do was play. Once I had a little growth spurt, I was just living in the gym and putting up shots, taking as many opportunities as I could."

—  Jack Haynes
Haynes finished third on Streator's all-time scoring list with 1,110 points and is one of only six boys – and seven Streator players, including his sister – to make the school's 1,000-point club.
"I had a few point guards, mostly with the last name Benning, who were a big part of it, for sure," Haynes said. "I'm thankful for them and all my teammates. Scoring 1,000, it's what I've wanted to prove ever since I was younger.
"There was a time when I wasn't tall and I wasn't big and I wasn't athletic, but all I wanted to do was play. Once I had a little growth spurt, I was just living in the gym and putting up shots, taking as many opportunities as I could.
"I never knew I would get this far. It's not over, I'm still going to keep going, but 1,000 points meant a lot, just being one of the few people who could do it in Streator history."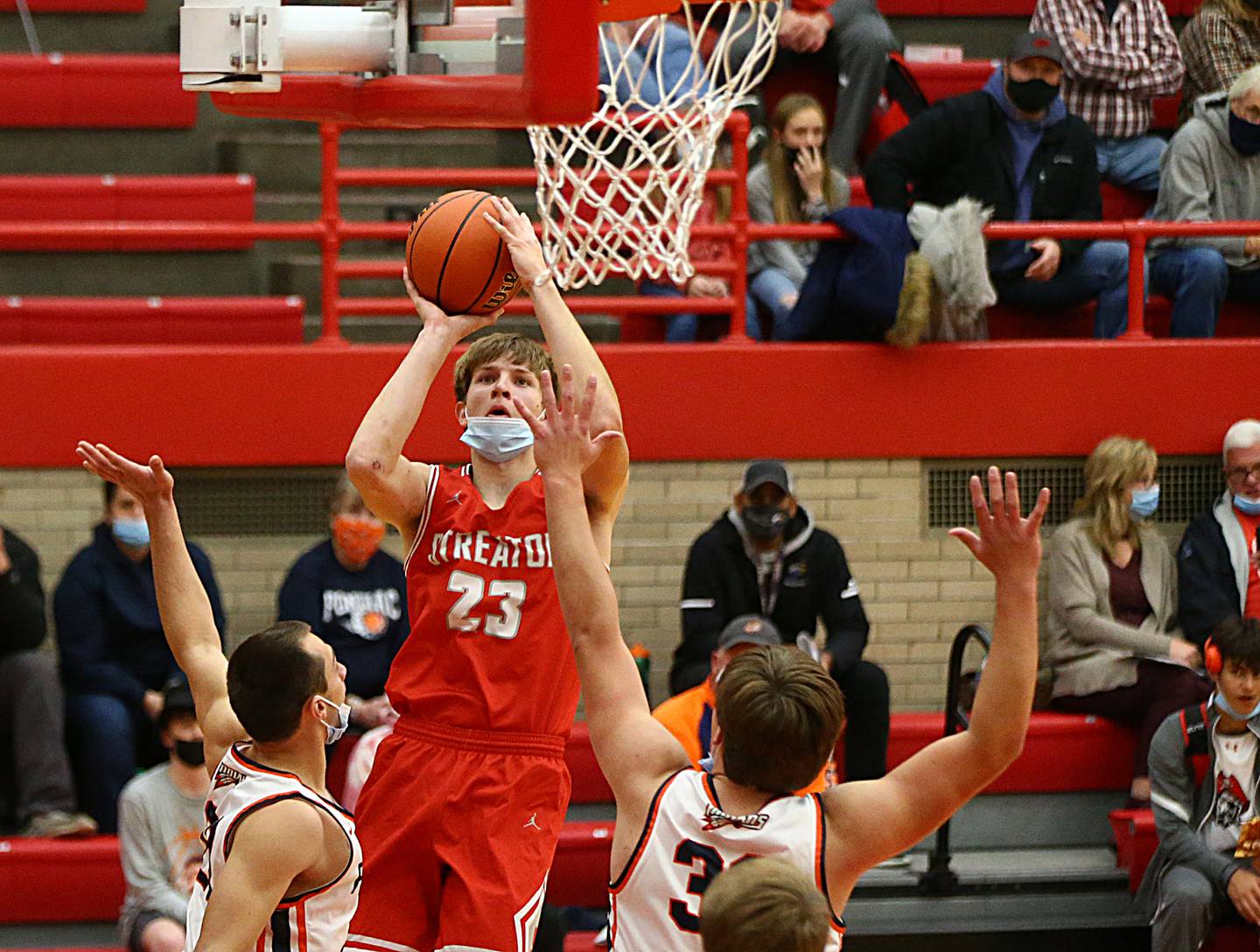 Haynes' feat, and the cornerstone player he became for the team over the past three seasons, is not lost on Streator coach Beau Doty.
"It's a tremendous accomplishment of longevity," Doty said. "For someone to score 1,000 points, you have to be consistently good for a long time, and with him essentially having a little more than half a season wiped out, the numbers are pretty obvious where he would have ended up. Even going just below his career averages, he would have finished as our second all-time [leading] scorer and first all-time leading rebounder.
"I think the biggest compliment I can give Jack is he had to work so hard, especially last year, for us to get him the ball inside in scoring areas against double- and triple-teams. And it's almost like, we get him the ball and we expect, 'OK, here's a basket. There's free throws.'
"The expectations he set for himself and we had for him were so high, and he was able to really sustain and fulfill those expectations the last few years. You probably never would've looked at him as a seventh- and eighth-grader and said, 'There's a 1,000-point scorer in high school.' But he's really worked hard, really become an all-around player, and he kind of put us on his back the last stretch of the season."
Haynes is looking at a few potential NCAA Division III and junior college teams to join after graduation. He is confident the things that made him a successful high school player – a star, even – will translate to the next level.
"I think I have a little more of a chip on my shoulder when it comes to competitiveness," Haynes said. "I've got a little grit to my game, but I've always had a big heart when it comes to winning. I never want to lose. I always want to win, and that's what makes me a player, trying to stay positive the whole time.
"And get as many dunks as I can each game."