GRANVILLE – The seeds continue to hold up at the Tri-County Conference boys basketball tournament.
On the second night of quarterfinals Tuesday, No. 4 Marquette pulled away from No. 5 Dwight in the fourth quarter for a 62-46 victory, while No. 3 Putnam County routed No. 6 Roanoke-Benson, 60-27.
The Crusaders (15-6) advance to play No. 1 Midland (20-2) in the semifinals at 6 p.m. Wednesday.
"It's huge," Marquette's Tommy Durdan said about being in the semifinals. "One game away from the final, that's where everyone wants to be. The opportunity to go up against the No. 1 seed is all you can ask for.
"It's going to be tough. They're going to be quick and fast. They're 20-2 for a reason. We have to go in and play well. It should be a good one."
The Panthers (12-12) will face No. 2 Seneca (15-5) in the second semifinal at 7:30 p.m.
"I expect 1-2-2 pressure and a lot of good shooters," said Putnam County coach Harold Fay, whose team beat the Irish 44-42 on Dec. 17. "We'll have our work cut out for us. Hopefully, we can shoot the ball well and we're able to compete with them.
"They're the angry ones right now. That worries me a little bit. They have a little more fuel for the fire, but if we come out like we did tonight, we're going to be just fine."
MARQUETTE 62, DWIGHT 46
The game was close throughout with 12 lead chances and six ties through the first three quarters.
Aidan Thompson beat the buzzer with a 3-pointer at the end of the third quarter to give Marquette a 36-33 lead, and the Crusaders rode that momentum to victory.
"That was huge," Durdan said. "It gave us the lead. Having the lead going into the fourth is always a huge confidence booster."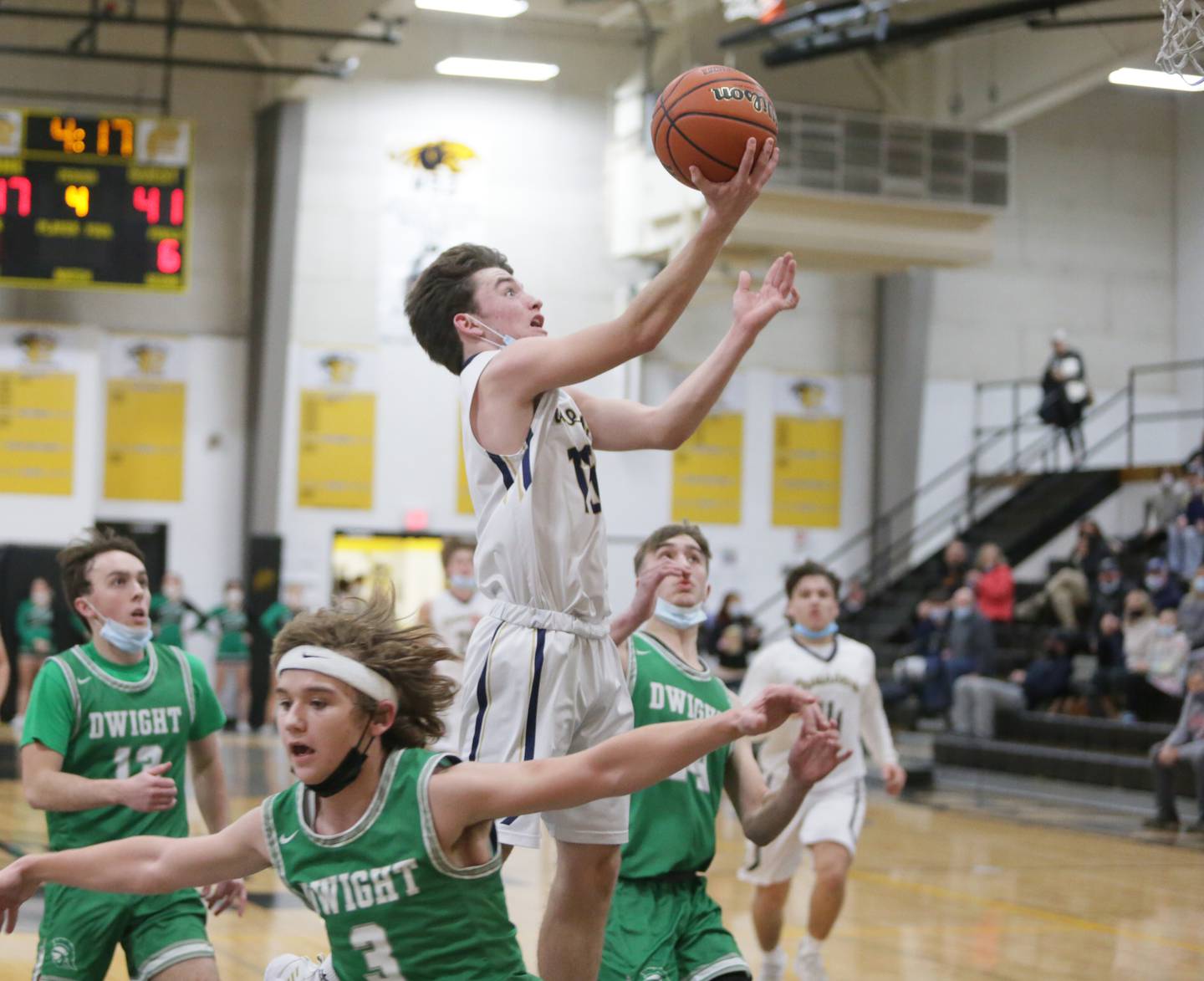 Marquette scored on its first four possessions of the fourth quarter, including three buckets by Durdan, to take a 44-37 lead.
A three-point play by Logan Nelson, a fastbreak basket by Durdan and a pair of bonus free throws by Durdan gave the Crusaders a 51-41 lead with 3:56 left.
Marquette coach Todd Hopkins said taking the ball at 6-foot-6 forward Wyatt Thompson was key in the fourth quarter.
"He blocked a lot of shots, but he also got his fourth foul early in the fourth quarter, and it changed the way he played because he didn't want any part of guarding and picking up his fifth," Hopkins said. "We were able to attack that area the whole fourth quarter and pretty much get what we wanted."
Durdan had only two points through three quarters but scored 17 in the fourth to finish with a team-high 19.
"I think it was just a matter of getting to the rim," Durdan said. "The opportunity was there and it was just taking advantage and knocking down free throws to end the game."
Along with Durdan's 19, Nelson finished with 15 points, while Beau Ewers added 10 points.
"We played a lot better than we did six days ago over there [in a 59-43 loss to Dwight]," Hopkins said. "We played with a lot more fire and a lot more purpose. We played downhill. We've been talking about that for about a week and a half. We bounced back and played really well, down the stretch especially. I'm very proud of the way they played. We took the ball to the hole, knocked some shots down, defense and got every loose ball. It's a nice win."
PUTNAM COUNTY 60, ROANOKE-BENSON 27
The Panthers put the pressure on the Rockets from the outset and got out in transition to grab an 8-0 lead.
Austin Mattingly hit a pair of free throws to start the scoring, and after Wyatt Grimshaw scored a bucket, Mattingly had back-to-back steals and layups.
"We came out with a lot of energy," Fay said. "We tried to keep the ball out of [Joel] Weber's hands. He's a very good player. We wanted to make somebody else beat us. We did a good job. We made them uncomfortable, got some quick layups and got them down. I think that helped with everything else."
The Panthers led, 15-5, after the first quarter and extended their advantage to 26-6 on a 3-pointer by Drake Smith with 4:10 left in the second quarter.
Mattingly closed the first half with a flurry with a pair of drives to the basket and a 3-pointer to give PC a 35-8 halftime lead.
"We played well," Mattingly said. "Defense was where we really played well. Offensively, we moved the ball around pretty well and shots fell."
Putnam County pushed its lead to 30 points on the first possession of the third quarter when Grimshaw sank a 3-pointer.
The Panthers led, 54-20, going to the fourth quarter to invoke the running clock for the final eight minutes.
Mattingly led four Panthers in double figures with 15 points. Grimshaw scored 14 points, Smith finished with 12 points and Jackson McDonald added 10 points.
"We like to have five guys averaging 10," Fay said. "Tonight, it was that way. It was a nice spread. Our guards did a very good job scoring in transition. We just had a good game all around."