MARSEILLES – It may not qualify as a curse that ranks up there with that of the Bambino, the Chicago Cubs' Billy Goat or even King Tut's tomb, but it sure seems like one's alive and well in what may be the last high school basketball game in the Marseilles Grade School gym.
Some may blame the curse of the No. 1 seed at the Marseilles Holiday Tournament – only one top seed having won it in the first 11 years of the local small-school tourney – for Thursday's result. However, a majority of the credit should go to No. 2-seeded Flanagan-Cornell, which used a ramped-up defense and the hot hand of sharpshooting tournament MVP Tyler Pfaff to rally in the second half for a 47-39 victory over No. 1-seeded Seneca on Thursday.
Pfaff drained a pair of 3-pointers and a deuce as the Falcons scored the first 11 points of the third quarter, erasing a six-point halftime deficit and putting them in the driver's seat the rest of the way. The rally made them the fourth consecutive No. 2 seed to win it and the seventh second-rated club crowned champion in the event's 12 years.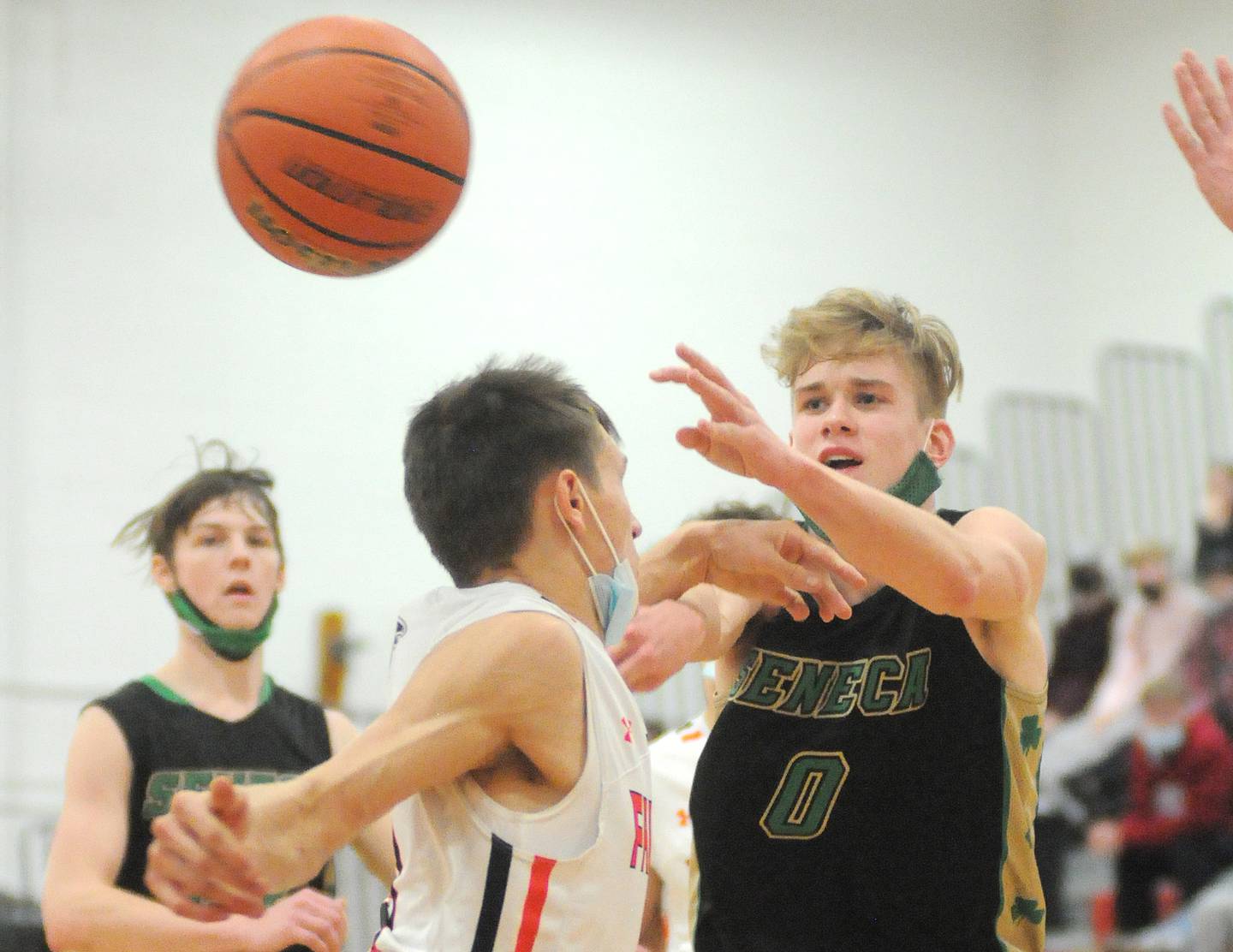 Pfaff finished with 17 points, Dallas Hamilton 11 and all-tourney pick JD Ruddy 10 for F-C (10-3). It will have a chance to defend that title next December when the tourney moves to Marquette Academy.
For Seneca (9-4), Calvin Maierhofer led the way with 11 points, all of them coming in the second quarter to help the Irish get out to a 24-18 halftime edge. But the top seed, which entered the final game with the fifth-largest point differential (29) through the tourney's first three games, went cold in the second half, sinking only 4 of 21 shots from the field for 19.1%.
It ended overall at 33% (13 of 39).
"You don't want to be No. 1 at this tournament. You don't want to be No. 1," a beaming Falcons coach Brian Yoder said. "We're playing just how we want to be playing right now. We'd like to clean up a few things on defense, but we're playing hard right now and are looking forward to 2022.
"I love these kids. They play hard, they're fun to watch, they're resilient, and they play great defense. Seneca kind of took us out in the first quarter, but I thought we controlled the last three quarters with our defense. Tyler hit some big 3s, Dallas hit a big 3, it was just a great effort by these guys against a very good Seneca team."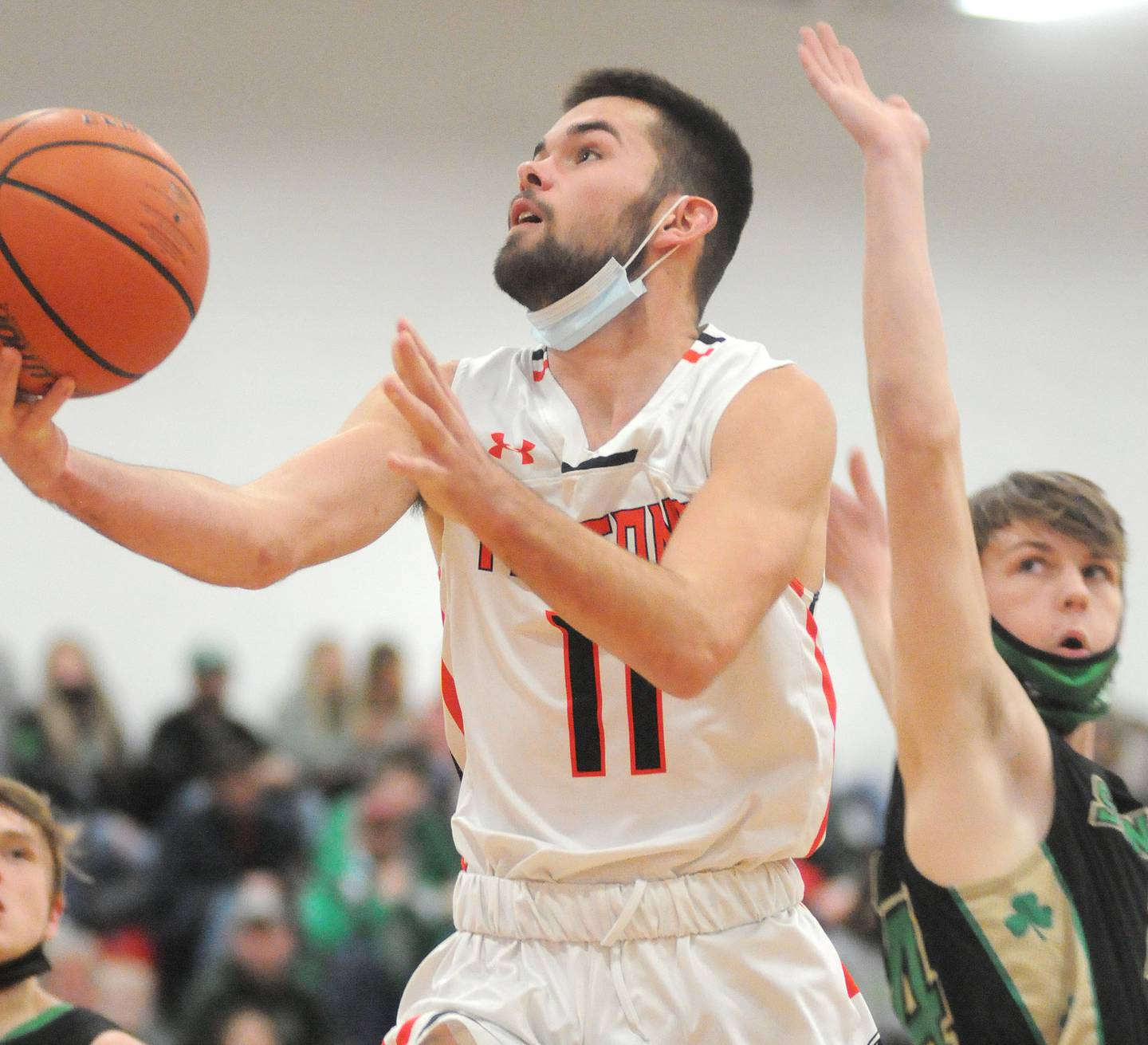 Seneca's own sharpshooter, all-tourney choice Zach Pfiefer, canned a 3-pointer and had five points as the Irish jumped out to an 11-2 lead in the first quarter, helped by a defense that forced five F-C turnovers in the first five minutes. Those were the only points Pfiefer would score all night.
The Falcons started their way back by getting to the line, hitting 6 of 7 for most of their 11 second-quarter points.
But in the third quarter, the Flanagan-Cornell defense turned things up a notch, pestering the Irish into nine turnovers and a chilly 2-for-10 shooting. That allowed Pfaff to pop a 3 with 1:56 left to put the Falcons on top.
From there, the cold Irish shooting and patient Falcons offense kept SHS at arm's length. Only two buckets by another all-tourney selection, Paxton Giertz, and a pair of Given Siegel free throws preceded a buzzer-beating 3 by Noah Quigley.
"We opened the second half with three point-blank misses," Seneca coach Russ Witte said, "and combine that with fouls, we just couldn't get through it.
"Our kids played hard the whole way, and I was very pleased with our effort for the most part, but [Flanagan-Cornell] made plays. We couldn't make shots, and we had to make shots, and we turned the ball over way too much, and we have to learn to talk better on defense. If we had talked better, I feel we would have been fine.
"But when you give a team like Flanagan the lead, those kids are three-year varsity players, and they know how to take care of it. Credit Coach Yoder and his club. They did a great job tonight."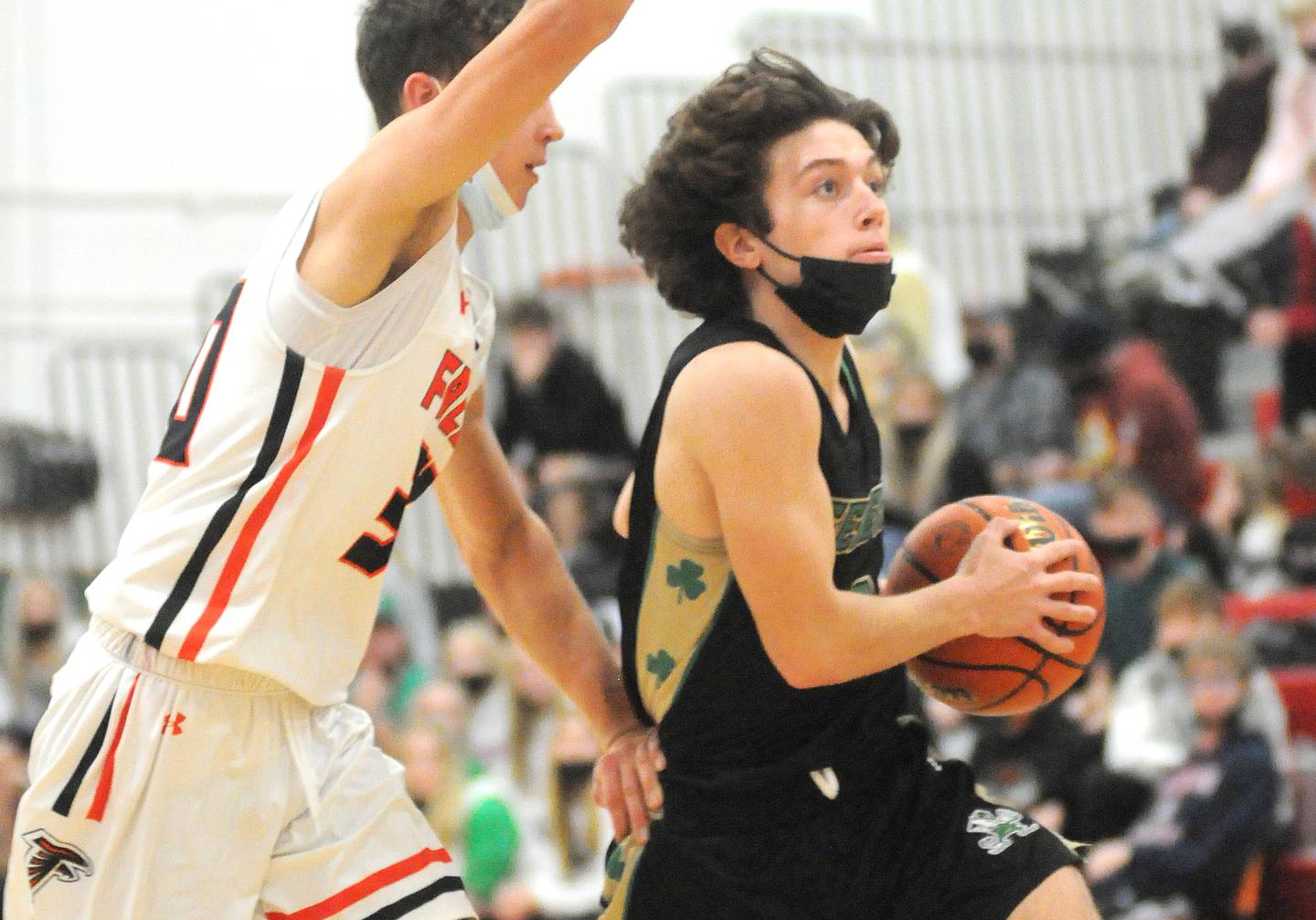 Other members of the all-tournament team were Marquette's Tom Durdan, Somonauk's Alex Krejci, Putnam County's Austin Mattingly, St. Bede's Duncan Lawler, Reed-Custer's Lucas Foote, Dwight's Wyatt Thompson and Kewanee's Niko Powe.
At Marseilles
12th Marseilles Holiday Tournament
Championship
Flanagan-Cornell 47, Seneca 39
SENECA (39) — Pfiefer 2-10 0-0 5, Klinker 0-1 0-0 0, Provance 1-2 2-3 4, Giertz 4-8 0-1 9, N. Quigley 2-4 0-0 6, Siegel 1-7 2-4 4, Maierhofer 3-3 2-4 11, Ellis 0-3 0-0 0, O. Quigley 0-1 0-0 0. Totals 13-39 6-12 39.
FLANAGAN-CORNELL (47) — Ruddy 5-7 2-4 10, Hamilton 3-8 4-4 11, T. Pfaff 5-7 4-4 17, Weber 0-1 0-0 0, Jones 2-5 3-4 7, Collins 1-2 0-0 2, Edens 0-0 0-0 0. Totals 15-30 13-16 47.
Seneca (8-4) 11 13 6 9 — 39
Flanagan-Cornell (10-3) 7 11 14 15 — 47
3-point goals – Seneca 7-17 (Maierhofer 3-3, N. Quigley 2-3, Giertz 1-2, Pfiefer 1-5, O. Quigley 0-1, Siegel 0-1, Ellis 0-2), Flanagan-Cornell 4-9 (T. Pfaff 3-4, Hamilton 1-2, Ruddy 0-1, Jones 0-2). Rebounds – Seneca 25 (Provance 8), Flanagan-Cornell 21 (T. Pfaff 8). Turnovers – Seneca 22, Flanagan-Cornell 20. Total fouls (none fouled out) – Seneca 19, Flanagan-Cornell 19.