OTTAWA – The Ottawa boys basketball team had a tough task Friday night in its final pool play game against Oak Forest at the Dean Riley "Shootin' the Rock" Tournament.
The Pirates were coming off their lowest point total in a game in more than 20 years in a loss to Dixon, while the Bengals had produced running clocks in rolling past their first two opponents in the tournament by a 33-point margin.
Ottawa scored the opening basket of the contest, but Oak Forest closed out the first eight minutes with a 20-6 lead. The Pirates were able to close the gap to 11 on a pair of occasions in the second, but the Bengals held leads of 36-21 at halftime and 56-27 at the end of three quarters on the way to a 68-37 victory at Kingman Gymnasium.
Ottawa (1-2) will play Pontiac at 2:30 p.m. Saturday in the fifth-place game after the seventh-place contest between Illinois Valley Central and Marengo. Oak Forest (3-0) will battle Streator in the championship game scheduled for 5:30 p.m. following the third-place game between La Salle-Peru and Dixon.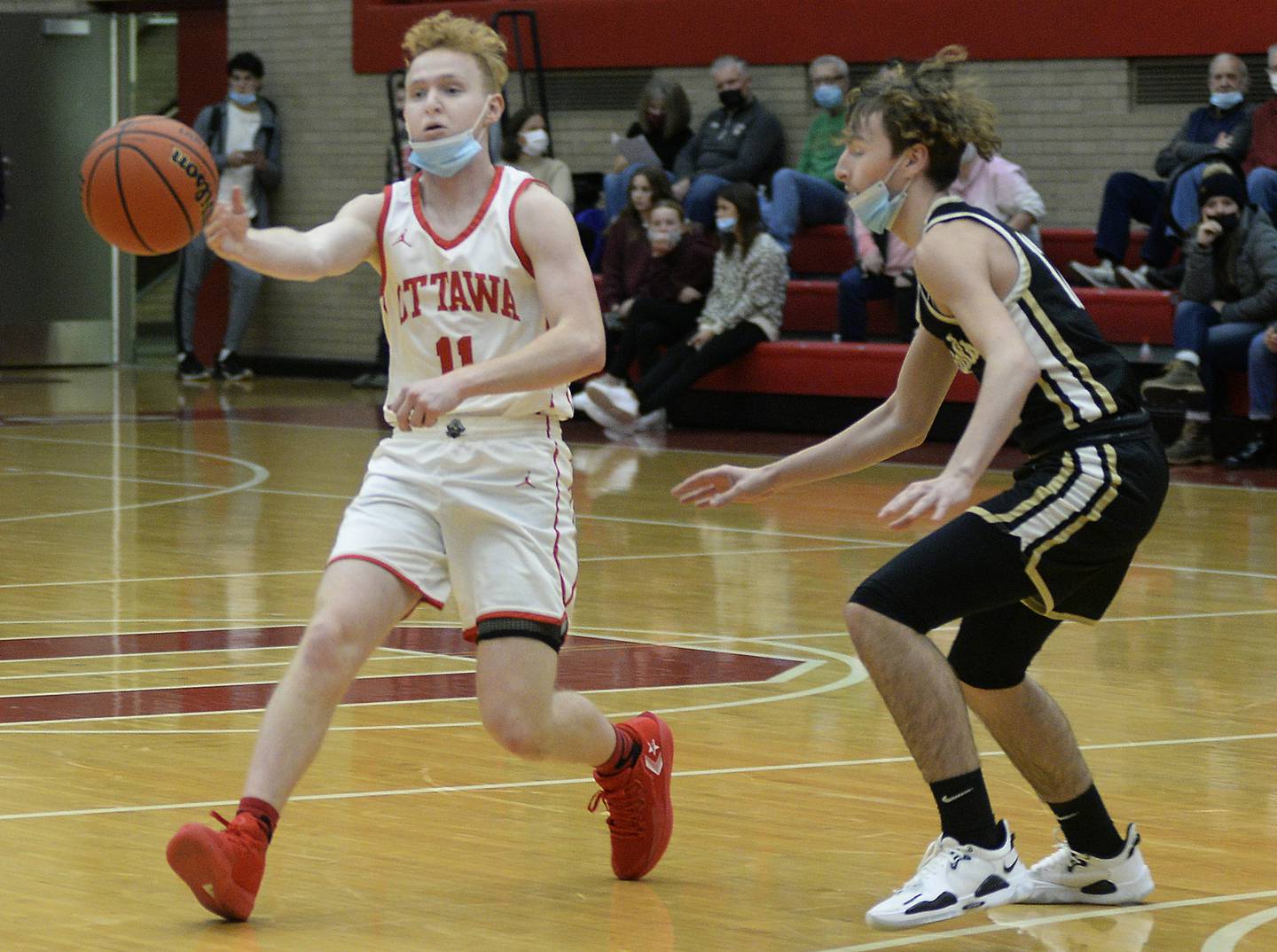 Oak Forest, which shot 60% from the field, 40% from the arc, and won the boards 31-17, received balanced scoring as 6-foot-9 forward and Indiana State University recruit Robbie Avila (12 rebounds, four assists, two blocks) and lightning quick point guard Fred Robinson (five rebounds, three assists) each posted 18 points, while Taurean Michens added 13 points, including a trio of 3s.
"We wanted to try and limit Avila as much as we could. He was good, but he didn't completely dominate the game. However, some of their other players that play off him and Robinson made some shots," Ottawa coach Mark Cooper said. "They are a really good basketball team and they played really well tonight. They were sharp and played at a very high level."
Ottawa's Luke Cushing, who led the squad with 10 points, three rebounds and a pair of assists, opened the game's scoring just 15 seconds in after converting a backdoor layup off an assist from Javarius Whitfield. Oak Forest responded with an 11-0 burst and closed out the opening period on a 9-4 run, with Avila finding the hoop only once.
"Robbie is a terrific player, without a doubt, but we don't need him to score all of our points to put the ball in the basket," Oak Forest coach Matt Manzke said. "We have Fred, who is electric with the ball, plus other guys that can score and a nice mix of inside and outside shooting. I think having the guys that can step up if Robbie and Fred are having off nights makes us a tough team to stop.
"We have great kids on this team and every one of them is unselfish and works well with everyone. They all know the offense runs through Robbie and Fred, but they all also know they going to have opportunities to score when teams focus on those two guys."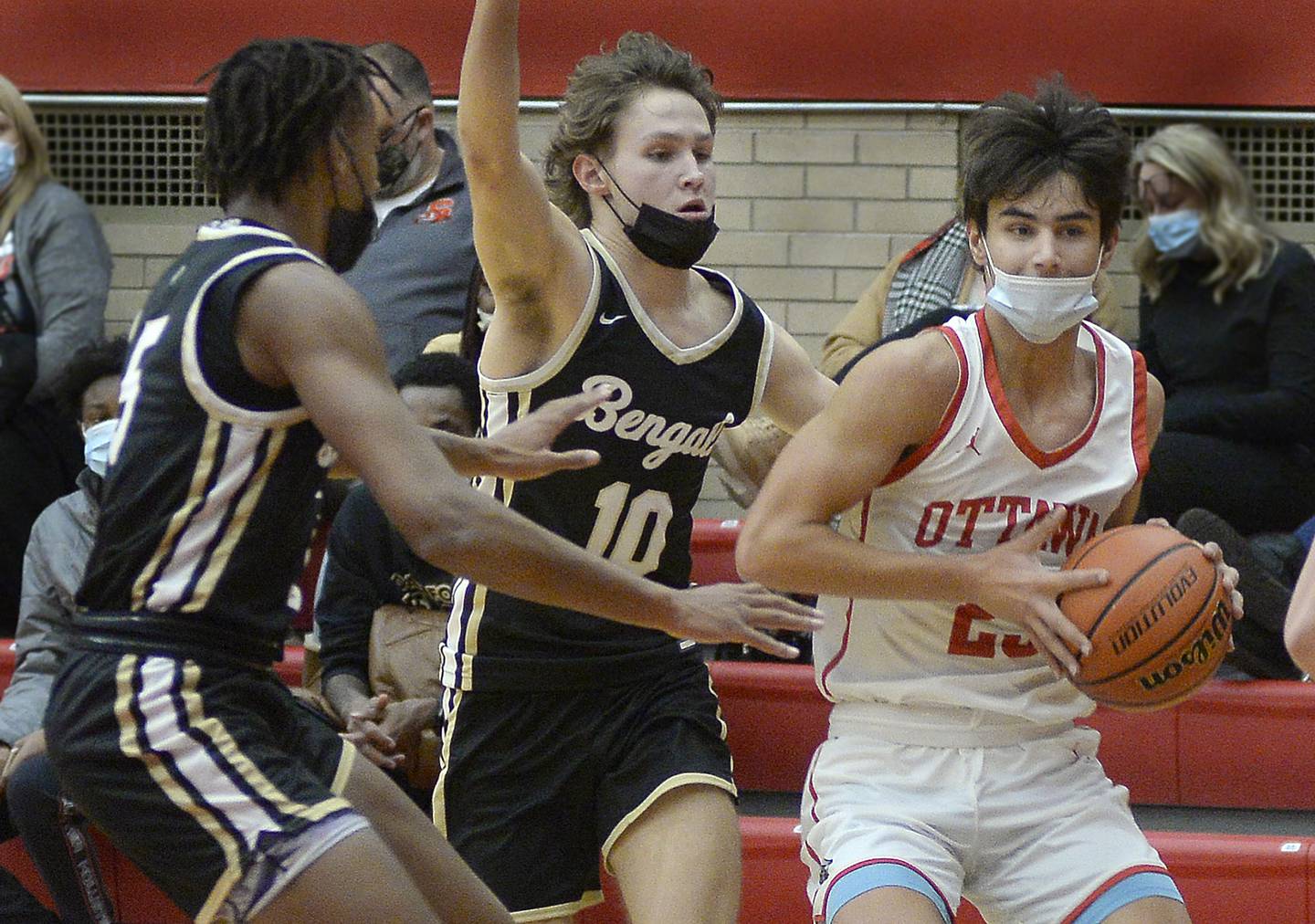 The Pirates sank five triples in the second frame – two each by Cushing and Anthony Miller and another by Paytom Knoll - but Avila had 10 points in the stanza, while Robinson had a right-handed dunk and 3-pointer to offset the long-range barrage and head to the intermission up 15.
"We had a lot of emphasis and talked a lot about how Ottawa was going to bring it tonight being a Friday night in their own gym, and they did in the second quarter knocking down five 3s," Manzke said. "But I thought we did a great job of answering those shots and defended the 3-point line better in the second half."
Oak Forest maintained its lead in the opening three minutes of the third and then exploded on a 16-2 burst to close out the period.
"We have to find a way to be able to grind out offensive possessions more," said Cooper, his club hitting just 35% overall and 29% from distance. "We just break down way too easily at times and take a shot that is maybe not as good as what we could get in a longer possession.
"We made some strides tonight and we were better than earlier in the week, but obviously we have a long ways to go."