RURAL STREATOR – After enduring a full quarter of the best their football/baseball co-op teammates from Woodland could muster and escaping with a 12-12 tie, the Flanagan-Cornell boys basketball team went with its best, defensive pressure that limited the Warriors to just nine more points over the last three periods and no points in the fourth quarter to seize a 56-21 victory on Wednesday and claim a spot in Saturday's Route 17 Classic championship game.
In the first varsity contest Wednesday at the Warrior Dome, Paul Hart popped in a whopping 37 points — 18 of them in a 35-15 first quarter — to lead the St. Bede Bruins to a 79-58 win over Ridgeview.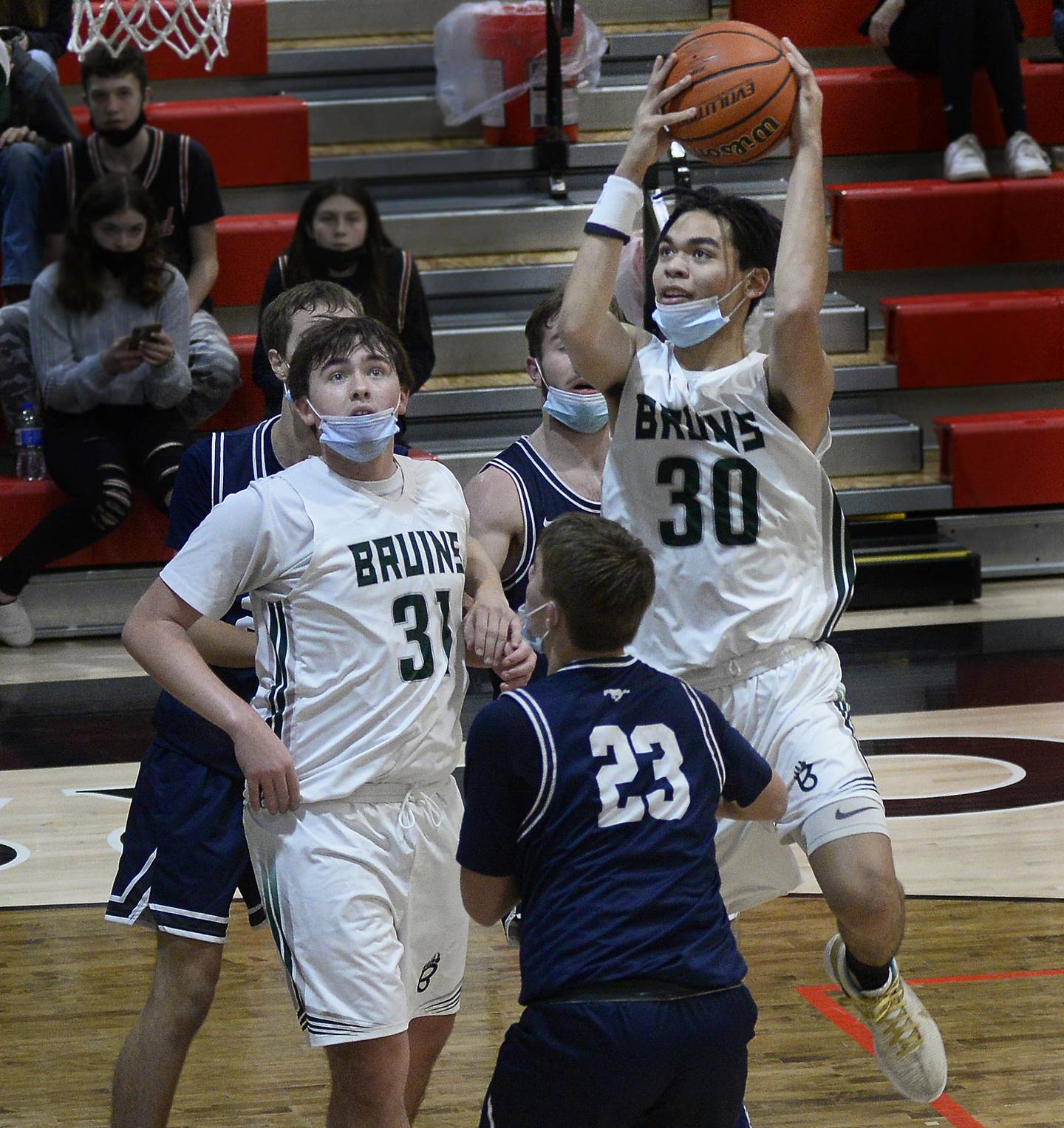 Led by 19 points from Sam Jones and 15 from Tyler Pfaff, the Falcons moved into the event's title game for the first time since the 2014 Elite Eight team and will face Momence, champ of the Dwight pool, at 6 p.m. on Saturday.
The rest of the finals at Woodland will see Ridgeview taking on Earlville for seventh place at 1:30 p.m., followed by the fifth-place game between Woodland and Grant Park at 3 p.m. and the third-place game pitting St. Bede against Dwight at 4:30 p.m.
The championship contest of the JV tournament between Woodland and Grant Park will be held at noon, prior to the varsity slate.
Flanagan-Cornell 56, Woodland 21
The Warriors came out in the nightcap aggressive on defense and hot from the field and on the glass. While the WHS defense was forcing six F-C turnovers, big man Phoenix Cooper notched three points and six rebounds, and Keegan Boldt and Jon Moore each connected on 3-pointers before Chris Stasko drained a trey with 12.8 seconds left to knot the score at 12.
But that's where Pfaff, Jones and the Falcons defense took over. A Pfaff 3-pointer broke the tie, and five points from Jones put F-C up for good, while the "D" forced nine of Woodland's 25 turnovers in that stanza alone. That enabled the Falcons (3-0) to net the last 11 points of the half for a 31-16 edge.
"The first quarter was a battle, then Sam Jones just took over a little bit," Falcons coach Brian Yoder said. "They did a good job of taking Pfaff away, give them credit, but Sam took advantage of that. We hit the board well … and our defense looked pretty good today. These kids get after it. I have to give credit to Coach (Todd) Reed, our JV coach. He does a bunch of closeouts and … we feel that puts them in a better position to play defense."
For Woodland (1-2), Cooper, Stasko and Boldt each tossed in five points, with the former collecting a game-high 11 rebounds. Still, the Warriors were outboarded 28-23 and connected on just 4 of 22 shots from the field in the last three periods, 0 for 9 in the fourth.
"I was very excited and very proud of how we competed in that first quarter," WHS coach Connor Kaminke said. "Our goal was to keep this a game for as long as we could, and in the first quarter we did that, but as the game went on, we started to run out of gas, got lazy on our passes, and they turned us over. …
"Flanagan-Cornell is a really good team with five very good athletes who play hard, defend well and turn teams over, and they executed that game plan very well."
St. Bede 79, Ridgeview 58
After the 3-3 start to the scoring, Hart simply took off, first scoring three times inside then stepping out to the perimeter and sinking four 3-pointers, the last of which opened up a 31-9 Bruins lead with 1:26 left in the opening period.
Led by his 7-of-9 shooting, SBA (2-1) hit on 14 of 17 tries — including all seven of its 3 tries — to take command.
"We came out tonight and just put the hammer on them," said Hart, who on the night sank 13 of 21 shots, 6 of 9 of those 3s, and added a game-best 11 rebounds in three quarters of action. "Everyone was making shots, and we were playing really good basketball. … Playing with confidence is very important for us, helps us on defense and to play like we can."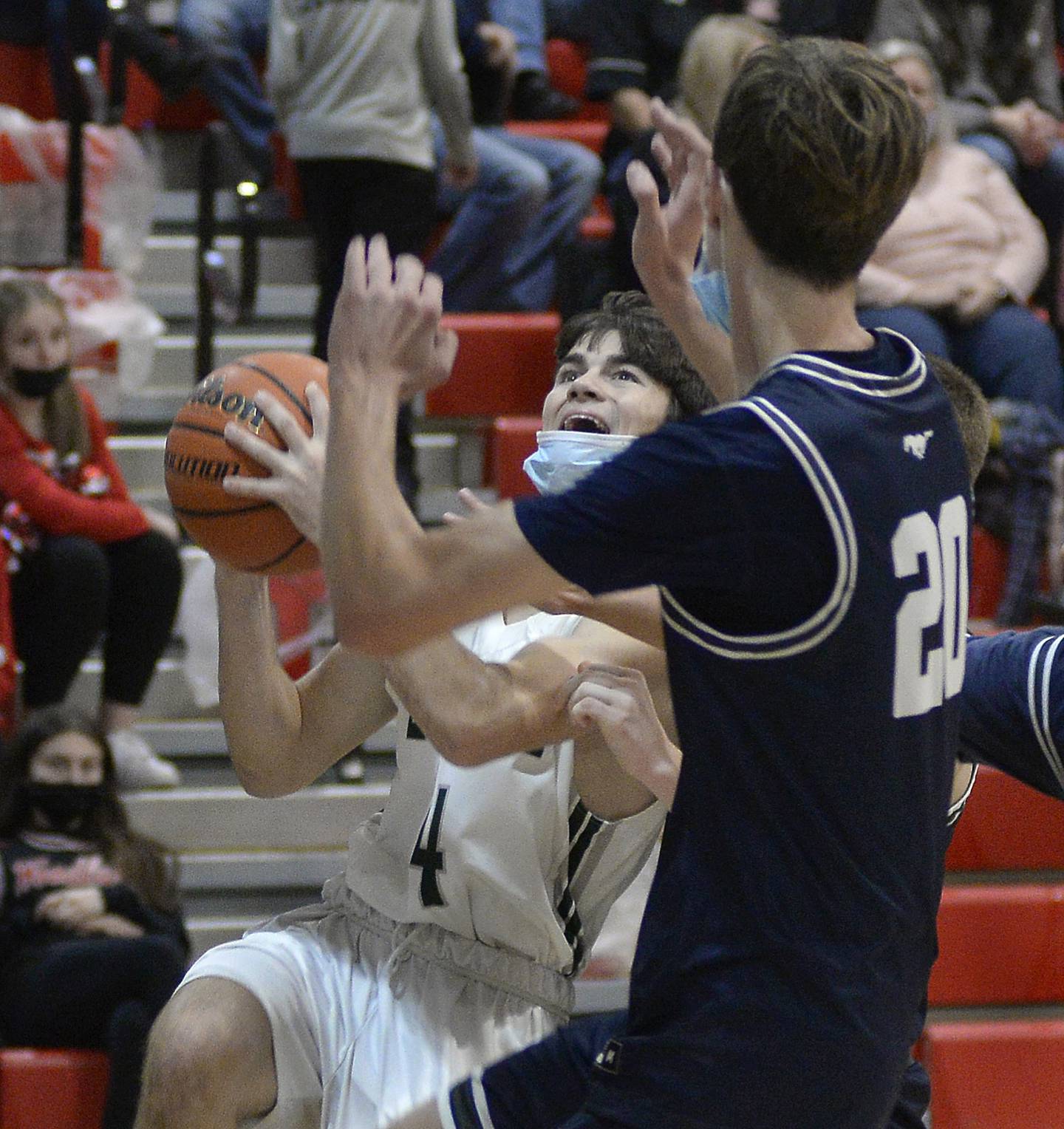 Ridgeview battled back behind a 30-point night of its own from Cam Kelly. However, his 10 third-stanza points only got the Mustangs within 19 through three.
"We scored 35 in a quarter, and we had 37 all of last night, so the hoop was looking pretty big for us tonight," SBA coach Brian Hanson said. "Guys were making shots, we had great energy, and it just spread to everybody. Paul started out hot, then it was Lawler, then it was Hueneberg, and it just went on. … Paul just makes things look so easy, but more than the points, he creates openings for the other guys. He makes other players better.
"Flanagan put us in our place the night before (51-37) with their defensive energy and the way they ran, and we knew we had to come out and play with pace so we can get space, and we did that."