SYCAMORE - Considering he only brought three wrestlers to the Class 2A Sycamore Sectional on Saturday, Sterling coach Kevin Heller said he was thrilled to get two qualified for the IHSA State Tournament.
He pointed to how his Western Big Six rivals fared despite bringing more wrestlers.
"This sectional is so tough, to get them through is amazing," Heller said. "Geneseo brought [nine] guys and got three through. Rock Island brought [10] and got four through. This sectional is so tough, I'm so proud we're going to state.
"It's a tough sectional, and we survived it."
Drew Kested (145) and Thomas Tate (160) each took fourth to earn a trip to the season finale next week in Champaign.
Charles Medrow took fourth at 182 and was the lone Pirate to qualify after Ottawa sent five to the sectional.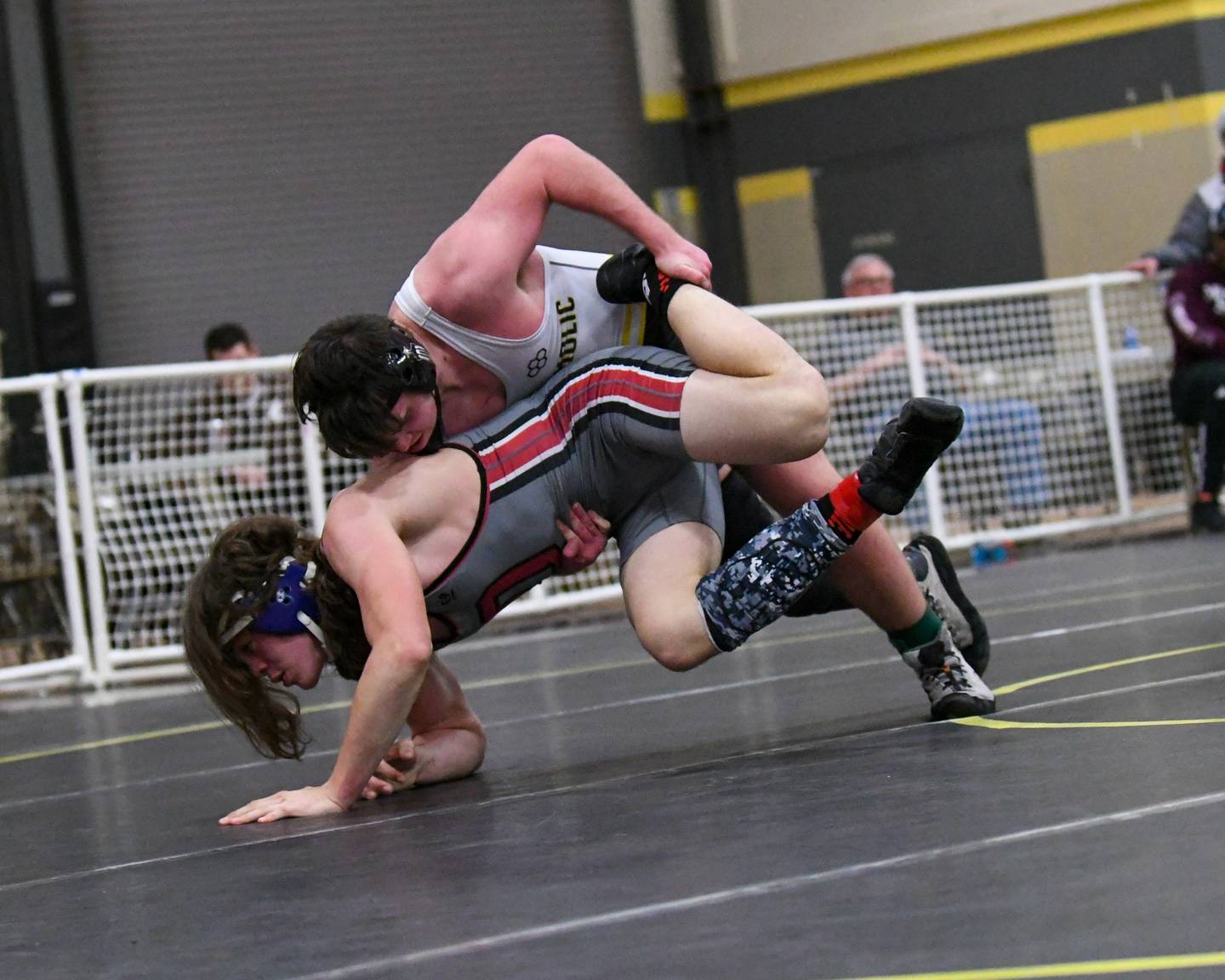 La Salle-Peru qualified one of its four wrestlers, Connor Lorden at 195. Lorden took fourth after an injury default kept him out of the third-place match.
"In the last 10 seconds of the semifinal wrestlebacks, he landed wrong on his arm and out of caution we injury defaulted," L-P coach Matt Rebholz said. "I'm really happy with how he wrestled. He wrestled tough throughout the entire tournament."
Streator failed to qualify its lone wrestler.
The sectional featured five of the top seven teams in the state in the latest IWOCA coaches poll. Joliet Catholic led the way with eight qualifiers, while Aurora Christian had seven.
"Year in and year out, this is the toughest regional in the state in 2A," Ottawa coach Peter Marx said. "If you qualify here, you've got a pretty good shot at placing. It's no small task. There's a lot of tough teams here. You've really got to earn it to come out."
Medrow reached the semifinal round but lost to Steven Marquez of Rock Island. He came back to win his next two matches to take third.
"It takes a big weight off his shoulders," Marx said. "That qualified him for state, and now everything else is just gravy. It's just a bonus. We get to go one more week, go down to Champaign and see what happens. Anything can happen down in Champaign."
Overall, Marx said he was happy with how the team did.
"We had a couple losses we'd like to have back, but overall I think we did OK," Marx said. "It was a very tough sectional, and we got a state qualifier. Charles had a great tournament and wrestled really well in that blood-round match."
Heller said he was also happy with how his Warriors did and credited a unique practice Thursday with helping to build some confidence heading into the sectional.
"I had to try something new, because my team was lacking some confidence," Heller said "We weren't peaking at the right time. So the last practice on Thursday, I took them to meditation and yoga. That was our last practice. And it looked like it worked."