If this past season was the last in competitive interscholastic tennis for Ottawa's Ella Marvel, she certainly went out with a bang.
Marvel, The Times Girls Tennis Player of the Year for the second straight season, finished her campaign with perhaps her best overall performance yet, which she attributes to her coaches and her teammates.
While those two facets definitely played a part, it was her tireless work ethic and love of the game, and of her team, that's allowed Marvel to succeed not only this season but the past four.
Posting a 33-5 record that included her fourth straight conference championship, her fourth Ottawa Sectional title and a pair of singles victories at the Class 1A State Tournament, Marvel finishes her stellar career with a 137-30 record and, for the Ottawa program, an unprecedented three All-State selections.
"I really enjoyed this year. In fact, this and my sophomore seasons were the most fun I've had," said Marvel, who plans to major in finance in college, hopefully at a Big Ten school, and admits her participation in tennis may only be at the club level. "For me personally, anytime you can win the conference and the sectional and make it to state, it's a good year. I just tried to get better throughout the year, and I think I accomplished that, too.
"Having been at state before helped, but it's still state, and the nerves are there because you know anything can happen. Experience is important, but you still have to have your 'A' game, for sure."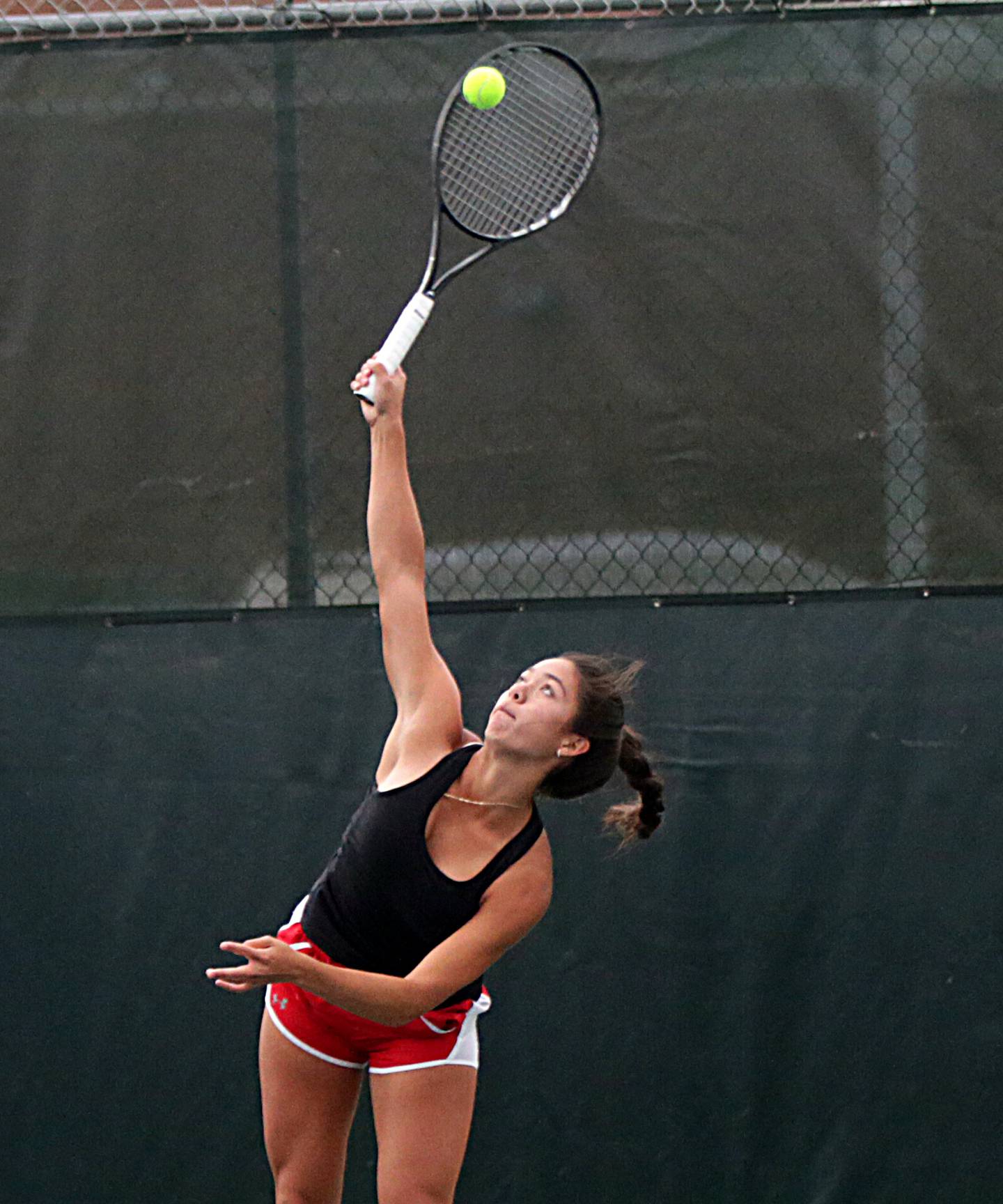 This season was Marvel's second playing singles at state, having reached that level last as a freshman when she won the Northern Illinois Big 12 Conference title and the sectional but fell in her two state matches.
She went again as a sophomore as part of a doubles team with Regan O'Fallon after a knee injury suffered in basketball temporarily cut into her mobility. The Interstate Eight Conference champs and sectional title winners won six state matches over three days and claimed fifth in Class 1A.
Her success continued as a junior, capturing her third league and sectional crowns in a row, but there was no state tournament because of the pandemic. However, she stepped up her intense workout regimen to make sure her senior season would be her best yet and "it worked, it paid off. Hard work always does," she said.
Proud of the fact she's a multi-sport athlete – she's also been a starting guard in basketball since her freshman season – Marvel's work in the gym and getting stronger for both sports was a key to her constant improvement, Ottawa girls tennis coach Steve Johnson said.
"The fact that she became so physically strong helped her in every facet of play," Johnson said. "In her time with us, she improved so much because she worked so hard – the work in the weight room, the hundred of hours hitting with her brother, Jack, beyond our practices and camps in the summer.
"To be as competitive as she is and still have fun and enjoy the experience is a commendable attribute to have. Needless to say, she will be missed."
But for Marvel, this season was more about the team than it was about her own personal achievements.
Not only did the Pirates achieve their goals of winning the Interstate Eight Conference title and capturing their own Class 1A sectional championship for the fifth straight season, but they sent four athletes to the state meet in the Chicago suburbs.
"Our goals were reached, and we had a lot of fun doing it," Marvel said. "There's nothing better than having a successful season that you can enjoy with all your teammates. If you're winning every match and don't get along with your teammates, there's nothing fun about that. This team had a wide variety of ages, so we had girls we knew and some new ones, and everyone put their work in, not just me. We just enjoyed winning together. Being together made all that work fun."
The team and playing with her friends has always been a priority for the Pirates star, going all the way back to when she was introduced to the game in the Ottawa City Rec tennis program at the age of 6. She grew into the game, competing and practicing with OHS teammates Rylee O'Fallon, Emma Cushing, Kyleigh Olszewski and this year's sectional runner-up, Sara Meyer, but also sometimes older girls like Regan O'Fallon and Ellie Gallagher.
"Playing every summer together, even with Regan and Ellie a few years ago, the coaches all knew that we'd be good. We're toward the end of our era now, but it's been really nice. We all started very young, and it was nice to come up together and at the end have a good season with them all."
Marvel has been aware of the rich history of the OHS tennis program – the 31 sectional titles and 10 state medals since 1993 – from her first day in it and humbly hopes that she has contributed to it in a positive way.
"As a freshman coming in, knowing the Ottawa tennis legacy that's been there for so long, I just wanted to add to that legacy and do my part," Marvel said. "And I know the girls that will come after me will do the same."