PONTIAC – Marquette Academy's Kaitlyn Magoonaugh caught a couple breaks during her two-hole playoff against Dwight's Sophia Anderson on Tuesday during the Tri-County Conference Golf Meet.
The Crusaders' senior, who carded a 97 in regulation, wasn't able to take advantage of the first chance on a possible short winning putt, but didn't make the same mistake when the door opened a little wider the second time around.
"It was nerve-racking and exciting all together but really fun and a nice way to finish up my play in conference."

—  Marquette Academy senior Kaitlyn Magoonaugh
After Anderson ran into trouble and had to take a penalty stroke, Magoonaugh shook off the nerves of a tough round chipping and put her third shot on the green and eventually closed out the playoff for the championship.
"I definitely missed the opening on the first playoff hole, but to be honest I've never been in (a playoff) position before," said Magoonaugh, who also said she wasn't happy with her first 18 holes. "It was nerve racking and exciting all together but really fun and a nice way to finish up my play in conference."
She added that, even though meet scores were available through an online app, she just focused on her game.
"My plan is to not even look at (the app)," Magoonaugh said. "It freaks me out, even if the scores are all in there right I just stay away from looking at that. I know where I want to be shooting and just go with that. If in the end it's not good enough, it's not good enough. Today it was."
The girls meet had only three full teams, with Seneca (461) finishing behind first-place Roanoke-Benson and runner-up Dwight. The Irish were led by 109s from Laura Yegge and Julia Hogan, a 116 from Addison Steigler and a 127 from Brandi Johnson.
On the boys side, Roanoke-Benson's 348, led by the 1-2 punch of champ DJ Norman (74) and second-place Luke Sauder (80), was 15 strokes better than runner-up and defending champion Seneca (363). Dwight (370) was third followed by Putnam County (405), Midland (408), Marquette (414), Henry-Senachwine (420) and Woodland (432).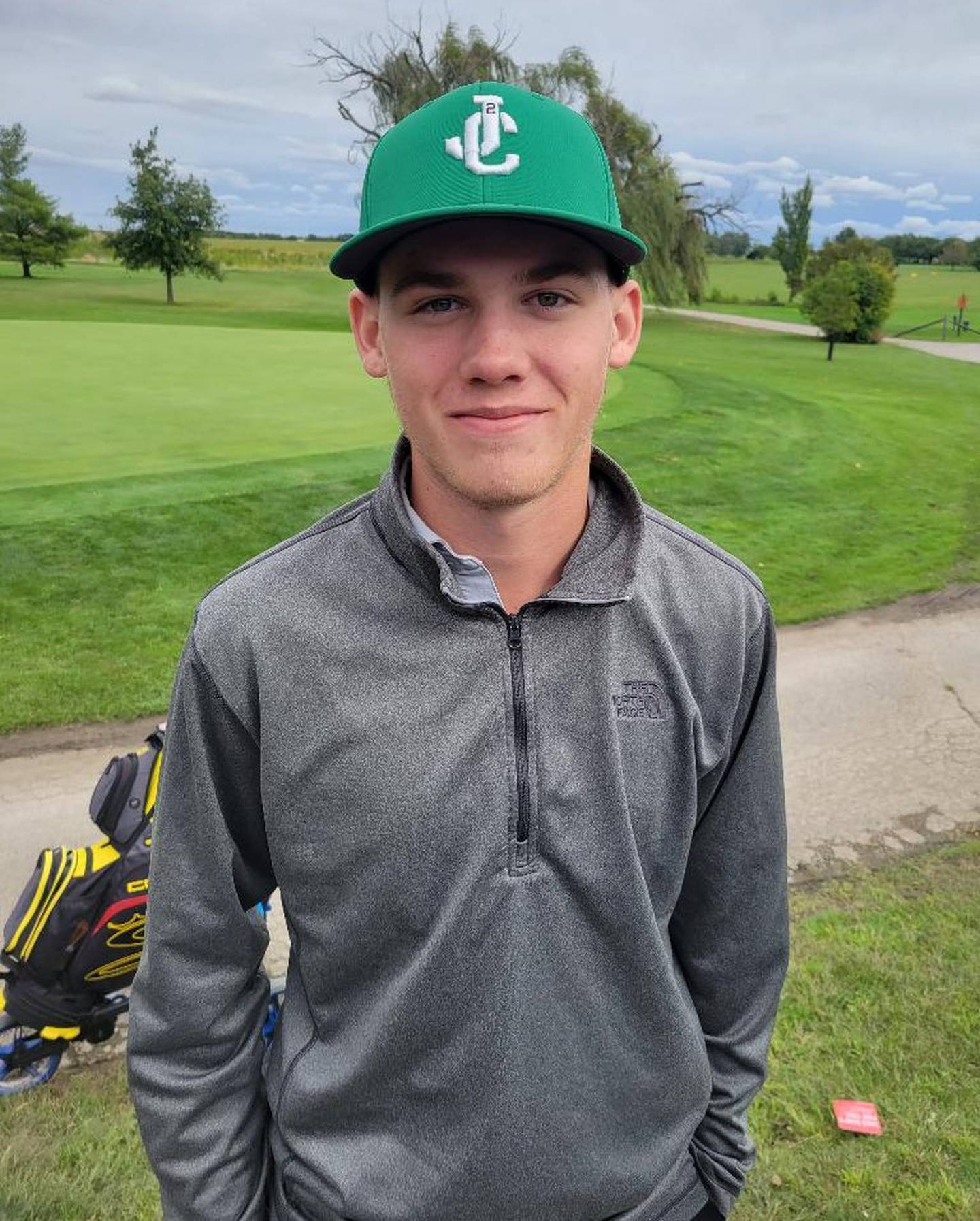 Seneca senior Noah Cade carded an 83 to take place third, with other counting scores for the Irish coming from Rylee Stenzel (T-6th competing in the boys field with a 92), Noah Quigley (T8th, 93) and Jake Gerding (95).
"To be honest, I've been struggling with my putting, so I just tried to hang in there," Cade said. "I wanted to make sure I at worst two-putted, and thankfully my irons were good enough to put me in those positions. My driving was pretty solid except for a couple slices at the end of the round. It was a combination of a little bit of luck, a little bit of faith and staying positive that got me through today.
"It was a day where I had to club up or club down a lot with the wind. Even clubbing down there were a few shots that flew way past where I wanted to be."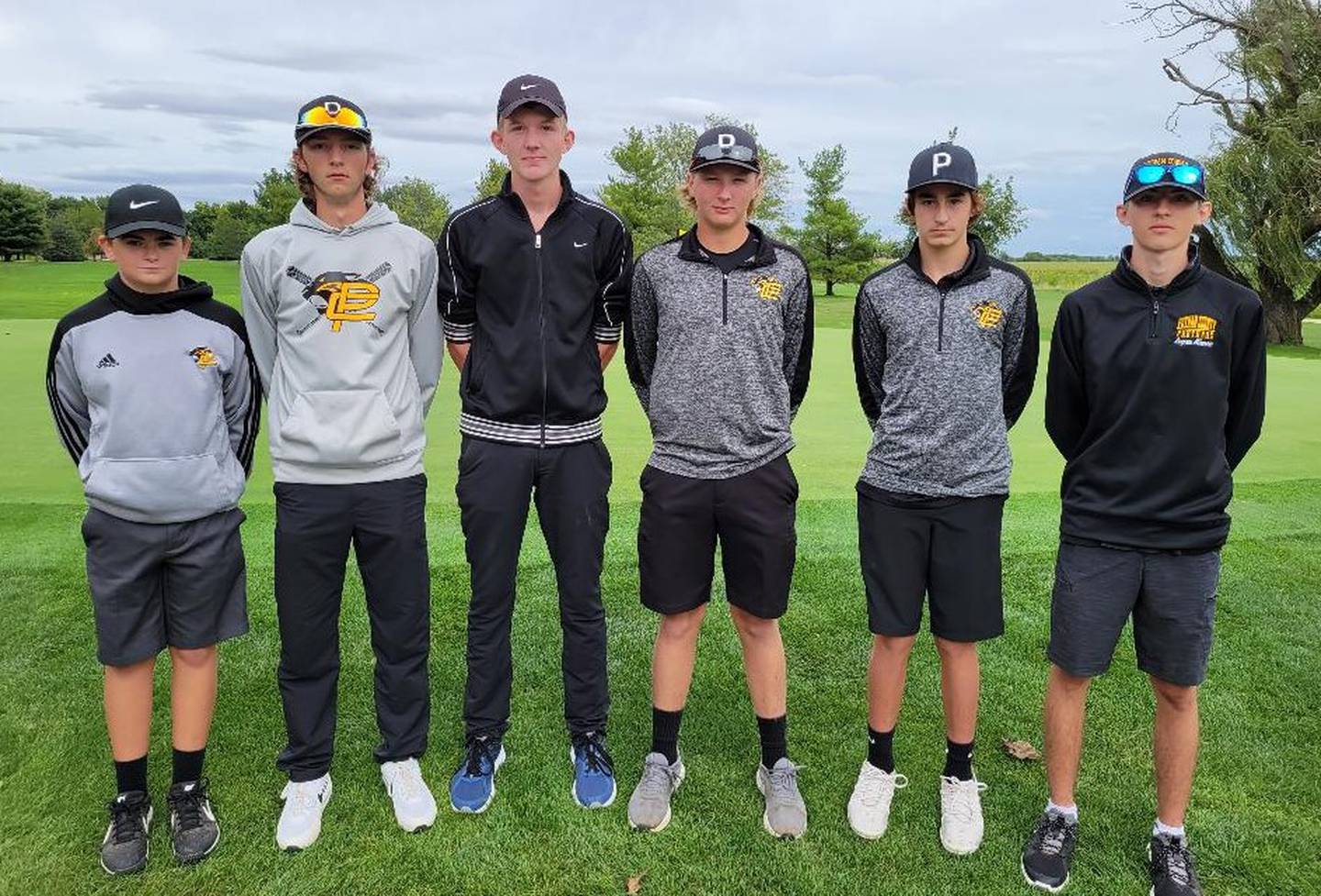 Panthers' junior Lucas Wiesbrock fired a 93 to tie for eighth, with Chris Uzella (97), Logan Keesee (106) and Miles Walder (109) contributing counting scores for PC.
"I was most happy with my consistency, especially starting on the back nine having not ever played it before," said Wiesbrock, who had eight bogeys on the first nine holes. "I started kind of slow on the front, then put together a string of pars before, unfortunately, finishing up with a triple-bogey. Overall, I felt I putted fairly well, and it saved me on more than one occasion."
Marquette received a 98 from Ryan Peterson, followed by Carson Zellers (103), Casey Shearer (104) and Ben Weyer (109).
The Mallards were paced by Ayden Malavolti's 96 ahead of Mason Johnson (102), Lance Keisewetter (106) and Troy Westerdahl (116).
Senior Glen Ruff led the Warriors with a 91, good for fifth-place, while Carter Ruff posted a 97 and Sam Schultz a 116.
"Today was probably one of my best days with the driver, but my chipping really hurt me, especially the short ones, and I feel, other than one hole, I putted well," Glen Ruff said. "I felt like I found a bit of a groove on the first four holes of the front nine (after the turn) with a birdie and a couple of bogeys that could have easily been pars with a little luck.
"I was hoping for under 90, but overall I'm pleased with how I played today."