STREATOR – Streator senior starting pitcher Adam Williamson put together a strong outing against rival Ottawa on Tuesday at the SHS Athletic Fields.
Williamson allowed only two hits and one walk while striking out 10 in 6 2/3 scoreless innings to help lead the Bulldogs to a 9-0 victory over the Pirates.
"I felt like all my pitches were working today, and I felt confident throwing any of them at any time," said Williamson, who reached the pitch count limit before Cole Martin came on to record the final out. "The biggest key for me today was getting ahead with strike one. I missed a couple of my spots, but it seemed like when I did that, I was able to come back and make a good pitch to either get an out or get ahead. My fastball was good, and my changeup complemented it well.
"I just really felt in a good rhythm all game long."
"We (played) a good Ottawa team today, now Morris (on Wednesday) and La Salle-Peru on Friday ... that is three really good preppers heading into the postseason. I liked the way the first of the three this week started."

—  Beau Albert, Streator baseball coach
Ottawa had defeated Streator 4-3 on March 30 at King Field.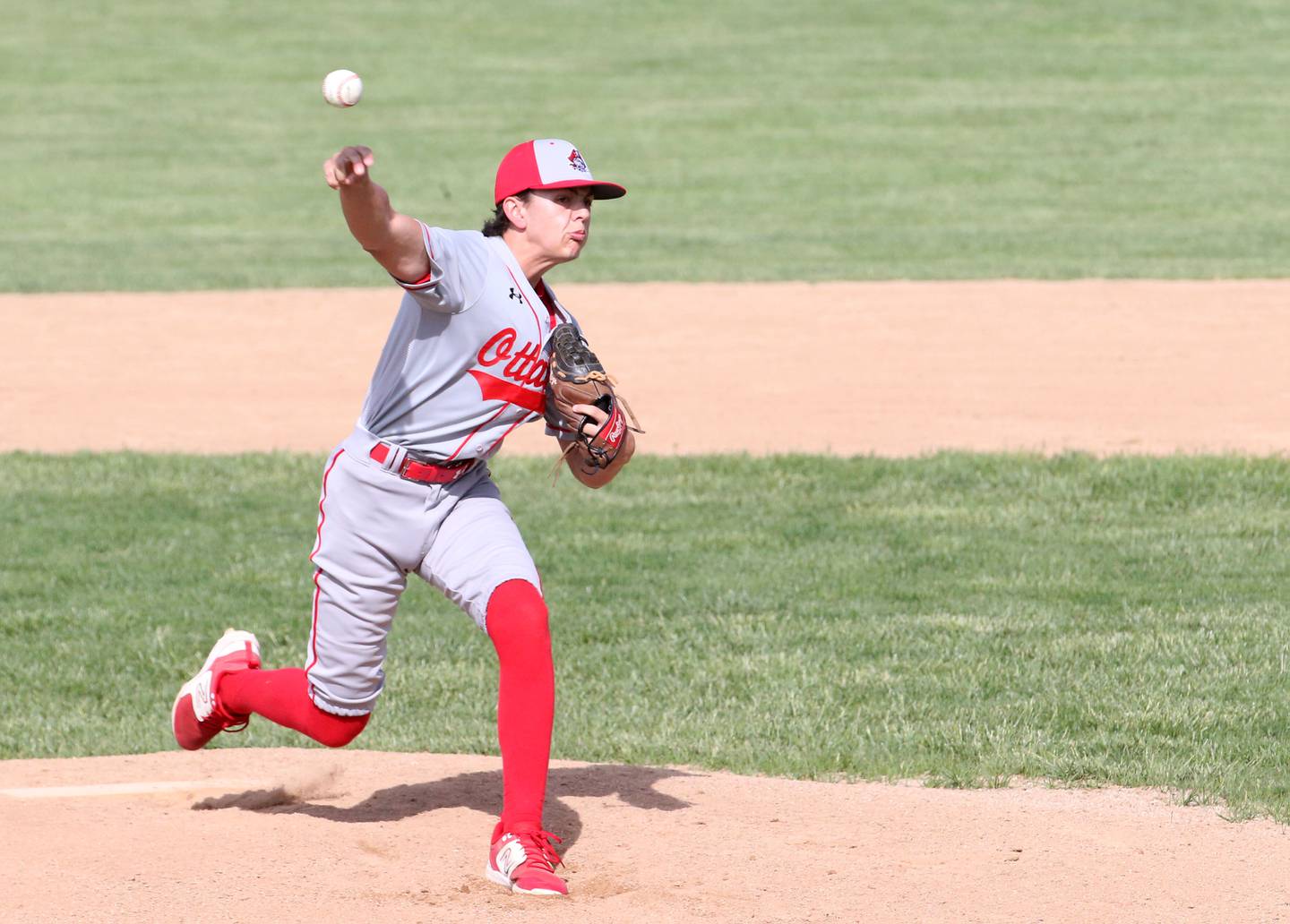 Streator (18-10-1) gave Williamson all the runs he would need in the first inning as Brady Grabowski lined a two-out single off Ottawa losing pitcher Camden Loomis (2 2/3 IP, 4 H, 7 ER, 6 BB, 1 K), stole second, then scored on a double to the fence in center field by Landon Muntz.
The hosts added three more in the second as Parker Phillis walked with the bases loaded, Williamson plated a run with a sacrifice fly, and Muntz poked an RBI single to left to make it 4-0.
"We've been preaching to the kids about how we have to keep climbing up that hill and have to continue to play good baseball with the postseason starting next week," Streator coach Beau Albert said. "We had a good Ottawa team today, now Morris [on Wednesday] and La Salle-Peru on Friday. ... That is three really good [teams] heading into the postseason. I liked the way the first of the three this week started.
"We had lights-out pitching from Adam, we played a pretty solid game defensively, and we did a great job collectively at the plate. Early on in the game we fell behind in some counts, but then did a great job of working those at-bats either back to even or back in our favor."
In the Bulldogs' third, Zander McCloskey, Logan Aukland and Moe Bacon drew consecutive walks to start the inning. McCloskey scored on a wild pitch from Pirates reliever Daniel Bruner (1 1/3 IP, 1 H) before Phillis smacked a two-run base hit to left to make it 7-0.
Phillis added a sacrifice fly (his fourth RBI of the game) in the fifth off Ottawa's Alex Billings (1 IP, 0 H, 1 ER, 3 BB, 2 K), while Martin singled in a run against Garrett Shymanski (1 IP, 1 H, 1 ER, 2 BB, 1 K) in the sixth.
Streator finished the contest with six hits while drawing 11 walks.
Packston Miller, Adam Swanson and Bruner each had a single for Ottawa's three hits on the day.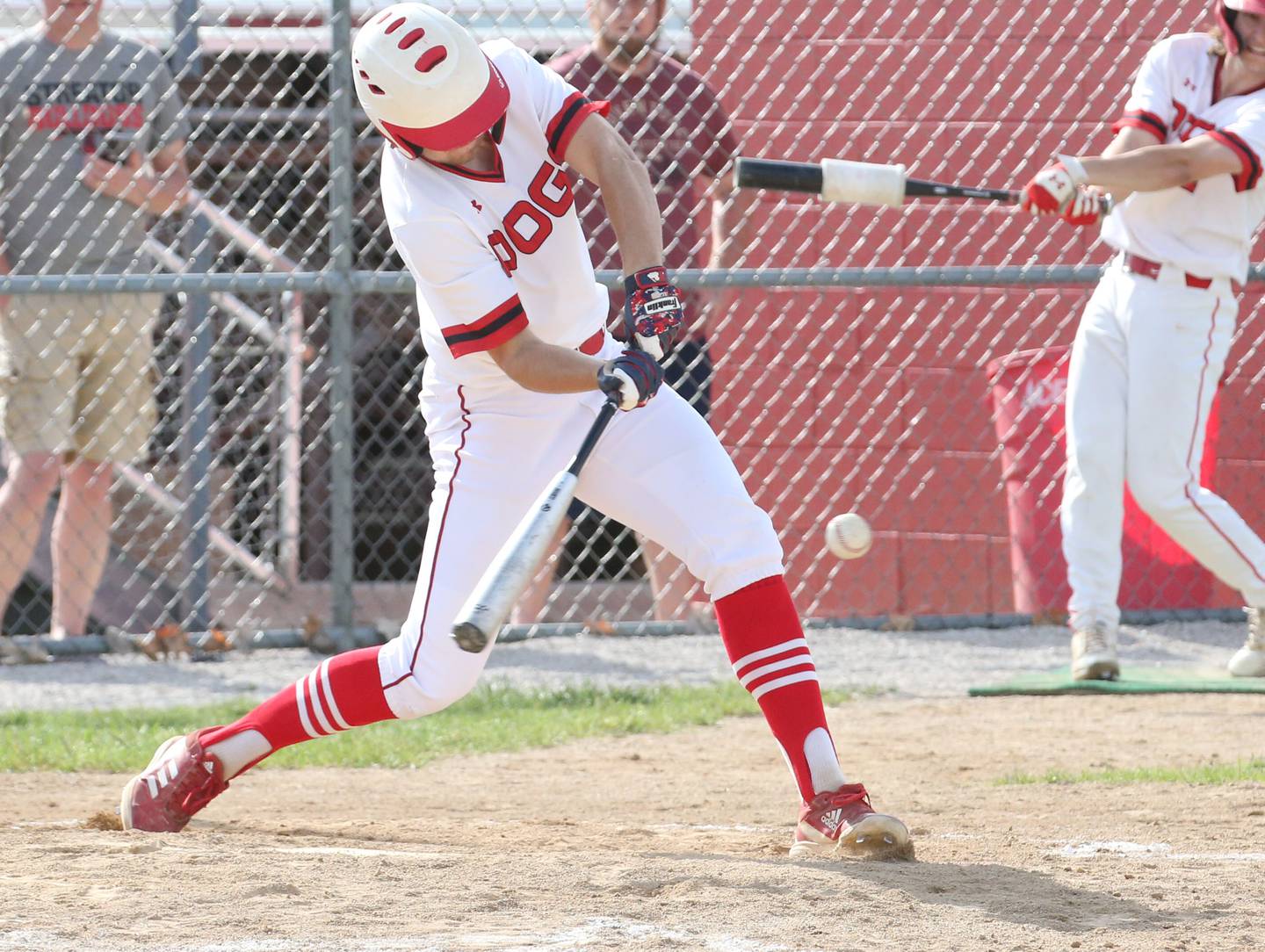 "We just have to be more consistent ... there is no other way to put it," Ottawa coach Tyler Wargo said. "Right now we are 16-15 for a reason, we've just been so up and down much of the season. There are days we've hit good pitchers like Adam today, and then others when we've struggled against them. But give credit to him, he was incredible today. He was pounding the strike zone and changing speeds effectively. He was just solid all around.
"When it comes to regionals next week, like most teams, we are going to see the opponent's No. 1 guy right off the bat. We are going to have to find a way to be locked and loaded when that happens. We just have a short-term memory and get ready for another game tomorrow.
Both squads are scheduled back in action for home games Wednesday, Ottawa hosting Geneseo, and Streator entertaining Morris.